Euro Final Four
Istanbul was my 7th European Final Four in 8 years (Moscow, Athens, Madrid, Berlin, Paris, Barcelona) having only missed Prague. Complete with an incredible comeback and game winning shot, this year was easily the most exciting and memorable, with only Athens coming close.
My guy Giorgos Printezis knocked down the game winning shot, with just seconds remaining for Olympiacos Piraeus to complete their (down 19 points in third quarter) comeback over CSKA. I got a chance to get to know Printezis as we shared a 45 minute cab ride from Venice to the Eurocamp in Treviso when he was a 22 year old draft prospect, five years ago. It was refreshing to find out that Printezis was completely oblivious to the draft process and had numerous questions for me. By the end of the ride I'd felt that I'd made a friend. He was taken late in the draft by San Antonio and his draft rights traded to Toronto. A genuine kid, it couldn't have happened to a nicer guy and it's a tribute to his hard work and competitiveness. Whether he comes over to play in the NBA or not, his name has become legendary in Greek basketball thanks to that shot.
Kostas Papanikolaou had 18 points and deserved MVP honors. Amazing to think a 21 year old can have such an integral role for a Final Four champion. His draft stock certainly made a jump after his performance. He was a perfect 5-5 from the floor including 3 threes and 5-6 from the line in the final after impressing in the opening round against Barcelona. He's a deadeye shooter and although he's a little slow by NBA standards, he's playing the right position as a small forward (Kyle Korver has carved out a niche despite being extremely unathletic). All it takes is one team as the adage goes, and after that performance, Papanikolaou sneaking into the late first round doesn't seem impossible.
Kostas Sloukas is another draft prospect that a team could take a flyer on in the second round. He's built a reputation for being extremely clutch having hit a few game winners this year. He lacks the type of speed and athleticism that would normally get a team excited, but the same could be said for Panthinaikos' standout Dimitris Diamantidis at the same age. The Jimmy Fallon lookalike appears to have a huge future in Greek basketball and a team could decide he's worth a flyer late.
Worth mentioning MVP Vassilis Spanoulis, who looks more like your local YMCA player than one of the top players in all of Europe. He's the ultimate competitor and a relentless player. Spanoulis had a short stint in the league with Houston, but his game is better suited for Europe where he's become a superstar.
CSKA's Alexey Shved didn't play well in the Final but came up huge in the semifinal against Pana. He went undrafted after receiving a lot of hype as an 18 year old. He's recaptured some of that magic that made him a projected first round pick at one point in time. He has a chance to play in the NBA someday, he's talented enough, if he wants it.
NIJT Top Prospects
The 2012 Final Four junior tourney was won by Rytas Kaunas of Lithuania over Fenerbahce Ulker of Turkey. Rytas featured a well balanced squad without any standout prospects. Here is a look at the top prospects from the NIJT (U18 junior tourney).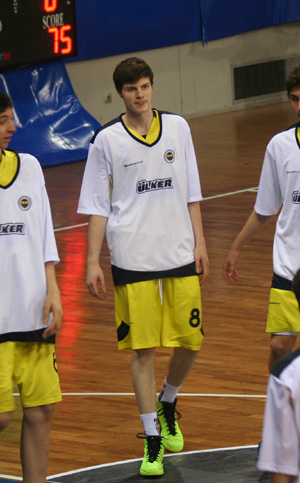 James Birsen 6-8 190 SF Fenerbahce Ulker 1995 — A more fluid and quicker athlete than Dario Saric and will have a chance to be better in the long run due to his ability to fit a position. Birsen was the best player in the event and while he's still got a ways to go, his performance and age gives him the nod as the top prospect. He doesn't have a clean release on his shot as he sort of winds his shot up similar to Kevin Martin and drops his guide hand early on his release. Shows great versatility with the ability to drive and kick and create shots off the dribble. He has abnormally large feet and they can get in his way and inhibit his quickness sometimes, but added strength should allow him to play with better explosiveness. He's gaining confidence and embracing the role of team leader. While Fener lost the title game against Rytas, Birsen impressed once again knocking down 2-2 from 3 and finishing with 20 pts on 9-17 shooting with 3 assists and 5 boards, 4 to.
Dario Saric 6-10 225 SF/PF KK Zagreb 1994 — Saric struggled in the event. He's currently a projected lottery pick for 2013 but there are still some question marks about how well he will fit into the NBA. His feel for the game and competitiveness, heart and determination puts him in the top handful of players worldwide at his age. But how well his game translates is a questionmark. He's also a kid that will work extremely hard to improve upon his shooting, which right now is a major weakness. His form is decent, but he doesn't seem to have any confidence or range at this point. He's at his best with the ball in his hands, creating shots for himself or others off the dribble. Saric got into foul trouble against China with 4 in the first half. And without him in the game, China quickly erased a 7 point halftime deficit to take the lead and eventually pulled off the major upside. Saric's value to the team was apparent as the team fell apart without him in the game. Zagreb is essentially a two man team (he and Mavra), and after beating fener i nthe first round they collapsed.
Tomas Dimsa 6-4 180 SG Zalgiris 1994– Dimsa is undersized at 6'4 and his NBA chances would be greatly enhanced if he were to grow another inch or two, but even if he doesn't, he has a shot. He's a lot like Rudy Fernandez with a strong feel for the game and all around skills. He's aggressive, athletic and has a good ability to score in different ways. He's very athletic by European standards with numerous drives that resulted in either dunks or acrobatic finishes. He's also extremely quick in the open floor. Working against him is the fact that very few Lithuanian guards have made it big in the NBA. As well as Lithuania has done producing NBA talents, it's almost always forwards or centers. Sarunas Marciulionis is the one to make it but it's been over 20 years.. But don't write off Dimsa, he's a high level athlete with an extremely bright future in Europe, at minimum, and a chance for the NBA, depending on his (body and game) development.
Dominik Mavra 6-4 190 PG/SG KK Zagreb 1994 — Mavra has a very quick first step and ice water running through his veins. Zagreb ended up 1-2, but they beat Fener who made it to the tourney final. Mavra has big cojones, as he loves taking important shots and thrives in big game situations. Scouts are high on this guy. He's a prolific scorer with a good pull up off the dribble and a quality finisher. His handle is strong and his first step is very tough to contain. He also possesses a very polished tear drop when he reaches the trees under the basket. He showed this off on a number of occasions, with good results. He has solid vision, and can find teammates for open looks. But his best attribute is scoring.
Dusan Ristic 7-2 230 C Red Star 1995 — Ristic doesn't make quick or athletic plays that make your heart race, but he's got excellent fluidity and size for a 7 footer and also shows good touch. He's not a fiery kid and seems to fill up the box score without standing out. While it's hard to get overly excited about him, his age and size and overall skill level makes him a player that will have to be tracked. He has NBA talent, it's a question of him continuing to develop his skills and developing a nastier on court personality.