Class of 2016 Sophomore Rankings
Of the 8 sophomores taken in the 2013 Draft, 6 were among the first 11 picks. This sophomore group figures to be closer to the 2012 draft with 13 draftees, it also should have a few taken in the lottery. A large amount of players from last year's freshman class decided to return, maintaining a great deal of talent in this class.
1. Marcus Smart 6-4 220 PG/SG Oklahoma St.
After showing rare leadership ability during his freshman season, Smart made the surprising decision to bypass the 2013 NBA Draft where he was projected to be a top 5 pick. Smart is a different cat and that decision should really help him in the long run as he's still learning to play the PG position after playing off the ball in high school. Smart has benefitted from the hard work over the summer to not only become a better floor general and decision maker but also a better shooter. Beyond his toughness, strength and rare intangibles, Smart figures provide versatility as a lead guard at the NBA level.
2. Rodney Hood 6-8 215 SF Duke
Hood has been as excellent Robin to Jabari Parker's Batman, showing that he used his redshirt year to advance his skill set. He has size and versatility that makes him a sought after wing prospect. During his freshman season, he did a little bit of everything and played big minutes for Mississippi State. Now, he has embraced an expanded role and is being counted on for his knock down shooting ability. Hood is a bigtime shooter and can also put it on the floor. It will be interesting to see how Hood handles a very deep ACC, as Duke will be counting on him as a key contributor all season. Through the non-conference portion of the schedule, Hood has lived up to the hype and some and appears on pace to be a top 10 pick in June.
3. Gary Harris 6-4 210 SG Michigan St.
One of the younger freshman in the NCAA last season, Harris displayed poise and confidence beyond his years. His long distance shooting made him an impact player and he showed the ability to be a multidimensional offensive threat. Displaying a strong basketball IQ, he is a willing passer and did not make the "freshman mistakes" that one would expect from a first year player. He did not miss many games, yet a nagging shoulder injury seemed to hinder him at times during what was an otherwise great freshman season. He has struggled some with minor injuries and hasn't shot to his ability thus far but Harris should push to be a lottery pick in 2014.
4. Jerami Grant 6-8 210 SF Syracuse
Like Dion Waiters and Michael Carter-Williams before him, Grant appears to be in store for a breakout sophomore season after spending most of his freshman year in a complementary role. Grant is much more of a wildcard to become a lottery pick than the aforementioned players, though his elite physical abilities make it possible. The son of former NBA player, Harvey Grant (nephew of Horace), he has great length and high level athleticism As a freshman, Grant displayed a great deal of potential as a defender. He also has some ability to knock down perimeter shots, and even put the ball on the floor at times. He still will need to add strength, improve his consistency as a midrange shooter and show more aggressiveness as an offensive player as well.
5. Glenn Robinson III 6-6 215 SF Michigan
After playing more of a complementary role on Michigan's NCAA Tournament Runner-up team, Robinson's role expands as a sophomore. His freshman year showed that Big Dog's son has a great deal of versatility and poise. He excelled at both forward positions, showing a willingness to put team over individual accolades, which was a key to Michigan's run. Though he's struggled with his shot through the early portion of the year, Robinson appeared to have considerably improved upon his outside shooting over the summer. With prototypical length and athleticism for the wing, improving his ability to put the ball on the floor and shoot consistently could land him in the lottery.
6. Semaj Christon 6-3 190 PG Xavier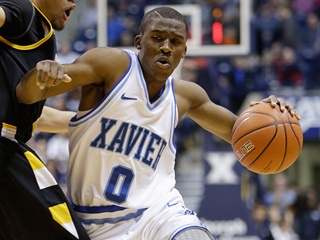 Coming into a tough situation with a team that lost its top five scorers, Christon was one of the top freshmen performers in the country at Xavier. He has great size for the PG position with tremendous length and quickness. His elusiveness with the ball was apparent as a freshman and led to many opportunities for his teammates. Christon also displays an adept ability to get to the basket and draw fouls. The area he must improve upon is shooting as evidenced by his FT% – 60%. The defensive potential he possesses is evident, as his length allows him to tip and alter quite a few passes. If he cuts down on turnovers and shows significant improvement in his jumper, he is a PG prospect with an opportunity to have a great deal of success at the next level.
7. Montrezl Harrell 6-8 235 PF/C Louisville
With a monster wing span in the 7-4 range, Harrell's less then ideal height is nullified. Defense and rebounding are his calling card and his frame leads you to believe that he could also become an imposing rebounder. On top of this, he can move pretty well given his size. His offensive game is still quite raw, as he mostly makes a living off of garbage buckets. Post scoring is a must for development and he will need to display more range in general. Also, despite having major potential as a rebounder, he needs to consistently put a body on players and box out to truly realize his potential on the boards. Harrell is being counted on to knock down shots quite a bit now that Louisville lost Gorgui Dieng, so he will need to get used to making quick motions with the ball in his hands. He's playing like afirst rounder through the first few weeks of the season.
8. Perry Ellis 6-8 225 PF/SF Kansas
Although most of the attention at Kansas has been centered around their fantastic recruiting class, Ellis is playing a vital role. He has improved his offensive range and repertoire. While his size and body have been pretty solid since his high school days, he is viewed as a "tweener" for the NBA level. His skillset is clearly best utilized as that of a stretch 4, though his height and length are somewhat lacking. He has decent athleticism, though he lacks lateral quickness, range and ball skills one might hope to see out of a 3 man. What Ellis does display is a high basketball IQ, great energy and toughness that should leave an impression on what could be a very good team this season. The freshmen may get KU most of its headlines, but Ellis will be vital to them actually contending for a title. If Kansas goes far, it could be enough to convince teams to take a shot on Ellis in the first round.
9. Olivier Hanlan 6-3 190 PG/SG Boston College
Hanlan is an aggressive scoring PG who surprised many last year by winning ACC Rookie of the Year. He even broke an ACC tournament freshman record going for 41 points in a win over Georgia Tech. Shooting consistency is a work in progress and he will need to make better decisions as a team leader. He needs to improve as a defender and get stronger. His handle is very solid and he has gotten to the line at a very high rate, making him quite enticing as a draft prospect.
10. Willie Cauley-Stein 7-0 244 C Kentucky
Cauley-Stein is a deer in the open floor, and has shown the ability to impact game with his shot blocking ability. His post-up game is a tad mechanical and his defensive footwork also is a work in progress. What he does possess are solid hands, quickness, plus size and athleticism that are ideal for the center position at the next level. Thrust into more action than expected with the injury of Nerlens Noel last season, Cauley-Stein showed flashes along with bouts of inconsistency. It will be important for him to cut down on mistakes and show an ability to take on a larger role in Kentucky's offense to impress NBA folks.
11. Kyle Anderson 6-9 230 SF UCLA
His handle and vision were both qualities that made Anderson a top recruit. Running the point thus far, he has shown more of the all-around game that had many seeing the NBA in his future. While "Slo-Mo" will not be a full time 1 at the NBA level, his size and improved shooting make him a possibility on the wing, or even as a stretch 4. He will need to show more of this ability during conference play, though his early season success has scouts taking notice.
12. Brice Johnson 6-9 210 PF North Carolina
A solid role player as a freshman, Johnson has increased his role and his productivity considerably as a sophomore and leapfrogged James Michael McAdoo. Part of the reason he has not seen even more minutes is a propensity for foul trouble, which is partly due to his still rather slight frame. He still is appealing as a PF that can run the floor. He;ll need to get stronger, but shows a lot of potential. He is finishing well at the rim and has also improved greatly as a shooter. His body still needs time, though flashes of what could be are quite appealing.
13. Kaleb Tarczewski 7-0 250 C Arizona
Centers tend to take some time at the college level and while many had huge expectations for Tarczewski as a freshman, he showed some definite promise in year 1. He moves pretty well for a big man, provided help on the glass and gave the Wildcats some scoring near the basket. He knows his strengths and tries to play off of them, as opposed to many modern day bigs who try to stretch the floor which may not be what most benefits their team. His post game is still raw, though he is showing an ability to use either hand pretty well. Size is also a tool he uses on defense, though at times he gets into foul trouble due to over aggressive play. Tarczewski is not much of a shot blocker, though at the same time with improved footwork could become a solid defender due to his strength and athleticism. Showing progression with his post skills will be the difference between him leaving this season or coming back.
14. Jordan Adams 6-5 220 SG/SF UCLA
Adams freshman season was cut short due to a broken foot. So far, it seems like he has gotten well past that and he has embraced the role of UCLA's go-to offensive option. He shoots in the mid-80's from the FT stripe and gets there often, while also showing improvement in his outside range. Adams lacks ideal size for a wing, he's got a somewhat unathletic build and his athleticism is considered average by NBA standards. But scouts feel he has a chance to be a first rounder due to his great scoring ability and all around feel for the game.
15. TJ Warren 6-8 220 SF/PF NC State
Warren spent the off-season trimming down and has benefitted from doing so. The added quickness has made him that much more lethal as an offensive threat. An increased role has suited him well and he has been fantastic around the basket. He still is not really a standout athlete and may struggle defensively in the pros. But he makes up for his athletic and defensive shortcomings with his high level scoring ability.
Class of 2016 Sophomore Rankings
Follow Michael on Twitter @NBADraftMikeyV. Also, feel free to e-mail him at [email protected]