While the 2013 NBA Draft may have lacked star power, it made up for in value from top to bottom. However, titles are won with Hall of Famers.
Next year's draft features a number of guys who could develop into franchise players. And just like in 2003, with players such as LeBron James and Carmelo Anthony on the draft horizon, teams have already begun to gut their rosters in an apparent attempt to position themselves for a shot at the Andrew Wiggins sweepstakes. On draft day, Philadelphia and Boston traded away veteren talent for a shot at lady luck.
It's not all about Wiggins, though. Jabari Parker should make a nice consolation prize for the team that ends up with the second pick. And players such as Marcus Smart and Julius Randle should factor heavily into the top of the draft.
A lot can change between now and the 50 weeks until the 2014 draft, but heading into the summer, these are our top-20 NBA prospects in what is shaping up to be one of the best draft classes in recent memory.
2014 Big Board: Top 100 Prospects
1. Andrew Wiggins 6-8, 200, SF, Kansas, Fr.
Wiggins possesses the type of talent that has scouts, fans, NBA executives, and shoe company marketing heads drooling. Wiggins might have the most natural talent of any player to come along since LeBron James. He wowed scouts at the past two Nike Hoop Summits, leading the World team to back-to-back victories over Team USA. He showed a blend of athleticism, quickness and perimeter skills that has some scouts calling him a generational talent.
Many feel that Wiggins made an excellent choice in picking Kansas, as he will be the unquestioned lead dog. His coach, Bill Self, has shown an excellent ability to develop young men into pros. Is Wiggins really all that he's been hyped up to be? Next year will give us a better idea, as we will get to see how he handles the spotlight and what type of improvements he can make to his game.
He clearly has some work to do — developing a more consistent long-range jumper, tightening up his handle and improving his left hand. He has some Kobe Bryant-esque qualities, but in order to validate that comparison, Wiggins will have to improve his approach, intensity and develop better attention to detail. After Anthony Bennett heard his name called at No. 1 last week, it will be a bit of a shock if Canadians don't go first in back-to-back years.
2. Jabari Parker 6-8, 240, SF, Duke, Fr.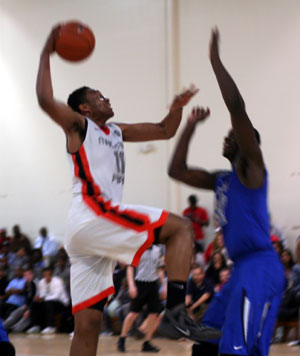 Parker was thrust into an unenviable position after Sports Illustrated dubbed him "The Best High School Basketball Player Since LeBron James" last May. It's almost impossible for any prospect to live up to that kind of hype. However, that pressure has died down considerably while Pakrer was dealing with a hip injury and Wiggins skyrocketed to the forefront.
But make no mistake, the incredibly polished Parker has a remarkable skill set, along with the focus and intensity that ensures his success at a high level in the NBA. Many feel that the Parker/Wiggins rivalry has the makings of the LeBron/Melo debate from 11 years ago. Parker can appear thick and unathletic, he will dunk on unsuspecting defenders if they are caught napping, thanks to his sneaky-good athletic traits.
Parker is versatile enough to potentially play both wing positions and the power forward spot, even at the NBA level — think of him as a Melo without the Drama. Like Anthony, he can make difficult shots seem routine. Parker separates himself, though, through his solid efforts defensively, while possessing an advanced understanding of where to be on the court.
Scouts rave about Parker's attitude and demeanor, so it's no surprise that many view him as a major competitor who is used to winning. While at Simeon, Parker led his team to a state championship in each of his four seasons, playing a major role since his freshman year. Duke will heavily rely on him in his freshman season and he is definitely ready for the challenge.
His body may need some toning and that ultimately may determine just how dominant he can be in the NBA. Even at his current frame, expect Parker to make an immediate impact in college and eventually, the NBA.
3. Marcus Smart 6-4, 225, PG/SG, Oklahoma St., So.
Smart's decision not to enter the 2013 draft was a genuine shocker, given that he may have gone as high as No. 2 to Orlando. While many felt that turning down guaranteed money and a higher spot in a weaker draft was a risky move, it is one that should help Smart's long-term development as a point guard — not to mention making the 2014 draft that much stronger.
Smart is known for his toughness and winning attitude. These qualities helped Oklahoma State to their best Big 12 finish since 2005. After a disappointing tournament loss and a wrist injury, Smart felt he had some growing to do and things to prove before reaching the league.
Seen as a potential combo guard, Smart will bring major versatility to whichever team drafts him. His leadership qualities made him a trusted floor leader. His size, strength and overall physical style of play cause problems for any guard trying to defend him. Outside shooting will be a major focus this season, and he must learn to take care of the ball. Even with these issues, his physical ability and winning attitude make him a possible franchise changer.
4. Julius Randle 6-9, 248, SF/PF, Kentucky, Fr.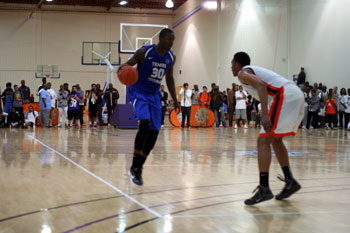 After a disappointing finish to 2013 for fans of the Big Blue Nation, Julius Randle ended up becoming the crown jewel of a recruiting class that has Kentucky in position to contend for their ninth National Championship. After missing a majority of his final year of HS with a fractured right foot, Randle came back with little rust and generally dominated the All-Star game circuit. With the versatility to play all three front court positions in college, he translates to more of a 4-man once he gets to the NBA. His length is not optimal, though his strength, athleticism, and skill level put him in elite company.
Two of the more intriguing attributes to Randle's game are his court vision and his ability to put the ball on the floor. At times, he gets too enamored with trying to take opponents off the dribble, instead of utilizing his strength around the basket. He's still expected to take on much of the scoring load at UK. He is likely to become a better version of what Wildcats fans expected Alex Poythress to be last season.
Randle must work on is his post game, as he tends to use his face-up skills much more often than he perhaps should. He may have to step out when larger players are defending him, but length has been shown to bother him. With his physical ability, he could overcome this issue by establishing better post footwork and some go-to moves.
5. Willie Cauley-Stein 7-foot, 240, C, Kentucky, So.
The lowest-ranked player of Kentucky's 2012 class far exceeded expectations and showed raw ability that had some projecting him as a lottery pick had he entered the 2013 draft. But it was apparent Cauley-Stein needed time before he could make a real impact at the NBA level. A true 7-footer, Cauley-Stein possesses rare athleticism that makes one believe that he could have a place in the NBA sooner rather than later. He runs the court well, has decent lateral quickness for a center and has even shown some offensive potential.
This season, Cauley-Stein will have more expected of him as Kentucky's defensive anchor. He needs to cut down his fouls, and on the other end, improve his free-throw percentage. Cauley-Stein needs to add strength to his base, which should improve his rebounding and help him establish post position.
He has the tools to be a solid center prospect, but his development over this off-season will be key. He is ranked this high due to the upside and production he showed when he was thrust into big minutes after Nerlens Noel's injury. Time will tell if he turns into a player one might take with such a high pick, though he has potential to become just that.
6. Semaj Christon 6-3, 190, PG, Xavier, So.
Christon was one of the most productive freshmen in the nation last year, leading the Musketeers in scoring at more than 15 points per game and doing so with flare. He's an incredibly quick point guard with strong isolation ability and terrific length. He does need to improve upon his assist/turnover ratio (a shade above 1/1 last year).
A tremendous defender, Christon has a chance to be special if his point guard skills continue to advance. With such an emphasis on point guard play in today's NBA, he could be among the first handful of players to hear their names called on draft night if he maintains his development track.
7. Dante Exum 6-6, 185, SG, Australia, 1995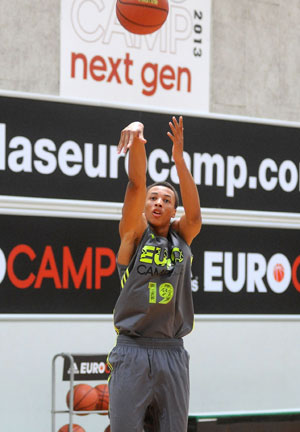 The son of Cecil Exum, a former North Carolina Tar Heel who eventually found his home in Australia, Dante possesses quickness usually reserved for smaller guards. Exum can penetrate and has skills to play either guard spot. Reportedly interested in playing in the NCAA, he may be a last-minute addition to some lucky program or hold off until the 2015 draft.
Either way, Exum has been very impressive in international play and in front of NBA scouts at the Nike Hoop Summit. He really opened some eyes at this year's FIBA U19 World Championships, scoring 33 points in Australia's upset win over Spain (Exum was fouled 18 times in the game). He needs to work improving his shooting consistency, though that should come with time. If he were a domestic player, odds are he would be a top 5-10 high school prospect, which should translate to a high draft selection.
8. Glenn Robinson III 6-6, 220, SF, Michigan, So.
Michigan enjoyed a breakthrough season and getting GR3 back should lead to continued success. With his father being one of the rare wing players to be taken No. 1 overall, Robinson III brings a pedigree as a scorer, while also contributing on the boards. He has the ability to become a strong outside shooter and now must work on adding to his off-the-dribble game. Asked to play the 4-spot last season, Robinson looks to be able to adjust to becoming a 3 in the NBA and will be expected to be more aggressive this season. Look for "Little Big Dog" to make headlines this season.
9. Gary Harris 6-4, 205, SG, Michigan St., So.
As one of the younger freshman in the NCAA last season, Harris made a solid choice to return. Whether it will be a positive for his draft position will be another story, but he should be vastly improved and even more of a centerpiece at Michigan State. He showed great range, but will have to improve as a ball handler and rebounder as he assumes more of a leadership role. He was hampered by a shoulder injury, which required surgery after the season, but if he can stay injury free and improve his production as a sophomore, Harris will be a highly sought-after shooting guard.
10. Joel Embiid 7-foot, 240, C, Kansas, Fr.
The Cameroonian center has been playing the game for only a few years, though he has qualities you cannot teach. His measurements are prototypical for center, but Embiid possesses athleticism you rarely see in a 7-footer. In addition, he seems to exhibit rare touch and decent shooting mechanics.
Still, he lacks great basketball instincts. He is a major project that will take time to develop. Embiid needs to learn where his strengths lie, which should have him thoroughly "embedded" in the post with his hands up on both ends of the court. His post game is incredibly limited and he may need a year before he is much of a threat on offense. However, with his combination of size, length and agility, his stay in Kansas might be a short one.
11. Andrew Harrison 6-5, 207, PG/SG, Kentucky, Fr.
John Calipari's teams are known to feature a dribble-drive offense with a strong emphasis on the point guard's ability to penetrate. Andrew Harrison is a big guard with a solid handle and experience running a team. At the same time, he needs to improve his consistency as an outside shooter. Instead of trying to do everything himself, Harrison needs to learn to trust his teammates. He has a great opportunity to do so with his surrounding talent at Kentucky.
If he can maintain a level head, his skills as a combo guard should be very intriguing. A lot will be expected of him. The keys to the Kentucky offense are in his hands. UK's tourney performance is likely to be directly correlated with Harrison's draft position.
12. James Young 6-6, 210, SG, Kentucky, Fr.
While the Harrison twins receive more press, Young will be equally crucial to Kentucky's season. With excellent size and length for a guard, Young will barely be 18 once the season starts. He is still very raw, but his potential as a scoring guard is substantial. The lefty shows a lot of shooting potential, but must tighten up his handle. Do not be surprised if Young becomes the x-factor for the 2013-14 Wildcats.
13. Kaleb Tarczewski 7-foot, 260, C, Arizona, So.
Tarczewski, like fellow intriguing-but-raw center prospect Cauley-Stein, would be an upside choice, should he enter the 2014 draft. Strength-wise, he has really grown into his body since arriving in Tucson. He has decent touch around the rim with either hand and shows potential as a rebounder. Defensively, he moves his feet pretty well and uses his big frame to his advantage. While he is not a big, bouncy shot-blocker, he uses his size to alter shots. Tarczewski is a better-than-expected athlete for his size and should show a great deal of improvement in his sophomore season. His ability to develop a post-up game will likely determine his draft status.
14. Wayne Selden 6-5, 225, SG/SF, Kansas, Fr.
Wiggins may own the spotlight at Kansas, but he will have help on the wing from Selden. With a college-ready frame and long arms, the aggressive Selden can score through contact. His handle is in need of improvement and he is much better in transition as opposed to half-court sets. Selden can get buckets, though he may need to work on his consistency as an outside shooter. Also, his perimeter defense is still a question mark. His ability to potentially play either wing spot and his top-notch physical strength make him an enticing prospect.
15. Jerami Grant 6-8, 205, SF, Syracuse, So.
Jerami Grant has professional basketball in his blood — his father, Harvey, played in the NBA for five years, and his uncle, Horace, was a key contributor to the Chicago Bulls' dynasty in the 1990s. Look for Jerami to be the next breakout sophomore at Syracuse. However, he was just diagnosed with mononucleosis, which kept him off Team USA's U19 squad. He should be healthy well before the season starts.
He has potential to be a versatile defender at both forward spots in Jim Boeheim's zone schemes. He still will need to add strength, but when he was thrust into a more promient role when James Southerland was on the shelf, the response was mostly positive. He may not rise into Dion Waiters or Michael Carter-Williams territory on draft day, but Grant should still garner heavy interest from the pros.
16. Mario Hezonja 6-7, 195, SG, Croatia, 1995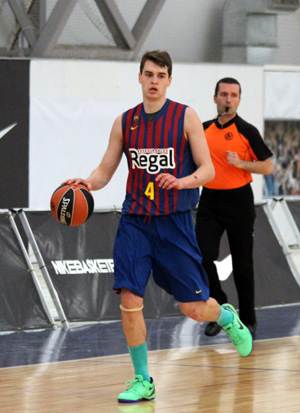 Thought to be among the premier prospects in Europe, Hezonja possesses excellent athleticism mixed with big-time talent. He has been playing high-level basketball for a long time and he's dominated competition his own age. If Hezonja were an American prospect, he would be a college freshman, but he has collected much more experience than the typical 18-year-old player. The major issues with Hezonja seem to be mental, as he is known for his bouts of frustration with teammates. He is an NBA-level athlete and he has a very good feel for the game. If he works on his body and answers questions about his attitude, Hezonja could find himself quite a bit higher on the list come June 2014.
17. James McAdoo 6-9, 230, SF/PF, North Carolina, So.
Once thought to be a potential top-five pick, McAdoo had a difficult time adapting to the role of a primary scoring option and slid down many draft boards. He must improve his ball skills, midrange shooting and overall decision making. He shows potential as a defender, but he has to improve his man-to-man post defense if he hopes to play power forward, which his offensive ability dictates as his likely landing spot in the pros. McAdoo is still a very strong athlete and intriguing prospect, though. While his sophomore season left a lot to be desired, a sense of urgency should propel him toward an improved junior year.
18. Noah Vonleh 6-9, 236, SF/PF, Indiana, Fr.
He is still young and a bit raw, but Vonleh has serious physical attributes to go along with a nice shooting touch. Vonleh could develop into a potentially dangerous stretch four who can put the ball on the floor and attack the glass. With a wingspan in the 7-foot-3 range and a body close to NBA ready, he just needs some seasoning and confidence to put it all together. His lateral quickness is not elite, but he can run the floor well for a player his size and should make an impact at Indiana — enough to possibly bolt after a single season.
19. Dario Saric 6-10, 225, SF/PF, Croatia, 1994
Saric has long been viewed as one of the top European prospects in his age group. He shows strong wing skills with the ability to put the ball on the floor, plus great court vision. But his serious lack of foot speed will force him into the power forward spot in the NBA. His athleticism is average at best and he has an awkward way of moving — though this unorthodox ability is part of what makes him intriguing. Saric seemed to be a likely 2013 mid-first-round pick, with lottery being a distinct possibility. He seemed to understand that he still needed time in Europe before he was ready for the NBA.
20. Spencer Dinwiddie 6-5, 190, PG/SG, Colorado, Jr.
Dinwiddie showed flashes of NBA potential; he just lacked consistency in big games. With a disappointing performance in the Buffs' season-ending loss to Illinois, he knew he had some things to work on. He needs to become more assertive, at times showing too much passivity that had scouts questioning his toughness and desire. If he continues to work on his body and outside shot, Dinwiddie could turn into one of the most versatile players in college basketball. His ability to penetrate is already at a very high level; his next step is limiting mistakes and improving shot selection.
Follow Michael on Twitter @MikeyV_Is_Here. For any comments or questions, feel free to e-mail him at [email protected]