1. Kentavious Caldwell-Pope 6-6 190 SG Georgia So.
You have to admire scorers who don't dominate the ball. KCP requires defensive attention throughout the entire 35-second shot clock, because of his ability to move, catch and shoot out to 26 feet. Though currently he's strictly a perimeter scorer, Caldwell-Pope's strengths translate to the next level in terms of taking his skillset and filling a niche. The fact that he's got excellent defensive tools (size, length and athleticism) only increases his appeal as a two-way prospect.
Physically he's got the build to score at the next level- he just needs to continue developing and improving his efficiency. A smooth scorer, Caldwell-Pope could be the Terrence Ross of the 2013 draft, with the upside and offensive weapons worthy of lottery consideration.
2. Ben McLemore 6-5 195 SG Kansas Fr.
The top recruit in Kansas' 2011 class, McLemore will finally get his first chance to justify the "high ceiling" label he's been given, after red-shirting last season.
McLemore is another superior athlete who can stroke it from deep, but still has so many raw qualities in terms of developing as a prospect. He's one of those kids who looks the part, but still needs to put the pieces together.
Bill Self has said McLemore could be the best talent he has ever coached. If he's right, McLemore may be a lottery pick after just one season in Lawrence.
3. CJ Wilcox 6-5 190 SG Washington Jr.
There's always a place in the big leagues for an athletic shooter with off-guard size. His production has been limited by playing with high profile guards playing in front of him (Terrence Ross and Tony Wroten).
Because of this, he has remained under the radar despite averaging 14 points and consecutive years shooting 40% from downtown. A top scoring option on one of the better teams in the Pac-12, expect Wilcox to generate first round buzz in 2013.
4. PJ Hairston 6-4 220 SG North Carolina So.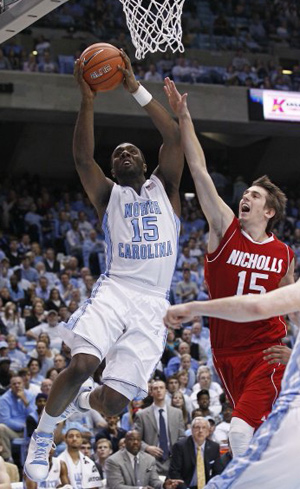 Hairston could be Carolina's most talented offensive player. A strong, athletic wing with an aggressive scorer's mentality, Hairston will immediately fight Reggie Bullock for playing time and offensive looks.
Though a little undersized at 6'4, he's got a good looking stroke to compliment strength and athleticism. The explosive package he offers offensively could generate interest in the first round.
5. Jamaal Franklin 6-5 185 SG/SF San Diego St. Jr
Few prospects are as exciting to watch as Franklin, whose highlight mixtapes could probably sell on Pay-Per-View. He's like an acrobat, seemingly flying into the frame without warning, propelled by jaw-dropping athletic ability. The gift he has allows him to contribute in areas most wings can't, particularly cleaning up/finishing loose balls on the glass.
He's considered extremely raw and unskilled on the perimeter and will need to improve upon those skills in order to prove that he's a legitimate 2-guard and not a small 3 to garner interest in the first round from scouts.
6. Sean Kilpatrick 6-4 210 SG Cincinnati Jr.
Generally one-dimensional as a freshman, Kilpatrick added to his game, and physique as a sophomore to become Cincy's leading scorer. While his primary strengths revolve around his jumper, he overpowered defenders attacking the rim north and south.
With Dion Dixon out of the picture, Kilpatrick should get more opportunities to dominate the ball, which means more reps as the top scoring option. He's said to have been dominating practice early on, and seems primed for a breakout year.
7. Allen Crabbe 6-6 190 SG California Jr.
Athletic yet not explosive, Crabbe plays the game with a sense of rhythm and finesse. His most valuable asset is his shooting stroke, which has been consistently effective in two consecutive years. Crabbe will need to add strength, as he struggles attacking the rim and absorbing contact. But again, there's almost always a spot in the league for athletic shooters.
8. Reggie Bullock 6-7 190 SG North Carolina Jr.
A talented wing with good size for a shooting guard, Bullock enters his junior year with consistency atop the priority list. 66% of Bullock's shot attempts come from behind the arch, which can explain his "appear/disappear" tendencies. Still, he shot 38% from downtown as a sophomore, and has the physical tools and stroke that translate to the next level.
He handled the ball a lot more in high school than he will at Carolina, so he's had to adjust fulfilling a different niche. Bullock has the talent to do so, but needs a big year in order to keep any first round dreams possible.
9. Rodney Purvis 6-3 187 PG/SG NC State Fr.
Purvis was cleared by the NCAA to play in games this season. This is important, because his presence could impact the entire conference.
Purvis is an explosive scoring guard capable of creating his own offense. Whether it's north/south attacking the rim or east/west pulling up, his ability to manufacture offense on his own goes a long way at the college level. He's exactly what NC State needs to get them over the hump.
10. Archie Goodwin 6-5 190 SG Kentucky Fr.
Goodwin is widely considered a top 20 prospect entering college and will be looked to fill in at Kentucky as their new off guard. He has the prototypical size and athleticism to be an NBA 2-guard.
With excellent speed and leaping ability, Goodwin thrives in the full court and attacking the glass. He needs to get stronger and improve upon his outside shooting and ability to create baskets.
He still has a ways to go in terms of skill level and feel for the game, but comes into Lexington in a wide open system that should help to showcase his talent. Whether he has enough talent and readiness to be a one and done player is debatable.
Honorable Mention: Alex Abrines 6-5 190 SG Spain 1992, Kenny Boynton 6-2 190 PG/SG Florida Sr., Jabari Brown 6-4 210 SG Missouri So., Drew Crawford 6-5 210 SG Northwestern Sr., Tim Hardaway Jr 6-5 190 SG Michigan Jr., Elijah Johnson 6-2 180 PG/SG Kansas Sr., Brandon Paul 6-4 190 SG Illinois Sr., Steven Pledger 6-4 221 SG Oklahoma Sr., Glen Rice Jr. 6-4 175 SG Georgia Tech Sr., Durand Scott 6-4 185 SG Miami Sr., Marcus Smart 6-3 210 PG/SG Oklahoma St. Fr., Michael Snaer 6-4 205 SG Florida St. Sr., Dexter Strickland 6-3 175 SG North Carolina Sr., Rasheed Sulaimon 6-4 190 SG Duke Fr. , Axel Toupane 6-6 191 SG France 1992, Brandon Triche 6-2 190 PG/SG Syracuse Sr., BJ Young 6-4 180 PG/SG Arkansas So., Trey Zeigler 6-5 200 SG Pittsburgh Jr.