By Ian Powers
East:
Julius Randle 6'9′ 245, PF, McKinney, TX, Kentucky – Was one of the stand outs this week due to his brute size and strength. Has a versatile game and displayed it during the week. He can face up and put it on the floor and can play with his back to the basket. The problem with Randle is that he thinks he's a guard and spends too much time dancing with the ball on the perimeter. If he will concentrate on playing inside of 15 feet, he will be very difficult to defend. John Calipari will clean those things up and Randle should have a very productive one and only season in college and be a high lottery pick.
Anthony Barber 6'2′ 165, PG, Hampton, VA, N.C. State – Was good at practices during the week. Displayed great need to end speed in the open floor and was able to get in the paint almost at will in half court sets. His decision making in the half court and jumpshot are the areas he'll need to improve upon to maximize his ability at N.C. State. Overall a solid week.
Keith Frazier 6'5" 180, SG, Dallas, TX, SMU – Frazier shot the ball well and had a great week of practice. He seemed to be playing with a lot of confidence and was genuinely happy to be there. Had an up and down senior season, but he seems to have put that behind him. His shot selection is still a little questionable at times and he still falls in love with the jumpshot, but his talent is undeniable and 2 or 3 years under Larry Brown will do wonders for his NBA aspirations.
Isaiah Hicks 6'9" 205, PF, Oxford, NC, North Carolina – Hicks is a long and athletic power forward who prefers the face up game. He can step out to 17-18 feet and either knock down the jumper or put it on the floor and get to the basket against bigger guys. He runs the floor well but he needs to add strength and weight badly and develop more of a mean streak.
Kasey Hill 6'1" 180, PG, Clermont, FL, Florida – An okay week for Hill. Showed glimpses of ability during the week, but was sidelined on the second day of practice with a minor knee injury. His speed and quickness are elite. His jumpshot still needs consistency. At his size he'll need to develop that part of his game because it won't be as easy to finish over the length he'll face in the SEC as it was in high school.
Rondae Hollis-Jefferson 6'7" 205, SF, Chester, PA, Arizona – Jefferson is a jack of all trades, master of none. He is a great perimeter defender and really stood out on that end of the floor during the week. Handles and passes the ball well enough to initiate the offense. Plays hard and has a great motor. His jumpshot is still lacking. Seems to shoot it flat at times. Should be an immediate contributor early at Arizona because of his defensive ability and versatility on the offensive end.
Demetrius Jackson 6'1" 185, PG, Mishawaka, IN, Notre Dame – Did not have a great feel for him coming into the week. Showed a strong body and a good burst. Seems to have a good feel for the position. Fits in perfectly with what Notre Dame does and will be able to step in and contribute right away. Good kid who is eager to learn and get better. Jumpshot needs to improve.
Dakari Johnson 6'11" 250, C, New York,NY, Kentucky – Had a good week due to his sheer size and power. Can get any shot he wants on the box simply by being able to carve out space and move people out of the way. He will never be a great athlete, but he's in better shape and he runs the floor better than he ever has. Showed some signs of a nice mid range game and was a man on the glass all week.
Kennedy Meeks 6'9" 285, C, Charlotte,NC, North Carolina – Really struggled this week and didn't quiet those who said he shouldn't have made the team. Really needs to focus on his conditioning. Is a skilled kid who can shoot from the outside, rebound and pass, but in his current condition rarely gets an opportunity to show it.
Wayne Selden 6'5" 215, SG, Roxbury, MA, Kansas – Selden had a very good week. Already has an NBA body and uses it well. Has the potential to be a lock down defender and had his moments on that end of the floor. Has good athleticism and can make plays from the PG spot in stretches. Jumpshot was more consistent than it has been in the past, but it still needs some fine tuning. A good get for Bill Self and another .potential one and done.
Noah Vonleh 6'9′ 225, PF, Haverhill, MA, Indiana – Vonleh had a solid week of practice. He didn't do anything to really stand out, but showed he belonged. Still needs to define his bread and butter on the offensive end of the floor. Not sure if he has the quickness to get by or the lateral foot speed to stay in front of 3's. Stretch 4 in the mold of Christian Watford at IU next year.
Chris Walker 6'10" 225, PF, Bonifay, FL, Florida – Walker's athleticism was on full display this week. He can run and jump with the best of them. He crashed the offensive glass and ran the floor well and finished in transition with a purpose. He showed an improved looking perimeter shot, but still needs to impact the game on more than highlight reel, athletic plays.
Andrew Wiggins 6'7" 205, SF, Thornhill, ON, Undecided – Scouts from all 30 of the NBA teams who were in attendance drooled over the superior athletic ability of Wiggins. He can simply do things others can't. As talented as he is, he still has a ways to go to refine his game. He either scores at the rim or from deep and really has no middle game to speak of. Despite that he did nothing to damage his status as the favorite to be next years #1 pick.
West: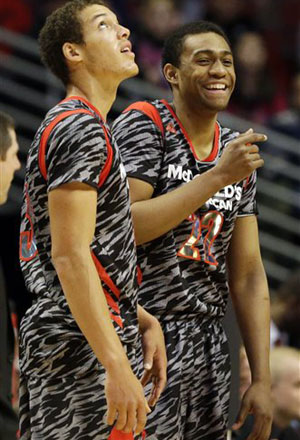 Jabari Parker 6'8′ 240, SF, Chicago, IL, Duke – Parker had a great week of practice. He is the most polished and skilled wing in the class and is a much better athlete than given credit for. He looked especially good on day one and carried it over the rest of the week in practice and the scrimmage. He struggled from the floor in the game, but I don't put much stock on game performance in a setting like this.
Jabari Bird 6'6" 185, SG/SF, Hercules, CA, California – Bird displayed his athleticism and shooting touch during the week. He still needs to improve his ability to put the ball on the floor and get in the weight room. Fit's the Cal system nicely and will be given every opportunity to step in and fill the void left by the departure of Allen Crabbe
Aaron Gordon 6'8" 225, PF/SF, San Jose, CA, Arizona – It was a very strong week for Gordon capped by his MVP performance in the game. His elite athletic ability and great motor were on full display. The issue with Gordon will be him being able to make the full time transition to the wing. His shot is still a work in progress. His release seems to be a little long and needs some work to become more consistent. Right now he's an undersized power forward who scores in transition and in the paint by overpowering his opponent and hitting the offensive glass
Isaac Hamilton 6'5" 185, SG, Los Angeles, CA, UTEP – Hamilton is not a great athlete, doesn't have great quickness, but knows how to put the ball in the hole. He's a natural scorer and has some sneaky athleticism. He was in the second tier of guys who didn't stand out as much because of strength issues.
Aaron Harrison 6'6" 215, SG, Richmond, TX, Kentucky – Harrison looked good all week showing his knack for scoring the ball. He shot it well from deep and was able to get to the bucket. When his shot isn't falling, he can always bully his way into the lane and get his shot off at the rim. He and his brother seem to be in each other's heads while on the floor together and often hook up on lobs and backdoor plays in the half court and transition.
Andrew Harrison 6'5′ 215, PG, Richmond, TX, Kentucky – While not the scorer his brother is, he is the best playmaker in the class. He gets into the lane at will and more often than not it's to set up a teammate for an easy score. He can shoot the ball out to three and break his defender down with power or quickness. Can score when he needs to but is much better as a facilitator and playmaker.
Matt Jones 6'5" 198, SG, Desoto, TX, Duke – Sharp shooter from the Lone Star state had no problems knocking down shots during the practice sessions. The areas for improvement in order to have a pro career will be strength and rounding out his game in terms of putting the ball on the floor and getting to the basket. Fairly one dimensional at this point, but he does that one dimension very well.
Marcus Lee 6'10" 206, PF/C, Antioch, CA, Kentucky – Lee's defensive presence was on display immediately. He was the best shot blocker in the practices, runs the floor like a guard, rebounds at a high rate, and is a great passer. Offensive game is showing signs. His upside is impressive but he must get stronger to reach his full potential. His best basketball is ahead of him.
Jarell Martin 6'9" 222, PF/SF, Baton Rouge, LA, LSU – Martin was a pleasant surprise to some this week. He has an advanced perimeter game for a big and is a matchup nightmare because of his ability to shoot the ball and use the dribble drive to get to the rim. Sneaky athlete and strong as a bull. Will be a very good addition to the LSU program and should make an immediate impact.
Bobby Portis 6'10" 220, PF/C, Little Rcok, AR, Arkansas – Skilled big with a diverse game. He can step out and shoot it, score on the box, runs well and rebounds at both ends. Is a good shot blocker and plays hard most of the time. He's a guy who will need a couple of years before he'll be able to maximize his ability and be a guy who can make an impact in the league.
Nigel Williams-Goss 6'3" 180, PG, Happy Valley, OR, Washington – Williams-Goss did what he does best during the week. He was a pest on the defensive end and made plays that help you win games. Jumpshot has improved greatly, evidenced by him winning the 3 point shootout. Is not blinding fast or quick and will not have wow you with great athletic ability. Will fit in nicely at Washington and win a lot of games.
James Young 6'6" 210, Rochester Hills, MI, Kentucky – Young didn't practice much because of a hip flexor. When he did, he showed his sweet stroke and ability to score the ball. He might be the best pure scorer in the class. He has elite athletic ability and gives the Wildcats the wing scorer that they lacked this year.

*Follow Ian Powers on twitter @ianapowers