Day 1 Thoughts
The NBADraft.net team is an army of one this year as I'm attempting to cover what turns out to be six games going on at one time, solo. Obviously it's impossible to see everyone at all times, but I am getting a lot of updates from my NBA scout cronies following other courts. I'll do my best to see everyone at least once with a focus on the college players. Day one had a morning practice and an afternoon scrimmage session. Here are my impressions from day 1.
Isaiah Austin — Austin played about as well as I've ever seen him play. In the morning he went behind his back and around a player on the break to lay the ball in, drawing a "That's a hellova move" from one scout. He was also very impressive in the evening session going up against Nerlens Noel at times. He was very active attacking the basket and showed his good touch. He got a number of dunks on broken plays and on rebound put backs. He also hit one mid-range shot over a defender. He is still extremely thin, needing a ton of strength and may never be able to play a physical brand of ball, but played out of his mind in front of scouts today. He told me that he's been at Baylor all summer taking summer school courses and his pick up team at school with Pierre Jackson has only lost two games all summer.
Gorgui Dieng — Dieng has the most improved body. Louisville is known for bulking up players in the weight room and after 2 full years plus a summer, Dieng's body has officially become "beastly". His shoulders are showing a lot of strength and he's also making excellent basketball plays. Louisville developing first rounders? Surprise surprise.
Nerlens Noel — Most expected the UCLA duo Kyle Anderson and Shabazz muhammad to be here, but instead scouts were treated with a player that has been mentioned as a potential #1 pick for 2013. Noel obviosly has the physical requirements to be the top pick with a freakish body and the leaping ability and timing to challenge Anthony Davis for shot blocking supremecy. But people expecting unibrow #2 should temper those expectations considerably. Noel will have a strong defensive impact at UK, but his offensive game is still extremely raw. He had some real trouble on day one dropping a number of passes and subsequently having his hands questioned by scouts. He's a major talent, still has a long ways to go. Noel matched up at times with Austin and it was pretty even with neither getting a decided advantage but at this point Austin has a lot more offense due to his better outside shooting touch. Regardless, Noel is without question the superior athlete and prospect. Noel told me he'll head to Kentucky on August 19th and is looking forward to getting to campus.
Isaiah Canaan — Speaking of bodies, Canaan looks like a halfback when you look at his shoulders and torso. He was one of the most impressive players at the camp and plays with great composure. He never seems rushed and showed excellent ability to knock down runners and create shots off the dribble. He has starting NBA PG potential, which can;t be said by a ton of players on the college level right now.
Amath Mbaye — Pronounced "Ah-mot M-by" was the biggest surprise. He's a 1989 born Oklahoma transfer from Wyoming who will be eligible to play this season and appears to be a future draft pick. Originally born in Senegal, Mbaye grew up in France before coming over to Stoneridge Prep and attending Wyoming. The athletic 6'8 small forward had a solid though unspectacular day but the fact that very few if any scouts were familiar with him made him the day's big surprise. He's got a solid shooting form, a nose for scoring and gets after it on the boards and defensively. Mbaye will have a chance to lead Oklahoma in scoring next season with his combination of touch, aggressiveness and athleticism.
Robert Covington — A name draft fans need to familiarize themselves with. Covington appears to have put some work in in the weight room. He has added some much needed bulk and has been impressive showing his athleticism to finish at the rim and knock down the deep ball. The junior from Tennessee State was one of the better players on Friday.

International Standout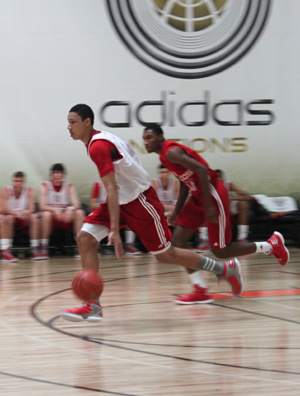 Ben Simmons — Australian SF Ben Simmons just turned 16 and he's already standing out against American players two years his elder. He is a lefty with a sweet shooting stroke and tremendous feel for the game. Along with teammate Dante Exum, the Aussies pulled off the win against the 2013 red rising senior American team (which included Kasey Hill, Chris Walker and Brannen Greene) he wowed scouts on hand with his tremendous leaping ability and all around skills. He started the game off flashing his tremendous vision and passing skills. He also pushed the ball up the floor in transition showing advanced ball handling ability. Additionally he shows a first step to get by opponents off the bounce. He had one play towards the end of the game where he rose up from outside the circle and dunked over a defender. He was the guy receiving the most buzz after day 1, as scouts were raving about him as a potential future top 5 pick. This kid has a chance to be special.
Roster
# Player Pos. Height College School Year
35 Steven Adams C 7'0" Pittsburgh Freshman
21 Isaiah Austin F 7'0" Baylor Freshman
20 Wayne Blackshear G 6'5" Louisville Sophomore
2 Ryan Boatright PG 6'0" UConn Sophomore
5 Isaiah Canaan PG 6'0" Murray State Junior
25 Willie Cauley F 6'10" Kentucky Freshman
45 Jack Cooley F 6'9" Notre Dame Senior
22 Robert Covington F 6'9" Tennessee State Junior
42 Ed Daniel F 6'7" Murray State Senior
40 Gorgui Dieng C 6'11" Louisville Junior
4 Anthony Ireland PG 5'10" Loyola Marymount Junior
1 Joe Jackson PG 6'0" Memphis Sophomore
0 Pierre Jackson PG 5'10" Baylor Junior
23 Sean Kilpatrick G 6'4" Cincinnati Sophomore
44 Amath Mbaye SF 6'8 Oklahoma Junior
13 Ray McCallum PG 6'1" Detroit Sophomore
32 Travis McKie SG 6'7 Wake Forest Junior
31 Erik Murphy F 6'10" Florida Senior
30 Nerlens Noel F 6'10" Kentucky Freshman
15 Mason Plumlee F 6'9" Duke Junior
55 Cameron Ridley F 6'10" Texas Freshman
12 Andre Roberson F 6'7" Colorado Junior
3 Peyton Siva PG 6'0" Louisville Junior
10 Will Sheehey G 6'7" Indiana Junior
14 Adonis Thomas G-F 6'6" Memphis Freshman
11 DeShaun Thomas F 6'7" Ohio State Sophomore
50 Marc Trasolini F 6'9" Santa Clara University Senior
33 Kyle Wiltjer F 6'9" Kentucky Sophomore
7 Nate Wolters G 6'4" South Dakota State Senior
24 Patric Young F 6'9" Florida Sophomore
8 Trey Zeigler G 6'5" Pittsburgh Sophomore
High School
USA 2013 – Blue
Player Pos. Height High School Home Town
Jordan Bell F 6'8" Long Beach Poly (CA) Long Beach, CA
Nate Britt G 6'1" Gonzaga (MD) Upper Marlboro, MD
Isaac Hamilton G 6'4" St. John Bosco (CA) Los Angeles, CA
Kendal Harris G 6'4" Berkner (TX) Richardson, TX
Isaiah Hicks F 6'9" J.F. Webb (NC) Oxford, NC
Zack LaVine G 6'3" Bothell (WA) Bothell, WA
Jermaine Lawrence F 6'10" Pop John (NY) Springfield Gardens, NY
Jarell Martin F 6'9" Madison Prep (LA) Baton Rouge, LA
Jordan Mathews G 6'3" Santa Monica High (CA) Santa Monica, CA
Devin Williams C 6'9" Montverde Academy (FL) Cincinnati, OH
Nigel Williams-Goss G 6'3" Findlay Prep (NV) Henderson, NV
USA 2013 – Red
Player Pos. Height High School Home Town
Kasey Hill G 6'2" Montverde Academy (FL) Clermont, FL
Allerik Freeman G 6'4" Olympic (NC) Charlotte, NC
Brannen Greene F 6'7" Mary Persons (GA) Atlanta, GA
Thomas Hamilton C 6'9" Whitney Young (IL) Chicago, IL
Zak Irvin F 6'6" Hamilton Southeastern (IN) Indianapolis, IN
Jordan Mickey F 6'7" Grace Prep (TX) Richardson, TX
Karviar Shepherd F 6'9" Grace Prep (TX) Cedar Hill, TX
Chris Walker F 6'8" Holmes County (FL) Bonifay, FL
Derrick Walton G 6'0" Chandler Park (MI) Detroit, MI
Byron Zeigler F 6'7" Detroit Community (MI) Detroit, MI
USA 2014 – Blue
Player Pos. Height High School Home Town
Daniel Hamilton F 6'7 St. John Bosco (CA) Los Angeles, CA
Adonys Henriquez G 6'5" Orlando Christian (FL) Orlando, FL
Skal Labissiere F/C 6'9" Memphis, TN
Trey Lyles F 6'9" Indianapolis Tech (IN) Camby, IL
Jahlil Okafor C 6'11 Whitney Young (IL) Chicago, IL
Romelo Trimble G 6'2" Biship O'Connell Upper Marlboro, MD
Paul Turner G 6'4" St. Joseph (IL) Chicago, IL
Rashad Vaughn F 6'8" Robbinsdale Cooper (MN) Golden Valley, MN
Craig Victor F 6'8" St. Augustine (LA) New Orleans, LA
Justise Winslow G 6'5" St. John's (TX) Houston, TX
Milik Yarbrough F 6'5" Zion Benton (IL) Zion, IL
USA 2014 – Red
Player Pos. Height High School Home Town
Shaqquan Aaron G/F 6'7" Apple Valley, CA
Cliff Alexander F 6'8" Curie (IL) Chicago, IL
Leron Black F 6'8" White Station (TN) Memphis, TN
Tyler Dorsey G 6'4" Ribet Academy (CA) Pasadena, CA
Kaleb Joseph G 6'3" Cushing Academy (NH) Nashua, NH
Emmanuel Mudiay G 6'4" Grace Prep (TX) Dallas, TX
Theo Pinson G 6'5" Wesleyan Christian (NC) Greensboro, NC
Trey Thompson F 6'8" Forest City (AR) Madison, AR
Rashad Vaughn F 6'5" Robbinsdale Cooper (MN) Golden Valley, MN
Noah Vonleh F 6'8" New Hampton (MA) Havermill, MA
Isaiah Whitehead G 6'4" Lincoln (NY) Brooklyn, NY
Africa 2013
| | | |
| --- | --- | --- |
| Player | Pos. | Height |
| | F | 6'11" |
| | PF | 6'9" |
| Renathan Ona Embo | PG | 6'1" |
| Khadim Fall | PG | 6'5" |
| Youssoupha Fall | C | 7'3" |
| Rodger Duclos Moute A Bidias | G | 6'7" |
| | C | 7'4" |
| Papa Sadiaw Ndiaye Diatta | F | 6'8" |
| Sidi Ndir | PG | 6'3" |
| Abdoulaye Ndoye | PF | 6'9" |
| Patson Sime | PF | 6'11" |
| Tibou Tall | C | 6'10" |
| Papa Macktat Traore | PF | 6'10" |
Asia 2013
| | | |
| --- | --- | --- |
| Player | Pos. | Height |
| Yu Dehao | G | 6'3" |
| Liu Guangcen | F | 6'6" |
| Guo Kailun | G | 6'3" |
| Michael James Kareneaa | | |
| Lin Lixing | F | 6'8" |
| Sun Minghui | G | 6'1" |
| Hu Mingxin | C | 6'8" |
| Zheng Qilong | F | 6'7" |
| Wang Tong | G | 6'8" |
| Thomas James Vodanovich | | |
| Wang Xu | F | 5'11" |
| Lu Yiwen | F | 6'8" |
| Xu Yufeng | C | 6'8" |
| Wei Zhengxian | F | 6'7" |
| He Zhongda | F | 6'8" |
Australia 2013
| | | |
| --- | --- | --- |
| Player | Pos. | Height |
| Jonah Bolden | F | 6'7" |
| Joshua Derksen | F | 6'8" |
| Mirko Djeric | G | 6'4" |
| Andrija Dumovic | F | 6'10" |
| Nick Duncan | C | 6'7" |
| | G | 6'5" |
| Darcy Harding | F | 6'7" |
| Gerard Martin | G | 6'4" |
| Jack McVeigh | F | 6'7" |
| Emmett Naar | G | 6'1" |
| Owen Odigie | F | 6'6" |
| | F | 6'8" |
Europe
| | | |
| --- | --- | --- |
| Player | Pos. | Height |
| Mehmet Firat Alemdaroglu | PF | 6'8" |
| Tarik Muhammed Asik | C | 6'11" |
| Berkay Candan | F | 6'8" |
| Mert Ciner | F | 6'6" |
| Atilla Dagdelen | C | 6'10" |
| Ayberk Guleryuz | PF | 6'8" |
| Ziya Muhhamed Kucukasci | F | 6'7" |
| Ozan Anton Odabasi | PF | 6'8" |
| Ayberk Olmaz | PF | 6'8" |
| Utku Saraloglu | PG | 6'2": |
| Berk Ibrahim Ugurlu | PG | 6'4" |
| Baris Ahmet Yurteri | F | 6'8" |
Latin America 2013
| | | |
| --- | --- | --- |
| Player | Pos. | Height |
| Braian Angola | SF | 6'7" |
| Pedro Barral | PG | 6'0" |
| Hernando Caceres | PF | 6'7" |
| Kevin Cuesta | SF | 6'6" |
| Gabriel Deck | SF | 6'7" |
| Leonardo Demetrio | SF | 6'7" |
| Enrico Leite | G | 6'4" |
| Luciano Parodi | PG | 6'0" |
| Felipe Rech | C | 7'0" |
| Leonardo Roese | G | 6'3" |
| Dimitri Souza | G | 6'4" |
| Tony Trocha | PF | 6'11" |