Most of the top shooting guards in college basketball are not very well known names. To be a two guard at the next level requires more than just the ability to shoot. Being able to combine athleticism and size, along with an outside game and the ability to create your own shot are all qualities you see in the elite off ball guards in the NBA. Here's a list of the top shooting guards this coming season looking to make headlines and build up their recognition:
1. Alec Burks 6-6 195 SG Colorado So.
Virtually unknown entering the year, Burks proved to be a big time scorer, averaging over 17 points per game shooting about 54% from the field in his freshman season. He has the ability to get to the rim while drawing and absorbing contact, which for now offsets his struggles from the outside. His game is smooth, and he has the one on one skills needed to become a relied upon shot maker assuming he continues to mature and grow. Thriving in transition, he has size and athleticism, with the ability to leap and finish around the rim which makes him very difficult to defend. He will need to hit the weights while adding more consistency to his jumper, but all in all should become a more well known name in his second season at Colorado.
2. William Buford 6-5 185 SG Ohio State Jr.
Buford has a picturesque jumper with deep range that allows the offense to open up and his team to spread the court. He moves well without the ball, and has a good understanding of spacing which is key for a shooter. Playing against Evan Turner in practice for two years will definitely prove to be advantageous for this competitive guard, who's unselfish play and sound decision making help put his teammates in the best position to succeed. He only shot 43% from the field last year mainly due to the majority of his attempts coming from the outside, but look for him to be much more aggressive this season with Turner gone. His 14 points per contest could and should increase in his junior year as a Buckeye, and with freshman Jared Sullinger working down low, Buford should see more open looks from the perimeter.
3. Travis Leslie 6-4 202 SG Georgia Jr.
Leslie is a superior athlete who can jump out of the gym and drop jaws. His explosiveness makes him unstoppable when he gains momentum attacking the rim, showing no fear against the taller defensive rim protectors. For an undersized guard, he has an impressive ability to finish around the basket and absorb contact. Averaging almost 7 rebounds per game, his high motor and big time energy can inspire a team and a crowd. He struggles shooting the basketball, and his range is pretty much non-existent, which is what is keeping him out of guaranteed first round talks. With an improved handle and a more developed outside game, look for Leslie to make some serious noise this year as a junior.
4. Jordan Hamilton 6-7 208 SG/SF Texas So.
Jordan Hamilton had himself an up and down freshman season, but his overall game is too hard not to like assuming he improves his consistency. He has NBA range with a polished and fluent jump shot, and can get up and down the floor effectively despite lacking elite athleticism. At 6'7, he finishes well around the rim, however he doesn't attack the rim frequently enough. The majority of his game is from the outside, and his questionable shot selection has earned himself the unwanted "selfish" label. If he can improve his decision making and ability to attack the basket, it will open up his outside game even more, making him an intriguing NBA prospect.
5. John Jenkins 6-4 180 SG Vanderbilt So.
Not a household name yet, but John Jenkins is the premier outside shooter in college basketball. His jumper is pure and effortless, shooting an astounding 48% from downtown, and thats off hoisting up 4.8 three pointers per game. Jenkins needs little room to get off his shot, and has range that makes him tough to defend on the perimeter. He's a smart kid with a strong work ethic, and if he can improve on his playmaking skills and work on being a little more mutli-dimensional, his offensive game will flourish. With Vandy losing their top two guns, Jenkins will have the change to become more of a focal point in the offense in his second season.
6. Reggie Bullock 6-6 190 SG North Carolina Fr.
Reggie Bullock is a versatile off guard who can slash and shoot. He shows impressive body control and balance when taking his man off the dribble, and his stroke from the outside looks dependable for an incoming freshman. He looks very under control out on the court, never seems to panic and rarely forces the issue. With talent around him, open looks from the outside should become a theme, as he can further polish his outside game. He's a capable passer, while his basketball IQ, size and mobility should combine to make him an above average defender, and someone Coach Roy Williams will have trouble taking out of the game.
7. Durand Scott 6-5 185 PG/SG Miami So.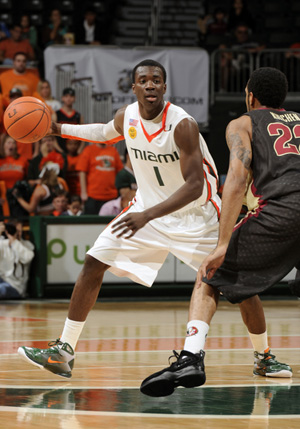 Scott is a combo guard in the mold of a Tyreke Evans without quite the superior physical attributes. Listed at 6-3, "Durand Durand" Scott appears closer to 6-5 and shows explosive finishing ability. He excels at attacking the basket off the dribble and shows some lead guard abilities. The NYC native came on at the end of the year with an eye opening performance against North Carolina putting up 29 points at Chapel Hill on 11-15 shooting. He averaged 10 ppg and a 1.5 a/to ratio, which is very impressive for a freshman in the ACC and is a break out candidate for 2011.
8. Evan Fournier 6-7 190 SG France 1992
Another versatile guard with a terrific feel for the game, Evan Fournier shows solid footwork with a nice change of direction ability when the ball is in his hands. Shows control and poise with scoring instincts in regards to when to pullup and when to attack the rim. He's got excellent vision and can make the pass to set up a teammate for an easy bucket. Draws Manu Ginobili comparisons, but will need to bulk up and improve his range and defensive fundamentals. Not the most explosive athlete and could look to wait a few years until he's truly ready before declaring himself eligible for the NBA draft.
9. DeQuan Jones 6-6 195 SG/SF Miami Jr.
Scott's teammate Jones has a ton of upside, he just hasn't started climbing yet. He's been somewhat non-existent his first two years at Miami, but his athleticism and leaping abilities should not go overlooked. He can take off from anywhere, and if running in transition he can almost guarantee the crowd a highlight reel finish. His quickness leaves defenders behind if he has an open lane, but creating off the dribble is not where he shines. He lacks range and consistency in his outside game, but will have more opportunities to improve on his overall offense this coming season. He has good size and strength, and his defensive potential is unlimited when it comes to being an on-ball defender. If he can just focus on improving some offensive fundamentals, his athleticism and defensive capabilities should do the rest of the talking.
10. LaceDarius Dunn 6-4 200 SG Baylor Sr.
Dunn has tremendous scoring ability with deep range as well as a solid mid-range game. He has the speed and athleticism to excel in transition and also shows some ability to run the point. He's also shown steady improvement each season. Aside from being one of the most prolific guards in the country as a junior averaging 19.6 ppg 4.8 rpg, 1.9 apg, he is also extremely efficient shooting 45% fg, 86% ft, and 42% 3p. Dunn is a little undersized for the NBA SG position at 6-4 but should find a place in the league as an instant offense shooter. He'll need to look to cut down on his 2.5 turnovers per game.
Sleeper
Khris Middleton 6-7 215 SF Texas A&M So.
Middleton was one of the most productive freshmen in the Big 12 last year. The Aggie showed the ability to finish at the rim with long arms and solid athleticism. He also excels shooting from outside showing good range and consistency from 3 point. Middleton is still probably a year away from considering the draft but he's one to keep an eye on for a breakout sophomore season.
Honorable Mention: Kenny Boynton 6-2 190 SG Florida So., Dominic Cheek 6-6 180 SG Villanova So., Allen Crabbe 6-5 200 SG California Fr., Maurice Creek 6-5 190 SG Indiana So., Malcolm Delaney 6-4 184 SG Virginia Tech Sr., Jon Diebler 6-6 205 SG Ohio State Sr., Steven Gray 6-4 185 SG Gonzaga Sr., Kim English 6-6 200 SG Missouri Jr., Austin Freeman 6-4 225 SG Georgetown Sr., Jeremy Hazell 6-5 200 SG Seton Hall Sr., Cory Higgins 6-4 185 PG/SG Colorado Sr., Justin Hurtt 6-4 195 SG Tulsa Sr., Edwin Jackson 6-4 190 SG Asvel (France) 1989, Keala King 6-5 190 SG Arizona St. Fr., Doron Lamb 6-4 183 PG/SG Kentucky Fr., Trent Lockett 6-5 211 SG Arizona St. So., CJ McCollom 6-3 165 PG/SG Lehigh So., Adrian Oliver 6-4 180 SG San Jose St. Sr., Jereme Richmond 6-7 195 SG Illinois Fr., Durrell Summers 6-5 186 SG Michigan St. Sr., Cameron Tatum 6-6 197 SG Tennessee Jr., Tyshawn Taylor 6-3 160 SG Kansas Jr., Klay Thompson 6-5 185 SG Washington St. Jr., Eniel Polynice 6-5 220 SG Seton Hall Sr., Dion Waiters 6-4 201 SG Syracuse Fr., Trey Zeigler 6-5 190 SG Central Michigan Fr.