By Tyler Ingle
With the top two #1 pick candidates, and a handful of lottery and first round talents, small forward is the most talent laden position looking ahead to the 2011 draft.
1. Harrison Barnes 6-8 215 SF North Carolina Fr.
It's very rare to see a player coming out of high school that is as polished as Harrison Barnes. He already has the complete package and is considered by many to be the ultimate prize of the 2011 NBA draft. He boasts a very smooth, very smart offensive game. He never tries to do too much with the ball, keeping his mistakes to a minimum. Barnes can score in a variety of ways. He can catch and shoot, pull up off the dribble, finish in transition, draw contact and slash when he is off the ball. He uses his intelligence, athletic ability and length to his advantage on the defensive end and on the offensive glass. Barnes is also very unselfish and manages to keep his teammates involved. Off the court he has a reputation of being a good, hard working student, which will comfort a lot of GMs. Harrison Barnes is a low risk/high reward player, and he has very little downside. With his talent, attitude and natural ability, it's hard to see Barnes not being incredibly successful in the future.
2. Perry Jones 6-11 230 SF Baylor Fr.
It is awe-inspiring to watch a player who is 6'11" move like Perry Jones does. On the fast break he is a terror. Charging at the defense full-speed, only to change directions on a dime and then rise up for a powerful finish. His ball handling skills coupled with his length reminds many of Tracy McGrady. He is extremely comfortable with the ball in his hands. Though his jump shot isn't reliable yet, he shows a lot of potential in this area. All of his physical attributes (athleticism, strength, length, height, quickness) makes defense come easy to him at the high school level. He will have to put in a little more work in this area at Baylor. Unlike Barnes, Jones has a lot of skeptics. If he produces this season like he can, then he has the best chance of dethroning Barnes as the first overall pick come June.
3. Rodney Williams 6-7 215 SF Minnesota So.
It's hard not to get excited about uber-athlete Rodney Williams, even if he did only average 11.9 minutes per game last season. Williams' best skill right now is obviously his leaping ability. He gets up extremely high, extremely fast. In fact, if he were to get a running start, Rodney could probably jump over Kanye West's ego, which is saying something. He also sports a strong 6'7" 215 lbs frame, and he should be able to add some muscle to it over time. Offensively, he is a work in progress. He is a solid jump shooter with good form, but he needs to add range and consistency. We haven't seen him do much in terms of creating for himself, but he really hasn't had much of a chance. This season he should become an impact player for the Gophers and a possible lottery pick.
4. Kyle Singler 6-8 230 SF Duke Sr.
Singler is a tough, smart kid with a winner's mentality. He can shoot, rebound, pass and handle the ball well. He didn't lead the national champion Blue Devils in any statistical category (except blocks), yet his versatility is why he was named the Final Four most outstanding player. He'll be leading the charge along with Kyrie Irving in an attempt to repeat. If he does, he stands a very good chance of being a lottery pick next year. He fits the mold of the "safe" pick that GMs seem to covet in the weeks leading up to the draft. (See Hayward, Hansbrough, etc…)
5. Terrence Jones 6-9 220 SF Kentucky Fr.
Terrence Jones will bring great size and an intriguing skill set to Kentucky next season. The lefty possesses advanced ball handling and passing skills for a small forward, which invites the comparison to Lamar Odom. He likes to face up and take his opponent off the dribble. He often bullies his way to the hoop, using his strength to overpower weaker defenders. Jones can also beat you outside the paint. His jump shot is unorthodox and streaky, but when he gets hot he can put up a lot of points in a hurry. Defensively, Jones is inconsistent, but he has shown the potential to be very effective. He has also been criticized at times for not putting in a maximum effort on the glass. We'll see if he can bring it every night for Coach Cal.
6. Tyler Honeycutt 6-7 190 SG/SF UCLA So.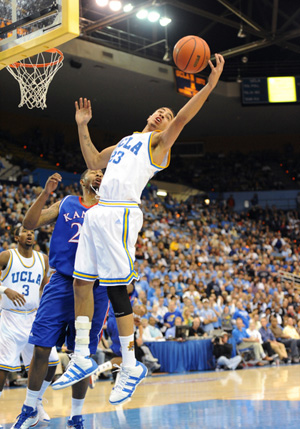 Honeycutt is a versatile and athletic player who can interchange between the off guard and forward positions. He has the ability to handle the ball, and his long arms and active movement helps him hit the boards hard and rebound the basketball. His soft rap can be attributed to his skinny frame, but Honeycutt is a hard worker who isn't afraid to bang inside. His post game is deceptive, as he finds ways to slip and slide off his defender and uses a nice feel for the rim to score the ball. He has a capable midrange game off the dribble which will only improve with time, and can elude defenders in the air when attacking the rim. Look for Honeycutt to be much more effective offensively in his second season at UCLA.
7. Kris Joseph 6-7 201 SF Syracuse Jr.
Joseph played behind Wesley Johnson last season, but still managed to show a great deal of improvement in his offensive game. Now that Johnson and Rautins are gone, Joseph will be counted on to take over as the first scoring option. He thrives in transition, using his impressive athleticism to finish plays at the rim. However, if he wants to really help the Orange next season, he'll have to improve his jump shot (shot 9/41 on threes last season) and his ball handling. His passing, rebounding and defensive abilities round out his game, making him an excellent team player. His long-term potential is high enough to make him a candidate to be selected in the first round in 2011.
8. Jeffery Taylor 6-7 SF Vanderbilt Jr.
Taylor is an explosive athlete with good size for an NBA small forward. He has a developing mid-range game, though most of his field goals come from inside the paint. His aggressiveness around the hoop also gives him a lot of opportunities at the free throw line. Last season, Taylor only made one shot from beyond the arc, so his outside shooting is currently an area of concern. As are his mediocre ball handling and passing abilities. Defensively, Taylor shows great ability. He has the strength, size, quickness, athleticism, and instincts to become a force at the NBA level. If he can show enough improvement in some of the holes in his game, Taylor will shoot up draft boards quickly.
9. Chris Singleton 6-9 225 SF/PF Florida St. Jr.
Singleton is a stat-sheet stuffer. Though he may not score a lot, he is a great rebounder, defender and passer. In half-court situations, Singleton struggles to create shots for himself (often settling for an ill-advised jumper), and others (3.0 turnovers per game). Offensively, he is at his best when in transition. He forces an unreal amount of turnovers (led the ACC in steals) with his quickness and length, and this leads to many opportunities to score. His size, strength and athleticism gives him the versatility to defend and play both forward positions. Defensively, he is very active, he is a solid shot blocker (1.5 per game) and he works very hard to box his man out. His basketball IQ, free throw shooting and decision making are in need of improvement, but Singleton has NBA potential.
10. Elias Harris 6-8 220 SF Gonzaga So.
Harris is a long, active forward with an attractive skill set. His offensive game has a lot of potential, as he can operate inside or out. Harris is very energetic, driving to the rim every time he has a chance to do so. He used his athleticism, strength and nice touch to finish in the paint at a very high clip last season. He also has an efficient outside jumper (shot 45% from three). His ball handling, post game and passing abilities are all in need of improvement if Harris wants to reach his full potential. He also displays a high activity level when rebounding. With a good season, Harris will find himself in 1st round discussions.
Honorable Mention: Pablo Aguilar 6-9 200 SF Real Madrid (Spain) 1989, Will Barton 6-6 161 SG/SF Memphis Fr., Ivan Batur 6-8 185 SF Zadar (Croatia) 1990, Robin Benzing 6-10 205 SF/PF Germany 1989, Gilbert Brown 6-6 200 SG Pittsburgh Sr., Cameron Clark 6-6 184 SF Oklahoma Fr., Mike Davis 6-9 215 SF Illinois Sr., Gary Flowers 6-8 215 SF Southern Miss. Sr., Noel Johnson 6-7 180 SF Clemson So., Tobias Harris 6-8 210 SF/PF Tennessee Fr., John Henson 6-10 190 SF/PF UNC So., Scotty Hopson 6-6 185 SF Tennessee Jr., Jamelle Horne 6-7 205 SF Arizona Sr., Robbie Hummel 6-7 208 SF Purdue Sr., Jamail Jones 6-6 205 SG Marquette Fr., Anthony Jones 6-10 190 SF/PF Baylor Jr., Kevin Jones 6-8 248 SF West Virginia Jr., Jelan Kendrick 6-6 186 SG/SF Memphis Fr., Kawhi Leonard 6-7 210 SF San Diego St. So., Dane Miller 6-6 210 SF Rutgers So., Tony Mitchell 6-9 215 SF Missouri Fr., Chandler Parsons 6-8 205 SF Florida Sr., Jeff Robinson 6-6 205 SF Seton Hall Jr., Amu Saaka 6-6 210 SF Furman Sr., , Ari Stewart 6-7 205 SF Wake Forest So., Joan Tomas 6-8 SF Spain 1992, Wesley Witherspoon 6-7 185 SF Memphis Jr., Chris Wright 2731 6-7 217 SF Dayton Sr.,