Last year just 3 point guards went in the first round, including top overall pick John Wall. This coming after one of the strongest point guard drafts ever with 11 point guards taken in the first round in 2009. The position has gotten stronger and deeper once again with a number of lottery candidates and as many as 10 prospects with legitimate first round aspirations. Here is an early look at the top 10 by position, beginning with the point guards.
1. Kyrie Irving 6-2 172 PG Duke Fr.
Duke guard Kyrie Irving has a chance to quickly become the most complete point guard in college basketball. Irving possesses the ability to score in bunches from anywhere on the floor and is unquestionably a pure point guard. Irving also has innate leadership abilities, plus his desire to become a lock down defender will be a big asset in becoming a solid pro. The one knock on Irving is his lack of elite athleticism and lateral quickness. It is this quality (or lack thereof) that separates him from the phenomenal guards who currently dominate the NBA. That said, it is important to remember that many of the guards who excel in the NBA do not possess out of this world athleticism. Ultimately, Irving is a complete point guard prospect who is likely to thrive in the NBA.
2. Brandon Knight 6-3 185 PG Kentucky Fr.
John Calipari's newest backcourt standout lacks the raw athleticism of his predecessors (Rose, Tyreke, Wall) yet is a very talented lead guard in his own right. Knight is an intelligent kid who plays with a high motor. He had a promising showing in Kentucky's summer exhibition trip to Canada. His blow by ability and killer instinct to take over are both trademarks of his game. However, he still must transition from "playmaker" to becoming a true "floor general", learning the ability to dictate the flow of the offense and set up teammates equally well in the half court as on the break. Kentucky's up tempo system should fit right into Knight's style allowing him to get out and run and use his elite level speed to his advantage.
3. Maalik Wayns 6-1 205 PG Villanova So.
On pure talent and upside, Maalik Wayns ranks as one of the best NBA prospects in the college game. Wayns combines talent, athleticism, power, and agility with a developing understanding of the game. He worked hard this offseason adding strength to his frame and appears to have put on a solid 10-15 lbs. However, Wayns has yet to produce big numbers at the collegiate level and remains in a time share with talented Wildcat senior Corey Fisher. Expect him to be on the NBA radar all season, but he could struggle to produce big numbers beside Fisher which could force him to remain in college another year and showcase his considerable talent in 2012. Then again freshman Eric Bledsoe went 18th last year playing behind John Wall, and Wayns is both further developed and more talented than Bledsoe.
4. Kemba Walker 6-0 179 PG Connecticut Jr.
Walker possesses excellent speed, athleticism, and lateral quickness, gets to the rim at will, racks up steals, and is capable of penetrating and finding teammates all over the court. However, on closer inspection, Walker's game has a few serious flaws that limit his NBA upside and separate him from the elite talents at his position. First, Walker is very small: he measured 6' 1" at the LeBron summer camp but this does not seem possible and he may well measure under six feet in pre-draft workouts. However, the second and more important problem is that Walker has a scorer's mentality and looks to shoot before passing. Combined with his inconsistent perimeter jumper, this tendency has frustrated both Walker and Connecticut throughout his collegiate career.
5. Jimmer Fredette 6-2 195 PG BYU Sr.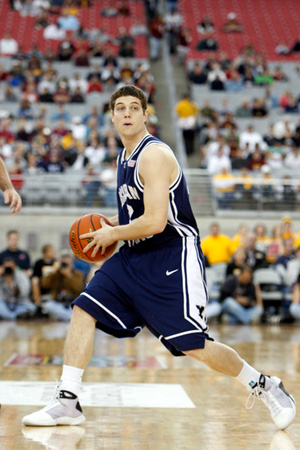 Jimmer Fredette is arguably the most underrated player at the point guard position for the upcoming draft. A talented floor general from mid-major BYU, Fredette has not had the exposure of some big school prospects but he has improved in each of his previous three seasons. Fredette is one of the top pure shooters on the college level. In 2009-10, Fredette posted an extremely impressive line of 22.1pts, 4.7assists, 3 rebounds, and a steal and showed that he is not only a fearless scorer, he is also a well rounded floor leader capable of creating and executing plays from anywhere on the floor. What Fredette lacks is elite athleticism and lateral quickness that the NBA's top point guards (think Derrick Rose, Rajon Rondo, and Russell Westbrook) use to separate themselves from defenders, but he still projects as a smart and talented role-playing contributor capable of helping any team in a variety of ways.
6. Ian Miller 6-3 190 PG Florida St. Fr.
Florida State point guard Ian Miller is an immense talent. Measuring 6' 3" and 190 pounds with a long wingspan and a lengthy frame, Miller possesses freakish athleticism that his new team hopes he will put to good use next season. Miller flew relatively under the radar during his high school career as he didn't get an invite to any of the high profile All Star showcases. Miller is a freshman and has yet to truly learn-let alone master-the point guard position and the game of basketball as a whole. While it will be interesting to watch him begin to explore his potential next season, Miller is a likely candidate remain at school. Miller has also shown the ability to rise in big situations knocking down a game winning 3 pointer to help his high school eliminate (then senior) John Wall's team in the North Carolina State finals.
7. Shelvin Mack 6-2 215 PG Butler Jr.
Coming off a eye opening NCAA tournament in which he was a catalyst in Butler's NCAA title game run, Mack combines freakish strength with a polished floor game. Mack will be asked to assume a much larger role in the team's offensive scheme. Scouts are enamored with his offensive skills and ability to knock down shots. He'll need to continue to expand his point guard abilities to solidify a spot in the first round next year.
8. Josh Selby 6-3 195 PG Kansas Fr.
Kansas freshman Josh Selby is an athletic, attacking guard who has both deep range on his jumper and the ability to slash to the basket and finish at the rim. Moreover, Selby has an NBA body and a phenomenal motor that pushes him to play very hard and, unlike many other collegiate guards, play tough and aggressive defense. Selby's main liability is that he's not a pure point guard. Selby has phenomenal tools and a great work ethic but needs to produce at the college level and prove that he has the basketball IQ and leader's mind set to be a franchise point guard in the NBA. That said, he is an incoming freshman (provided he can gain his eligibility) and will have ample opportunity to both learn the point guard position and prove his mettle to NBA teams.
9. Demetri McCamey 6-3 212 PG Illinois Sr.
Similar to former Illini PG Deron Williams, McCamey is a big, beefy PG with excellent shooting ability and questionable foot speed. McCamey isn't on the same talent level as Deron, but scouts like his ability to knock down shots and run the offense to the tune of a 2-1 a/to ratio. Can McCamey overcome his lack of foot speed and make it at the NBA level? It depends who you ask. McCamey rarely is able to get by his quicker, smaller counterparts of the dribble, which is a legitimate concern. But he seems to find ways to beat opponents using other methods, like his great size and strength.
10. Corey Fisher 6-1 195 PG Villanova Sr.
Fisher, a senior at Villanova, is one of the top draft eligible guards. He has improved in each of his three collegiate seasons, with an impressive 2009-10 where he posted a stat line of 13.8pts, 4assists, 3 rebounds, and 1.2 steals playing alongside Villanova star Scottie Reynolds. Fisher also went off for 105 points in a summer league game and his immense talent will have the ability to showcase itself when he takes over as the Wildcat's floor general next season.
Sleeper:
Malcolm Lee 6-5 180 PG/SG UCLA Jr.
Malcolm Lee is one of college basketball's big mysteries. Scouts have him rated all over their boards from the late-first round to outside the top fifty. Some consider Lee a break out candidate for the upcoming season while others consider him the ultimate "tease". The dilemma is this: although Lee is a talented and skilled ballplayer with excellent length, speed, lateral quickness, athleticism, size, the ability to play both guard positions, and a polished defensive game. But he has not yet produced big numbers at the collegiate level and some think his basketball IQ is questionable. However, several factors weigh in Lee's favor and, as a result, he could end up being a sleeper for the 2011 draft. Ben Howland's last three floor generals-Darren Collison, Russell Westbrook, and Jrue Holiday all struggled to display their full talents at UCLA. Their success in the NBA bodes well for Lee. It is becoming increasingly clear that Howland's slow-paced, defensive, half court system prevents his guards from putting up huge numbers. The bottom line is that Lee possesses intriguing skills and there is a good chance that he, like past Howland's guards, will be more productive at the NBA level.
Honorable Mention: Andrew Albicy 5-10 170 PG (France) 1990, Kevin Anderson 6-0 170 PG Richmond Sr., Talor Battle 6-0 170 PG Penn St. Sr., Norris Cole 6-2 170 PG Cleveland St. Jr., Randy Culpepper 6-0 160 PG UTEP Sr., Abdul Gaddy 6-3 180 PG Washington So., Ashton Gibbs 6-2 195 PG Pittsburgh Jr.,Ryan Harrow 6-0 165 PG NC State Fr., Terrell Holloway 6-0 185 PG Xavier Jr., Joe Jackson 6-0 160 PG Memphis Fr., Elijah Johnson 6-2 180 PG/SG Kansas So., Cory Joseph 6-3 190 PG Texas Fr., Paul Lacombe 6-5 190 PG/SG Asvel (France) 1990, Damian Lillard 6-2 190 PG Weber St. Jr., Kalin Lucas 6-0 170 PG Michigan St. Sr., Ray McCallum 6-1 179 PG Detroit Fr., Jacob Pullen 6-1 185 PG Kansas St. Sr., Iman Shumpert 6-5 185 PG/SG Georgia Tech Jr., Nolan Smith 6-3 180 PG/SG Duke Sr., Isaiah Thomas 5-8 170 PG Washington Jr., Chris Wright 2976 6-1 190 PG Georgetown Sr., Mfon Udofia 6-2 190 PG Georgia Tech So.,