Today we updated our high school rankings with our top 50 seniors, top 25 juniors and top 10 sophomores. The future of the NBA is very bright as their are a number of blue chippers in the next few high school classes.
Seniors
The senior class is extremely loaded with talent, particularly at the forward and wing positions.
After hitting a game winning shot for Team USA in San Antonio in the gold medal game, as well as a strong performance in Chicago at adidas Nations, 6-9 small forward Quincy Miller has capped off a tremendous summer. Miller has a 7-4 wingspan and tremendous ball handling and scoring ability. Showing an improved all around game, Miller has taken over our top spot for the senior class.
Michael Gilchirst Gilchrist is a great kid and has long been considered the cream of the crop in this class, but he's no longer head and shoulders above the rest with a number of players now legitimately on the same level with him. He is more athletic but lacks the skill level that Miller possesses.
6-4 combo Austin Rivers is probably the most polished player on the high school level. He has the ability to play either guard position with great shooting ability and a feel for the game that only a coaches son (Doc Rivers) could possess at his age. Rivals recently placed him at the #1 spot in the class.
No player in recent memory has made such a meteoric rise in such a short time as Anthony Davis growing 7 inches in 9 months and going from unranked in any top 100 recruiting lists to a consensus top 5 player. He's even been moved to Scout.com's #1 spot.
James McAdoo is both skilled and athletic and comes from a strong bloodline being Bob McAdoo's nephew. The UNC commit was impressive in Portland showing that he has the versatility to play the 3 position.
Like his brother, former Wake Forest PG and first round pick, Jeff Teague, Marquis Teague is an aggressive scorer and strong at driving to the basket. Marquis is even stronger athletically and has a little better natural point guard skills.
Rakeem Christmas recently committed to Syracuse and has a freakish combination of length and athleticism and plays with a real chip on his shoulder. If his skill level continues to develop he's going to be a handful and a potential one and done lotto candidate.
Georgia commit Kentavious Caldwell wont blow you away with speed and athleticism although he has great size and is a very good athlete. He's extremely skilled offensively with a great shot from the perimeter. He should instantly be a bigtime scorer in college.
Canadian PG Myck Kabongo comes from the same mold as Boston Celtics Rajon Rondo. While not as quick as Rondo, Kabongo has the length and speed to drive opponents crazy. He's shown solid improvement in his floor general and offensive abilities as well.
Adonis Thomas combines strength and athleticism with a high motor. He isn't as skilled as some other players, but he plays with aggressiveness and determination.
Juniors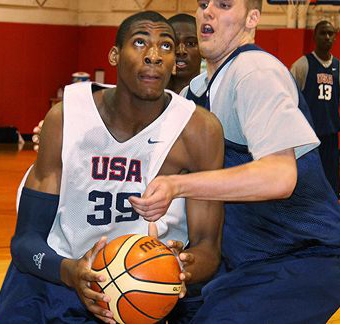 6-10 man child Andre Drummond is looking to reclassify and become a senior. If he's able to do so, he'll instantly become our #1 rated senior. He's currently projected as the #1 pick in the 2012 draft, but will need to officially reclassify in order to become eligible to play in college next year. Drummond didn't put up eye popping statistics, but he was very impressive for (U17) Team USA in Hamburg helping the Americans steamroll everyone by 20 points to capture gold. Drummond has a lot of the same attributes as Amare Stoudemire only appears to have more defensive potential.
6-5 Las Vegas SG Shabazz Muhammad has separated himself from the pack in the junior class and is considered one of the top players regardless of class on the high school level. His offensive game is extremely polished and he's a high character guy off the floor. Muhammad would be a highly effective college player right now and with Drummond possibly vacating the class, Muhammad could take over the #1 spot in the 2012 class.
Canada's Khem Birch is a 6'9 jumping jack in the mold of a Shawn Marion or Tyrus Thomas. He needs to choose a forward position and continue to expand his game, but he's an elite level athlete with a lot of upside.
Sophomores
Julius Randle and Kuran Iverson head the Class of 2013. Both players are sophomore forwards with length and potential. 16 years of age is early to project, but these two are at the forefront of this class.
Freshman
Canada's Andrew Wiggins is head and shoulders above the pack in the freshman class. He's already further along than Michael Gilchrist was at the same age. Wiggins is a stand out playing against players 2-3 years older than him and shows tremendous upside. 15 years of age is very early to make definitive statements about players as there are many variables at play and some kids peak at different times, but this kid is already very good and has a chance to be special.