NCAA Players:
Perry Jones 6'10 Baylor Fr. — Easily the most talented NCAA player and improved as the event went on. Struggled the first day in creating baskets and settled for finding teammates. His abilities for a 6-10 kid are obscene as he's got handle and passing ability plus great foot speed to take players off the dribble. As the event went on he got more comfortable and began to take over, putting up 19 points on the final day. He had some jaw dropping dunks and looked very comfortable with the ball in his hands. Inconsistency was his major problem in high school so showing that he can play to his abilities on a consistent basis needs to be his focus this year. If anyone has a chance to grab the #1 pick away from Harrison Barnes, it's Perry Jones.
Maalik Wayns 6'1 PG Villanova So. — Was the most impressive point guard in the entire event. Wayns looks like he added some weight this off-season. The added weight hasn't slowed him at all and appears to be all muscle. He really busts his butt defensively and his added strength gives him an edge when contact occurs. He showed good decision making running the team and the athleticism to dunk on the break even when he didn't have a clear breakaway. Also looked good shooting the ball. This guy is in an unusual situation as he's one of the top 2-3 PG prospects in the country right now yet he's likely going to play back up to Corey Fisher. Kentucky freshman Eric Bledsoe went 18th last year, and Wayns is a much better PG right now than he is. If given a chance to shine, look for a break out season from Wayns next year. A lottery selection is not out of the question. This guys game is "in living color".
Nolan Smith 6'3 PG/SG Duke Sr. — Smith had a solid showing. He was moved off the ball in favor of Alec Burks and didn't show much in the way of point guard skills. He did display his athleticism getting out on the break for some nice dunks. He also did well knocking down shots. Scouts aren't overly impressed with him and his lack of a true position hurts him. He appears to be a solid mid to late second rounder, whose stock will be helped if Duke can repeat as champions.
Josh Selby 6'3 PG Kansas Fr. — He's a talent, but he's still incredibly wild and makes tons of mistakes when asked to run the team. His shooting was decent but shot selection needs improvement. He makes things difficult on himself taking a lot of contested shots falling away. When he stays under control and uses good ball fakes, he's very difficult to contain. An elite level athlete, he had a number of plays where he showed his great potential, but he's got a ways to go. When Jrue Holiday played on day 2 and guarded Selby, he completely shut him down. Selby is a talent and college should be a great experience for him to mature both socially and as a point guard. Hopefully he's not in a huge rush to turn pro because point guard is the position which requires the most development. If he gives it some time in college (2-3 years), he'll have a chance to develop into a lottery level point guard. Otherwise, he may end up falling short of his full abilities. He does have the uncertainty of his eligibility looming over him and it was likely on his mind and could have affected his performance some.
Iman Shumpert 6'5 PG/SG Georgia Tech Jr. — Shumpert scored and played well early on but fell off some as the event went on. His length is a real asset defensively and he did show some solid effort getting low and making some nice tips on passes. Some of the scouts and event coaches were down on him. There were some visible red flags related to his attitude. He's a talented kid, who needs to mature to fully reach his potential.
Damian Lillard 6'2 PG Weber State Jr. — Lillard opened some eyes to his abilities. He's got excellent size and speed and shows a humble demeanor. Some scouts loved him, mentioning that he is one they've added to their schedule for next season. While one scout said he didn't like him much because of his slow release. "How does he ever get that shot off?" It is definitely an unorthodox release and one which requires an added split second to take. Really excels taking the ball to the basket off the dribble showing an amazing first step. He also showed solid defensive abilities with a low defensive stance and quick lateral speed. He'll have his work cut out for him convincing teams that he's a first round talent playing in a mid-major, but he has the talent to make it happen.
Terrell Holloway 6'0 PG Xavier Jr. — Holloway is a tough kid with a strong body. He really plays hard and gives effort on both ends of the floor. He's undersized and doesn't have stand out PG skills. He's pretty fearless but his jumpshot has a slow release. He had a great NCAA tournament showing in which he stepped up. Didn't really stand out here but shows a real toughness about him.
Malcolm Lee 6'5 PG/SG UCLA Jr. — Lee showed a positive attitude all week, drawing some praises for his passing in the open floor. He'll have a shot to have a break out season this year. He shows flashes but didn't stand out consistently throughout. On the negative side, scouts feel he lacks a true position and lacks a great "feel" for the game. At times he seemed to force things that weren't there and hesitated to make decisions with the ball. There's some speculation that he will be moved off the ball with Jerime Anderson running the point. Lee is a little undersized at the 2 but his combo abilities make him intriguing.
Shelvin Mack 6'2 PG/SG Butler Jr. — Scouts are really high on him. Along with Hayward, he helped Butler reach the title game allowing him to gain notoriety. Listed at 6'3 but is closer to 6'2. His offensive game is very advanced as he shows an excellent ability to create and knock down shots. He's got a barrel chest and is extremely strong for a guard. With long arms and great body balance, he is a warrior defensively. He's more of a scoring guard than a true point but his instant offensive abilities make him intriguing. Didn't show much in the way of setting up teammates, although he had a few nice passes. Looked very polished pulling up for 3 pointers and outside shots where his form is one of the best in the entire camp. A poor man's Ben Gordon.
Xavier Silas 6'4 SG Northern Illinois Jr. — Silas has a great attitude and seems to have an excellent understanding of the game. He's a solid athlete who can score and pass well. He put up solid numbers last year after transferring from Colorado to Northern Illinois and declared but then pulled out of the draft. Father James Silas had a strong career playing for the San Antonio Spurs, which helps his cause. Scouts took note of him here and he's definitely a guy that will get looks at Portsmouth and in NBA Summer League next year.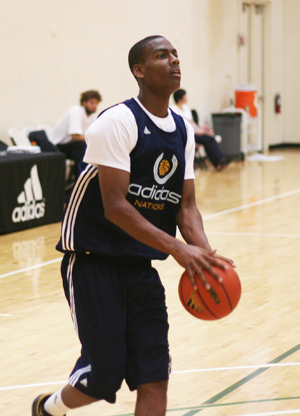 Alec Burks 6'6 PG/SG Colorado So. — Alec Burks could become this season's Evan Turner. His style of play, smoothness and athleticism (and even major weakness – shooting) are all very similar to Turner's. He won't be playing on as strong a team but could have an All American type of season next year. He can handle the ball like a point guard and can create offense for himself or others. He scored more points than anyone in the college scrimmages and made it look easy. Burks really impressed with his all around game, scoring on pull ups as well as taking it to the rack. He doesn't blow you away with his athleticism, though it's very good, instead he uses intelligence and an advanced feel for the game to beat opponents. Working on his outside shot should obviously be his focus. If he can shoot in the 40s on a decent volume and lead the team to some post season success, there's no reason he can't be a top 5 pick. Turner's success in Philly this year could end up being directly tied to Burks draft position.
Tyshawn Taylor 6'3 SG Kansas Jr. — Taylor had a rough week and doesn't appear to have developed much since arriving at Kansas. He was once hyped by some as a potential first round pick, but doesn't appear to have a true position or the decision making to be an NBA player. "Why does he even bother shooting?" was the line one scout had after an illadvised shot. He's a tremendous athlete who should be able to play overseas as a 2-guard but he still needs to polish his shooting ability and ball protection.
Christian Watford 6'8 SF Indiana So. — Looked bigger than expected at 6'8 or even 6'9. Watford is a tweener as he lacks the foot speed to really make it on the perimeter and doesn't really have the post game or strength to make plays inside. He struggled with the speed and athleticism of the competition. His shot also isn't a thing of beauty as he takes a little time to get his shot and has a bit of an unorthodox release.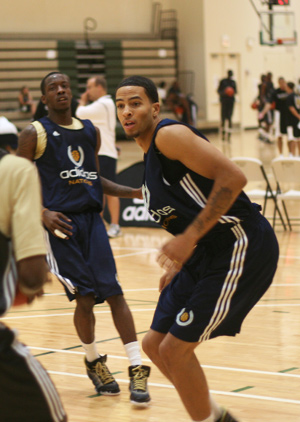 Tyler Honeycutt 6'7 SF UCLA So. — Honeycutt surpassed expectations and helped himself as much as anyone in the event. He was sensational. He plays with a lot of energy and is extremely athletic. He showed a polished pull up jumper and a developing ability to create his shot off the dribble using a crossover. Offensively there isn't much this kid doesn't do well. He can handle, pass (10 assists on day 3) showing good vision and unselfishness, and he can also score in a variety of ways. He made some spectacular plays including an ally oop reverse jam while
Chris Singleton 6'9 SF/PF Florida St. So. — Singleton is a very big and versatile forward capable of playing and defending both forward spots. His major weakness is his inability to shoot the ball. He had an okay week but failed to play up to his abilities.
Justin Holliday 6'7 SF Washington Jr. — Holiday's lack of strength really shows when contact occurs. He lacks the physicality to make plays around the basket and his foot speed on the perimeter is just average. He's got good length and solid agility but wasn't able to do much offensively.
Scotty Hopson 6'7 SF Tennessee Jr. — Hopson turned 21 while the camp was taking place. He really wows you at times with his length and athleticism getting out on the break for some jaw dropping dunks, and will have a chance to turn himself into a first rounder over the next 2 years. Scouts are not high on him however describing him as a "tease".
Quincy Acy 6'6 PF Baylor Jr. — Despite being just 6'6 at the power forward position, Acy uses his incredible athleticism to get rebounds and dunk on much larger opponents. This guy knows no other way than playing on fill tilt at all times. The guy sacrifices his body more than anyone leaving it all out on the floor like every game is his last. He was one of the most impressive players in the event. His shot is busted and he lacks any real face the basket skills, but he's a true warrior, relentless in attacking the basket for dunks, rebounds, put backs.
Khris Middleton 6-7 SG/SF Texas A&M So. — Middleton raised some eyebrows with his outside shooting and all around guard play. He's got a big wingspan and appears to be about 6-7 1/2. He went up and dunked for an and-1 on the first day and got to the line a few other times trying to dunk over guys. He's a deceptive athlete who despite thick legs has solid speed and athleticism. Middleton appears to be a potential first rounder in the next couple years.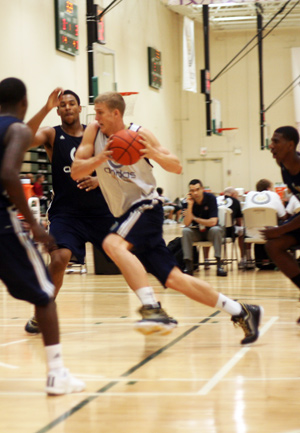 Mason Plumlee 6'10 PF/C Duke So. — Made a strong impression with his size and athleticism. On numerous occasions he used his size and athleticism advantage to rebound his own misses and follow those up with monstrous above the rim dunks. His second and third leaping is tremendous and he can take off from way out and complete dunks. He seems to have a better face the basket game than back to the basket game. He really likes to take players off the dribble, and has nice foot speed for a 6-10 guy. His post game still needs a lot of work. His legs are like tree trunks yet he's still amazingly quick footed. He's also your typical high character Duke guy with a strong work ethic.
JaJuan Johnson 6'9 PF Purdue Sr. — With Transformers 3 being shot in Chicago all week Johnson (along with Aaric Murray) receives the "Transformer award" for biggest body transformation. He looks a good 10-15 bounds heavier with bigger biceps and shoulders. He's definitely been hitting the weight room hard and it should help him in his bid to become an inside player and a first rounder in 2011. Johnson looks very fluid running the open floor and his length makes converting dunks look very easy. He's still easily moved around in the post but the added weight is a positive sign.
Marcus Morris 6'9 Kansas Jr. — The Morris Twins both impressed using their experience and versatility to score. Marcus struggled early with his shooting, missing a number of outside jumpers and it appeared he was forcing it a little to show that he has range. He settled into a groove as the week went a long and by day 3 was one of the standouts. His ability to take the ball off the dribble, play in the post and knock down 15-18 foot jump shots makes him extremely versatile. He's the better shooter of the two which explains why he's been given a bigger role in KU's offense. The twins actually looked extremely similar all around. Despite measuring 6-7 wingspans, these guys have a lot of skills and should make a strong run at being first rounders in the next 2 years.
Jared Sullinger 6'9 PF Ohio St. Fr. — Sullinger still needs to shed 20-25 lbs, but had a solid showing. he battled hard for two days but his knees aparently were bothering him so he missed the third day. His Dad "Satch" Sullinger who won national high school coach of the year, was on hand. Satch has a wealth of knowledge about the game and life in general and is a joy to speak with. Considering the basketball background and strength of character Jared has been raised by, it's difficult imagining him being a bust. He may never be an NBA superstar, but he's sure to be pretty good.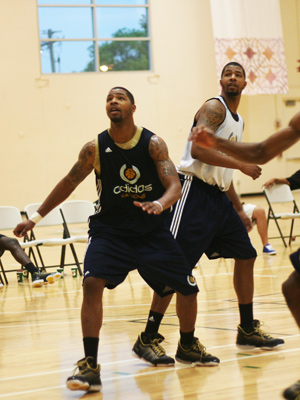 Markieff Morris 6'9 PF Kansas Jr. — Markieff actually looked more impressive early on than his more decorated twin Marcus. "Kief" as the other "counselors" called him appears to be the more out going of the twins. He would probably benefit by having a year at Kansas with his brother not there as it's tough for both of them to get touches and attention they deserve since they're so similar. Kief's skill level is not very far behind his bothers and he might actually be the more explosive athlete.
Miles Plumlee 6'10 PF Duke Jr. — Had numerous dunks and appeared to be going off a trampoline at times. With scruffy facial hair (looking like Jon Fitch) which likely will not be around when the season starts up (although Zoubek's stayed), the older Plumlee was also very impressive. He's a stand out athlete who can really get out and run and make plays around the rim. Like his younger brother Mason, he seems to prefer facing the basket to playing on the block, but appears a little more adept at making post moves. Every time you looked over it appeared he was converting a dunk of some sort. Duke may have lost their starting frontcourt, but these guys appear ready to fill in just fine.
Brian Williams 6'9 Tennessee Sr. — Williams is a bit like an offensive lineman. You don't hear a lot from him and he didn't make a ton of standout plays, but he goes about his business and does the dirty work necessary. He needs to work on his body and conditioning some, but he's got excellent strength and works hard on the block. He's got the size and despite being less athletic than most NBA power forwards, there are scouts that like him.
Ibrahima Thomas 6'11 Cincinnati Sr. — Thomas struggled early on but improved as the event progressed. He's still got a lot of work to do on his post game but is an intriguing bigman with an unusual ability to handle the ball and face the basket. He's sort of done things backwards learning to play on the perimeter and now working on his post game. He made some nice plays catching the ball in difficult spots and converting baskets. If he can have a big season at Cincinnati, he'll have a shot to get drafted.
Thomas Robinson 6'8 Kansas So. — Thomas played well and appears to have bulked up considerably. He's a specimen with such huge arms and hands and has packed on a lot of strength in his shoulders. He's a load to contain and was a force inside. Scouts however remain lukewarm on him. He doesn't show much yet in the way of an offensive game getting most of his baskets on dunks and put backs. He needs to improve his footwork inside and develop a better mid range jump shot. At 6-8, he's a little undersized for the PF position.
Aaric Murray 6'9 LaSalle So. — Murray was the other "transformer" only in the opposite direction. Murray has supposedly lost 80 pounds in the past year and a half. He looks like a completely different player from the one that played at LaSalle last year. In fact it appears he's lost too much weight. He's at about 220 lbs and while he was moving better, it's obvious that he's just not an elite level athlete. He's very long and got some nice dunks but his run/jump athleticism is solid but not great. He no longer can overpower players although that's never really been his game. Murray was solid, but didn't really stand out. He should be a bigtime scorer and rebounder next year at LaSalle, but could be a couple years away from putting it all together.
Renardo Sidney 6'10 Mississippi Fr. — Sidney appeared to have turned over a new leaf coming in noticeably slimmer. Unfortunately his week was cut short after he attempted a crossover move and cross himself up and went down with an ankle injury. Sidney had some nice battles with Jared Sullinger early on in the first day and his belly was flat for the first time that I've seen it in 2-3 years. Coaches mentioned they really liked his attitude change and were disappointed that he wasn't able to stay on the floor. Getting in shape is definitely a positive sign. He is a player that will have a real shot to be a top 20 pick if he can stay focused and dedicated next season.
USA 2011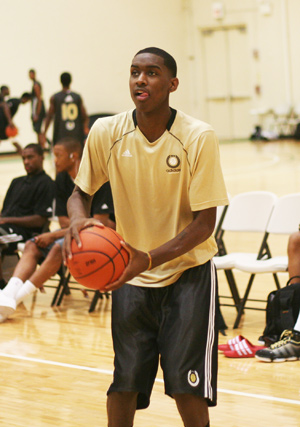 Quincy Miller 6'9" SF Quality Education Academy (Winston-Salem, NC) — Originally from Chicago, so this was a homecoming for Q. One NBA scout told me he thinks Miller is the best NBA prospect in the entire event, Perry Jones included. Miller had his ups and downs but there's no questioning this kid's major talent. his 7'4 wingspan is like his secret weapon and if he gets a step on anyone, it's goodnight, dunk you very much. Shows the ability to handle the ball in the open floor and has good foot speed to get by opponents off the dribble. He can be a little too reliant on his crossover and he got stripped and lost control of the ball a few times because of it. The release on his jump shot is very low and he got blocked on a number of occasions (mostly by Isaiah Austin). He does show excellent passing ability and his handles are special for a 6-9 high schooler.
LeBryan Nash 6'7" SF Lincoln Dallas, TX * — Nash had a solid week helping the 2011 take home the crown. His body appears NBA ready. "Satch" Sullinger compared him to Ron Artest which is actually an excellent comparison. Nash needs to get a lot tougher however. Unfortunately some scouts feel that Nash has some of the same off the court concerns describing him as a prima donna. He's got a tremendous body, yet the rap on him is that he doesn't like contact. He showed some toughness in the camp but for a kid with such a great body, he should be dominating more around the glass.
Kevin Ware 6'4" SG Rockdale (Conyers, GA) — Did not participate but got good reviews.
Quinn Cook 6'1" PG Dematha (Bowie, MD) — A tough nosed floor general with a good feel for the game. He looks to set up his teammates first and foremost and shows natural play making and leadership abilities. Although he's not an elite athlete, scouts like his demeanor and no nonsense approach. A very mature, polished lead guard.
Deuce Bello 6'3" SG Westchester Academy High Point, NC — Bello is one of the freakiest players on the high school level right now. He's shown some surprising skill development this summer with improvement in his handle and play making. He's an undersized shooting guard but his length and leaping ability gives him some real intrigue.
Ryan Boatright 5'10' PG East Aurora Aurora, IL — Has tremendous athleticism but is undersized and plays out of control. Had some solid games scoring but has a long ways to go, and his lack of size makes things a challenge for him.
Cody Zeller 6'10" PF Washington Washington, IN — Played well including a game high 22 for the 2011 on day 3. He lacks a big frame but shows good toughness and nice polish in the post. Can knock down the mid-range shot as well as using tremendous foot work inside.
Damien Leonard 6'4" SF JL Mann Greenville, SC — Didn't stand out. He showed nice shooting ability early in the summer which led to his Nation's invite, but struggled to do much in the event. Plays more like a 6'4 forward.
Marshall Plumlee 6'11" C Christ School Winona Lake, IN — Plumlee had a decent showing. He appears to still be growing into his body and lacks the same speed and athleticism that his older bothers have but will likely end up the biggest of the three when he's done growing. Right now he doesn't appear to be the prospect that his brothers are. A little slow and mechanical, but centers take the longest to develop so probably too early to make a long term evaluation on him.
Micheal Chandler 6'10" PF/C Lawrence North Indianapolis , IN — Chandler showed some real flashes. He's got a huge frame to put on weight and looks pretty athletic. He didn't dominate and was a little up and down, but had some real highlights that showed his potential. Appears to have the size to become a center.
*Will not participate
USA 2012
Kyle Anderson 6'8" SF Paterson Catholic Fairview, NJ — Has grown around 7 inches within the past year. He's a former point guard than has retained his tremendous ball handling ability. His face looks extremely young with baby fat and he appears as though he's still learning what he's capable of doing. The one knock on his is his lack of foot speed, but with such growth in a short time span he's another kid where it's premature to properly make an assessment on him. One thing is certain, he needs to work on his body and conditioning and improve his foot speed.
Kevin Ferrell 5'10" PG Park Tudor Indianapolis, IN — Ferrell made a big impression on scouts with his floor general ability and decision making. He was the catalyst in 2012's victory over 2011 on Day 2. He knocked down numerous big shots and made all the key plays when necessary to ensure victory. He's probably just 5'10 or 5'11 but could still be growing and scouts used the words "special" when describing him. His ability to play at such a high speed and still be under control really turned some heads.
Jordan Adams 6'4" SG Central Gwinnett Lawrenceville, GA — Was very productive all week. He is a versatile player who started at quarterback for his team's high school as a freshman but has since given up the game. He has a football frame as he's extremely stocky. Should be an instant contributor at the college level as he finds ways to score and knocks down big shots. He keyed the big run early in the 2nd half which helped the 2012 team upset the older USA bunch on Day 2.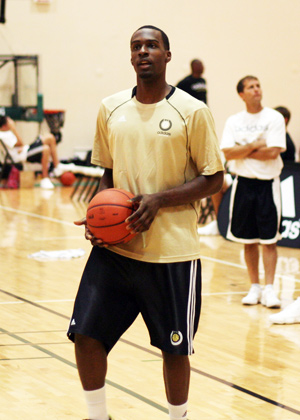 Shabazz Muhammad 6'5" SG Bishop Gorman Las Vegas, NV — One of the most polished and talented players on the high school level and he's still just a junior. A very polite kid off the court. On the court he's all business as he is very aggressive scoring the ball. He got a solid outside game, great in transition and is absolutely terrific at converting around the basket. He uses pump fakes, up and unders and floaters to score and really excels on the block posting opponents up or finding ways to score. One scout compered him to James Harden, which is pretty good, although Muhammad seems to have a more advanced offensive game. He's an elite level athlete with an excellent feel for the game.
Winston Sheppard 6'8" SF Findlay Prep Fresno, TX — Sheppard is a kid that shows a lot of upside. He's still fairly raw skill wise but is beginning to put some offensive moves into his repertoire. He's got prototypical size and athleticism for the SF position and appears to be a guy that's just scratching the surface of his potential. Sheppard made some impressive plays knocking down some mid-range jumpers and crashing the boards.
Jordan Price 6'5" SG McCallie School Conyers, GA — Price got injured on the first day and was unable to continue. He's a skilled player who needs to lose 10-15 pounds but shows some potential.
Xavier Johnson 6'6" SG Chaparral Murrieta, CA — Johnson is another kid who appears to have a lot of room left to develop. He's a lefty with a smooth stroke and good size and athleticism. He's a legit top 25 kid who should continue to climb the class rankings.
Amile Jefferson 6'7" SF/PF Friends Central Philadelphia, PA — Jefferson has one of the best attitudes of all of the kids in the event. He always seems to have a smile on his face and is extremely coachable. He has a knack for being in the right place and put up 20 in one game, showing a nose for the basket. He's got a bit of a slight frame, narrow shoulders, so adding weight could be an issue for him. He also appears to be better suited playing around the basket than on the perimeter. It's early and bodies change and develop in different ways, but right now he appears to be a kid with a lot of college potential. His long term NBA potential will hinge on growing a few inches or developing into a small forward.
Isaiah Austin 7'0" C Grace Prep Burleson, TX — The Baylor commit has a ton of upside but desperately needs to put on weight. If he fails to add weight he will always be too skinny and too easy to push around in the paint. He's not athletic enough or quick enough to get by as a perimeter shooter, so developing a post game and bulking up is crucial. He's so long and has great timing on blocked shots. He's still just a junior so he's got time, but the fact that he hasn't put any noticeable weight on in the past year is concerning.
Alex Murphy 6'8" SF St. Mark's School Wakefield, RI — Murphy had the most eye opening play of the entire week when he went up and yaked on the most athletic player of all the high school guys in Hanner Perea. Murphy is a very controlled player with great fundamentals but also has a lot of athletic ability as well. Appears to have a nice understanding of the game and plays with a high motor.
Wannah Bail 6'8" PF Trent International Sugarland, TX — Struggled to do much to stand out. He's a long, athletic kid but it's uncertain if he has the ability to become a 3 or if he's more a natural 4. He's certainly long and athletic and made some nice plays but sort of blended in and failed to make his mark.
Jarnell Stokes 6'8" PF Central (Memphis, TN) — Built like a tank, at 6'8 Stokes needs another inch to really be considered an elite level NBA prospect. A decent athlete but not overly explosive. He's just a junior so he could still be growing. He runs the floor well and is incredibly strong around the basket.
Team Africa
Abdoulaye Harouna 6-4 PG Niger — This guy has only been playing organized ball for 2 years. He's considered a "natural" for the way he was able to pick up the game so quickly. Sort of a poor man's Myck Kabongo. He played mostly off the ball with Pamba running the point but this kid has the handle and ability to develop into a PG. He's looking for a high school and will have two years of development before college. Pamba is a lot further along but this 1992 kid shows the most potential of any player on the African team.
Bryan Pamba 6-2 PG Ivory Coast — Pamba has very little hype in France right now, but that should change before long. Pamba is bigtime and had a tremendous performance in Chicago. He nearly led Africa to a win over USA 2012. His ball handling ability is his greatest asset as he handles it like it's on a string. His passing and shooting were also solid and he has an excellent frame. Pamba is originally from the Ivory Coast and now lives in France. Unfortunately he will play in low level French league this year which is not good for his development. There's no question, he's really to play with the big boys right now.
Peter Jurkin 6-11 C Sudan — Jurkin is a long kid who has cracked some top 50 high school rankings for the senior class. He's committed to go to Indiana. Jurkin is very long and has good agility. He shows the ability to knock down his free throws and block shots. He's also able to speak English well. He's got a ways to go offensively and needs to get stronger but shows nice upside.
Team Latin America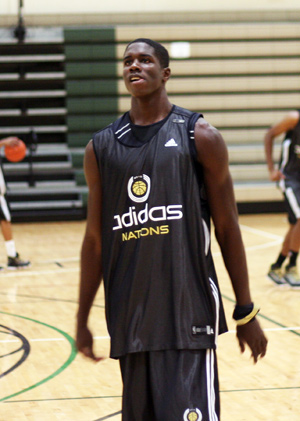 Hanner Perea 6-7 SF Columbia — I love this kid's potential. He's got a frame that was chiseled by the basketball gods. Wide shoulders, huge hands, tremendously long arms and great explosiveness. He's still very raw offensively and scores most of his baskets on dunks and plays around the rim but he showed some signs that his offensive game can develop. He had some jaw dropping dunks on the break as well as some follows on his second jump that were extremely impressive.
Cristiano Silva Felicio 6-10 C Brazil — Still appears pretty raw but shows nice potential. He's close to 7-feet and a pretty good run jump athlete, however his movements with the ball in his hands are very mechanical.
Steven Adams 6-10 C New Zealand — Technically this kid should have been playing for the Asia team but for cultural and basketball reasons he was added to the Latin squad. Adams is heading to Pittsburgh where he's sure to help Jaime Dixon considerably. This kid shows a lot of promise as a defender with great length and agility. His offensive game is a work in progress but he shows a great attitude and should improve a lot. His shot appears to have a little bit of a hitch in it as he sort of raises the ball too high and then holds it before releasing the ball. he'll need to work on taking the ball up and shooting it all in one steady motion in order to break his shot of a hitch.
Jordan Burger 6-7 SF Brazil — Burger is a decent athlete. A little rigid but shows good skills. He's got good size for the wing position. He's one of the better players in his age group internationally. he struggled some with the speed and athleticism of the American players. his game appears that it may be better suited to the European game. One scout mentioned that he didn't like his feel for the game. He takes too long to make decisions, never knows when to pass or shoot and hesitates.
Cezar Guerrero 6-0 PG USA — Plays ball in Southern California at St John's Bosco. I'd seen this guy once before (at Pangos in 2009) and nearly every recruiting analyst thought this kid was overrated and a borderline top 100 recruit. He's now rated in the top 100 senior on a lot of recruiting lists, and appears to be UNDERrated. He looked sensational here and the NBA scouts were in love with this kid. "I'd take him over Jerome Randle right now", said one scout. He showed the speed and athleticism to do what ever he wanted against the American kids. He controlled the tempo, ran the offense looking to set up teammates, many times they fumbled or dropped what should have been assists, plus he showed an excellent ability to create shots whether getting to the rim or pulling up. This kid has a flare to his game and although he's a little undersized should be great in college and have a chance at the NBA. he stepped up winning MVP of the Latin America-Africa nationally televised game as well registering 20 pts, 6 rebs and 1 ast and a number of highlight plays.
Team Europe
Pavlin Ivanov SG 6'4′ Bulgaria — This kid is a natural. Extremely fluid with the ball in his hands. Has an effortless shooting stroke and makes everything look incredibly easy. Put up 25+ points numerous times and did so against top level competition in his age group. Solid athlete who went up for a few dunks. I have a feeling we'll hear a lot more from this 1993 born kid. At 6'4, he might need to grow an inch or two to really be considered for the NBA, but appears to have star potential for Europe. It's no wonder Benetton grabbed this guy at a young age. Very impressive kid.
Samuel Deguara C 7'4" Malta — The kid is born in 1994 [correction born in 1991] and appears to be in the 7'4 range. One person mentioned that Benetton has measured him at 7'5. He was listed on the adidas program at 6'10 which was a running joke among scouts throughout the week. Saved his best game for last with a 20 point 11 rebound game. He's able to make basketball plays, which at his age and size is something. He doesn't get much lift when he jumps, but then again he doesn't need to get much to dunk the ball. He's got a number of years to develop and big guys take the longest, so certainly one to keep an eye on. Right now his movements and speed in the open floor are on the slow side. But he's not a bad athlete and in the half court he's able to impact the game with his massive size and the skills he has.