Kentucky's "super team" covered up many of the SEC's warts a year ago. The conference sent only four league members to the NCAA Tournament, and five of the seven players drafted from the league called UK home. 2010-2011 should provide a stark revitalization with talented upperclassmen and newcomers abounding. The usual suspects return as the hunted, but blossoming programs appear ready to take the next leap forward. Look for balance to reign supreme in the new campaign.
Alabama Crimson Tide
2009-10 Record: 17-15 (6-10)
The 2009-2010 season laid the infrastructure for head coach Anthony Grant's tenure in Tuscaloosa. Inheriting a roster predominantly assembled by former HC Mark Gottfried, Grant led the Tide to a respectable campaign defeating Baylor, nearly knocking off a fully healthy Purdue team and giving Kentucky a scare in the SEC Tournament. The influence of his style was readily apparent from the outset: get after it defensively and play with tremendous effort. Alabama was the number one scoring defense in the SEC, allowing under 65 points per game.
Defense is the backbone but finding buckets is a concern. The departure of lead guard Mikhail Torrance will only exacerbate the team's scoring deficiencies. While 6'1 freshman Trevor Releford has a reputation for a steady hand at the controls, a frosh point guard is not exactly a recipe for success in a high-powered conference chock-full of hostile environments. His main goal will be getting JaMychal Green (14.1 PPG), one of the nation's premiere post men, as many deep touches as possible.
With Green the overwhelming center of attention for opposing defenses, the Tide will need to knock down open shots from the perimeter, something they failed to do last season (241st in three pointers made). The team's only pure shooter, senior guard Charvez Davis, recently underwent hernia surgery and is out indefinitely. Look for zone city until they prove capable of beating it. Points will need to be earned through dirty work, winning the second chance points battle and capitalizing on turnovers. Uber-athletic sophomore small forward Tony Mitchell 31627 will be instrumental in this regard (2.2 ORB, 1.3 STL).
Alabama will stay competitive in most contests because of their defense, and will likely out-athlete a large percentage of their schedule. However, playmaking from the point guard spot, lack of depth (and bulk) on the front line and extreme shortage of shooters are major concerns. Fortunately for them, the SEC West is less than formidable and wins are very obtainable. An NCAA berth would be their first since 2006.
Key Departures: Mikhail Torrance, Justin Knox, Anthony Brock
Notable Newcomers: Trevor Releford, Kendall Durant (JC), Jason Carter, Charles Hankerson Jr.
Top Returning Players: JaMychal Green, Tony Mitchell 31627, Senario Hillman, Chris Hines, Andrew Steele
Arkansas Razorbacks
2009-10 Record: 14-18 (7-9)
The two most talented Razorbacks will not be returning in '10-'11. Stalwart power forward Michael Washington graduated, and sophomore point guard Courtney Fortson inexplicably entered the NBA Draft. Fortson, who served a 14 game suspension last season, was often the center of controversy and the program might be better suited to move forward without his presence.
Head coach John Pelfrey brings in a solid crop of newcomers to recharge the program, led by Iowa transfer Jeff Peterson. Peterson suffered with turnover problems in Ames, but averaged 4.2 assists per game as a sophomore. With more talent surrounding him he won't have to force the action play in play out. Big things are also expected from JC transfer Marvelle Waithe, a 6'8 combo forward with a versatile skill package.
Key returns include sophomore forward Marshawn Powell (14.9 PPG, 6.7 REB), one of the burgeoning interior forces in the conference. He will need to take the next step in his development with 32 games under his belt. Michael Sanchez, who missed all but four games last season with injury, will return to provide front line support. In the backcourt, three point specialist Rotnei Clarke can bomb from deep with the best of them (3.2 3PT makes), but needs to expand his repertoire and improve shot selection. If not, he will be pressed for minutes by sophomore Julysses Nobles who quietly had a solid freshman year.
The Razorbacks have some interesting pieces, but how will they mesh? Most have never stepped foot on a court together and will take him to develop a repoire. Defensive awareness and discipline will also be critical to an ascendence in the standings. The 'Backs ranked 294th in scoring defense last season allowing a shade under 74 points per contest.
Key Departures: Michael Washington, Courtney Fortson, Stefan Welsh
Notable Newcomers: Jeff Peterson, Marvell Waithe (JC), Mardracus Wade, Rickey Scott
Top Returning Players: Marshawn Powell, Rotnei Clarke, Marcus Britt, Michael Sanchez, Julysses Nobles, Jemal Farmer
Auburn Tigers
2009-10 Record: 15-17 (6-10)
New head coach Tony Barbee will take over an essentially blank slate, with a new arena to call home and an inexperienced roster to mold. On a team that averaged over 80 points per game last season, four of the five top scorers have exited the program. The top returning point producer, Frankie Sullivan, blew out his knee and is likely done for the year. To make matters worse, incoming freshmen Luke Cothron and Shawn Kemp Jr. didn't qualify academically. Ouch.
On a positive note, a handful of impact newcomers enter the fray. Former Texas guard, and defensive dynamo, Varez Ward was a granted a waiver on his transfer year and will be eligible immediately. He's also been cleared medically after breaking his leg last November. The Tigers are also excited about two freshmen: Josh Langford, an athletic left-handed wing with big time potential and Chris Denson, another lefty who could see time at the point.
Auburn's two leading returning scorers (available on opening night) averaged 2.8 points per game last season. Approximately 85% of the scoring and 75% of the rebounding are gone, which means a number of players will be asked to pick up the slack. Included in that list are guards Earnest Ross and Andre Malone, and forward Kenny Gabriel. All have talent, but have proved little.
What to expect from Auburn this season is anybody's guess, but it likely won't be pretty. They have a number of long, lean, athletic players, but badly lack size up front. It will be interesting to watch the development of their young talent, but a heavy learning curve must be anticipated.
Key Departures: DeWayne Reed, Tay Waller, Lucas Hargrove, Brendon Knox
Notable Newcomers: Varez Ward (transfer), Josh Langford, Chris Denson, Allen Payne, Adrian Forbes
Top Returning Players: Earnest Ross, Andre Malone, Kenny Gabriel, Tony Neysmith, Josh Wallace, *Frankie Sullivan, *Ty Armstrong
LSU Tigers
2009-10 Record: 11-20 (2-14)
2009-2010 wasn't simply a bump in the road for LSU. It was a free fall. The Tigers were short-handed and for the most part non-competitive. While the team didn't quit on Trent Johnson, offensive playmakers were few and far between. They ranked 302nd in the nation in scoring offense (61.5), 305th in three point field goals made (4.5 per game) and 308th in field goal percentage (40%).
Last year's starting point guard, Bo Spencer, was dismissed from the team in August and transferred to Nebraska. Spencer didn't have much help, but certainly wasn't advancing the cause of his teammates. He shot 33% from the field and boasted a negative assist to turnover ratio (2.7:3.3). With senior Tasmin Mitchell also lost to graduation, over half of the Tigers scoring output must be replaced. Hardworking, undersized big Storm Warren is the only key contributor returning.
The burden will fall on a stable of new faces. Malcolm White, a 6'9 transfer from Mississippi was very productive in '08-'09 during limited action. He averaged seven points, six rebounds and over a block in 24 minutes. Extend those numbers with increased playing time and the Tigers may have a beast on their hands. A foursome of freshmen will be asked to mature quickly: point guard Andre Stringer and wing men Ralston Turner, Matt Derenbecker and Jalen Courtney will see plenty of court.
LSU is clearly in rebuilding home, but sometimes that's a necessary evil to avoid stagnation. With Spencer gone, a boatload of field goal attempts will be opened up for others. Youth abounds, but the Tigers recruiting class is gem filled and should improve on a nightly basis. Nevertheless, 5th or 6th in the SEC West looks like the optimal scenario.
Key Departures: Bo Spencer, Tasmin Mitchell
Notable Newcomers: Andre Stringer, Ralston Turner, Matt Derenbecker, Jalen Courtney
Top Returning Players: Storm Warren, Chris Bass, Garrett Green
Ole Mississippi Rebels
24-11 (9-7)
Despite a roster full of gazelles, Andy Kennedy's crew once again fell short of NCAA Tournament aspirations. The Rebels won 24 games, but not enough with RPI raising ramifications to leave their mark. A loss in the semi-finals of the NIT to Dayton ended their season. In '10-'11 there is no excuse. Terrico White is gone, but the Rebels are once again loaded.
A senior backcourt returns with Chris Warren and Zach Graham. Warren is the prototype streaky, explosive scorer with limitless range. He doesn't possess your textbook lead guard mentality, but he can run the show (3.5 APG). Graham, known as a defensive stopper on the perimeter, has improved his offensive game and outside shot each year (39% from three). Make no mistake there will be competition for minutes. Highly touted recruits Dundrecous Nelson and Donald Williams also factor into the mix, along with experienced southpaw Trevor Gaskins.
Long, athletic forwards Terrance Henry and Reginald Buckner look to make strides toward stardom. Henry averaged six points in 17 minutes, and Buckner four points 4.5 rebounds and two blocks in the same playing time. Matchup nightmare Nick Williams (9 PPG), a 6'4 G/F transfer from Indiana will be tough to keep off the floor. The Rebs have a true big-bodied post-man in freshman Demarco Cox, who was also recruited as an offensive lineman.
Mississippi has talent oozing out of every position, but it's Andy Kennedy's job to mesh that talent into a cohesive unit. Poor free throw shooting was extremely costly down the stretch of games last season, 66% just won't cut it. If you want to dance, close out games at the stripe.
Key Departures: Terrico White, Eniel Polynice, Murphy Holloway
Notable Newcomers: Dundrecous Nelson, Nick Williams (transfer), Donald Williams, Demarco Cox, Isaiah Massey
Top Returning Players: Chris Warren, Zach Graham, Reginald Buckner, Terrance Henry, Trevor Gaskins
Mississippi State Bulldogs
2009-10 Record: 24-12 (9-7)
Two overtime losses to Kentucky, including a blowup in the final moments of the SEC Championship game, sent the Bulldogs to the NIT. Pick up one of those W's, and they're safely in the field of 65. Alas, it was not meant to be. Replacing Jarvis Vanardo, the all-time leading shot blocker in NCAA history, will be impossible. However, MSU promises to be more paint oriented and less reliant on the trey in '10-'11.
The blow of graduation will be softened by the availability of former McDonald's All-American Renardo Sidney (out first nine games). Sindey is a 6-10 270 pounder with the skill set of a guard, and if in game shape, should deliver on the enormous hype. His partner in the post will be junior Elgin Bailey, 6'8 265, who missed most of last season with ankle injury. Bailey has never received significant run, but is a true down and dirty post-man. Coach Stansbury has high hopes for him. Forward Kodi Augustus should continue to exploit his three point shooting prowess (37%) against bigger, less mobile opponents.
More controversy surrounded the Mississippi State program this summer concerning the eligibility of Dee Bost (13 PPG, 5 APG, 4 REB). Despite declaring for the NBA Draft and hiring an agent, the NCAA allowed Bost to return to school, but he will unavailable for the first semester. Sophomore guard Twany Beckham, who underwent hip surgery last season, will run the team from the outset and is quietly garnering praise. Slick shooting guard Ravern Johnson is also back for his senior year having shot 41% from distance last season. Newcomers Brian Bryant (JC transfer), Shaun Smith (who Stansbury compares to Barry Stewart) and Jalen Steele will vie for playing time.
We're unlikely to have a gauge on just how good this team is until February. With Bost and Sidney out to start the year, an opportunity is presented to the youngsters to step up and earn their stripes. The Bulldogs have size, depth and a mixture of youth and experience that should be a winning formula, if they have time to gel. An instate battle for the SEC West crown is expected.
Key Departures: Jarvis Varnado, Barry Stewart, Phil Turner
Notable Newcomers: Renardo Sidney, Brian Bryant (JC), Shaun Smith, Jalen Steele
Top Returning Players: Dee Bost, Ravern Johnson, Kodi Augustus, Elgin Bailey
Florida Gators
2009-10 Record: 21-13 (9-7)
2009-2010 wasn't always smooth sailing for the Gators, but they managed to sneak into the field of 65. In a season saturated with nail biters, it was apropos for Florida to exit the stage with a double overtime loss to BYU in round one. They had been winning those 50/50 games all season long, but couldn't seal the deal to extend their season. This year's squad returns nearly every player of significance, an experienced roster that is battled tested.
The backcourt of junior Erving Walker and sophomore Kenny Boynton need to return to their playmaking roots. The two combined for 24 shot attempts per game, with 13 of those coming from three-point range. Walker is at his best when facilitating (4.9 APG) and Boynton should utilize his strength and attack the hoop more frequently. There is no reason this team should be attempting 20 trifectas per game, especially when converting on just 31%. Casey Prather, a versatile freshman, will add size at 6'6 and specializes in defensive pressure.
Guard/forward Chandler Parsons took a major leap forward last season, taking control of the offense down the stretch of games. Parsons needs to improve his free throw accuracy (66%) but should increase his scoring output substantially as a senior. Alex Tyus and Vernon Macklin, two bigs who understand their roles and don't hunt shots, will join him in the frontcourt. Freshman phenom Patric Young will infuse an element of athleticism and shot blocking to the front line, something it sorely lacked last season.
The Gators enter the new campaign as a unanimous top 15 team so there is no shortage of expectations. Despite the praise and depth of key returning players, this group has a lot to prove. Florida hasn't won an NCAA Tournament game since 2007, but look like a sure bet to end that drought in '10-'11. They figure to be the top team in the SEC this year.
Key Departures: Dan Werner
Notable Newcomers: Patric Young, Casey Prather, Will Yeguete, Scottie Wilbekin
Top Returning Players: Chandler Parsons, Kenny Boynton, Erving Walker, Alex Tyus, Vernin Wacklin, Erik Murphy
Georgia Bulldogs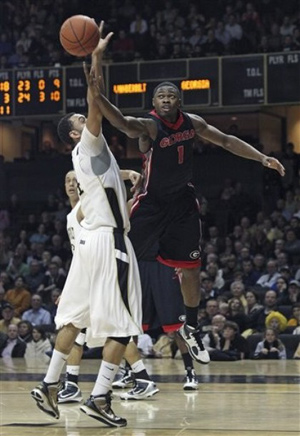 2009-10 Record: 14-17 (5-11)
Mark Fox's crew improved by leaps and bounds as last season progressed. Competitive losses outnumbered victories, but their potential was displayed in a home blowout victory over Tennessee, 78-63. With size, star power and vastly improved depth, the Bulldogs look to emerge on the right side of those close contests. A key ingredient to winning is rebounding, and Georgia was 2nd in the conference with a +4.4 margin on the glass.
In Howard Thompkins and Travis Leslie the Bulldogs have two legit thoroughbreds. Thompkins is the SEC's leading returner scorer (18 PPG) and rebounder (8 REB). He's a beast in the painted area and possesses a soft touch from the perimeter, with range. Georgia will go as far as he takes them. Leslie opened eyes last season with his explosive athletic ability and nightly heart stopping dunks. He's a demon on the defensive side of the ball (1 STL, 1 BLK) and thrives in the open court. Leslie could blossom into a Terrence Williams type.
In addition to Thompkins, Georgia returns some serious beef up front with 6'8 264 Jeremy Price (7 PPG, 4 REB) and 6'8 240 Chris Barnes (3 PPG, 3 REB). Fox landed the program's biggest local recruit in years in Georgia Mr. Basketball Marcus Thornton. Thornton will add length and above the rim play to a lunch pale, below the rim group. The backcourt returns point guard Dustin Ware who rarely makes mistakes (2.3 AST/TO ratio). With that being said, Ware is a more of a caretaker than a playmaker, which makes the addition of Tennessee State transfer Gerald Robinson so crucial. Robinson averaged 18 points and four assists in '08-'09 and would be a legit scorer in any conference.
Georgia's two glaring weaknesses last season were depth, especially at guard and shooting (the Bulldogs failed to qualify for the three point leaders, making less than five per game). While neither area will transform into strengths over night, both have been addressed and improved. Top 25 aspirations for this group are realistic, and anything short of a tournament berth will be a disappointment.
Key Departures: Ricky McPhee, Albert Jackson
Notable Newcomers: Marcus Thornton, Sherrad Brantley (JC), Donte Williams
Top Returning Players: Howard Thompkins, Travis Leslie, Dustin Ware, Jeremy Price, Chris Barnes, Vincent Williams
Kentucky Wildcats
2009-10 Record: 35-3 (14-2)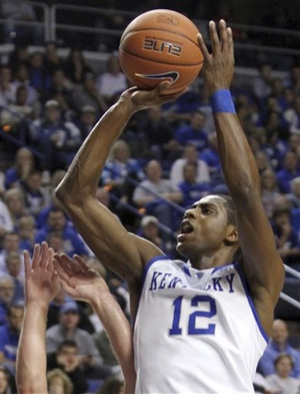 Losing John Wall, DeMarcus Cousins, Patrick Patterson, Eric Bledsoe and Daniel Orton (all in the first round) would cripple most programs, but Kentucky isn't most programs. Head coach John Calipari has immediately reloaded, with a stronger recruiting class, in terms of sheer numbers and depth of athletes, than last year. Once again, Kentucky will fight youth and inexperience with overwhelming athletic gifts and size.
A new core of freshman will take the reigns. Electric, aggressive point guard Brandon Knight will run the show, attempting to leave his own mark, not impersonate Wall. His running mate Doron Lamb is a prototype shooting guard with an already blossomed mid-range game. Long, lanky 6'9 forward Terrence Jones needs to get stronger but possesses the full skill package: handle, face up game, rebounding and shot blocking. 6'5 Stacey Poole is often overlooked, but the natural athlete was a prized signing prior to the hit parade.
Turkish bigman Enes Kanter has been ruled ineligible by the NCAA dropping this team from a potential top 5 to a top 20 team. Their lack of depth in the front court is that glaring. Jones will likely be asked to help out inside and Josh Harrellson will also need to step up. Former Florida Gator and JC transfer Eloy Vargas will need to come through for the team as well.
Darius Miller and DeAndre Liggins are the only contributors who return from last year's squad, and neither was counted on to produce much offense. This freshmen class may very well lead the Cats back to the second week of March Madness, but don't expect a 32-2 regular season. Two things you can expect are entertainment value and a myriad of turnovers.
Key Departures: John Wall, DeMarcus Cousins, Eric Bledsoe, Patrick Patterson, Daniel Orton
Notable Newcomers: Enes Kanter, Brandon Knight, Doron Lamb, Eloy Vargas (JC), Terrence Jones, Stacey Poole
Top Returning Players: Darius Miller, DeAndre Liggins, Josh Harrellson
South Carolina Gamecocks
2009-10 Record: 15-16 (6-10)
Darrin Horn's third season in Columbia marks a changing of the guard. With Mike Holmes' dismissal and Dominique Archie unable to receive a 5th year of eligibility, four double-digit scorers from last year are no longer with the team. From a scoring perspective Devan Downey will be irreplaceable, but the Gamecocks averaged under ten assists per game, a figure that can only escalate.
The losses are harsh, but four regulars return: guard Ramon Galloway, forwards Lakeem Jackson and Johndre Jefferson, and center Sam Muldrow. Two thirds of Galloway's field goal attempts came from behind the arc, making over one per game at a 33% clip. Jackson is a jack-of-all -trades master of none, but finds ways to impact the result. Jefferson averaged 1.4 blocks and over three rebounds in 14 minutes of action and will team up with Muldrow to form a formidable interior. Muldrow made a massive jump from his sophomore to junior season, increasing his scoring by five points per game, blocking 97 shots and altering countless others. He should become a dominant force as a senior.
Horn brought in newcomers aplenty. 5'9 Bruce Ellington will inherit the point guard spot, and shares many similarities with incumbent Downey. He's quick, powerfully built and fearless in attacking the bucket. 5'11 Eric Smith will provide many of the same tools off the bench. 6'4 Brian Richardson will bring much- needed perimeter shooting and 6'9 Damontre Harris is a raw, athletic power forward. Malik Cooke (10 PPG, 6 REB, 2 STL), a transfer from Nevada, should get the starting nod at small forward and be an immediate impact player.
The Gamecocks have only three upperclassmen on the roster. With freshmen getting significant playing time down the stretch of games, ups and downs are inevitable. There is talent to work with, but the SEC East schedule won't be doing them any favors. Nevertheless, they are definitely a team to keep an eye on going forward.
Key Departures: Devan Downey, Dominique Archie (5 games last yr.), Mike Holmes, Brandis Raley-Ross
Notable Newcomers: Malik Cooke (transfer) Bruce Ellington, Eric Smith, Brian Richardson, Damontre Harris
Top Returning Players: Sam Muldrow, Lakeem Jackson, Ramon Galloway, Johndre Jefferson, Stephen Spinella
Tennessee Volunteers
2009-10 Record: 28-9 (11-5)
A loss to Division II Indianapolis aside, Tennessee is once again a contender for the SEC crown. Developing a new identity, however, will take time. The Vols lost their floor general in Bobby Maze, heart and soul in Wayne Chism and defensive whiz and pressure key in J.P. Prince. Those players helped shape what Tennessee stands for and will not quickly be forgotten. With that said, there is no shortage of talent to work with on the Tennessee roster.
It will be the job of spark plug Melvin Goins to settle into the point guard position. Goins is a dynamic scorer and fierce defender, but will never be mistaken for a soothing influence at the controls. He will need to slow his pace and improve decision-making. Now entering his junior season, swingman Scotty Hopson will be asked to be the number one scoring option. Hopson (12 PPG) has show glimpses of stardom and lottery pick potential, but needs to bring it consistently. His aggressiveness is on the incline and he's not afraid to take a clutch shot. Two freshmen, Trae Golden and Jordan McRae will add backcourt depth. Coach Bruce Pearl compares Golden to a Chris Lofton-type and McRae is a lean, athletic Tennessee style shooting guard.
McDonald's All-American Tobias Harris will be a legit inside/outside threat instantaneously. The smooth lefty brings a dimension that Tennessee has lacked, a gifted scorer who can make bread in the half court set. The ever-improving Brian Williams (6 PPG, 6 REB) returns to the center spot and will see more playing time with enhanced fitness. NC Wilmington transfer John Fields will provide a shot blocking presence. Forward Kenny Hall has potential to earn significant minutes.
Tennessee was labeled with a top 25 preseason ranking, and rightfully so. Experience remains, but new on-court leaders must emerge. As always, if a Bruce Pearl team "clicks" it's tough to slow down.
Key Departures: Wayne Chism, J.P Prince, Bobby Maze
Notable Newcomers: Tobias Harris, Trae Golden, Jordan McRae, John Fields (transfer)
Top Returning Players: Scotty Hopson, Melvin Goins, Cameron Tatum, Brian Williams, Kenny Hall
Vanderbilt Commodores
2009-10 Record: 24-9 (12-4)
Last season ended in disappointment for Vanderbilt when a Danero Thomas buzzer beater sent them packing after the round of 64. The Commodores systematic offense thrived in the regular year, but lack of playmakers cost them when it mattered most. With point guard Jermaine Beal and center A.J. Oglivy departed, the offense should open up.
The 'Dores best player, and best pro prospect is small forward Jeffery Taylor (13 PPG, 5 REB, 49% FG). Taylor entered school as a raw project with freakish leaping ability, and is now a basketball player and second-team All SEC member. He's added 25 pounds of muscle and is a fixture at the free throw stripe. If he adds a consistent jump shot, the sky is the limit. The three-point field goal was not a part of his repertoire last season. One man who loves to fire from the cheap seats is sophomore guard John Jenkins. Jenkins shot 48% from distance last year on nearly five attempts per contest. At 6'4 215, Jenkins would be well served to utilize his size and strength against smaller guards. Junior Brad Tinsley (2.8 APG) will run the show with aid from freshman speedster Kyle Fuller.
The frontcourt doesn't possess a go to option, but number of bodies is far from a concern. 6'11 center Festus Ezeli could be primed for a break out with increased minutes. He averaged four points, three boards and a block in just 12 minutes last season. He's possesses polish in the post. He'll be accompanied by a wealth of 6'7-6'9 role players. Freshman Rod Odom is an intriguing combo-forward.
Kevin Stallings' bunch is loaded with interchangeable parts that should provide him the luxury of lineup versatility and flexibility. The Commodores will utilize a lot more dribble drive action without the big man in the middle, and will look to push the pace at all opportunities. Depth is their meal ticket.
Key Departures: A.J. Oglivy, Jermaine Beal
Notable Newcomers: Kyle Fuller, Rod Odom
Top Returning Players: Jeffery Taylor, John Jenkins, Brad Tinsley, Festus Ezeli, Andre Walker, Steve Tchiengang, Lance Goulbourne
Top 5 Prospects:
1. Terrence Jones — Brings size and versatility to the Wildcats. With Kanter ruled ineligible, Jones might be asked to play in the post more than he had expected.
2. Trey Thompkins — The top returning bigman in the country, Thompkins begins the season on the mend with a high ankle sprain. His ability to score in the post and face up and knock down shots makes him a true offensive weapon.
3. Brandon Knight — Knight has size and tremendous speed at the PG position. He's also a gifted scorer who turns up the intensity when it matters.
4. Travis Leslie — Quite possibly the freakiest athlete on the college level, Leslie is sure to be featured on numerous highlight reels this season. Could make a significant improvement this season.
5. Jeffery Taylor — Taylor is an elite level athlete who can put the ball in the hole. He figures to receive an even bigger role in the team's offense this year.