By Tyler Ingle
The Atlantic Coast Conference is going to be an exciting one this season. Despite the sudden drop in frontcourt talent conference-wide, there is still a bevy of high-level prospects and many interesting matchups. Expect another highly competitive season, in the best conference of college basketball.
Boston College Eagles
2009-2010 Record: 15-16
Postseason Finish: None
Boston College is coming off a very mediocre season. They finished below .500 overall and a paltry 6-10 in the ACC. The most important player for the Eagles last season was Joe Trapani. Trapani led the team in points per game (14.1), rebounds (6.4) and three pointers made (51). Playing alongside Trapani was combo guard Reggie Jackson. Jackson is a player with a nose for the ball, and an improving offensive game (12.9 PPG).
For better or for worse (most likely the latter), Boston College is in large part the same team they were last season. Trapani and Jackson will be coming back, along with forward Corey Raji and point guard Biko Paris. They lost a pair of shooters in Rakim Sanders and Tyler Roche, and added transfer Matthew Humphrey. The team is experienced, but simply lacks the talent to be very successful in the ACC. Don't expect too much from them this season.
Key Departures: Rakim Sanders, Tyler Roche
Notable Newcomers: Matthew Humphrey
Top Returning Players: Joe Trapani, Corey Raji, Reggie Jackson, Biko Paris
Clemson Tigers
2009-2010 Record: 21-11
Postseason Finish: NCAA First Round
The Clemson Tigers last year were an athletic, strong and feisty team. The team had really taken on the form of their best player, Trevor Booker. The Oliver Purnell coached squad finished fifth in the ACC, and had a 21-11 overall record.
This season the Tigers will look to fill the large void left by Trevor Booker, luckily they are stacked with a good deal of young talent. Milton Jennings, Jerai Grant and Devin Booker will all share the responsibility of protecting the paint, and scoring inside. None of the three have proven to be a consistent inside presence, but all three have potential. Outside of the paint, DeMontez Stitt will have to shoulder a lot of the scoring load for the Tigers. His running mates, Andre Young and Tanner Smith can be capable scorers as well.
The Clemson Tigers didn't really add anyone of significance to their roster, while losing their most valuable player. New head coach Brad Brownell is going to have his work cut out for him, but if he can harness his young roster and get them to play hard, a tournament bid isn't out of the question.
Key Departures: Trevor Booker, David Potter
Notable Newcomers: None
Top Returning Players: DeMontez Stitt, Andre Young, Tanner Smith, Jerai Grant, Devin Booker, Milton Jennings
Duke Blue Devils
2009-2010 Record: 35-5
Postseason Finish: NCAA Champions
Mike Krzyzewski and his national champions should still be riding the high of their exciting finish to a fantastic 2009-2010 season. Jon Scheyer, Kyle Singler and Nolan Smith led this team with a flurry of outside shooting and a hefty amount of veteran leadership. In the frontcourt, Duke had a solid rotation of Zoubek, Thomas, and the Plumlees. Their well-roundedness and consistency helped the Blue Devils dismantle 18 of their last 19 opponents as they breezed to their fourth national championship in school history.
Duke's backcourt is looking stronger than ever. Between returnees Nolan Smith and Andre Dawkins; and newcomers Kyrie Irving and Liberty transfer Seth Curry; Duke appears to have the strongest backcourt in the nation. Versatile perimeter forward Kyle Singler will continue to do his thing, which is everything. Duke's frontcourt isn't very deep this season, but it is more than enough to handle the frontcourts of other ACC teams.
Duke's outlook this season is very good. The loss of Scheyer hurts, but Duke still has all of the necessary tools to repeat as national champs this season. Whether they will or not depends largely on the improvements of Miles Plumlee and his kid-brother Mason Plumlee. But as of now, the ACC is theirs to lose.
Key Departures: Jon Scheyer, Brian Zoubek, Lance Thomas
Notable Newcomers: Kyrie Irving, Seth Curry, Joshua Hairston, Tyler Thornton
Top Returning Players: Kyle Singler, Nolan Smith, Miles Plumlee, Mason Plumlee
Florida State Seminoles
2009-2010 Record: 22-10
Postseason Finish: NCAA First Round
Head coach Leonard Hamilton has led the Seminoles to consecutive tournament births for the first time since the glory days featuring Sam Cassell and Bobby Sura. The Seminoles won 22 games last season by punishing teams with their stifling defense. The size and tenacity of Chris Singleton, Ryan Reid and Solomon Alabi held opponents to a nation-best 37.7% shooting from the field. Offensively, on the other hand, the Seminoles were unable to score consistently, especially down the stretch of close games.
Singleton will undoubtedly remain a stat-stuffing, defensive juggernaut. The real concern revolves around his inefficiency. He'll need to improve his shot selection, as well as his (inexcusable) 49.6% free-throw percentage. Returning guards Michael Snaer (8.8 PPG) and Derwin Kitchen (8.1 PPG) will also be expected to increase their offensive numbers from a year ago. Freshman guard Ian Miller is a remarkable athlete who is capable of making a very big impact from day one as a scorer/defender.
Florida State will remain a tough team to beat this season. Defensively, losing Alabi hurts, but Florida State has faith in his replacement, Xavier Gibson, a freakish athlete whose abilities could show themselves in the box score more than Alabi's did. In the ACC, Florida State's size in the frontcourt will give them a big advantage over other teams. Leonard Hamilton will look to push the tempo more in order to increase the team's offensive output. If successful, look for the Seminoles to finish the season as a top-25 ranked team.
Key Departures: Solomon Alabi, Ryan Reid
Notable Newcomers: Ian Miller, Okaro White, Jon Kreft, Bernard James
Top Returning Players: Chris Singleton, Michael Snaer, Derwin Kitchen, Xavier Gibson, Luke Loucks
Georgia Tech Yellow Jackets
2009-2010 Record: 23-13
Postseason Finish: NCAA Second Round
The Yellow Jackets played well, albeit sloppily, last season. The scoring and rebounding abilities of now-departed big men Derrick Favors and Gani Lawal gave Georgia Tech a chance to win every night (they almost even pulled one out against Duke in the ACC championship game). As good as their frontcourt was last season, their backcourt was very inconsistent. Iman Shumpert and Mfon Udofia had trouble feeding their talented post players, making outside shots and playing under control.
This season you should expect a flip-flop. The strength of the frontcourt is gone and now the backcourt will be counted on to lead the Yellow Jackets. Shumpert, Udofia and sharpshooter Glen Rice Jr. will headline the 2010-2011 roster. Without Favors, Lawal and Peacock; Georgia Tech's frontline will be very young. Freshmen Daniel Miller and Nate Hicks are the only players taller than 6'8" on the roster. So the duo will have to hold their own this season for Coach Paul Hewitt, who may be on the hot seat after years of inconsistency.
Key Departures: Gani Lawal, Derrick Favors, Zach Peacock
Notable Newcomers: Jason Morris, Nate Hicks
Top Returning Players: Iman Shumpert, Mfon Udofia, Glen Rice Jr., Brian Oliver
Maryland Terrapins
2009-2010 Record: 24-9
Postseason Finish: NCAA Second Round
Greivis Vasquez and the Maryland Terrapins finished conference play tied with Duke for the best record. The stability and consistency of their three seniors (Vasquez, Landon Milbourne and Eric Hayes) proved to be incredibly successful during the regular season. However, the Terrapins ended up losing in the first game of the ACC Tournament and only advanced to the second round of the NCAA Tournament, thanks to a miracle 3-pointer by Michigan State's Korie Lucious.
The departure of Maryland's trio of seniors will surely change the way that Gary Williams runs the team's offense. Jordan Williams is likely to see the ball in his hands a lot more. The 6-10 forward is coming off a fantastic freshman season in which he saw averages of 9.6 points per game and 8.6 rebounds. Also expected to improve is junior guard Sean Mosley. Mosley is a great defender with a high basketball IQ. He might have to start forcing the issue scoring-wise more this season now that most of last year's offense is gone. If he can do that, then Maryland could surprise a lot of people.
Key Departures: Greivis Vasquez, Landon Milbourne, Eric Hayes
Notable Newcomers: Mychal Parker, Terrell Stoglin, Pe'Shon Howard, Ashton Pankey
Top Returning Players: Sean Mosley, Jordan Williams, Cliff Tucker, Adrian Bowie, Dino Gregory
Miami Hurricanes
2009-2010 Record: 20-13
Postseason Finish: None
The Hurricanes will find it easy to forget the dreadful conference play which put them at the bottom of the regular season standings last year, because of a very impressive run in the ACC Tournament. They upset Wake Forest and then Virginia Tech before losing in a close one to the eventual champs. Dwayne Collins was a big part of the Hurricanes' success last season. He was a hard-nosed defender who led the team in scoring (12.0), rebounding (7.8), blocked shots (1.1) and field-goal percentage (60.4%)
The loss of Collins is a substantial one, but Miami is not without hope. Big men Julian Gamble and Reggie Johnson (listed at 258 and 295 lbs respectively), will certainly cause problems for the smaller teams in the ACC. Combine them with a strong returning backcourt that includes the likes of the tough-minded combo guard Durand Scott, and two sharpshooters in Malcolm Grant and Adrian Thomas, and you have a team that could sneak up on some people. The Hurricanes won't compete with Duke and North Carolina for the top spot in the ACC, but they could pull out a few upsets over some big-time teams.
Key Departures: Dwayne Collins, James Dews
Notable Newcomers: Trey McKinney-Jones, Rion Brown
Top Returning Players: Durand Scott, Malcolm Grant, Adrian Thomas, DeQuan Jones, Reggie Johnson, Julian Gamble
North Carolina Tar Heels
2009-2010 Record: 20-17
Postseason Finish: Lost in NIT Championship Game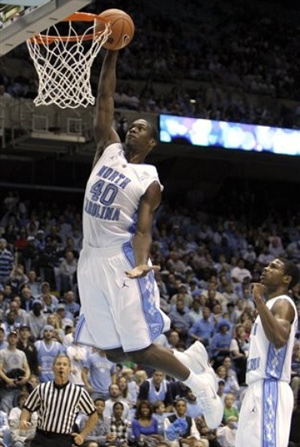 It was a disappointing season for Roy Williams and the North Carolina Tar Heels. The majority of the roster spent a good deal of time on the bench nursing their injuries and those who did play only seemed to underwhelm. Larry Drew II, Dexter Strickland and Marcus Ginyard were all inconsistent and mistake-prone. These issues prevented the Tar Heels from following their 2009 championship with a tournament berth.
The losses of Ed Davis, Deon Thompson and the Wear twins will hurt the depth of North Carolina's frontline. Expected to take the reins this season in the starting lineup are John Henson and Tyler Zeller. The pair has a lot of potential, but some serious question marks as well. Does Henson have the strength to guard power forwards in the ACC? Can Zeller stay healthy? If either one should go down, then North Carolina's lack of a deep frontcourt will be exposed, and exploited.
With newcomers Reggie Bullock and Harrison Barnes making a very significant impact at the wing positions, the Tar Heels should prove to be a very competitive team this season. They'll certainly have the talent to challenge their local rivals, but we'll see if they can avoid dropping the ball like they did last season.
Key Departures: Ed Davis, Deon Thompson, Will Graves, Marcus Ginyard, Travis Wear, David Wear
Notable Newcomers: Harrison Barnes, Reggie Bullock, Kendall Marshall, Justin Knox
Top Returning Players: Larry Drew II, John Henson, Tyler Zeller
North Carolina State Wolfpack
2009-2010 Record: 20-16
Postseason Finish: NIT Second Round
North Carolina State played quite a bit better than I (and you, don't lie) would have figured. Led by junior forward Tracy Smith, the Wolfpack finished with a respectable 20-16 overall record. Smith was the top scorer (16.5) and rebounder (7.3) on the roster. He really showed what he was capable of in N.C. State's upset of Duke, shooting 10-12 from the floor and finishing with 23 points.
This year, Smith will have a strong recruiting class coming to his aid. Forward C.J. Leslie is the star of said recruiting class. Leslie's size and athleticism will be a serious asset in Sidney Lowe's frontcourt this season. He will gobble up rebounds and have his way around the basket against most conference rivals. Fellow recruit Ryan Harrow, will also have a big impact this season. Harrow is a quick, athletic, slippery point guard with a tight handle. Harrow and Leslie should make a terrific tandem down the road for the Wolfpack.
Sidney Lowe has a very talented squad to work with this season, so there is no reason why NC State shouldn't make the tournament. Should the Wolfpack fall short of what they are capable of, Lowe might find himself out of a coaching position.
Key Departures: Dennis Horner
Notable Newcomers: C.J. Leslie, Ryan Harrow, Lorenzo Brown
Top Returning Players: Tracy Smith, Javier Gonzalez, Scott Wood, Richard Howell
Virginia Cavaliers
2009-2010 Record: 15-16
Postseason Finish: None
The Virginia Cavaliers are coming off a roller coaster-type season. After a solid start, the Cavaliers ended up losing 10 out of their last 11 games, finishing with a 5-11 conference record, and a 15-16 record overall. Sylven Landesberg was the leader on the team in both points (17.3) and assists (2.9), and his departure will definitely hurt Virginia
Seniors Mike Scott and Sammy Zeglinski will have to assume leadership roles this season. The big issue with that is, neither should be considered a go-to offensive player. Scott is a solid scorer/rebounder on the block, and Zeglinski is a very capable outside shooter, but both would be better utilized as role players. Incoming freshmen K.T. Harrell and James Johnson 10911 are both talented, but neither one is ready to become a big-time offensive threat. The lack of any real scorers is going to hurt their chances dramatically of winning games in the ACC. Don't expect much out of them this season.
Key Departures: Sylven Landesberg, Jerome Meyinsse, Jeff Jones
Notable Newcomers: K.T. Harrell, James Johnson 10911
Top Returning Players: Mike Scott, Sammy Zeglinski, Mustapha Farrakhan
Virginia Tech Hokies
2009-2010 Record: 25-9
Postseason Finish: NIT Quarterfinals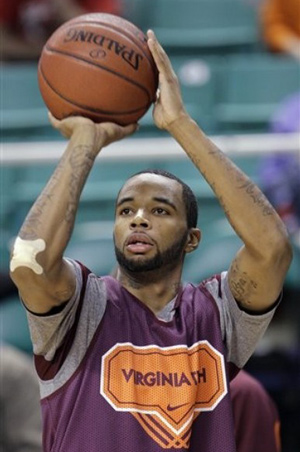 The Hokies had another relatively successful season, but again failed to reach the tournament. I don't blame their players for that; I blame their weak schedule. This season, they've decided to take a different approach, as they have already have a real challenge set up for next week against the third-ranked Kansas State Wildcats.
Senior Malcolm Delaney is expected lead the conference in scoring once again. Opposing teams just can't find a way to keep him off the free-throw line (8.3 FTA a game). He takes advantage of this uncanny ability by making his free-throws at an 84% clip. Delaney's backcourt running mate, Dorenzo Hudson, was second on the team in scoring averaging 15.2 points in 35 minutes per game. Jeff Allen will also resume his role as the post-presence and chief rebounder of the team.
This Virginia Tech team is in large part the same team of a year ago. They managed to retain all of their main contributors from last season. With the extra year of seasoning, this team should be one of the best in the conference.
Key Departures: None
Notable Newcomers: Dorian Finney-Smith
Top Returning Players: Malcolm Delaney, Dorenzo Hudson, Jeff Allen, J.T. Thompson, Terrell Bell, Victor Davila
Wake Forest Demon Deacons
2009-2010 Record: 20-11
Postseason Finish: NCAA Second Round
This season Wake Forest will find it hard-pressed to achieve the same kind of success they had during their 2009-10 campaign. With a new head coach, an inexperienced roster and only one returning starter, you should expect to find the Demon Deacons near the bottom of the ACC standings next season.
Sophomore guard C.J. Harris will play a big part in the Wake Forest offense next season. Harris averaged 9.9 points per game and made the All-ACC Freshmen team. As the only returning starter from a year ago, he'll be expected to assume more of a leadership role for new head coach Jeff Bzdelik. Ari Stewart should also be allotted a bit more freedom creating his own offense. Incoming freshmen J.T. Terrell, Travis McKie and Carson Desrosiers should all become instant contributions as well.
The immediate outlook may not be good, but there is some talent on this team. J.T. Terrell is an explosive scorer, and one freakishly exciting player. By the time his sophomore season comes around, he could be one of the top players in the ACC, and be playing a vital role for a young and coming Demon Deacons squad.
Key Departures: Ishmael Smith, Al-Farouq Aminu, L.D. Williams, Tony Woods, Chas McFarland, David Weaver
Notable Newcomers: J.T. Terrell, Travis McKie, Carson Desrosiers, Melvin Tabb
Top Returning Players: C.J. Harris, Ari Stewart, Ty Walker, Gary Clark
Top Five ACC Prospects:
1. Harrison Barnes, G/F, North Carolina – Barnes is the complete package. His intangibles, savvy and unselfishness have some people comparing him to a younger Grant Hill. Barnes is an underrated athlete with a strong, long frame. Offensively, he doesn't force anything. Instead he lets the game come to him, and takes what the defense gives him. Barnes puts in a lot of effort on defense and on the offensive glass. Barnes will likely be the number one pick in the 2011 draft.
2. Kyrie Irving, G, Duke – Along with Perry Jones of Baylor, Kyrie Irving seems to be the player who has the best chance at dethroning Harrison Barnes for the top overall draft pick come June. Irving is a steady-as-the-come point guard. Even at a young age, he already demonstrates a very mature understanding of how to run a team. His passing and ball handling abilities should be very welcome at Duke this season, and he'll have a chance to develop into one of the best point guards in the nation.
3. Kyle Singler, F, Duke – Singler is a versatile, tough, intelligent player that every team seems to fight over come draft night. He's a proven winner and projects to be a great role-player in the NBA. There is some uncertainty about if he is quick enough to be a capable defender at the next level, but Singler will definitely put the effort in.
4. John Henson, F, North Carolina – Henson is one of the most exciting and unique players in the ACC. His length is unreal, which makes him a major disruption on defense. Henson runs like a deer and jumps like a pogo stick. His skill set is very interesting as well. He is a great passer and a developing shooter. Think Andrei Kirilenko in his younger years. His only major issue at this point is his rail-thin frame. According to reports, Henson has been working hard to add weight over the offseason, so we'll see soon if he really has cracked 200 lbs.
5. CJ Leslie, F, NC State – Leslie is an extremely athletic combo forward. His offensive ability is still in development, but he'll have a chance to show what he can do this season at North Carolina State. Possibly a one-and-done player, but that might be a mistake.