Dante Exum, a 6-foot-6 combo guard from Australia, is one of the top prospects on the NBA horizon. A stress fracture that forced him out of the adidas Nations event threatened to derail his momentum, but Exum bounced back in a big way at the Under-19 World Championships in Prague following the 2013 draft.
We were lucky enough to catch Exum earlier this summer for an interview. He is finishing up his senior year of high school in Australia and appears to be 50-50 on entering the 2014 NBA draft, where he's projected as a potential top-five pick, or enrolling in college for the 2014-15 season and entering the 2015 draft where he could go as high as No. 1 overall.
NBADraft.net: As far as playing college ball, is that something that you're considering?
Dante Exum: It's always been my dream to play college ball. My dad (Cecil) obviously played at North Carolina and I'd love to play for a school like that. So that's certainly an option. But there's also an option for me to take the professional route. But right now, I'm looking at going to college.
NBADraft.net: You are very close with fellow Aussie prospect Ben Simmons. If you were to go the college route, have you discussed the possibility of going to school together?
Dante Exum: We haven't, actually. He's been a good friend for a long time and our dads knew each other, so it's definitely an option.
NBADraft.net: Thon Maker, another intriguing young Aussie now playing in the states. Is he a guy you keep up with?
Dante Exum: I've met him once or twice. I've watched him in some of our national tournaments. Yeah, he's also another guy who's going to be good.
NBADraft.net: I'm really amazed at the level of talent that Australia is suddenly producing. I was in Portland at the Hoop Summit (in April) and got the chance to watch you play. What was that event like? Compare and contrast it with the adidas Eurocamp.
Dante Exum: Both events are really great in the respect that you get a chance to be seen by many NBA scouts. It's kind of intimidating, but then you start to forget about it and just play your game. I think that (Hoop Summit) was a great experience. And I was hoping to get to play at Eurocamp but I didn't get that option (due to injury), but hopefully I do next year.
NBADraft.net: You've been in the AIS program. What is your current situation with regard to graduation and college eligibility? Would you consider a year (or half year) at a US prep school before college?
Dante Exum: No. Prep school is not an option that I'm considering. I've got a half a year left of high school, so I'm just planning on finishing that.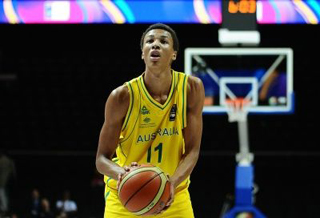 NBADraft.net: As far as the Eurocamp goes, you weren't able to participate, but this has to be a great experience.
Dante Exum: It's been great. I've gotten a chance to spend time around guys that have been pros for a few seasons and learn things (from them), such as ways to take care of your body. It's definitely a good learning experience.
NBADraft.net: It appears to me that you have grown. I was at adidas Nations in 2012 and you seem to be an inch or maybe two inches taller than you were then. Is that accurate?
Dante Exum: Yeah, I'm pretty sure I did. I'm starting to aprocah 6-foot-6. That's one thing — I want to get a bit taller and get that advantage.
NBADraft.net: Do you see yourself being a point guard, or do you think you will end up more of a 2-guard that has the ability to play some point?
Dante Exum: I haven't really looked into it. I've kind of been stuck in the position of point for a long time now.
NBADraft.net: Due to the fact that you're the best ball handler and most talented player on your national team, just give him the ball…
Dante Exum: Right, I've been stuck at the position, but I did play a bit of the 2 at the Hoop Summit and that was good, as well. It's good to be able to know that I could come off the ball and still play at a high level.
NBADraft.net: To me, the greatest strength to your game is your first step. That's really rare at your size — the ability to get by opponents so easily. Normally, guys who can do that are little point guards — guys who are around 6-foot usually have that kind of foot speed. To have that speed at your size, along with your ball-handling ability, is a huge advantage. What's the aspect of your game that you want to improve upon the most?
Dante Exum: Well, shooting definitely. I've been working on that for the past year, and it has improved a whole lot. That is one thing that, internationally, everyone is good at. I want to be even better than the international standard and become a shooter and a driver — force people to play me for both the shot and the drive.
NBADraft.net: I completely agree. Perfecting your shot will make you a deadly offensive player.
More on Exum: U-19 World Championship: Top International Prospects