Rising
Trey Burke — It's Trey Burke's world and everyone else is just living in it right now, at least the college basketball world. Burke won the AP player of the year award on Thursday and continues to prove that he's not only the best player in college basketball this season, but a tremendous pro prospect as well.
He plays the game with a chip on his shoulder and has that clutch gene that few possess.
Burke's performance against Kansas was nothing short of legendary, as he refused to allow Michigan to lose. With Michigan's season on the line, Burke knocked down a 30 foot 3 pointer to send the game to overtime. He then did his best Allen Iverson impression, shake and baking and pulling up for a number of clutch baskets to help Michigan advance.
Burke's leadership and ability to put his team on his back sets him apart. There are a lot of "prospects" in this year's draft, but Burke gives a team a "player" who is ready to compete right away.
If Burke can lead the Wolverines to a National Championship by beating Syracuse on Saturday and Louisville or Wichita State on Monday night, he will have a chance to be a top 5 pick on draft night, which is extremely unusual for a 6′ foot point guard. Just getting Michigan to the Final Four has put him in the mid lottery area (7th) on the most recent mock update.
Michael Carter-Williams — No one is benefiting more from Syracuse's run to the Final Four than Carter-Williams.
His stock took a dive during the season. After a fast start that had pushed him into the lottery, MCW fell to the late teens to early 20s due to lack of consistency and shooting woes. While those remain issues for him, a strong tournament has his stock back on the rise, as he's crept back into the lottery on the mock.
MCW's scoring outputs have been somewhat sporadic through the first four rounds of the tourney with: 4, 12, 24 and 12, but his shooting numbers have been solid, connecting on 19-39 from the floor.
Due to his size (6'6) and length (6'9 wingspan) and playmaking abilities, MCW is very intriguing to scouts, and he could go as high as top 10 as a high risk, high reward type of pick.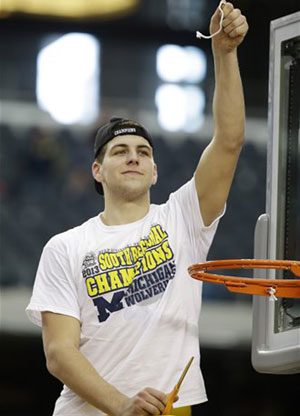 Mitch McGary — McGary has moved into the first round of the mock draft after a tremendous tourney run.
He has averaged 17.5 and 11.5 rebounds over the Wolverines four games, giving them a dominating presence in the paint.
He came into college with a lot of hype having been rated as a top 5 player in his class at points late in his high school career.
Mcgary credits changing his diet and losing 20 lbs over the course of the season for his transformation. This after a very mediocre regular season in which he averaged 6 pts and 5 rebs.
A report came out during the week that McGary will return next season. But as history has shown, reports that come out before the dust has settled on prospect's seasons often prove false. Players are all taught to say they are returning in order not to add pressure and potentially divert focus from their games.
McGary put 25 pts and 14 rbs on Kansas senior bigman Jeff Withey, who is projected as a first rounder, hitting 12-of-17 from the floor and helping Michigan hold Withey to 12 and 8. He then went for an efficient 11 and 9 in their win over Florida, outplaying junior bigman Patric Young.
With legitimate center size, having a 8'11.5" standing reach, McGary is now projected as a late first rounder, in a weak draft, should he decide to enter the draft.
Jamil Wilson — Wilson really came on at the end of the year. While Vander Blue is their best player, Wilson's size makes him Marquette's top prospect.
At 6'7, with a strong athletic frame, he's shows the ability to play on the wing.
Wilson really struggled in the Elite Eight match up with Syracuse, like many before him, shooting just 1-9. But he deserves mention for his first 3 games, averaging X points and knocking down 6-12 from 3 in helping Marquette to come within a game of the Final Four.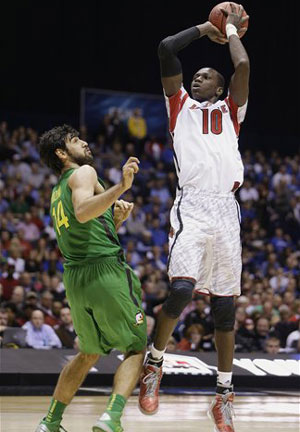 Giorgui Dieng — Dieng has shown the ability to hit the free throw line extended jumper with regularity. He has taken 24 shots in Louisville's four tourney games thus far and only missed 4 of those.
Louisville is the favorite to win the title at this point, and Dieng is their only true first round prospect.
Behind an excellent tourney showing, Dieng has moved from an early second rounder into the late first round area in the most recent mock update.
LaQuinton Ross — I noted last July at the LeBron James Skills Academy that Ross' game and body resemble Robert Horry's.
Apparently the resemblance doesn't end there as Ross is showing the same type of clutch shooting ability that gave Horry the nickname "Big Shot Rob". His last second 3 sent Arizona home and put the Buckeyes into the Elite Eight.
Ross has gone for 17, 17 and 19 in Ohio State's last three games, showing that even with the departure of DeShaun Thomas, the Buckeyes have a high level scorer for next season. It appears that "Big Shot Ross" will be back and if he can improve upon his strength, intensity and consistency, he can become a first round pick.
James Southerland — Speaking of bigtime shooters, after a quiet game against Indiana in which he had just 5 points, Southerland went for a game high 16 points in Syracuse's win over Marquette. He struggled a bit from outside, knocking down 3-9 from 3 but was 6-13 overall.
He's a streaky shooter, and as he's shown all season, when he gets hot he can be a difference maker. Southerland is a bit of a tweener projecting him for the NBA level as he doesn't have tremendous lateral speed and is too thin to play inside. His defense will be an element that teams will focus on in workouts since the Orange system doesn't properly develop players defensively.
Regardless, scouts believe he's a lock to be drafted and could hear his name called in the early second round with strong workouts.
Falling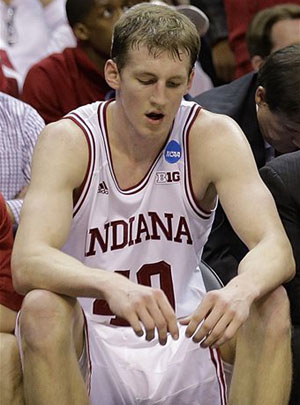 Cody Zeller — Zeller's draft stock took a big hit as Indiana's title aspirations went down the drain in their Sweet Sixteen loss to Syracuse.
Had Indiana run the table and won it all, Zeller had a real shot to be a top 3-5 pick. But that was all but extinguished with his lethargic performance for a second straight tourney game.
The Syracuse defense completely stifled him, making him appear far too predictable . The best way to describe the Syracuse D is swarming, and any time Zeller touched the ball he had 2 defenders collapsing on him before he could make a move. They met him at the rim on numerous occasions, blocking 5 of his shots, and making him look unathletic.
He plays a very fundamental brand of ball and while he did make some nice passes from the high post, his offensive moves were shut down more often than not (3-11 shooting). He didn't display the necessary toughness one would expect from the nation's preseason player of the year. Some have gone as far as to say that he's not ready to leave and that he should return for another year at Indiana.
Zeller had 10 points in what may be his final college game. He looked visibly shaken in the second half as nothing he tried to do seemed to work against Syracuse's 2-3 zone. And while this final game left a lasting imprint on scouts minds, his solid sophomore season should be enough to keep him in the top 10 picks. A return to school would likely help develop his game, but it's unlikely that his draft position will increase much as next year's crop of freshmen if considerably more talented at the top.
Shane Larkin — In Miami's loss to Marquette, Larkin's lack of size and was exposed. His stock had risen to being placed on the first round of the 2013 mock draft with some teams claiming that he was a late first round possibility.
Despite Larkin having a solid final game making 4-of-8 fgs with 14 points, the hype surrounding him as a first rounder has died down following Miami's loss.
Ryan Kelly — After going off for 36 points in his first game back after returning from a foot injury, Kelly's game really
While scouts love his shooting ability and size, Kelly's lack of foot speed will make playing at the NBA level difficult.
Kelly shot 10-33 in Duke's four tourney games hitting just 1-13 from 3, going for 6.3 points per game.
Patric Young — The Florida bruiser went for 16 in the Gators opening round game against Northwestern State but then combined for 6-of-17 shooting in the next three games, averaging below 6 ppg.
He brings strength and toughness, but his skill level in the post and shooting touch are not great. Young was once considered a potential first rounder but the 6'8 center prospect has not had any real offensive development during his college career. He's now considered a likely second rounder to possibly undrafted.
Erik Murphy — Murphy garners some interest from NBA scouts as a stretch 4 in the mold of a Matt Bonner. Whether he shoots it well enough to play in the league remains to be seen.
He would probably like to forget his final college basketball game as he shot a miserable 0-for-11 from the floor against Michigan, finishing with 0 points.