#1 Louisville vs. #9 Wichita State
Saturday 6:09 PM
How Louisville made it this far: Now that the Final Four is set, there is no doubt that the committee got it right when it gave Louisville the #1 overall seed over the likes of Gonzaga and Indiana. They are clearly the best team in the country. They have waltzed through the first four rounds almost effortlessly. It has been their defense and stellar guard play that has led them thus far. Russ Smith laid 31 on Oregon in the Sweet 16 in a game that was over before it even started. The Cardinals played Duke in the Elite 8 in arguably the most memorable game of the Tournament thus far. Sophomore Kevin Ware suffered a gruesome leg injury in the first half that halted the game for more than ten minutes. He had to be carted off the floor but not before he repeatedly told his teammates that he would be fine and to win this one for him. That message was all the team needed as they came out in the second half like a different team. Smith and Peyton Siva used their quickness to get to the bucket almost at will. There was nothing that the Duke guards not the Duke bigs could do to stop them. They outscored Duke by 19 in the second half and cruised to their second Final Four in as many years.
How Wichita State made it this far: The Shockers are this year's George Mason. They are the team that has busted bracket after bracket on their Final Four run. After shutting down a good Pitt team in the first round and sending #1 seed Gonzaga packing in the second round, the Shockers took down this season's other Cinderella team in La Salle in the Sweet 16. La Salle was completely outmatched and it showed. Wichita State outrebounded La Salle 44-23 and were just the more aggressive and more physical team. It was Ohio State's turn to get "Shocked" in the Elite 8 as Malcom Armstead and Cleanthony Early led Wichita State to an upset of the #2 seeded Buckeyes. The Shockers were up for most of the game as they clamped down defensively against a normally efficient offensive squad for Ohio State. Neither Aaron Craft nor DeShaun Thomas could get anything going for much of the game. LaQuinton Ross tried to make it a game late but Ohio State just couldn't make enough plays in the end as the Shockers advanced to their first ever Final Four.
Key to the Game: Keeping Russ Smith and Peyton Siva out of the lane will be huge for Gregg Marshall's bunch. By now they have seen film of how Louisville's dribble penetration punished the Duke defense. They have seen how it opens things up for guys like Chane Behanan and Gorgui Dieng. That will be the focal point of the Wichita State defense. Smith is the leading scorer in the Tournament and has been the engine that has made this Louisville offense go so containing him will be a must. They won't be able to do it with just one guy as Smith will be one of the quickest players on the court but it will have to be a team effort to keep the Cardinals out of the lane. Malcolm Armstead will also have to limit turnovers against a Louisville defense that likes to get after you, force that turnover and then get out on the break.
Matchup to Watch: Carl Hall vs. Gorgui Dieng
Hall is the Shockers' leading rebound and second leading scorer. He will be matched up with Louisville's leading rebounder in Dieng in what will be a huge matchup in the post. Dieng is a terrific defender and shot blocker and has a developing outside game. He hit three 18 footers against Duke last week and has an improving jump shot from that range that keeps defenses honest in case they feel like doubling down on the Louisville guards. That may have been an option in the past but Dieng has developed that mid-range jumper and his stock is soaring because of it. Hall is no stranger to adversity as he has had to overcome obstacle after obstacle to get this far in his basketball career. Hall is from Georgia so this will be a homecoming of sorts for him with the Final Four in Atlanta. He is giving up three inches to Dieng so he will have to use his strength advantage to try and keep him out of the lane as much as possible. He will also have to be quick on his feet to be able to help hedge on screens while also getting back to Dieng before he rolls to the basket or sets up for that jumper. Both players are physical and like to bang on the inside which should make for an interesting 40 minutes of basketball.
Bottom Line: As good as Wichita State's has played through the tournament's first two weekends, Louisville has played better. They have superior guard play and also have a size advantage on the interior. With Louisville's ability to break down your defense along with the added motivation of playing for injured teammate Kevin Ware who is also from Georgia, the Shockers will have their work cut out for them. The only way that the Wichita State can slow this Louisville team down is for them to get both Smith and Siva in foul trouble since the Ware injury leaves a void on the perimeter and takes away the team's best ball handler and perimeter defender off the bench. The Cardinals win the battle of the boards against the smaller Shockers and the guards do the rest in a game that will be closer than most people are predicting.
Final Score: Louisville 73, Wichita State 69
#4 Michigan vs. #4 Syracuse
Saturday 8:49 PM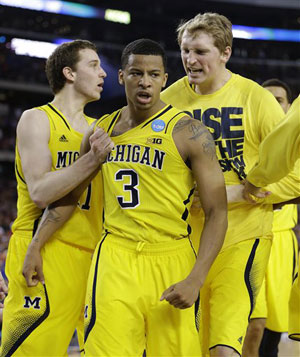 How Michigan made it this far: After making short work of South Dakota State and VCU in the Tournament's first two rounds, Michigan got its first real test against the #1 seeded Jayhawks from Kansas in the Sweet 16. After taking their shots early (just ask Mitch McGary), Michigan found itself in a hole late in the game. They were down double digits with under three minutes to go when Trey Burke decided to take the game over after struggling for much of the first half. Burke hit the game tying three pointer from well beyond NBA range and then completely took the game over in OT to send the Wolverines to the Elite Eight to face the Florida Gators. The Gators, ranked 3rd in the country in defensive efficiency never stood a chance. Michigan came out firing from the opening tip and shot over 50% from three point range in what quickly turned into a route of one of the nation's best defensive teams. This time it was Nik Stauskas who was the player of the game scoring 22 points and nailing all six of his three pointers after three sub par shooting performances to start the tournament.
How Syracuse made it this far: The old saying is that defense wins Championships and thus far, Syracuse is only strengthening that argument. The Orange have held two of the four teams they have faced to below 40 points, they held one of the nation's highest scoring team's in Indiana to 50 points and shut down the Pac-12 POY Allen Crabbe in their other matchup. Against Indiana, the Orange frontline made Cody Zeller look awful. He looked so bad that some scouts and GM's have questioned his position as a top five pick which he essentially had locked up just a few weeks ago. They held Jordan Hulls and Yogi Ferrell scoreless and never allowed the Hoosiers to get out and run or even get comfortable in their half court offense. Next up was a Marquette team that had beaten Syracuse in late February. It was another dominating performance from that 2-3 zone forcing turnovers and poor shots from the Marquette guards. The score (55-39) made this game seem a lot closer than it really was as Syracuse and Jim Boeheim to their first Final Four since Carmelo and company won it all in 2003.
Key to the Game: Syracuse's 2-3 zone has been suffocating all season long and especially in March. Both Indiana and Marquette were held to season low point totals. In the tournament, opposing guards have been unable to break that zone down and have turned the ball over at a high rate. But Syracuse hasn't faced a guard as talented as Trey Burke. It will be his ability to break down that zone and kick out to his teammates for open three's that will be the difference in the game. If Tim Hardaway Jr and Nik Stauskas can help spread the floor by hitting the deep ball the way they did against Florida then Michigan will come away with the win. On the other hand, if Burke forces the issue, lets the zone frustrate him and takes bad shots then it will be a low scoring affair similar to the Marquette game.
Matchup to Watch: Trey Burke vs. Michael Carter-Williams
These two guys are the top two point guards in this year's draft class and will get a chance to go blow for blow on the big stage in Atlanta. Carter-Williams uses his size and length to his advantage against smaller guards while Burke uses his speed and quick handles to create his own shot as well as shots for his teammates. Carter-Williams is a pass first point guard while Burke is more of a scorer. Burke is the better overall prospect but as we've seen so many times already, a less than stellar performance in the tournament can make or break a player's draft stock. Just ask Cody Zeller. Both players will look to impose their will on the game, get their teammates involved and control the tempo. Whichever player is successful will have the leg up in both the game as well as in the draft.
Bottom Line: As noted above, defense wins Championships. Syracuse has the superior defense along with a more experienced team. When teams aren't accustomed to playing against that 2-3 they struggle mightily. Syracuse has long athletic guards, forwards and wings that can match Michigan's talent and athleticism. Brandon Triche and James Southerland have both played in four straight tournaments and know what it takes to win in this type of environment. The Syracuse defense will be smothering once again and will impose their will on both sides of the floor. Michigan doesn't have much coming off the bench behind Trey Burke and as Florida showed us on Sunday, Michigan is susceptible to turnovers while he is out of the game. Look for Jim Boeheim to press whenever Burke leaves the floor. Syracuse is too experienced and too well coached and will ultimately pull away late.
Final Score: Syracuse 68, Michigan 60
National Championship Prediction
Louisville vs. Syracuse for the National Championship. Similar to the Alabama vs. LSU National Championship in football two years ago, this game puts to teams that have previously played one another in the title game. The teams split the season series with each team winning on the other's home floor. Both teams are scheduled to depart for the ACC after the season so this will be one last hoorah for each team as an official member of the Big East. These two teams know each other well as do their respective coaches. Louisville is one of the few teams in this tournament that has seen that vaunted 2-3 zone from Syracuse and knows how to break it down. Louisville showed that they were the best team in the country against Duke in the Elite Eight and will take the rubber match between these two teams. Siva and Smith are just too much for the Orange to overcome.
Final Score: Louisville 75, Syracuse 68
Follow me on Twitter @CroweClayton