With the NBA regular season coming to a close, we've got a big enough sample size to look at how this year's crop of rookies did. There were a few that look to be impact players moving forward, but there's not a lot of all-star appearances in line for this group unless they improve greatly.
It's quite apparent that Damian Lillard has had the best rookie season, but where will this batch of rookies be in a handful of years?
1.) Damian Lillard, Portland Trailblazers
At 22 years old, Lillard is one of the older rookies in the class. Teams are always on the lookout for young guys with potential but the Blazers are reaping the benefits of taking a player that stayed in college long enough to polish his play. As a result, Lillard is leading all rookies in both scoring and assists. By staying in school, Lillard mastered the pick and roll, which has served him well. However, due to his advanced age he lacks the potential of his younger counterparts, but will remain one of the elite players from this class.
2.) Anthony Davis, New Orleans Hornets
Davis, the number one overall pick has quietly put together a solid rookie campaign. He really needs to put in time in the weight room this offseason (although how much muscle he can add to his thin frame is in question). He's managed to bang inside enough to put up a rookie-best 8 rebounds per game and despite missing time with injuries has right around 70 rebounds more than any other rookie this year. He looks to have as much promise as any rookie going forward. His all-around skills on both sides of the ball portend plenty of success in the years to come. The hype around Davis appears to have been out of control before the season as some were projecting him as a Tim Duncan type of savior. With his apparent inability to carry weight, a Chris Bosh level player looks much more feasible.
3.) Andre Drummond, Detroit Pistons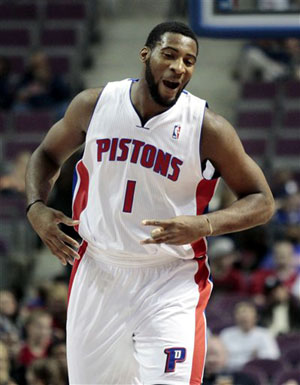 Drummond, at times, struggled to display his immense talent during his time at UConn. That, combined with teams confusing a laid back demeanor for a lack of desire led to him sliding to the Pistons with the 9th pick. Joe Dumars and Detroit are looking very shrewd for taking him as he's given them a big man in the middle with rare athletic gifts that is a capable scorer, who even seems to be a natural fit playing alongside fellow young post player Greg Monroe. His stat line of 7.4 points, 7.5 rebounds isn't all that imposing until you realize that he plays just over 19 minutes per game. If you extrapolate his numbers over 36 minutes he gives the Pistons 13.7 and 13.5 per 36 minutes while shooting over 59% (tops among rookies), and very similar to Dwight Howard's numbers as a rookie. Assuming he builds on this year's performance he could very well end up proving us correct for ranking him the 2nd overall prospect before the draft, with him possibly even becoming the best player from the 2012 draft class.
4.) Bradley Beal, Washington Wizards
Beal has already become important enough to the Wizards (especially due to the fact that John Wall spent most of the season injured) that he plays more minutes than any rookie not named Lillard. He's third among rookies with 14 points per game, and shooting over 38% from behind the three point line. His ability to stretch the floor will continue to get him all the opportunities he could want in Washington, especially playing alongside Wall. Moving forward, he should continue to develop and will provide the Wizards with balance on offense. He'll have to become more efficient as a scorer though.
5.) Harrison Barnes, Golden State Warriors
Golden State took a step forward this year and became a playoff caliber team. Part of that was the play of their rookie, Harrison Barnes. Was he spectacular? Hardly. What he did do was provide outside shooting and even did some rebounding and fit in to the team concept. His abilities were a great fit for the Warriors. His game is a good fit for the NBA game and he should continue to progress nicely over the next few years. He is one of the few that could develop into an all-star caliber talent.
6.) Michael Kidd-Gilchrist, Charlotte Bobcats
Let's get one thing straight right now, if this list took into account production relative to draft position, MKG would not be this high. When a team picks second, they want an impact player and MKG has not consistently been a difference maker on the court. However, he has quietly put together a decent enough stat line. He goes for 9 points, five and a half boards, one and a half assists, and a block each game. How Kidd-Gilchrist is ultimately viewed throughout his career is going to be dependent upon if fans accept him as a player who does the little things that a winning team needs in order to win. He can be a fantastic "glue guy" of sorts, but it's unlikely he'll transform into a go-to guy offensively.
7.) Dion Waiters, Cleveland Cavaliers
There were some questions when the Cavaliers used their 4th overall pick on a guy that didn't even start for his Syracuse team. However, they liked his ability to score the basketball, and thought he would mesh well with franchise player Kyrie Irving. He had a rocky season, but he has managed to score 14.7 points per outing this year. Waiters has to learn to be a more effective scorer, though. He has been the beneficiary of getting a lot of playing time on a bad team, and has shot a poor field goal percentage.
8.) Andrew Nicholson, Orlando Magic
Nicholson has played well while remaining under the radar playing for the Orlando Magic. He only plays about 16 minutes each night, but he makes the most of those minutes. He shoots a very respectable 53.7% from the field. If you look at his per 36 minute stats, he averages 17 and 7. One of his limitations is that he can tend to foul a little too much. Going forward, he lacks the long term potential of his classmates, but he looks like a solid rotation player for years to come.
9.) Terrence Ross, Toronto Raptors
Ross has shown he can be a solid contributor. His season has been up and down as he has to share playing time with Rudy Gay and DeMar DeRozan. He's a fun player to watch and brought some notoriety to the Raptors by winning the dunk contest this season. Stats don't tell the story of what he brings to the team. He is capable of providing a spark off the bench and gives them another skilled wing scorer. He'll have to continue to develop, and for the time being will have to do so in limited minutes due to the logjam on the wing in Toronto. If this list were based on potential, he would be higher.
10.) Jared Sullinger, Boston Celtics
It's a shame Sullinger ended up getting injured. He was really coming on strong and becoming a solid contributor for a Celtics team desperate for an inside presence. His play this season was about so much more than stats, as he provides something the Celtics need, a big body to bang in the post. With that said, if you look at his per 36 minute numbers he averaged 10.9 points and 10.7 rebounds. He was progressing nicely and was learning from Kevin Garnett. The back injury was unfortunate and he'll have to hope he can completely recover from it, which can be easier said than done. If he does, he could be a solid contributor for Boston inside for years to come.