Why No. 1 seed Florida will make the Final Four:
Living in SEC Country, I've seen Florida play at least 15-20 times this season. I haven't just been on their bandwagon all season, I've pretty much been driving it from day one. Billy Donovan's squad has everything you need to win it all. They have one of the best all around point guards in the country in Scottie Wilbekin, they have veteran leadership, they hustle, they shoot the three ball well, they rebound and they defend. They have a coach on the sideline that has won two National Championships and above all, each and every player on the roster knows what their role is and excels in that role.
Few people realize that the Gators' group of seniors including the aforementioned Wilbekin, Patric Young, Casey Prather and Will Yeguete have been to three straight Elite 8's. They have a combined 116 wins during their four years in Gainesville and have won their Conference, finishing ahead of media-darling Kentucky, in three of the last four seasons. I'll go into an NCAAT battle with a team like that any day of the week.
The Gators seem to always make you play their game. They slow down the game on the defensive side of the floor and make you grind and work for every basket while creating turnovers that allow them to get out on the break in transition on offense. They rarely get out of control and they rarely turn the ball over. Between Wilbekin and sophomore Michael Frazier II, they have one of the better three point shooting guard duo's in college basketball. Young and Yeguete are relentless rebounders and defend at a high level. Prather has had the best season of his career while finally coming into his own and learning to use his quickness and athleticism from the wing and reserves Kasey Hill and Dorian Finney-Smith are two of the top reserves in the country. Tack on the mid-season quasi-acquisition of former five star forward Chris Walker and where exactly do you find a weak spot on this team? From top to bottom, there isn't a weak spot on the roster unless you want to get nit-picky and say that they aren't that deep and to even say that is reaching. Their only two losses were on the road to Tournament teams in Wisconsin and Connecticut and in neither game did they have their full compliment of players. The Gators are without a doubt the strongest and most complete team in the Tournament and will prove it come Thursday.
Why No. 1 seed Florida will fall short:
My guess is that they won't but IF the Gators fail to reach the Final Four, it will be because of their lack of depth behind the starters. Walker, while talented, still has yet to really play himself into a significant role and Hill is still a freshman. If for any reason more than one Gator gets into any early foul trouble for goes down with an injury then this team will have to rely on seldom used guard-forward DeVon Walker and Jacob Kurtz to contribute. No disrespect to either of those guys but neither are ready to step in under the bright lights of the NCAAT and contribute.
The Midwest Region is getting most of the attention when it comes to being the toughest overall, and rightfully so, but the South is no slouch and would probably be #2 on the difficulty list. Both Syracuse and Kansas were considered #1 seeds at some point in the season, Ohio State has the talent to play with anyone and UCLA is one of the more underrated teams in the country. As we saw down the stretch in the SEC Championship game, the Gators don't get rattled but with their lack of quality opponents outside of Kentucky for the last three months, the Gators haven't really had to face any other elite competition. A team like Syracuse could give them fits with their 2-3 zone and comparable athletes but so could a Kansas team that could have Joel Embiid back if the teams were to meet in the Elite 8.
Best Non-1 seed: Syracuse
With a healthy Embiid, Kansas gets the nod here but without him for at least the first weekend and with no guarantees that he'll even play at all the rest of the season, the Orange is the most talented team in this bracket not named Florida. So soon we forget that this team was 25-0 at one point and looked like a near lock for the Final Four. After a 2-7 finish to the season that included a horrible loss to Boston College at home, most people are sleeping on Boeheim's squad now.
The fact of the matter is that this team can still beat anyone in the country. They have one of the most talented freshman in the country in PG Tyler Ennis, they are extremely talented on the wing with CJ Fair and Jerami Grant and they still throw that vaunted 2-3 zone at you for 40 minutes a game. Grant, who was injured and didn't play in the team's loss to Georgia Tech and only played 13 minutes after going down against Virginia, is healthy again and back to his old self. He had a spectacular game against NC State in the ACC Tournament and even though his team fell short in the end, Grant showed that he was 100% for the first time in a few weeks.
The key for this team will be Fair, who has had a solid season thus far for the Orange but who has struggled with his shot occasionally this season. He is the most important player for this team and as he goes, so does Syracuse. Expect him to have a big tournament as his college career winds down and as he plays his last games in a Syracuse uniform.

Sweet 16 Sleeper: Pittsburgh
I know what you're thinking. How can I take Pittsburgh as a sleeper when they would have to go through Florida to get there? Simple. They play a similar style of basketball as the Gators and have the ability to shut teams down defensively for stretches. You saw it against NC State earlier in the season as they held the Wolfpack and ACC POY T.J. Warren to 30% shooting after halftime and erased what was an early 17-2 deficit to get the win. They did the same thing to a UNC squad that had been on a tear heading into the ACC Tournament. The Panther defense held Leslie McDonald to zero points and had him fouled out in only 16 minutes of play. Marcus Paige made the game close late but the damage had already been done.
Jamie Dixon's team is well-rounded, they rebound the ball and defend, much in the same way Florida does. They are led by two seniors in Lamar Patterson and Talib Zanna and they get after you on both sides of the floor. They've lost 9 games on the season but only one of those was to a non-NCAA Tournament team which was to a Florida State squad that was one of the "First Four Out" according to most Bracketology experts. This team has gone up against superior competition all season in the ACC and is capable of taking down any team in this bracket. If they can give Florida a shot to the gut early on, I wouldn't be surprised to see this team give Florida a scare in the second round.
Final Four Sleeper: UCLA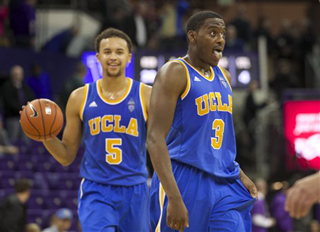 The Bruins are one of the most underrated teams in the country and Kyle Anderson is one of the most underrated players in the country. UCLA proved in the Pac-12 Tournament that they can hang with any team in the country taking down Oregon, Standford and #1 seed Arizona in consecutive days to win the Championship. Anderson was unbelievable in all three games and was named the Tournament MVP. In his first season as Head Coach, Steve Alford has done an unbelievable job with this Bruins' squad and has them poised to make at the school's first Final Four since 2008.
The Bruins should have no problem knocking off a Tulsa squad that lacks the overall talent and horses to play with them and could draw a favorable matchup in the second round if the gutsy predictions of most experts are true and S.F. Austin takes down VCU in the round of 64. The Bruins would then likely face off against the winner of the Florida vs. Pittsburgh game in the Sweet 16 and with no one on either roster than can really matchup with Anderson, the Bruins could give both teams fits with his versatility. And Embiid-less Kansas squad and a struggling Syracuse team wouldn't be easy to overcome but also wouldn't really scare any UCLA fans at this point.
This team has really come into their own this season with the veterans settling into their roles nicely and the young guys taking that major step forward in leading this team. Anderson, along with sophomore sensation Jordan Adams, freshman phenom Zach LaVine and junior guard Norman Powell and you have a four headed monster that is arguably the best in the region and possibly the best in the country.
Best First Round Matchup: VCU vs. S.F. Austin
In a region that, to me, lacks any solid first round matchups, I'll piggyback on most other writers and pundits out there that this is the game to watch on Friday. The Lumberjacks have won 28 straight games coming into the Tournament and absolutely torched the rest of the Southland this season. They gave Texas a run for their money earlier in the season and have already been tabbed by most as this year's potential "Cinderella" team.
VCU on the other hand, had another very nice season that saw them lose a tough one to St. Joe's in their conference tournament. They are no longer going to be a "sleeper" or "Cinderella" team for anyone as Shaka Smart has this team in the NCAA Tournament every year. If they let all of the talking heads get into their own heads then this game could be a lot closer than you might think.
I don't see it happening but if S.F. Austin can knock off the Rams then it should be one of the upsets of the Tournament. Either way, it gives a somewhat of an interesting story line on a day where every other game in this region will go as expected.
(Top Potential) Dream Matchup: UCLA vs. New Mexico
There are other more intriguing matchups from a player matchup perspective and when it comes to star power but as per usual the NCAA Selection Committee subtly has potential matchups that are very intriguing. Less than a year ago UCLA Head Coach Steve Alford was on the bench of none other than the New Mexico Lobos, a team that he led to three NCAA Tournament appearances in five seasons. He left New Mexico for the UCLA job after Ben Howland was fired.
Alford recruited all of the players on the New Mexico roster and knows their strengths and weaknesses. If the Lobos can somehow get past Kansas in the second round and Syracuse/Ohio State in the Sweet 16 which is entirely possible then they could be staring at a showdown with their former coach and his new team in the Elite 8.
Top Potential Player Matchup: Andrew Wiggins vs. CJ Fair
If all of the top seeds advance in the bottom half of the bracket, a potential Wiggins vs. Fair matchup would have NBA scouts salivating. Both guys were Wooden Award Finalists and both players are first round picks in this year's NBA Draft. Wiggins has the higher ceiling and has more pro potential at this point but Fair is a player himself and is every bit of the scorer that Wiggins is at this point.
With the 2-3 zone that Syracuse players on defense, there likely wouldn't be a lot of individual iso's between the two unless it is Fair going at Wiggins but it would nonetheless be fun to watch. Fair, who is not a guaranteed first rounder at this point would have a lot to gain from outplaying Wiggins on a national stage.
Top Coach: Jim Boeheim
946 overall wins, 2005 Hall of Fame Inductee, 4 Final Fours, 2003 National Championship and 2 Olympic Gold Medals. Need I say more?
Biggest Question Mark:
Without a doubt, the biggest question mark with this entire region will be the health of Joel Embiid. He is the type of player that can alter the landscape of this entire bracket if Kansas is able to take care of business this first weekend and he is able to come back for the team's Sweet 16 game. He's a guy that's regularly mentioned as being a someone that could go #1 overall in this summer's draft.
While Andrew Wiggins has benefited from Embiid being on the sideline, the team hasn't and has lost three of their last four games with him sidelined due to injury. They look out of sync and just aren't playing nearly as well as they did with Embiid in the lineup. If that trend continues then both Stanford and New Mexico would be salivating at the chance to get the undermanned Jayhawks in the Round of 32.
Top 5 NBA Prospects:
1. Andrew Wiggins – Kansas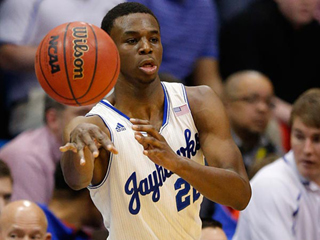 What more can be said about this guy? He's really stepped up in Embiid's absence. He's averaging over 30 points over his last three games and is a huge reason why Kansas ended up holding onto that #2 seed even though they've played like anything but these last two weeks. He'll have to do that and more if he expects to lead his team beyond the first weekend of the Tournament. He's a guaranteed top three pick in the draft and a future star at the next level.
2. Joel Embiid – Kansas
If there was any doubt about how important Embiid is to the Jayhawks, it is officially gone as his injury has coincided with the team's recent slide. He isn't expected to play until the Sweet 16 at the earliest and could opt to not play again this season if he isn't 100%. And who could blame him really, he like his running mate Wiggins is a guaranteed top five pick this summer and shouldn't do anything to jeopardize his health long term.
3. Kyle Anderson – UCLA
It's really not a stretch to call Anderson a poor man's Magic. He is a do-it-all player for the Bruins that can play four positions on the court. The Bruins need him to continue his stellar play if they hope to get past Florida on their way to the Final Four. He's a potential lotto pick but a guy who will be very effective at the next level if he can continue to add strength.
4. Tyler Ennis – Syracuse
Ennis is the guy that the Orange will count on heavily this weekend if they want to get out of this rut they are in and get back to playing the type of basketball they played the first two thirds of the season. Ennis has played more minutes than any other freshman in college basketball this season as 'Cuse doesn't have another true PG on the roster ready to play and you have to wonder if his legs will still be there down the stretch if/when this team gets to the round of 32 on Sunday. Like the others on this list, he's a likely lotto pick and could really help raise his draft stock if he can carry his team over the next two weeks.
5. Jerami Grant – Syracuse
Grant has been dinged up of late after an injury forced him to miss some time at the end of the season. The Orange lack depth on the wing behind him and need him to pick up in the NCAA Tournament where he left off in the ACC Tournament where he was arguably the best player on the court all night long. He's another lottery pick this summer and while not a franchise changing player, he's still going to make plenty of noise at the next level. He's too athletic and too talented not to.
Follow me on Twitter @CCroweNBADraft