The historic season of the Wichita State Shockers won them an almost unheard of #1 seed for a Missouri Valley Conference team, but it's almost as if the NCAA committee dared them to "prove it." The Midwest Region boasts an extremely high level of competition including not only the undefeated Shockers, but Rick Pitino's defending national champion Cardinals, Michigan, and Duke. Oh, did I mention John Calipari's Kentucky team that took #1 overall seed to the bitter end in the SEC championship game and won an 8 seed in the Midwest? Even the teams with less name recognition are tough in the Midwest. St Louis is an excellent defensive squad, Texas has some very high quality wins and NC State has one of the most explosive scorers in the country, in TJ Warren. It's hard to tell who is going to come out of the Midwest this year, but it's not hard to predict that there's going to be a lot of high level basketball being played.
Why Wichita State Advances
Gregg Marshall's squad has all the tools to make a repeat journey to the Final 4. Excellent guard play? check. Tough nosed, intelligent defense? check. Experience and poise? check. More importantly the Shockers know they belong, and have the confidence needed to not get overwhelmed by big programs like Duke, Louisville, and Kentucky. As much emphasis is made of feeling the sting of a loss to motivate a team going forward, as much can be said of walking in the gym expecting to win every game, and that is exactly what the Shockers have done all season long.
Why Wichita State Goes Down
The one weakness the Shockers have is a slightly undersized front line. Cleathony Early is more of a stretch four man at 6'8'' and Chadrack Lufile is a burly 6'9'', but a team like Kentucky, who boasts a 7 footer like Willie Cauley-Stein, and a bruiser like Julius Randle could give them problems if the Wildcats can make it past Kansas State. Dunk machine, Montrezl Harrell, a player that they could potentially meet up with in the Sweet 16, and I don't think WSU has anyone that can match up with him either. Gregg Marshall's guards can outperform anyone in the country, but Wichita State's lack of front court size and depth, if foul trouble should arise, could be an achilles heel for the undefeated Shockers.
Sweet 16 Sleeper
#7 Texas
The Midwest's #7 seed, Texas, has wins over North Carolina, Kansas, and Iowa State. They boast one of the most explosive freshmen in the country in Isaiah Taylor. Oh, did I mention they have a three man big rotation that blocks 5.3 shots per game? The Texas Longhorns have seen it all this season, entering the year with questionable expectations, Rick Barnes' team have far exceeded those expectations and after a brief tournament hiatus, this team is excited to make their mark on the national stage. The Longhorns have the size to matchup with Arizona State, and have shown the ability to beat teams playing at the same level as Michigan. The road is tough, but Texas has that upset ability.
Final 4 Sleeper
#4 Lousiville
It's hard to refer to the defending national champions as sleepers, but I think with the Cardinals (29-5) receiving a four seed, that you can make that case. Despite losing Peyton Siva and Gorgui Dieng to the NBA, Rick Pitino's gang still returns All-American guard, Russ Smith, sharp shooter Luke Hancock, and emerging power forward Montrezl Harrell. The defending champs have their work cut out for them, but this #4 seed is more than capable of making a repeat run to the final 4 this year.
Top 1st Round Matchup
#8 Kentucky vs #9 Kansas State
The battle of the Wildcats, both K-State and Kentucky, will be one of the most exciting first round match ups in the entire tournament. Coach Cal brings in his usual squad of underclassmen, chalked full of future NBAer's, while Bruce Weber's defensive minded K-State team hits the bracket after a successful season in the country's toughest RPI conference. Kentucky has the clear size advantage, especially in the paint, but K-State's guards take much better care of the ball and their intense team defense could potentially wreak havoc on the inexperienced Harrison twins. Whichever Wildcat team advances, one thing is clear, both teams have the talent to potentially upset Wichita State in the second round.
Top Potential Player Showdown
Jabari Parker vs. Julius Randle
Whenever you can get two potential top 5 draft picks together in an Elite 8 showdown, I think that has to be viewed as the top potential matchup. If the Blue Devils and Wildcats can hit their strides over the next week and a half, Jabari Parker and Julius Randle could find themselves squaring off with only 8 teams left in the tournament. With Duke's lack of size, you could even expect the two to be going head to head at each other for the majority of the game. Parker possesses an inside/outside game that could stretch Randle away from the paint, and Randle's strength and aggressive mentality would test Parker's post defense and ability to stay out of foul trouble. This is only a potential matchup, but as a fan of basketball, I'd love for it to happen.
Top Potential Under the Radar Matchup
If NC State can get past Xavier in the play in game, they will be matched up with St Louis. The Billikens are one of the toughest defensive teams in the nation, and the Wolfpack's small forward, T.J. Warren, is one of the nation's top scorers. It's the classic offense versus defense matchup with St. Louis holding teams to only 61.2 points per game and Warren is currently averaging almost half of that, coming in with a 24.8 ppg scoring average. The Billikens are a better team, but NC State's offensive potency could prove to be quite the challenge.
Top 5 NBA Prospects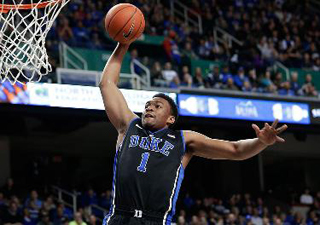 Potential #1 overall pick Jabari Parker is possibly the most polished offensive forward in the nation outside of Doug McDermott. A crafty scorer and dangerous in transition, Parker's high energy style of play can both hurt you in the paint, hitting the glass or on the perimeter where his jump shot and handle make him a mismatch for just about anyone at the college level.
Kentucky's relentless power forward, Julius Randle, has proved to be a terror in the paint this season. Sporting a double double average on the season, the 6'9'' power forward has a nice array of post moves and the motor to clean the glass both on the offensive and defensive end. Still developing in the mid and long range game, Randle is a 70% free throw shooter and his aggressiveness gets him to the line an impressive 7.5 times per game.
3. Rodney Hood
Duke's sharp shooting wing, Rodney Hood, is the Blue Devil's second player on the list. At 6'8'', this left handed perimeter player has a solid, well balanced skill set, with the ability to pass, put the ball on the floor, and stretch defenses. Hood has some really nice tools, and good height looking towards the next level, but he's often inconsistent and it's unsure what level of scorer he will be in the NBA. Still, Hood is a player to watch, he has the ability to do a bit of everything and is a nice #2 option for Jabari Parker and the Blue Devils.
4. TJ Warren
The Wolfpack's explosive scorer, T.J. Warren, has been on a tear lately when it comes to putting the ball in the hoop. Sporting a loft 24.8 point per game scoring average, Warren is dangerous in transition, and creating for himself, but his lack of defensive position and lack of a truly accurate long range game leaves some question marks. That being said, Warren can absolutely light up a scoring column, and I'm sure he'll be ready to go this post season.
After a quiet freshman season, Montrezl Harrell has burst on to the stage as a sophomore. One of the most frequent dunkers in the nation, Harrell is not afraid to make his presence felt down low. Possessing a massive wingspan, and a strong frame, Harrell is a high volume rebounder and steady shot blocker. He's still a tad on the short end for an NBA power forward, and is an awful free throw shooter, but his length and aggressiveness look to make up for his non ideal size. A jumper would do wonders for his translatable stills, but for now he's still intriguing.