Why # 1 Seed Virginia Will Make the Final Four
Riding a lethally efficient defense, the Cavaliers finished 16-2 in the ACC and cut down the nets in Greensboro: 1st in scoring defense (55.3), 9th in FG% defense (38.5%) and 16th in rebound margin (+6.2). They don't block shots or force turnovers with excessive pressure, but they suffocate you with fundamentals and play the percentages – nothing easy. Sizable guards and agile big men make that recipe easier to concoct. Live ball turnovers (10.2) and gift points are few and far between.
Offensively they are a balanced unit, led by the strong backcourt presence (literally and figuratively) of 6'5 220 Malcolm Brogdon and 6'6 225 Joe Harris. Harris serves primarily as a perimeter shot maker, while Brogdon is a more versatile playmaker with the ball in his hands. The show is run by savvy freshman point guard London Perrantes, who's gotten progressively more confident with each passing game. Perrantes ranks 7th in the nation in assist: turnover ratio at 3.37:1 and his three-point stroke has clicked in the latter stages of the season. The active frontcourt of Akil Mitchell, Mike Tobey and Anthony Gill cleans up the offensive glass.
In terms of path to the Final Four, Michigan State could await in the Sweet Sixteen. If they survive that massive test, however, the East region does not boast a supremely talented 2 or 3 seed for the final hurdle.
Why the #1 Seed Virginia Will Fall Short
Virginia's offensive style of play (284th in scoring off.) doesn't necessarily lend itself to comfortable victories; and in March, pressure can do funny things. To make matters trickier, they shoot 66.3% from the foul line as a team (278th) and their senior leader Harris, a shooter, is shockingly in the muck at 63.4%.
If their ball movement predicated system is disrupted, the Cavs can stagnate into a jump shooting team. They have difficulty finding easy buckets e.g. 23% shooting in a home loss to Wisconsin and 33% in a road blowout defeat at Tennessee. They shot 50% at Wisconsin Green Bay and still fell short, but I'll take that game as an aberration. Brogdon is most likely to bail out a stalling offensive set, but he's a bully guard more so than a creative one. Wingman Justin Anderson is Virginia's premiere athlete, albeit a raw one.
The winner of Memphis vs. George Washington in the 8/9 will not be a substantial underdog against UVA. The Tigers are athletic and GW is well coached. A Sweet 16 matchup with #4 seed Michigan State was a rough draw to say the least. The Spartans are Vegas' third choice to cut down the nets, and they will almost certainly be favored on the betting line.
Best Non-#1 Seed: #4 Michigan State
The preseason media darling has re-emerged as a bracket favorite, and perhaps rightfully so. Tom Izzo's crew lost two games all season – North Carolina in East Lansing and Ohio State in Columbus – when operating at full strength. They romped through the Big Ten Tournament, decimating Wisconsin and Michigan with revenge in mind. If Keith Appling can find his shot, and PF Adreian Payne can stay in one piece, the Spartans have five legitimate weapons that must be accounted for at all times; not including the specialized depth they've developed during the injury-riddled months. Whether it's off pick and roll, post isolation, or ball movement, the Spartans get a quality shot on most possessions (47.5% FG). And when they don't, Branden Dawson is crashing the glass to clean up the mess. Michigan State ranks in the top-30 in defensive FG% (40%) and rebound margin (5.1). Sophomore shooting guard Gary Harris is a "big game" player and could be in line for a huge tournament. In a wide open bracket, MSU is the only team with the potential to dominate.
Sweet 16 Sleeper: #9 George Washington
Nothing about the Colonials statistical profile blows you away… they just win. That's a credit to brilliant tactical coach Mike Lonergan. They finished 11-5 in the six-bid Atlantic Ten, a league that finished with a higher RPI than the SEC, AAC or MWC. They only have two out of conference wins against tournament teams — Creighton on a neutral and at Manhattan. However, Their W over Creighton in California is worthy of spotlighting, as they held the Blue Jays to 34% shooting and limited Doug McDermott to 7 points on 2/12 from the floor.
GW is BALANCED: six players at 8.4 points or above, and six players at 1.7 assists or above. The Colonials have four quality guards with sophomore Joe McDonald the engine. They have size and length on the interior with Villanova transfer 6'9 Isaiah Armwood and 6'10 Denmark product Kevin Larsen. I expect a triumph over Memphis, which would constitute a mild first round upset.
#14 seed North Carolina Central will not be overmatched or overawed. The Eagles held T.J. Warren to 13 points in defeating NC State on the road, and lost by 13 at Cincinnati and by 11 at Wichita State. They've tested themselves extensively. In addition to a defense that held the opposition to under 59 points per game, NC Central has a 20-point scorer in Jeremy Ingram and a prolific assist man in Emanuel Chapman.
Final 4 Sleeper:
#3 Iowa State
Fred Hoiberg is on the verge of taking Iowa State to unfamiliar tournament territory. The Cyclones haven't been past the second round since 2000, and have never reached the Final Four. Behind a super-efficient NBA offensive system, the pieces are in place to snap the funk: 18.5 assists (1st in the nation), 1.76 AST/TO ratio (2nd) and 82.9 PPG (6th). ISU is loaded with versatile star power, led by point-forward DeAndre Kane. Kane has risen to the level of competition in the Big 12, crushing previous shooting highs (49% FG, 40% 3PT) with much crisper decision making. Undersized front court players Melvin Ejim and Georges Niang are matchup nightmares – both are comfortable in the post, and both make upwards of one 3-pointer per game. They combined for 18 points and 18 rebounds in the near 2nd round upset of Ohio State last year. For all their accolades on O, hitting the glass and protecting the rim are not strengths (Dustin Hogue gritty, but also undersized). The size of UNC could provide a stern test in the round of 32. Also keep in mind, Iowa State lost to 15th seeded Hampton – also from the MEAC – back in 2001.
#7 Connecticut

Connecticut is a 4.5-point favorite over Saint Josephs in the round of 64. Assuming higher seeds will prevail, the Huskies remaining road will include: Villanova, Iowa State and Virginia. Are these all tough games, particularly in succession? No question. Will Uconn be a considerable underdog in any of them? They will not. Keep in mind this is the last team to send Florida home with a loss (December 2nd). Shabazz Napier isn't Kemba Walker, but he has the physical and leadership capacity to carry this team. Backcourt mate Ryan Boatright has the potential to be a tournament changer if he gets all of his ducks in a row mentally. The Huskies could sure use the shooting stroke of Omar Calhoun circa 2012-2013, but that seems like a longshot at this point. Calhoun was a non-factor during the AAC Tournament, and has been for quite some time.
Top First-Round Matchup
#5 Cincinnati versus #12 Harvard (Thursday, 2:10 EST)
Watching the first 35 minutes of this contest might ruin your day, but the last five minutes will be must-see television. I suppose you can come to that same conclusion for almost any Cincinnati game. The Bearcats will attempt to muddy this one up – as they always do – while Harvard will rely on pristine execution against pressure. The Crimson shoot 47% from the field and 39% from distance. Cincy shoots 43% from the floor and 33% from deep. If Harvard can protect their defensive backboard against the "flying Justin Jacksons" relentless offensive rebounding (13 per game), they have an excellent shot to pull a second consecutive 1st round upset. The matchup to watch is at the shooting guard position between Sean Kilpatrick and Wesley Saunders.

Top Potential Matchup:
#4 Michigan State versus #6 North Carolina
The tops NBA talent in the region lies in this matchup. These teams met way back on December 4th in East Lansing, with the Tar Heels claiming victory. On that evening UNC outrebounded MSU 45-36 (14 offensive boards) and held the Spartan backcourt duo of Appling and Harris to 10/30 shooting. The Heels have dynamic interior size in Kennedy Meeks, and length and athleticism in Brice Johnson, but they'll need more proficient first-shot offense to survive in the Madness. Marcus Paige is an electric scorer, but his shot making alone can only take them so far. Will James McAdoo rise to the occasion under the bright lights, or shrink into a shell?
Top Potential Player Matchup:
Shabazz Napier versus Bryce Cotton
This clash of former Big East point guards would be worth the price of admission. Both play with sizzle, handle the ball like magicians, and are completely undeterred by clutch moments. Other than Doug McDermott, few if any players have been more essential to their team's success than Napier and Cotton. In fact, the remarkable Cotton finished the year playing over 40 minutes per game. Providence is residing in single-digit win territory without him. In their two 2013 meetings, Cotton shot 8/28 FG and 3/18 from three-point range. Napier was 5/21 and 5/12.
Top Coach
Tony Bennett, Virginia
No disrespect to Hall of Famer Tom Izzo who wins this based on lifetime achievement and past tourney success, but Bennett is a flat out mad scientist, and deserves recognition for his incredible season capturing a 1 seed. The talent on Virginia's roster doesn't equate to 28 wins. He's built a style, identity and culture for winning. Bennett will be aiming to improve on his career best Sweet Sixteen result with Washington State in 2007-2008. Virginia reached the second round in 2011-2012. Iowa State's Fred Hoiberg is another up and comer worthy of mention here.
Sleeper Coach

Phil Martelli, Saint Josephs
After a five-year hiatus from NCAA Tournament play, Phil Martelli has the Hawks dancing again. He's done a masterful coaching job on a roster with small margin for error. Their depth of talent behind the starting five is extremely limited. 11 conference wins marked the school's top performance in eight seasons. Martelli has experience navigating through March, taking St. Joes to the Elite Eight in 2003-2004.
Top 5 NBA Prospects

1. Gary Harris, Michigan State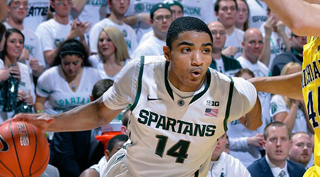 With his team a mash unit for much of the season, Harris stayed the course. His shooting dipped (expectedly), but Harris' strengths are easily identifiable: pure stroke, basketball IQ, off-ball movement and defensive intensity/awareness. We have him slotted at #9 in our 2014 mock, but his rise into a marquee national name is imminent.
2. Brice Johnson, North Carolina
Johnson has been instrumental off the bench for UNC. A bouncy athlete with freakish length, Johnson also possesses a soft touch in the paint. If his physical strength (210 lbs.) ever catches up to his skill level, we're looking at a dynamic NBA prospect. Johnson currently sits at #10 in 2015.
3. Adreian Payne, Michigan State
Injuries cost Payne seven games during his senior campaign, but when available he was highly effective. An inside/outside/mid-range threat at 6'10 245, he averaged 16 points on 51% FG and 42% 3PT. Whether due to a foot injury or added weight (or a combination), Payne doesn't look quite as explosive as he did during his underclassman years and has slipped to #29.
4. Shabazz Napier, Connecticut
Napier carried Uconn on his back en route to 26 wins. He averaged 18 points, 6 rebounds and 5 assists, including frequent moments of clutch aptitude. At 6'1, Napier is a master of shot creation. He's fearless and has passed through the NCAA Tournament gauntlet before. Napier has ascended a myriad of spots into the late first round conversation.
5. Marcus Paige, North Carolina
Speaking of carrying a team offensively, I present you Marcus Paige. After an inconsistent and uncomfortable freshman season, Paige has transformed into the unquestioned leader of UNC as a sophomore. More scorer than true point guard, he'll benefit from playing alongside top recruit Joel Berry next year. But certainly his 4.5 assists per game are nothing to sneeze at. Paige is slotted at #28 in 2015.