1. Cody Zeller 6-11 235 PF/C Indiana So.
Whether you consider him a power forward or center, we can all agree Zeller is the most effective post-player in the country.
While he doesn't have the look of a number one overall pick, he fills all the requirements except passing the eye test. Zeller's offensive skill-set, scoring instincts and basketball IQ are top-shelf caliber, which makes him the focus of opponents' game-plan and preparation. Being the centerpiece of a title contender will only increase his appeal as a potential franchise cornerstone building block for a struggling NBA team.
2. James McAdoo 6-9 220 SF/PF UNC So.
McAdoo's outlook as an NBA prospect focuses on his uncanny ability to make plays off the ball. He's the type of player that probably won't record a dribble prior to 80% of his made field goals- whether it's tip-ins, catch-and-finishes or open 12-foot jumpers.
His role at the next level projects as an ideal complimentary piece who can make plays while providing defensive flexibility. Though his ceiling is limited (due to the inability to consistently create his own offense), McAdoo's basement is higher than anyone's. He offers minimal risk and a lot of appeal as a versatile hybrid 4 who can fit into any lineup.
3. Nerlens Noel 6-11 208 PF Kentucky Fr.
One of the top shot-blockers to ever grace the high school circuit, some might argue he's a more natural rim protector than Anthony Davis. Noel displays the recovery speed that allows him to challenge on the strong side, force the play to the weak-side and still contest the shot. Offensively his touch around the basket is soft, however he's raw with regard to creating his own shot. Noel will likely score the majority of his points off tip-ins, alley-oops and other catch and finishes, however it's his defensive impact that gives him top five overall-consideration.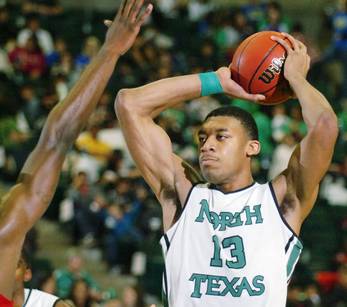 4. Tony Mitchell 2586 6-8 235 SF/PF North Texas So.
Mitchell is a daunting athlete with unique floor skills for a kid his size. Offensively, he has the agility to operate on the perimeter and compliments his deceptive mobility with a 43 percent three-point stroke. At 6'8 with a 7'3 wingspan and strong, NBA frame, he's an effective/aggressive interior player on both sides of the ball. He averaged three blocks a game to go with an offensive double-double, and enters his sophomore campaign as the top mid-major prospect in America.
5. Rakeem Christmas 6-9 226 PF Syracuse So.
Christmas played big minutes for Syracuse during the NCAA tournament, replacing the ineligible Fab Melo in the middle. He was given a season-high 34 minutes in the second round win against Kansas State, playing exactly the role his game he'll be asked to play at the next level (8 points, 11 rebounds, 3 blocks).
While his offensive range only extends from foul line to baseline, Christmas' ability to defend the post, pose as a glowing target above the rim and finish with authority will draw interest from teams looking to beef up their front line. He's primed for a similar sophomore breakout as former teammate Fab Melo.
6. Trevor Mbakwe 6-8 237 PF Minnesota Sr.
Last year's torn ACL may have reduced his potential suitors in the market for an explosive high-post scorer, but that could only make him a value-pick outside the lottery.
Mbakwe's ability to get himself easy baskets makes him a high percentage scorer with his back to the basket or attacking the rim as a face-up threat. Proving he could make 18-foot jumpers on a consistent basis would ease some of the concern over the possibility he loses some explosion. Assuming his knee returns to form, Mbawke could present teams with a high and low post scorer and a physical rebounding presence.
7. Dario Saric 6-10 235 SF/PF Split Croatia 1994
Saric is a versatile young prospect with a skill-set built for the wing, though he lacks the athleticism and foot-speed of your typical NBA small forward. At 6'10 he's got a unique ability to create for teammates and a promising touch on the perimeter, but will need to use his 6'10 size better inside to increase his NBA appeal as a future power forward.
8. Mason Plumlee 6-10 235 PF/C Duke Sr.
Mason carries the same bag of tricks as his brother Miles, a bag mixed with size, mobility athleticism and springs. Plumlee's job now and at the next level will center around making plays off the ball, at and above the rim. Players whose roles are defined make it easier for prospective teams to know what they are looking at during the evaluation process. Teams with an under-the-rim front court will be in the market for Plumlee's services in the first round.
9. Patric Young 6-8 245 PF Florida Jr.
As strong as any interior player in the country, Young can be an enforcer on both sides of the ball. Getting him the ball once he's established position is the best way to maximize his skills, because he's not capable of scoring anywhere outside the paint. He's an unmovable object inside, and his NBA appeal steams from the physical presence he can provide inside.
10. Jarnell Stokes 6-8 250 PF Tennessee So.
Stokes is explosively underwhelming as an under-the-rim forward, but he's proven hustle and instincts can help off-set physical deficiencies. He could potentially score 14 points a game on 7 different types of made field goals, with savvy interior counter moves and shot-creativity in the post. He's your typical undersized, effective, overachieving power forward.
Follow Jon on Twitter @NBADraftnetWass
Honorable Mention: CJ Aiken 6-9 192 PF St. Joes Jr., Chane Behannon 6-6 240 PF Louisville So., Khem Birch 6-8 220 PF UNLV So., Jared Berggren 6-10 220 PF Wisconsin Sr., Jackie Carmichael 6-9 240 PF Illinois St. Sr., Shaq Goodwin 6-8 240 PF Memphis Fr., Elias Harris 6-8 230 SF/PF Gonzaga Sr., Grant Jarrett 6-10 220 PF Arizona Fr., Kenny Kadji 6-10 240 PF Miami Sr., Ryan Kelly 6-10 220 PF Duke Sr., Augusto Lima 6-9 227 PF Brazil 1991, Jeronne Maymon 6-6 260 PF Tennessee Sr., Mike Moser 6-8 220 PF UNLV Jr., Erik Murphy 6-9 220 PF Florida Sr., Johnny O'Bryant 6-9 260 PF LSU So., Alex Oriakhi 6-9 235 PF Missouri Sr., Adreian Payne 6-9 225 PF Michigan St. Jr., Dwight Powell 6-9 215 PF Stanford Jr., Ray Turner 6-9 240 PF Texas A&M Sr., TJ Warren 6-8 235 PF NC State Fr., David Wear 6-9 240 PF UCLA Sr., Travis Wear 6-9 240 PF UCLA Sr., Mouphtaou Yarou 6-9 210 PF Villanova Sr.