1. Steven Adams 7-0 255 C Pittsburgh Fr.
Scouts eyes will be glued to the Pittsburgh center who earned their attention just a few summers ago.
Like most 19-year old seven-footers, Adams has a raw offensive skill-set, yet has shown flashes of a face-up game from the elbow and some back-to-the-basket moves on the low block. As a freshman, he'll likely do most of his damage off the ball- blocking shots, finishing and tipping in loose balls thanks to his size, strength and mobility.
Unless a team falls in love with his long-term potential right away, it will probably be best for Adams to play one year in the Big East and one in the ACC. He's got top lottery upside given he shows steady development.
2. Rudy Gobert 7-1 240 C France 1992
Gobert's unprecedented length (7'9 wingspan) at 7'1 makes it easier to overlook his lack of offensive prowess. Which makes it all the more intriguing that his skill-level has been praised. He has yet to put up any legitimate stats on the European senior level, but his intrigue lies in his length and upside.
He clearly needs to get stronger, especially since he'll spend most of his time inside. But with unmatchable measurements a nice feel for the game and some decent touch on his shot, he'll be a factor above the rim offensively and a disruptive presence defensively.
3. Alex Len 7-1 240 C Maryland So.
Len showed toughness for a 7'1 freshman, after gaining valuable experience playing for Ukraine's U18 national team. As a freshman, he displayed some explosiveness finishing at the rim, while swatting two shots a game in only 21 minutes of action.
He only averaged 4 shot attempts per game, so becoming a bigger focus of the offense will be his next responsibility. Len's upside was flashed during specific plays rather games or stretches, but it was enough to raise some eyebrows knowing he has time to gradually develop.
4. Alec Brown 7-0 240 C Wisc. Green Bay Jr.
Brown is finesse seven-footer with excellent touch at the high and low post. Jumpers at the elbow and over-the-shoulder hooks are both in his repertoire, and remain difficult to contest thanks to his size and high release point.
He's also nimble and light-footed, contributing 3 blocks a game as an active body in the paint. Brown could solidify a spot in the first round with another strong year at Wisconsin-Green Bay.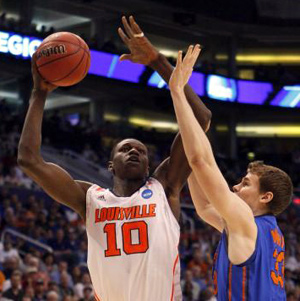 5. Gorgui Dieng 6-10 255 PF/C Louisville Jr.
Dieng is a human space-eater with a reserved parking spot right in the middle of the lane. He's gotten stronger over the offseason, which should practically assure him a nightly double-double after averaging 9 points, 9 boards and 3 blocks as a junior.
Dieng probably won't be looked at as a source for points at the next level, but the impact he can make defensively could attract teams looking for depth at the center position.
6. Jeff Withey 7-0 245 C Kansas Sr.
Withey has backup center written all over his face.
Though not much of a threat with the ball in his hands, Withey's NBA appeals stems from his defensive range protecting the rim. Withey has quick feet for a 7-footer, and is capable of guarding face-up big man from the elbow to the baseline. With a soft touch over the shoulder and the ability to finish at the rim, teams that lack size and front court depth could look at Withey has a long-term reserve.
7. Willie Cauley 7-0 240 C Kentucky Fr.
Cauley has an NBA body with long arms and deceptive athleticism. He's shown flashes of a one-dribble face-up game, and should provide Calipari with enough reasons to play him alongside of Nerlens Noel.
Cauley clearly passes the eye-test and should have his way at the college level once he's given the ball with position. If he can expand his offensive repertoire, he's got first round potential either this year or the next.
8. Isaiah Austin 7-0 205 PF/C Baylor Fr.
It's just not everyday you see a seven-foot athlete with a 9'3" standing reach attack the rim from the perimeter. Or pull up from downtown.
Austin is an interesting prospect because of his size, length and ability to play 25 feet from the rim. Whether he becomes a full-time player or a part-time reserve at the next level will depend on strength and toughness playing on the interior.
9. Kaleb Tarczewski 6-11 245 C Arizona Fr.
Tarczewski was a highly touted recruit who plays with intensity and passion, two likeable qualities you like to see in a young seven-footer. Though mostly limited to producing at the low block, he seems to have a good enough feel for the game that can expand over time.
He's a likely two to three year college player, so don't expect many double-doubles to start the season. It will be interesting to see how Sean Miller divvies up minutes to his freshmen front-court trio (Brandon Ashley, Grant Jarrett).
10. Dewayne Dedmon 7-0 250 C USC Jr.
The former JUCO transfer tore his MCL last January, delaying his development as a potential NBA prospect.
Though raw offensively, Dedmon possesses explosive athleticism to go with big-time size and strength, and illustrates promising mechanics on his midrange jumper and free throws. We'll need to see him perform for a full year at full strength, but Dedmon will be a name to watch in an improved Pac 12.
Honorable Mention: Waverly Austin 6-11 275 C Oregon Jr., Jordan Bachynski 7-2 243 C Arizona St. So., AJ Hammons 7-0 280 C Purdue Fr., Vander Joaquim 6-11 245 C Hawaii Sr. , Zeke Marshall 7-0 210 C Akron Sr., Aziz NDiaye 7-0 240 C Washington Jr., Cameron Ridley 6-10 260 PF/C Texas Fr., Joshua Smith 6-9 310 C UCLA Jr., Adam Woodbury 6-11 225 C Iowa Fr.