Most Athletic: Andre Drummond

You aren't going to find a lot of players anywhere with Drummond's athletic profile. He's a once in a 5-10 year physical specimen. Even in the NBA, his explosiveness and raw leaping ability coupled with his overwhelming size and strength will put him in elite company. The sky is the limit for this kid.

Strongest Player: Andre Drummond

Drummond's strength should serve him well on both ends of the court in the future. Defensively, he'll be tough to back down, and with a little more focus, impossible to keep off the boards. Offensively, he'll be a strong finisher around the rim and potentially devastating in the post.

Fastest Player: Marquis Teague

Athletically, Teague is a great combination of quickness, strength and leaping ability. He explodes both vertically and horizontally, and is difficult for defenses to stay in front of. He will play too fast for his own good at times, but he's young, and the team the drafts him will expect him to improve in time.

Least Athletic: J'Covan Brown

If you're like me, you probably don't put very much stock into the athletic combine. The event doesn't tell us how a player actually plays in game situations, as much as it tells us how a player trains off the court. If that is indeed the case, then combo guard J'Covan Brown really needs to spend more time in the gym. His 29.5" max vert tied him for the worst in this year's combine.

Longest Player: Andre Drummond

After measuring 6'11.75" in shoes with an event-leading 7'6.25" wingspan at the combine, there's little question that Drummond has plus size and length for the center position in the NBA.
Best Shooter: John Jenkins

Every team needs shooters. A great one will use his perimeter prowess to take pressure off of both ball-handlers and post players by demanding defensive attention 20-25 feet away from the hoop. Some shooters have been able to stick around in the league without even being good at anything else (Steve Novak, for example). John Jenkins may not be a flashy prospect, but he'll potentially factor into a team's rotation playing this important role. He made 3.8 triples per game (shooting 43.9%) his junior year at Vanderbilt.

Best Ball Handler: Austin Rivers

Generally, point guards are the best ball-handlers on the court at any given time. They're often expected to get into the lane from the perimeter, scramble the defense, and create opportunities for their teammates. Austin Rivers is not a true point guard, but he gets into the lane as easily as anybody else in this draft class. Unlike true point guards, Rivers is much more adept at using his slick handles to create offense for himself.

Best Passer: Kendall Marshall

Even if his scoring ability leaves something to be desired, UNC point guard Kendall Marshall has the vision and leadership qualities to start on an NBA team right now. He is an artist when it comes to setting up teammates. He can throw a clean lob pass from almost anywhere on the court, pass the ball brilliantly in transition, or boldly thread needles in half-court situations. Above anything else though, he makes his teammates better.

Best Defender: Anthony Davis

While his teammate, Michael Kidd-Gilchrist, deserves some attention here as well, I think the probable top-overall pick in the draft this year is also the top defensive prospect in his class. Center Anthony Davis has elite-level overall instincts as a shot-blocker (averaged 4.6 blocks per game this season), but he's more than a one-trick pony on this side of the floor. He also possesses the lateral quickness, anticipation and motor of a future all-NBA defender.

Best Rebounder: Thomas Robinson

Robinson is an explosive leaper with quick feet and a strong frame, but he never takes his athleticism for granted; especially when pursuing rebounds. He's relentless when attacking the glass — finishing his junior season second in the nation in rebounds per game (11.8) — and this is a skill that generally translates to the NBA.

Best Post Skills: Jared Sullinger

Sullinger's stock has been reportedly slipping for a while now, but he still has an intriguing skill-set out of the post. Unlike most bigs coming out of school, Sully can operate from both sides of the rim, turn over either shoulder and shoot, drive or pass off the block effectively. His wide frame and soft touch will help immediately make him a scoring threat around the basket, even if he lacks ideal size/athleticism.

Best Competitor: Michael Kidd-Gilchrist

Some people find it odd that a wing player that averaged less than 12.0 points per game is being strongly considered in the top-5 of the draft. Those people probably haven't seen much of Kidd-Gilchrist last season. The 6'7" forward is considered one of the top leaders in this year's draft class. His competitive spirit clearly rubbed off on the rest of his teammates, and played a role in getting Kentucky a National Championship this year.

Most Versatile: Michael Kidd-Gilchrist

Kidd-Gilchrist isn't especially versatile offensively, but he has the tools to defend three or four different positions at a high level in the NBA. He's quick enough to guard point guards, tenacious enough to potentially shut-down wing players and long enough to at least compete with certain power forwards. His future coach will love that kind of versatility.

Highest Risk: Andre Drummond

As mentioned several times before now, Drummond is a rare specimen physically. He's an elite-level athlete, with a monster frame and ideal length at the center position. All of his tools make him an enticing prospect near the top of the draft, but there have been some questions about his maturity and ability to stay focused on the court. These can be red flags for players like Drummond, who still need a lot of development to reach their full potential. Depending on these and a number of other factors, Drummond could turn out to be either a future star, or a huge bust.

Lowest Risk: Thomas Robinson

Robinson's game progressed extremely well during his three years at Kansas. His hard work turned him from a quality bench player to one of the top players in the nation and the key piece of a Final Four team. As a power forward, he has everything an NBA team would look for. He's athletic, strong and quick; with good size and length for the position. He rebounds, scores in the post, and has shown flashes of a solid jump shot. I can't imagine Robinson not starting for an NBA team in a year or two.

1st Round Sleeper: Terrence Ross

With all the tools Ross has at his disposal, you'd imagine he'd be a lock for the lottery. Standing 6'7" in shoes with excellent leaping ability and open-court speed, Ross profiles perfectly as a future starting shooting guard athletically. He's a great (though perhaps a bit streaky) shooter, a solid passer and an above-average defender. He'd be a steal if he fell out of the lottery.

2nd Round Sleeper: Darius Miller

Assuming Miller falls to the second round, I think he'd be a great pick up for any team with an established star or two already on the roster. Though he isn't great at anything in particular, he also doesn't have a lot of holes in his game. Miller won't be an all-star, but he can fit nicely into an NBA rotation right away.

Free Agent Gem: Alex Young

Young had a solid year, but you have to question a wing player that shot 42.4% from the field on a losing team in the Summit league. His stock is down, and it isn't difficult to see why. On the other hand, Young scored 20.4 points per game this season and still has some potential left in his game. He could profile nicely as an explosive scorer coming off an NBA bench, in the vein of Jordon Crawford or Alonzo Gee.

Athleticism:

1. Andre Drummond
2. Anthony Davis
3. Tony Mitchell 31627
4. Marquis Teague
5. Jared Cunningham

Strength:

1. Andre Drummond
2. Yancy Gates
3. Jared Sullinger
4. Royce White
5. Festus Ezeli

Speed:

1. Marquis Teague
2. Austin Rivers
3. Damian Lillard
4. Tyshawn Taylor
5. Tony Wroten

Explosiveness (Guards):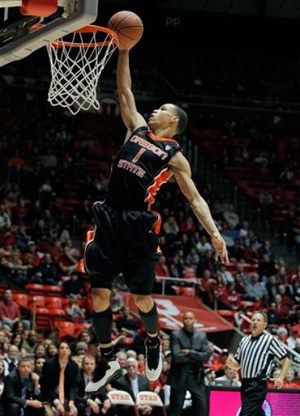 1. Jared Cunningham
2. Marquis Teague
3. Terrence Ross
4. Jeremy Lamb
5. Dion Waiters

Explosiveness (Forwards):

1. Andre Drummond
2. Anthony Davis
3. Tony Mitchell 31627
4. Miles Plumlee
5. Jeffrey Taylor

Un(Athletic):

1. J'Covan Brown
2. John Shurna
3. Robbie Hummell
4. Henry Sims
5. Scott Machado

Length:

1. Andre Drummond
2. John Henson
3. Anthony Davis
4. Festus Ezeli
5. Quincy Acy

Shooters:

1. John Jenkins
2. Kim English
3. Damian Lillard
4. Bradley Beal
5. Doron Lamb

Ball Handlers:

1. Austin Rivers
2. Kendall Marshall
3. Royce White
4. Marquis Teague
5. Scott Machado

Passers:

1. Kendall Marshall
2. Scott Machado
3. Tony Wroten
4. Josep Franch
5. Royce White

Defenders:

1. Anthony Davis
2. Michael Kidd-Gilchrist
3. Jeffery Taylor
4. John Henson
5. Tony Mitchell

Rebounders:

1. Thomas Robinson
2. Anthony Davis
3. Drew Gordon
4. Kyle O'Quinn
5. Miles Plumlee

Post Skills:

1. Jared Sullinger
2. Robert Sacre
3. Tyler Zeller
4. Arnett Moultrie
5. Kevin Jones

Competitors:

1. Michael Kidd-Gilchrist
2. Thomas Robinson
3. Anthony Davis
4. Kevin Jones
5. Darius Johnson-Odom

Versatility:

1. Michael Kidd-Gilchrist
2. Terrence Jones
3. Draymond Green
4. Perry Jones
5. Tomas Satoransky

Basketball IQ:

1. Kendall Marshall
2. Draymond Green
3. Michael Kidd-Gilchrist
4. Jared Sullinger
5. Henry Sims

Best Potential:

1. Anthony Davis
2. Andre Drummond
3. Harrison Barnes
4. Jeremy Lamb
5. Perry Jones

High Risk/High Reward:

1. Andre Drummond
2. Perry Jones
3. Meyers Leonard
4. Royce White
5. Tony Wroten

Low Risk:

1. Anthony Davis
2. Thomas Robinson
3. Harrison Barnes
4. Bradley Beal
5. Michael Kidd-Gilchrist
Overrated:
1. Fab Melo
2. John Henson
3. Tyshawn Taylor
4. Evan Fournier
5. Dion Waiters

1st Round Sleepers:

1. Terrence Ross
2. Moe Harkless
3. Jeremy Lamb
4. Royce White
5. Quincy Miller

2nd Round Sleepers:

1. Darius Miller
2. Doron Lamb
3. John Jenkins
4. Jeffrey Taylor
5. Jared Cunningham

Free Agent Gems (Possible Undrafted):

1. Alex Young
2. Tomas Satoransky
3. Josep Franch
4. Kevin Murphy
5. Tornike Shengelia