With the 2012 NBA Draft rapidly approaching, there are many young men who are anxiously waiting to hear their names called on draft night. Forward Anthony Davis of Kentucky is the consensus #1 overall pick and will be selected by the New Orleans Hornets as their building block for the future. After that things should get very interesting. Several players are moving up on draft boards, while others are falling. Here we will examine five players who are underrated and five players who are overrated.
Underrated
Andre Drummond, Connecticut, C, Freshman, 6-10 279 lbs.
Due to the fact that the expectations for Drummond were so high heading into the season, Drummond is now being severely undervalued. Drummond is often knocked for not appearing to be emotionally engaged during games, and there is a real chance that, unless a team trades up for him, he will slide out of the top 6 picks on draft night. He remains our #2 overall prospect on our Big Board (Top 100) list. If he realizes even half of his talent he will end up the 2nd best player from this draft class. Looking at the league's top centers, very few could match Drummond's physical stature and athleticism at the same age. Roy Hibbert didn't even appear to be a future NBA player when he was 19. The point being that bigmen take the longest to develop. Is Drummond a risk? Without question. And GMs are afraid of losing their jobs by taking him. But some of those same GMS may have to account for not taking him if he realizes his potential. In Drummond's defense, he was just 18-years old during the 2011-12 college basketball season, he arrived to the team late having to learn the playbook on the fly, and he played on a team that was without its head coach (Jim Calhoun) for several stretches of the season. Those three reasons alone help to justify his mediocre performance relative to the standards that basketball experts, scouts, and fans laid out for him at the beginning of the season. He's bigger than Dwight Howard was at age 18, he averaged 10.0 PPG, 7.6 RPG, and 2.7 BPG, while playing 28.4 MPG for the Huskies, in a Big East Conference where freshmen bigs rarely dominate. Alonzo Mourning averaged 13 and 7 as a freshman at Georgetown back in 1989. The demand for bigmen that can defend caused the Bobcats to reach on Bismack Biyombo last year and the Golden State Warriors to give Kwame Brown a one year, seven million dollar deal. With his incredible footspeed and strength it's hard to imagine Drummond not being a strong defensive contributor, at minimum, in a few seasons. Drummond will need the right environment to thrive and will require some patience, but his immense upside simply cannot be dismissed.
Terrence Ross, Washington, SG, Sophomore, 6-6 195 lbs.
Ross entered the 2011-12 season with high expectations surrounding him and he lived up to them. He doubled his scoring output from his freshman season (8.0 PPG) to his sophomore season (16.4 PPG) and he showed that he could guard a variety of wing players. NBA scouts are most consistently impressed by his smooth ability to handle the basketball and to rebound the basketball. As a shooting guard for the Huskies last season, Ross averaged 6.4 RPG, which is higher than most players at that position. He shot the ball well (45.7 FG%, 37.1 3P%, 77.4 FT%) and that should help elevate his draft stock in a deep, talent-laden draft class. Ross will likely be selected between picks 8 and 15, but could ultimately end up better than all of the shooting guards in this year's class, Bradley Beal included.
Andrew Nicholson, St. Bonaventure, PF, Senior, 6-9 240 lbs.
The Atlantic 10 Player of the Year in 2011-12 is one of the most underrated players in the 2012 draft. He comes from a small school and he played in a sub par conference relative to other top prospects in the draft, but he played consistently well over his four seasons at St. Bonaventure leading them to a surprise NCAA tourney birth and he should be a welcomed addition to any NBA team. While at St. Bonaventure, Nicholson averaged 16 PPG or more in three consecutive seasons, including 18.5 PPG last season to go along with 8.4 RPG. He plays with poise, tenacity, and a high basketball IQ that helps him get opposing post players into foul trouble. Teams have taken notice and there is a chance that he will be selected in the top 20 on draft night. He's coachable and he's added new post moves each season – another positive trait. Nicholson had 9 double-doubles last season and finished with 26 points and 14 rebounds in his marquee performance of the year against Xavier in the Atlantic 10 Championship game.
Jeremy Lamb, Connecticut, SG, Sophomore, 6-5 179 lbs.
Lamb was the target of a lot of "heat" from the media last year as Connecticut's laid back attitude and lack of leadership were heavily exposed throughout the season. Lamb ended 2010-11 on a hot streak and he was a key component in Connecticut's championship run. In 2011-12, he was expected to carry the Huskies back to the Final Four, but that never happened. Lamb has the personality of a secondary player, but there is a need for those types of players. He must learn to apply himself on the defensive end. That said, his offensive game speaks for itself: 17.7 PPG, 4.9 RPG, 47.8 FG% and only 1.7 turnovers per game. He scored over 20 points in 10 games, including two games with over 30 points. He has a 7-foot wingspan that helps him gather rebounds and handle the ball with ease. Lamb is thin and would definitely benefit from some time in the weight room. On offensive skill alone, he's a top 5 talent. Expect Lamb to come off the board from picks 8 to 14, and have a good chance to end up one of the top 5 players from this draft class.
Moe Harkless, St. John's, SF, Freshman, 6-8 208 lbs.
With this draft class being so deep, scouts and fans often forget about players like Moe Harkless. As a true freshman at St. John's, Harkless averaged 15.3 PPG, 8.6 RPG, 1.6 SPG, and 1.4 BPG and he played over 36 minutes per game. He had 11 double-doubles, most notably against #6 Duke when he finished with 30 points and 13 rebounds. Also, Harkless assumed the role of being the team leader among four other freshman starters. His leadership was especially necessary during head coach, Steve Lavin's departure from the team due to health concerns. Harkless has good height for the small forward position in the NBA, but his lack of 3-point shooting ability (20.2 3P%) could limit his offensive contributions. He's drawn some comparisons to another young talented pick that is starting to blossom in the NBA, Paul George.
Overrated
Fab Melo, Syracuse, C, Sophomore, 7-0 255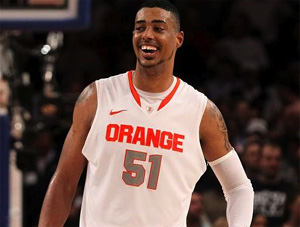 Rarely do NBA GM's cease to be enamored by 7-foot prospects, regardless of their projected impact on an NBA roster. Year after year we see 7-footers selected with high draft selections and they struggle to "pan out" throughout their careers. Kwame Brown (#1 overall selection in 2001) and Michael Olowakandi (#1 overall selection in 1998) are two of the most notable examples. Fab Melo is not expected to be a top 5, or even a top 10 draft pick, but some scouts have him projected him to be chosen in the top 20. He has good size, and he can certainly block shots, as evidenced by him winning the Big East Defensive Player of the Year last season. However, his work ethic is suspect, and his willingness to learn and apply himself outside of games is in need of improvement. There are also concerns that his age is actually older than listed. Melo failed to finish the season with his Syracuse teammates in 2011-12 due to academic eligibility issues, which begs the question, "Is he mature enough for the NBA stage?" He averaged three fouls per game, while playing 25.4 minutes per game in a 2-3 zone defensive scheme that usually helps players stay out of foul trouble. Early indications are that he could be foul prone. At best, Melo will be a defensively minded version of Nene. At worst, he will become a thicker version of Francisco Elson and find himself shuffling from roster-to-roster because his 7-foot size gives teams an incentive to offer him a chance.
John Henson, North Carolina, PF, Junior, 6-10 220 lbs.
Henson has incredibly long arms (7'5" wingspan) and a 9'3.5 standing reach which is 3'5 inches greater than #1 pick Anthony Davis. He can block shots all day long on the defensive end (2.9 BPG). He can rebound (9.9 per game) and he can run the floor well for his height. His offensive game has improved year-after-year at Chapel Hill and he has learned from one of the best coaches in college basketball history, Roy Williams. Henson is projected by some scouts and media outlets to be selected in the top 10 of the draft. Others have him being selected in the late lottery to late teens. Although he posted impressive statistics at North Carolina last year, the biggest detriment to his draft stock has remained the same for the last three years – his thin, frail body frame, and lack of toughness. He measured 216 lbs at the NBA Draft combine. Henson struggled the most last season when he was matched up against physically developed players. Against Thomas Robinson and Kansas, Henson finished with 10 points (5-12 shooting) and only 4 rebounds. He played timid and was easily moved around as well. He will need to add at least 20 lbs. to his frame if he wants to realize his potential. Henson has lottery type talent, but he may not be usable for the first two to three years of his career while he adds muscle and bulk.
Dion Waiters, Syracuse, SG, Sophomore, 6-4 215 lbs.
Waiters is an intriguing prospect. He was second on the Syracuse team in scoring (12.6 PPG) last season, he shot the ball efficiently overall (47.6 FG% and 36.3 3P%), and he proved to be a pest defensively, causing 1.8 steals per game. On the flip side, he only played 24.1 minutes per game; he only collected 2.3 rebounds per game; and he scored 8 or fewer points in 7 games. He's a streaky player. When he's on, he can rack up points in a hurry. When he's off, he can leave coaches scratching their head (similar to J.R. Smith). When looking back on his performance in 2011-12, he shot over 50% from the field in 17 games and he shot under 40% from the field in 11 games. His shooting is volatile, although his overall percentages are solid. Whoever drafts him will have to be okay with that. Waiters may not be able to guard some shooting guards at the NBA level due to his 6-4 height. The Dwyane Wade comparisons are, frankly, disrespectful to Wade who actually is 6'5 in shoes and has a 6'10+ wingspan, and standing reach 4+ inches greater than Waiters. There just is not any comparison due to their body types and the fact that Wade's game is so much more well rounded. Waiters benefited from playing in a 2-3 zone defensive scheme at Syracuse where he was able to play the passing lanes and not focus on one particular offensive player. For that reason, it will be interesting to see if he is able to cause as many turnovers on the NBA stage as he did in college. Waiters appears locked into being a top 10 pick with Toronto at 8 being his most likely destination. We feel that a number of 2-guards will be taken after him and end up better (Lamb, Ross, Rivers).
Tyshawn Taylor, Kansas, SG, Senior, 6-3 185 lbs.
Taylor is a borderline freakish athlete with great quickness and scoring ability. He took a giant step from his junior to senior seasons, upping his scoring average from 9.3 to 16.6 and continuing to be an effective passer by increasing his assists per game from 4.6 to 4.8. He shot the ball well for the season as a whole (47.7 FG%, 38.2 3P%) and he played solid defense. The skepticism for Taylor comes when considering his decision making and ability to play the point guard position in the NBA. As a senior at Kansas, he turned the ball over 3.5 times per game – a high number for a player who is orchestrating offensive sets. Another point of skepticism regarding Taylor is that he struggled on the big scene at the NCAA Tournament. He was an erratic shooter and struggled to put himself in position to take good shots. The off court problems with getting into fights and suspensions have to raise red flags for teams as there is legitimate concern about his willingness to put the team first, stay focused and not be a disruptive force.
Evan Fournier, France, SG, International, 6-7 204 lbs.
Coming out of France, Fournier is relatively unknown to common NBA fans, but he has caught the eye of NBA scouts and GM's. After averaging 6.4 points in 14.1 minutes as a rookie in Europe, he stepped his game up and averaged 14.0 points in 26.0 minutes as a second year player. Question marks surround Fournier, however, due to his below average athleticism and inconsistent shooting. At just age 19, how long will it take before he can legitimately make an impact on an NBA roster? He shot just 42.5% from the field and 27.7% from three-point land last year; is that good enough to make it in the NBA? His shot selection skills are mediocre, at best, and that could also be difficult for him in the NBA. His body is still developing and he will probably stay in Europe for a couple seasons while he continues to refine his skills. There's no questioning his feel for the game as he's able to score and pass at a high level. The real question is whether he has the athleticism and toughness to make it in the league at the NBA's most athletic position.