Climin'
Damian Lillard, 6'2 PG, Weber State
Nobody exploded onto the NBA draft radar quite like Lillard, who finds himself second in the nation in scoring at 24 points per game.
Metaphorically speaking, Lillard is a gigantic shed filled of tools you never knew existed. He'll give you motion-sickness with his hesitation-acceleration dribble, while showing creativity, athleticism and balance finishing at the rim. He's shooting an astounding 47% from downtown, which compliments his explosiveness and unpredictability off the bounce. Lillard attacks the rim as effectively as any guard in the country, and with excellent scoring instincts turns difficult shots into easier ones when driving in traffic.
At 6'2, Lillard has standard point guard size with fitting NBA physical tools. Though not a pass-first facilitator, his shooting, scoring and ball security are simply extraordinary. While most scoring guards have control issues due to ball-dominance and the demanding individual responsibilities, Lillard manages just 2.2 turnovers in 34 minutes a game.
He's become the most intriguing yet appealing point guard prospect with guys like Marquis Teague and Kendall Marshall failing to separate from the pack. Lillard went from #20 to #11 in out latest 2012 mock draft.
Darius Miller, 6'7 SF, Kentucky
Miller has played a key role for Kentucky, injecting his unselfish mentality in order to maintain a balanced and poised attack. Though his skills are rarely showcased due to his talented surrounding counterparts, Miller has shown a soft touch in the midrange and as a spot-up threat on the perimeter. He's hit at least three three-pointers in three of his last five games, while proving capable of shooting off a pump-fake and dribble.
He'll be asked to play the same role at the next level that he plays in college, so the transition process won't be overly daunting. While his ceiling is low, a playoff team looking to fill their rotation will likely use their second round pick on this serviceable reserve. He went from #60 to #47 in our 2012 mock draft.
Moe Harkless, 6'8 F, St. Johns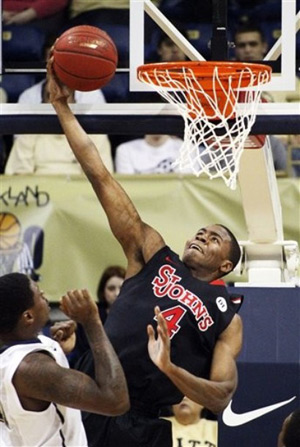 At 6'8 and long, Harkless passes the eye-test just by watching him fun the floor.
He was the lone bright spot for St. Johns in a loss to Pittsburgh, collecting 25 and 9 on 10-16 shooting. He's nimble, athletic and mobile, which he uses for getting to rim and keeping active on the glass. Coaches will love the fact that he can both the 3 and the 4, which adds flexibility when looking to build a rotation. Assuming his perimeter game and outside stroke improve over time, the Rudy Gay comparisons are not far-fetched.
He hinted after the Pittsburgh game that he might consider entering the draft, and word from NBA scouts is, he's a lock to enter the draft. We moved him from the 2013 lottery to #15 in 2012.
Mike Scott 6'8 PF, Virginia
Scott has been tearing apart ACC defenses. He dropped 28 and 10 on Florida State and 35 and 11 on Maryland, claiming full ownership of the offensive post. He's become a legitimate scoring threat in the half court, with a face-up jumper out to 18 feet and on over the shoulder hook in the paint. His physical style of play as an inside/outside threat has made him an attractive second round flier for a lineup in need of some meat and potatoes up front.
At almost 24 years old, he'll draw interest from teams looking for someone to come in and contribute right away. We moved him to #50 in 2012 after being left off our draft boards.
Alec Brown 7'1 C, Wisconsin Green Bay
Not many 7'1 centers out there with the high post touch and feel for rim as Green Bay's Alec Brown. Actually there's not many 7'1 centers period.
Brown's averaging 16 and 11 over his last three games, showing some offensive promise and defensive presence. Earlier this year he put up 22 points, 14 rebound and 5 blocks at Marquette, and had an 11-block game in a one-point win over Wright State. If teams are looking for a center in the 2nd round, why not take a chance on a skilled 7-footer with a mechanically sound jumper.
We moved him to #19 in 2013 after being left off our draft boards.
Jeffery Taylor, 6'7 SF, Vanderbilt
Taylor continues to rise up our draft board, and for good reason.
Defensively, Taylor is versatile enough to guard three positions on the floor. And while that's been M.O. for the last three years, being a lights out shooter and perimeter scorer has not. Taylor has increased his field goal percentage from 44% to 51% and his three-point percentage from 35% to 44% from his junior to senior year. I compare him to Wilson Chandler with slight differences here and there, but Taylor has first round potential with his newly found shooting stroke and defensive capabilities.
He went from #30 to #23 in our latest 2012 mock draft.
Slippin'
Marquis Teague 6'2 PG, Kentucky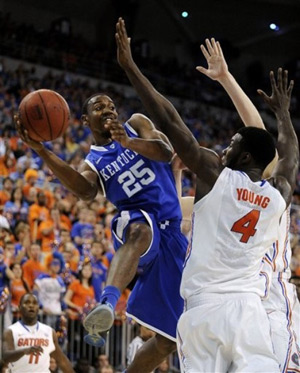 He just doesn't do anything better than his direct competitors. Doesn't have the passing or vision of Kendall Marshall, or the scoring ability of Damian Lillard, while shooting 32% from downtown and 41% from the floor. You get the feeling that he'll get selected based on need, instead of a team actively seeking out Marquis Teague, the prospect.
He dropped from #26 to #32 on our latest 2012 mock draft.
Tony Wroten 6'5 G, Washington
Wroten has taken an average of 16 shots a game over his last 4, shooting 33% during the stretch. What's amazing is that just about all of his attempts come from inside the arch, something he won't be able to do at the next level. In fact, Wroten hasn't made a three-pointer since January 28th, and has hit only 9 throughout his entire freshman year.
While it's easy to fall in love with his athleticism and ball-handling explosiveness, his shoot-first mentality and non-existent outside stroke should ease some of your excitement. He dropped from #16 to #27 on our 2012 mock draft.
William Buford 6'5 SG, Ohio State
Games like the one Buford had against Michigan State can skew the perception of his overall body of work. While he's capable of going off for 20+ on any given night, his inconsistencies have become frustrating as his final college year winds down. Starting from his 29 point game against Purdue on February 7, he's shot below 40% from the floor in every other game he's played. Which is troubling considering his scoring touch will be his primary responsibility at the next level.
He dropped from #29 to #34 in our 2012 mock draft.
Renardo Sidney 6'10 PF/C, Mississippi State
It almost seems like his stock has been falling since the first time he slipped on a Bulldog uniform.
Despite being a talent with soft hands and an admirable skill-set, his head and conditioning are just not where they need to be. Though overweight for most of his career, he never took advantage of his size and strength, which has allowed him to disappear throughout games and stretches of a season. He's averaging a measly 5 boards per game, an unacceptable number for someone with Sidney's physical mold. We just haven't seen enough improvement on a year to year basis.
We had Sidney as a second rounder before falling off our boards.
Chace Stanback, 6'7 SG/SF, UNLV
Stanback averages 9 shots a game, with 5 of them coming from behind the arc. He's not an adept shot creator, and isn't likely to contribute in any area outside of shot-up shooting, limiting the services he can offer an NBA team.
Stanback has struggled to consistently produce since the start of conference play, which was recently capped off by an 0-4, zero-point effort against Wyoming. We had him at #49 in 2012 before falling off our boards.
Reggie Johnson 6'10 C, Miami
A 6'10 300 pounder, Johnson was never considered a track stud or Olympic athlete. He does 95% of his work within 5 feet of the rim without rarely playing above it. If given the ball out of position, Johnson doesn't have the ability to work his way toward his sweet spot, which therefore diminishes his value as an offensive player.
We had Johnson as a second rounder before falling off our boards.
Follow Jonathan on twitter: @NBADraftnetWass