Why the No.1 seed will make the Final Four:
Michigan State (27-7) is the top seed in the West Region after defeating Ohio State (East Region #2 seed) in the Big Ten Tournament Championship Game this weekend. The Spartans look ready to make a run in the tournament, and make it to the Final Four, after playing the toughest non-conference schedule of any team in the country throughout the season and after claiming the Big Ten Conference Champion crown. Big Ten Player of the Year, Draymond Green, has been a stud for Michigan State, averaging 16.2 PPG, 10.4 RPG, 3.6 APG, 1.5 SPG, and 1.0 BPG for the season, and he will undoubtedly pose matchup problems for opposing teams. Green's play will be a significant factor in Michigan State's success in the West Region and so will the Spartans' backcourt tandem of Keith Appling (11.5 PPG, 3.9 APG) and Brandon Wood (8.3 PPG, 2.9 RPG). If Appling and Wood can limit their turnovers and shoot consistently, the Spartans will be tough to beat. Michigan State has the size, the athleticism, and the ability to play tough defense, and they also have the best coach in the region, Tom Izzo. Further, they played in the second-best conference in the country – second only to the Big East – so they are battle-tested.
Why the No.1 seed will fall short:
Michigan State is a very good basketball team, but the Spartans have been placed in a brutal region made up of nine conference champions, most notably #2 Missouri (Big 12), #4 Louisville (Big East), #5 New Mexico (Mountain West), and #8 Memphis (C-USA). Assuming #8 Memphis beats #9 Saint Louis in the Round of 64, Michigan State could be on the verge of defeat if they don't come ready to play against a young, talented Memphis squad in the Round of 32. Memphis has the athleticism and scrappiness that could cause problems for the Spartans.
If Michigan State manages to beat #8 Memphis, they will likely face #4 Louisville, #5 New Mexico, or #12 Long Beach State. All three of these teams won their conference tournament championships and all three played difficult schedules to prepare them for the NCAA Tournament. Louisville (26-9) has good size, scrappy defense, and a crafty point guard in Peyton Siva who can get to the paint and make plays. New Mexico (27-6) has a beast in the paint, Drew Gordon, who averages a double-double, and it has also won 27 of its 33 games this year by shooting the ball very well (46.3 FG%, 38.5 3P%). Long Beach State (25-8) only lost one game in the Big West Conference, they played a very tough non-conference schedule, and their point guard, Casper Ware, is a "speed demon."
The bottom half of the West Region has #2 Missouri, #3 Marquette, #6 Murray State and #7 Florida. Each of these four teams would have a legitimate shot at beating Michigan State. Missouri (30-4) is a smaller team, but it can shoot the ball (50.4 FG%, 39.5 3P%) and it doesn't commit many turnovers (10.0 per game). Marquette (25-7) has the perfect defender for Michigan State's Draymond Green, and his name is Jae Crowder. Murray State (30-1) is a savvy team with an excellent guard in Isaiah Canaan. Florida (23-10) is a sleeper team in the region that could make it to the Final Four. The Gators score lots of points (76.0 PPG), they can shoot the three-ball (39.0 3P%), and they take care of the ball. If Michigan State can get through the top part of the region, it will then face stiff competition from the bottom part of the region.
Best Non-No.1 Seed: #2 Missouri Tigers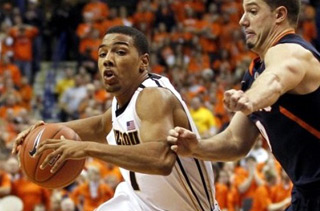 Missouri didn't play an overly impressive non-conference schedule this season and the NCAA Tournament Selection Committee cited that as the main reason why the Tigers didn't earn a #1 seed in the tournament. But the Tigers are solid and they are a very efficient squad that will pose a very tough matchup for any team in the West Region. Of the 68 teams in the tournament field, Missouri ranks in the top six for points per game, field goal percentage, free-throw percentage, and three-point percentage. Every player in their starting lineup averages 10.0 PPG or more, led by senior guard, Marcus Denmon (17.6 PPG). Ricardo Ratliffe is an inside presence that can score down low and "clean the glass," and Kim English is a talented "slasher" on the wing. The Tigers backcourt is captained by Phil Pressey (10.0 PPG, 6.3 APG) and he's a big-time playmaker. Missouri won't have an easy path to the Final Four in this region as #7 Florida, #3 Marquette, and #6 Murray State sit in its way before Missouri would likely face #1 Michigan State, #4 Louisville, #5 New Mexico, or possibly #8 Memphis.
Sweet 16 Sleeper: #12 Long Beach State
The 49ers are battle-tested and ready to play against top-notch competition. Their non-conference schedule included trips to Pittsburgh (W), San Diego State (L), Montana (L), Louisville (L), Kansas (L), North Carolina (L), and Creighton (L). In a holiday tournament around Christmas time, they beat Xavier and Auburn, and then lost to Kanas State. They were 3-7 in those games mentioned, but in their losses, they didn't lose by much. Long Beach State shoots the ball well (46.9 FG%, 36.0 3P%), they can rebound, and they have two studs in their starting lineup: Casper Ware (17.4 PPG, 3.3 APG) and T.J. Robinson (12.0 PPG, 10.1 RPG). Compared to other mid-major teams, they have much better size. Everyone in their starting lineup is 6'5" or taller, except Ware (5'10"). Their bench has two players 6'8" or taller that play a handful of minutes per game. To beat #5 New Mexico, they will have to get out on New Mexico's three-point shooters and limit Drew Gordon's work on the boards. If they can beat New Mexico, expect to see an entertaining rematch against #4 Louisville, the champions of the Big East Conference Tournament. Louisville beat Long Beach State, 79-66, in their matchup earlier this season.
Final Four Sleeper: #7 Florida Gators
To be a "sleeper," a team must be a #5 seed or lower. The Gators are a #7 seed, but they have the talent and experience of a #3 or #4 seed. Look for them to beat #10 Virginia (22-9) handily in the Round of 64, then look for them to compete in a brutal "slug fest" against #2 Missouri in the Round of 32. If they can get past Missouri, #3 Marquette or #6 Murray State will likely be awaiting them in the Sweet 16. Florida matches up very well against either of those teams. The Gators have a seasoned squad led by junior wingman, Kenny Boynton (16.3 PPG, 2.5 APG), and freshman standout, Brad Beal (14.0 PPG, 6.5 RPG). They have frontcourt players (Patric Young, Erik Murphy) that can score efficiently in the paint and gather rebounds. All five Gator starters average double figures in scoring and they're quick and athletic (with the exception of Erik Murphy). The Gators success could largely be determined by the performance of point guard, Erving Walker (12.1 PPG, 4.7 APG), who is a streaky shooter and undersized (5'8" 171 lbs.). If Walker is "on," Florida will be tough to beat and they could find themselves in the Final Four with some luck.

Top First Round Matchup:
#5 New Mexico vs. #12 Long Beach State
This game will be a shootout between two efficient, productive teams. As mentioned before, Long Beach State has played a tough schedule, they can shoot the ball, and they have playmakers. New Mexico has a tremendous inside presence with Drew Gordon, and they have quality perimeter players led by Kendall Williams (12.0 PPG, 4.1 APG). New Mexico beat UNLV (South Region #6 seed) and San Diego State (Midwest Region #6 seed) twice each, but they did not have an impressive non-conference schedule. The location of this game favors Long Beach State, but New Mexico fans have traveled well, historically. I'm predicting Long Beach State in an upset over New Mexico.
Top Potential Matchup:
#1 Michigan State vs. #2 Missouri
This would be an excellent game for a variety of reasons. First, would Missouri's lack of size be able to compete with Michigan State's big frontcourt? Second, could Missouri slow down Draymond Green? Third, could Michigan State defend Missouri in a way that would decrease Missouri's high shooting percentages? And finally, is Michigan State really better than Missouri? Missouri won 30 of its 34 games this year and they have shot the ball very well as a team. Michigan State won 27 of its 34 games and also won the conference championship in the second-best conference in America (Big Ten). Missouri played a weak non-conference schedule; Michigan State played the toughest non-conference schedule. Draymond Green will likely be a first rounder in the NBA Draft this summer, and Marcus Denmon could play his way towards being one as well if he has a solid outing in the tournament. This game would be a thriller!
Top Potential One-on-One Matchup:
Draymond Green vs. Jae Crowder
The Michigan State standout versus the Marquette standout. Both players are similar sizes (Green: 6'7" 230 lbs.; Crowder: 6'6" 235 lbs.) and both players can score, rebound, and play a physical brand of basketball. Draymond Green is expected to be a late first rounder in the this summer's NBA Draft and Jae Crowder could be as well. For the season, Draymond Green is averaging 16.2 PPG, 10.4 RPG, 3.6 APG, 1.5 SPG, and 1.0 BPG, while Jae Crowder is averaging 17.4 PPG, 8.1 RPG, 2.1 APG, 2.4 SPG, and 1.0 BPG. This matchup would be very even and very intriguing to watch. Green would be able to show that he can handle the physicality and athleticism of big-time players, and Crowder would be able to show that he can score on players of similar size and physicality.
Top Coach:
Tom Izzo has led Michigan State to the Sweet 16 in 9 of the past 14 years, and he's led them to the Final Four 5 times in the past 12 years. Izzo coaches the top-seeded team in West Region and his team has played up to its potential as the year has progressed. The West Region will be a challenging reason to gather victories, but if any coach is up for the task, it's Izzo. The Spartans blend a nice mixture of size, physicality, and defensive tenacity to stymie opponents (all traits that are "staples" to Izzo's coaching style). Of the 68 teams in the NCAA Tournament, Michigan State ranks 7th in rebounds per game (38.0) and 14th in team field goal percentage (47.6%). Six of the seven losses for the Spartans this season came on the road, so we'll see if they can manage to win on neutral courts during their pursuit of the Final Four.
Sleeper Coach:
Steve Alford
Alford has led New Mexico to NCAA Tournament appearances in two of the past three years now. His team this year may be as good as the one in 2009-2010 that advanced to the second round before being knocked out by Washington. New Mexico is 27-6 and finished 10-4 in the Mountain West Conference. They also won the Mountain West Conference Tournament without too much trouble, beating Air Force, 79-64, then UNLV, 72-67, and finally San Diego State, 68-59. The Lobos play aggressive basketball and high pressure defense, both of which have become signatures to Alford's tenure as a head coach in college basketball. If New Mexico can make a run in the tourney, watch for Alford to garner some attention from schools in need of a replacement head coach (e.g. Illinois).

Top 5 NBA Prospects:
1. Bradley Beal, Florida, SG, Freshman, 6-4 196 lbs.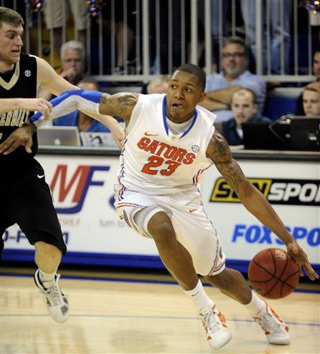 Picture a younger version of Ray Allen of the Boston Celtics. That's Bradley Beal. Throughout the season, Beal has shown why he is one of the top prospects for the 2012 NBA Draft if he chooses to enter his name. He averages 14.6 PPG, 6.5 RPG, 2.2 APG, 1.4 SPG, and shoots 42.8 FG%, 77.5 FT%, and 32.9 3P%. His shooting percentages could improve, but he takes a lot of shots (5 three-pointers per game) and some of them are ill-advised. In Florida's loss to Kentucky (South Region #1 seed) during the SEC Tournament last week, Beal posted 20 points, 8 rebounds, and 5 assists. He's scored in double figures in 15 of Florida's last 17 games, and he has five double-doubles for the season. Florida Head Coach, Billy Donovan, plays Beal for 34.4 minutes per game – a very high number, especially for a freshman. The NCAA Tournament is the time for Beal to showcase his skills and show why he's a future lottery pick in the NBA Draft.
2. Patric Young, Florida, PF, Sophomore, 6-9 245 lbs.
Florida has two of the top three NBA Draft prospects in the West Region. Young has room to improve his game, but he's going to be a solid player in the NBA one day. He's not expected to declare for the 2012 NBA Draft, but his stock can continue to rise for the 2013 NBA Draft. He has been Florida's best post player this year, averaging 10.3 PPG, 6.4 RPG, 1.2 APG, and 0.9 BPG. He's long, athletic, and agile, which helps him get up-and-down the floor and be a force on the boards. In three games against Anthony Davis of Kentucky this year, Young averaged 14.3 PPG and 6.0 RPG. His rebounding productivity declined when Florida reached SEC play, but he has the ability to gather 8 to 12 rebounds per game.
3. Draymond Green, Michigan State, SF, 6-7 230 lbs.
Green is the engine behind the Spartans. He scores, he rebounds, he passes, he plays great defense, and he contributes in every facet of the game. He won the Big Ten Player of the Year Award this season after putting up solid numbers (16.2 PPG, 10.4 RPG, 3.6 APG, 1.5 SPG, 1.0 BPG) and he could play himself into being a lock for the first round in the NBA Draft this summer. At the moment, he's a late first round to early second round prospect. That could change with some consistent performance in the "Big Dance." Green struggled at times during the Big Ten Conference Tournament last week, especially against Ohio State when he shot 4-15 from the field and finished with 12 points. He has 19 double-doubles for the season and he's scored over 20 points in 10 games.
4. Drew Gordon, New Mexico, PF, Senior, 6-9 245 lbs.
New Mexico's success in the NCAA Tournament will largely be driven by how well Gordon plays. He's a double-double machine (17 for the season) and he is one of the premier low-post presences in the West Region. His box-out technique allows him to collect nearly 11 rebounds per game, and his low-post offensive skillset has improved each year he's been at New Mexico. He shoots the ball efficiently (53.7 FG%, 75.4 FT%) and he makes his presence felt on the defensive end (1.2 SPG, 1.0 BPG). Watch for him to make a name for himself and improve his NBA Draft stock if he can take New Mexico to the Sweet 16 or beyond.
5. Scott Machado, Iona, PG, Senior, 6-1 180 lbs.
Machado led the nation in assists this season (9.9 APG) and he's a wizard with the basketball. Some NBA Draft experts expect him to be picked in the first round of the NBA Draft, but other experts are not yet sold. He has great ball-handling skills and he shows a lot of satisfaction in getting others involved on offense. Although he played in a mediocre conference (MAAC), he was productive and led his team to a 25-7 record and an at-large berth in the NCAA Tournament. He had 15 games with 10 assists or more and 6 games with 15 assists or more (against Western Michigan, Maryland, Richmond, Manhattan, Rider, and Nevada). Machado could bring in more first round prospect consideration with some quality tournament performances where he shows he can shoot the ball from outside.