The ACC failed to match its golden standard last season, finishing 4th in conference RPI. With the addition of three Big East stalwarts, a vengeful return to prominence appears obligatory. The league has five teams situated in the Preseason top-25, and three inside the top 11. From an individual standpoint, the depth of talent is strong; not necessarily overflowing with surefire lottery selections, but a saturation of future draftees.
1. Duke Blue Devils
30-6 (14-4)
Key Departures: Seth Curry, Mason Plumlee and Ryan Kelly
Top Returning Players: Quinn Cook, Rasheed Sulaimon, Amile Jefferson, Andre Dawkins and Tyler Thornton
Notable Newcomers: Jabari Parker, Rodney Hood (transfer Miss St.), Matt Jones, Semi Ojeleye
The beat goes on (and on and on) in Durham. The Blue Devils lose their three senior leaders and two top scorers to graduation; the aftermath is a consensus top-5 preseason ranking. On paper this looks like one of the most athletically gifted rosters Coach K has assembled. With that said, how they replace Plumlee (perhaps with the next in kin of Plumlee's) in the middle will go a long way in determing their March fate.
Junior Quinn Cook returns to inherit the point guard reigns. Not only is Cook a playmaker (5 AST) and bail out shot maker (13 PPG), he's also a supremely steady hand, finishing in the top 30 nationally with a 2.41 AST/TO ratio. Super frosh Rasheed Sulaimon looks to build on a stellar campaign that saw him carry the Dukies for periods of time. His ability to attack was expected, but 37% three-point accuracy was not. Freshman Matt Jones and senior Andrew Dawkins are both lights out shooters with good size and strength for the two-guard.
The 3 & 4 spots will be inhabited by the Blue Devils prized newcomers. Combo-forward Jabari Parker is a lock top-two pick in the 2014 NBA Draft – at 6'8 235 he possesses the full array of skills, with a maturity level well beyond his years. He's an All-American from jump street. Rodney Hood is a lethal scorer on the wing. Behind an advanced repertoire, he scored 10 PPG as a freshman in the SEC; this while just beginning to tap into his offensive potential – high-level athleticism with a smooth mid-range game. 6'7 230 pound freshman Semi Ojeleye is a beast and should provide an active body. Amile Jefferson showed well down the stretch run last season, and major progress is a reasonable expectation. The development of redshirt sophomore Marshall Plumlee will be integral as well.
2. Syracuse Orange
30-10 (11-7 Big East)
Key Departures: Michael Carter-Williams, Brandon Triche & James Southerland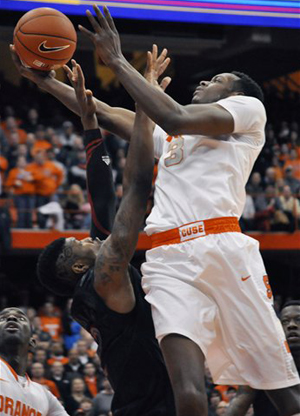 Top Returning Players: CJ Fair, Rakeem Christmas, DaJuan Coleman, Jerami Grant, Baye Keita & Trevor Cooney
Notable Newcomers: Tyler Ennis, Tyler Roberson, BJ Johnson, Michael Gbinije (transferred from Duke), Ron Patterson & Chinonso Obokoh
Jim Boheim's Orange are absolutely teeming with size, length and athleticism. Half-court offense is likely to be a struggle once again, but they can run and hit the boards with anyone. On the defensive end, points against their zone will be tough to come by with long arms of the law at every turn. They'll enter the new season at #7 in the USA Today coaches poll.
True lead guard Tyler Ennis, a top-20 recruit, will take over the reins formerly held by uber-productive Michael Carter-Williams. While Ennis doesn't possess the same jaw dropping qualities, he'll bring more stability and efficiency, and he plays to his strengths (and within them) at an early age. At 6'2 180 he has a knack for getting into the lane without high-level athleticism. Duke transfer Michael Gbinije couldn't find run in Durham, and he'll looking to punish his old team in February. Gbinije has great length for the two or three spots + he's much needed outside shooting threat. He could fill a James Southerland-type role on offense. Other backcourt options include Trevor Cooney, a one-dimensional shooter, and 6'2 scoring guard Ron Patterson.
C.J. Fair, the team's leading scorer (15) and rebounder (7) a year ago, returns with big plans in store. Every year his mid-range game gets smoother and his range more considerable. The interior of the zone will be anchored by 6'9 250 lb. Rakeem Christmas and 6'9 280 lb. DaJuan Coleman. Christmas averaged five points and five boards in 20 minutes, and he proved to be on the more capable shot blockers in the Big East (1.8). Coleman missed a large chunk of last season with knee issues, but when on the court, he scored a point every 2.6 minutes and grabbed a rebound every 3.25 minutes. His impact is expected to be hefty behind enhanced PT. Senior Baye Keita knows the ropes on the back line of the zone. Tyler Roberson and B.J. Johnson are long and lean wings with athleticism to spare. The speed of their development will determine their 2013-2014 impact. 6'10 Chinonso Obokoh will add another court shrinking wingspan to the fray.
3. North Carolina Tar Heels
25-11 (12-6)
Key Departures: Reggie Bullock & Dexter Strickland
Top Returning Players: James McAdoo, PJ Hairston, Marcus Paige, Brice Johnson, Leslie McDonald, Joel James & J.P. Tokoto
Notable Newcomers: Isaiah Hicks, Kennedy Meeks & Nate Britt
The abundant youth that filled North Carolina's roster a year ago will now carry much needed experience. And with that, the "too young" rationalizations head out the window. The Tar Heels are slotted in at #11 in the USA Today preseason coaches poll – sky high expectations have returned. They are loaded with bodies.
James Michael McAdoo and his 15 points/8 rebounds per game return to Chapel Hill. Once classified as a surefire lottery pick, McAdoo has work to do to rebuild his former standing. He was caught in between forward positions as a sophomore, and a result, his efficiency numbers have been ultra-disappointing. Expected to take a prodigious leap as a junior, 14 PPG scorer P.J. Hairston faces a suspension for legal troubles, the length of which remains unknown. His perimeter shooting is an essential piece for UNC's offensive balance. 6'9 power forward Brice Johnson added 15-20 pounds to his thin frame, and he already possessed the skill level and soft touch to be a major contributor. Five-star recruit Isaiah Hicks should see action at both forward positions. His athleticism and open floor excellence are an ideal fit. Sophomore Joel James and freshman Kennedy Meeks are both anchors in the middle at 260 pounds and 275 pound respectively – James will need to earn the favor of Roy Williams in the conditioning department.
6'1 southpaw Marcus Paige will be called on to orchestrate the show once again. Despite growing pains, Paige posted a 4.6:2.5 assist: turnover ratio and was a pest defensively with quick hands and a solid wingspan. He'll be joined in the backcourt by 6'5 senior Leslie McDonald, a three-point specialist with athleticism that's never quite translated elsewhere. J.P. Tokoto, a freak athlete with big time defensive potential, will likely be called on to start until Hairston returns. Super quick 5'11 freshman Nate Britt could serve as energizer off the pine.
4. Notre Dame Fighting Irish
25-10 (11-7 Big East)
Key Departures: Jack Cooley & Scott Martin
Top Returning Players: Jerian Grant, Eric Atkins, Pat Connaughton, Cameron Biedscheid, Tom Knight, Garrick Sherman & Zach Auguste
Notable Newcomers: Demetrius Jackson & V.J. Beachem
One thing we know for sure: the Irish won't be overwhelmed by the competition level in their new conference. Led by an excellent strategist in Mike Brey, they return one of the most experienced and reliable backcourts in the country. But will they get enough from their frontcourt?
Guards Jerian Grant and Eric Atkins are interchangeable pieces. Grant is more explosive getting to the hoop, and Atkins is more of a cool, calm and collected presence with the rock (2.7 AST: TO ratio). They combined to average 25 points, 12 assists and nearly three steals per contest. The intangibles and shooting of range of 6'5 Pat Connaughton will be counted on greatly. 6'1 sturdily built freshman Demetrius Jackson is an electric on-ball defender in the Tory Jackson mold. Sophomore Cameron Biedscheid is contemplating a redshirt year to work on building strength.
The front line loses its four-year pillar in Jack Cooley. Seniors Tom Knight and Garrick Sherman are useful rotational players, but forcing them into significant minutes is worrisome. 6'10 sophomore Zach Auguste has upside (4 PPG, 3 REB) and could end up seeing more minutes than Sherman. Freshman V.J. Beachem is built in the frail Biedscheid mold, but he possesses more off the dribble versatility.
5. Virginia Cavaliers
23-12 (11-7)
Key Departues: Jontel Evans & Paul Jeperson (transferred to Northern Iowa)
Top Returning Players: Joe Harris, Justin Anderson, Akil Mitchell, Malcolm Brogdon, Mike Tobey & Evan Nolte
Notable Newcomers: Anthony Gill (SC transfer), Devon Hall & London Perrantes
Control the pace of play and defend; these characteristics have become commonplace during Tony Bennett's tenure in Charlottesville. The Cavs ranked 5th in the nation in scoring defense (55.6) and 256th in scoring offense (64.2). This year's roster appears to have more athleticism and backcourt bodies to morph styles depending on opponent.
First-Team All-ACC guard Joe Harris has his eyes on ACC Player of the Year honors. Harris averaged 16.9 PPG in conference play (4th) and connected on 43% from long distance. Harris has emerged as a legitimate go-to candidate in crunch time; he made some tremendously clutch shots. Redshirt sophomore Malcolm Brogdon, who missed last season while recovering from foot surgery, has good size and athleticism for a lead guard. He'll likely see time at off-guard as well, because Bennett brought in two solid PG recruits in London Perrantes and Devon Hall. Perrantes, a top-100 player, is lightning quick at 6'2 with a strong basketball IQ. Hall is a 6'5 210 pound southpaw whose game is marked by court vision. Junior Teven Jones provides another able body.
The frontcourt is well-rounded. 6'6 leaper extraordinaire Justin Anderson look the part of a breakout candidate. Anderson averaged 7 PPG as a frosh, while also dishing out two assists and blocking a shot per game. Rugged power forward Akil Mitchell took off his last season, putting up 13 & 8 and playing big games against the league's best. His draft stock now his legs. Mike Tobey and Evan Nolte combined from 12.5 PPG as freshmen. They both possess sweet strokes from their center and small forward positions. South Carolina transfer Anthony Gill can bring the face-up game dimension. Darion Atkins does the dirty work.
6. Maryland Terrapins
25-13 (8-10)
Key Departures: Alex Len, Pe'Shon Howard (transferred to USC) and James Padgett
Top Returning Players: Dez Wells, Nick Faust, Shaquille Cleare, Seth Allen, Charles Mitchell and Jake Layman
Notable Newcomers: Roddy Peters, Evan Smotrycz (transfer Michigan) and Damonte Dodd
After having their NCAA Tournament bubble burst a season ago, despite 25 wins, the Terrapins will try move forward without centerpiece Alex Len. A solid nucleus of sophomores and juniors are returning, with a healthy balance of guard play and size on the interior. Mark Turgeon has the roster pieces in place to go dancing – a plateau he's yet to reach since arriving in College Park three years ago.
Junior swingman Dez Wells will be the Terps go-to option. He put together a solid inaugural ACC campaign, scoring 13 points on 53% shooting, grabbing four boards and dishing out three assists. Fellow junior shooting guard Nick Faust certainly looks the part from a physical standpoint, but his game has been marked by peaks and valleys. Now an upperclassman, he needs to take a step forward in the consistency department. Both Wells and Faust are high-level defenders on the perimeter. They'll be joined by another defensive pest in 6'2 sophomore Seth Allen (1 SPG). Allen has quickness and is fearless, but he shot below from 40% from the field and barely eeked out a positive AST/TO ratio. UPDATE: Allen will miss 8-10 weeks after fracturing his foot in practice. Highly touted 6'4 freshman Roddy Peters should see plenty of run at both guard spots. Peters underwent shoulder surgery in the offseason and has reportedly fully recovered.
With Len off the pros, it's Shaq Cleare's turn to man the middle. And at 6'9 265, he's a lot of man. With his freshman learning curve (4 PPG, 3 REB) out of the way, Cleare should be a beast to contain on the blocks. Charles Mitchell and Jake Layman are expected to take on integral roles as sophomores. Mitchell averaged a rebound every three minutes as a frosh, and Layman brings a range shooting threat at 6'8. Michigan transfer Evan Smotrycz is another 6'8 body with a pure stroke. Active 6'9 freshman Damonte Dodd rounds out the probable rotation.
7. Boston College Eagles
16-17 (7-11)
Key Departures: NONE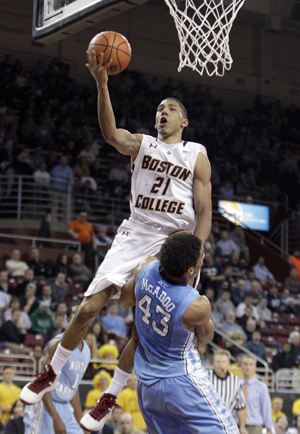 Top Returning Players: Olivier Hanlan, Ryan Anderson, Joe Rahon, Lonnie Jackson, Dennis Clifford
Notable Newcomers: Alex Dragicevich (transfer ND), Will Magarity, Darryl Hicks, Garland Owens
After two rebuilding seasons in Chestnut Hill, Steve Donahue has the BC faithful thinking NCAA Tournament for the first time since 2009 – albeit, the road will be arduous. The eagles were a sound offensive unit in 2012, finishing in the top half of the ACC in assist: turnover ratio, adjusted field goal % and free throw line frequency/percentage. Defense and rebounding were their kryptonite.
Freshman sensation, Olivier Hanlan, took the conference by storm last season; in 2013-2014 the national landscape should prepare for a proper introduction. The 6'4 combo-guard from Quebec (15 PPG/4 REB/2 AST) added elements of quickness, aggressiveness and confident shot making to a vanilla roster. Third-team all-conference power forward Ryan Anderson accompanies Hanlan on the top line. What he lacks in size and explosive athleticism Anderson makes up for in craftiness and effort. Battling against the Nation's top prospects on a nightly basis, the junior averaged a 15 & 10 double-double in ACC games.
Sophomore Joe Rahon, who brings a little bit of everything (including intangibles) to the table, and three-point specialist Lonnie Jackson round out the starting backcourt. Oft-injured and poorly conditioned 7-footer Dennis Clifford will likely occupy the center spot, but skilled freshman Will Magarity from Sweden will see plenty of run. Other newcomers include versatile piece Alex Dragicevich and much needed athletes (raw athletes) in freshmen 6'2 Darryl Hicks and 6'5 Garland Owens. Underachieving Patrick Heckmann and hard-nosed Eddie Odio also return.
8. Pittsburgh Panthers
24-9 (12-6 Big East)
Key Departures: Steven Wright, Tray Woodall, Dante Taylor, J.J. Moore (transferred to Rutgers) & Trey Ziegler (transferred to TCU)
Top Returning Players: Talib Zanna, Lamar Patterson, James Robinson, Cameron Wright & Durand Johnson
Notable Newcomers: Michael Young, Josh Newkirk, Chris Jones (redshirt), Joseph Uchebo
The 2013 Pittsburgh roster looks very far from a patented Jamie Dixon unit, at least on paper. There is a clear shortage in the depth department, as well as a dearth of proven playmakers. Losing five regulars to graduation/NBA/transfer will put you in world of hurt.
Mature 6'3 sophomore James Robinson will run the show full time with Tray Woodall out of the equation. He dished out 3.5 assists as a freshman (1.2 turnovers), but the Panthers need him to close the gap between caretaker and creator. 6'4 junior Cameron Wright, a terrific defender, will be asked to take on more of the scoring burden – specifically, extending his range. While 6'6 Durand Johnson has the physical tools, he struggled with consistency and subsequently struggled to stay on the court. Freshman Josh Newkirk will see time in two-PG lineups.
Swiss army knife G/F Lamar Patterson will take on more responsibility, and his role was already a large one. The redshirt senior averaged ten points, four rebounds and three assists a year ago. Another redshirt senior, Talib Zanna, has never quite taken the next step to all-league performer. He needs to be more assertive on the offensive end. He'll get scoring help on the interior from beastly freshman Michael Young, who should be a force to be reckoned with in the post from day one. 6'10 Joseph Uchebo missed all of last season with a knee injury; he'll be an interesting project to watch.
9. Florida State Seminoles
18-16 (9-9)
Key Departures: Michael Snaer
Top Returning Players: Okaro White, Ian Miller, Devon Bookert, Montay Brandon, Aaron Thomas, Boris Bojanovsky and Kiel Turpin
Notable Newcomers: Jarquez Smith and Xavier Rathan-Mayes (academically ineligible)
Given the level of talent in Tallahassee, a first-round exit in the NIT was not what most prognosticators had in mind. Offensively, the Seminoles were reliant on Michael Snaer for late clock magic. Defensively, they allowed 37% from three-point range, which goes to show that length takes a backseat to defensive awareness. Despite their saturation of height up front, FSU finished at the bottom of the ACC in rebound margin. Once again, the roster is highly intriguing.
Injury and opportunity have prevented Ian Miller from fulfilling his lofty promise; he assuredly will not lack for opportunity this year. Miller battled through a foot injury all of last season, but is apparently 100% and ready to roll. He'll need to rekindle his sophomore swagger and them some for the Noles. Anchorage native Devon Bookert put together an efficient freshman year (49% FG, 53% 3PT and 82% FT), now the 6'3 point guard will be counted on to pump up the productivity. 6'5 shooting guard Aaron Thomas showed flashes of brilliance as a frosh (14 points vs. Duke), but his inconsistencies limited playing time. The loss of top-50 recruit Xavier Rathan-Mayes for the season is a mighty blow to the backcourt.
Senior Okaro White is Florida State's "rock". The 6'8 forward averaged 12 points on 51% shooting (82% FT) and six rebounds as a junior. Still, eight FGA per game isn't going to cut it. He needs to get more aggressive and punish mismatches. 7'0 Kiel Turpin showed impressive skill and earned more PT in the final two months – he prefers to hang around on the perimeter, needs to get tougher and more active on glass. 7'3 Boris Bojanovsky was a welcome surprise in 10+ minutes per game and could become a major force as he develops. 6'7 sophomore Montay Brandon and 6'9 freshman Jarquez Smith are wildcards, both possessing tremendous athleticism and length.
10. Georgia Tech Yellow Jackets
16-15 (6-12)
Key Departures: Mfon Udofia and Brandon Reed (transferred back to Ark St.)
Top Returning Players: Robert Carter, Marcus Georges-Hunt, Daniel Miller, Chris Bolden, Kammeon Holsey, Stacey Poole and Solomon Poole
Notable Newcomers: Trae Golden (transfer Tennessee), Corey Heyward (redshirted), Travis Jorgenson and Quinton Stephens
Was Georgia Tech's road win over Miami-Florida in March 2013 an aberration, or a harbinger of victories to come? Head coach Brian Gregory did an outstanding job guiding a young and relatively limited unit to a winning season. Things are looking upwards in Atlanta, and his third year should be far more rewarding than his first two – rewarding in the W ledger.
Sophomore Robert Carter is the new prototype power forward; at 6'8 250 he can beat you with his back to the basket, facing up and has range out to the college stripe. He is extremely agile and nimble for his weight, but would be served to get in better physical condition. After averaging 10 & 7 as a freshman, a significant step forward is in the cards for the 19-year old. With improved shot selection and better use of his frame, fellow sophomore Marcus Georges-Hunt should also be a handful to contain on the wing. 6'11 senior Daniel Miller is an All-ACC defender and shot blocker on the interior, but his passivity on offense is mind boggling. He has mobility and a decent looking jumper, however, hesitation and overthinking have limited his potential. 6'8 Kammeon Holsey plays with good energy and can score.
While not exactly a true point guard, Tennessee transfer Trae Golden (immediate eligibility) should prove to be a slight upgrade from departed Mfon Udofia. His presence will be important on an inexperienced team that struggled to achieve high quality looks. 6'3 sophomore Chris Bolden can light up the scoreboard in a hurry, but his shot selection was abysmal. The Poole brothers, Stacy and Solomon, return and Corey Heyward will get his first taste after suffering a torn ACL in an unsupervised workout last year.
11. Miami (FL) Hurricanes
29-7 (15-3)
Key Departures: Shane Larkin, Kenny Kadji, Durand Scott, Trey McKinney Jones and Reggie Johnson
Top Returning Players: Rion Brown, Garrius Adams and Tonye Jekiri
Notable Newcomers: Davon Reed, Deandre Burnett, Manu Lecomte, James Kelly and Donovan Kirk (transfer DePaul)
Following up the best season in Miami history will be an impossible task for head coach Jim Larranaga. The Hurricanes lost their entire starting five + the experienced Julian Gamble to graduation or the NBA. Rion Brown is the only returning player who averaged double figure minutes in 2012-2013.
Brown is also the team's leading returning scorer (by a significant margin) at 5.9 points per game. He's a good looking 6'6 athlete on the wing, but 36% FG and 26% 3PT are obvious areas for improvement as a senior. The second leading scorer still inhabiting the roster is 7-footer Tonye Jekiri – at 1.2 PPG in less than seven minutes of PT. Jekiri has the athleticism, agility and length to become an immediate force on the glass and swatting shots. Other players with collegiate experience are redshirt senior Garrius Adams and DePaul transfer Donovan Kirk.
The newcomers are plentiful, led by Jordan Brand Classic Regional participant Davon Reed from Princeton Day in Miami. Reed is a lengthy 6'6 with serious hops and playmaking skills from the two-guard spot. Speaking of hops, 6'2 Deandre Burnett recorded a 42.5-inch approach vertical, according to UM. Burnett carries the reputation of an elite, volume-based scorer. 6'7 250-pound James Kelly is a prized JC transfer with face-up and post skills. 5'9 freshman Emmanuel "Manu" Lecomte from Belgium will handle the bulk of minutes at point guard; given roster configuration, he will have no choice.
12. NC State Wolfpack
24-11 (11-7)
Key Departures: C.J. Leslie, Lorenzo Brown, Richard Howell, Scott Wood & Rodney Purvis (transferred to UCONN)
Top Returning Players: TJ Warren, Tyler Lewis & Jordan Vandenberg
Notable Newcomers: Anthony Barber, Kyle Washington, Ralston Turner (LSU transfer), Desmond Lee (JUCO), Beejay Anya & Lennard Freeman
NC State loses almost the entirety of its mainstay contributors from 2012, and to make matters worse, they didn't fully capitalize on their window for success. Just three rotational players return (one key player), to be joined by a crop of talented freshman and transfers. Head coach Mark Gottfried has his work cut out…
Forward T.J. Warren will be looking to build off an awesome freshman season. Warren averaged 12 points in 27 minutes on staggering 62% shooting. At 6'8 215 he can score in a handful ways, and this is the season/roster to show it all off. Fellow sophomore Tyler Lewis will be handed the keys to the car – he's solid with the rock, as his 0.6 turnovers in 13 minutes last year indicates. Anthony "Cat" Barber, ranked 26th in the ESPN top 100, will likely see time at both guard spots. Barber's explosive quickness makes him a force on both sides of the ball. He suffered a concussion during the team's first official workout. Ralston Turner and Desmond Lee are both 2's/3's with excellent size/strength.
7'1 center Jordan Vandenberg will be surrounded by youth in the paint. 6'9 freshman Beejay Anya, who has a history of weight issues, dropped a ton of lbs. and is in much better game condition. Make no mistake; he's still a large individual with raw, albeit evident, skills. Kyle Washington runs like a deer at 6'9, but he must get stronger. That is certainly not the case for 6'9 Lennard Freeman, who is strong as an ox and brings a lunch pail attitude under the boards.
13. Wake Forest Demon Deacons
13-18 (6-12)
Key Departures: C.J. Harris & Chase Fischer (BYU)
Top Returning Players: Travis McKie, Devin Thomas, Codi Miller-McIntyre, Arnaud William Adala Moto, Tyler Cavanaugh, Madison Jones & Aaron Rountree III
Notable Newcomers: Coron Williams (Robert Morris transfer) & Greg McClinton
It's put up or shut up time for 4th year coach Jeff Bzdelik. Despite losing leading scorer C.J. Harris to graduation, the Deacons bring back a plethora of talented sophomore pieces. They must improve defensively and on the glass, but a top-eight finish in the conference is a reasonable expectation.
Travis McKie is one the most uniquely gifted offensive players in the league; so much so that he appears confused at times on how to earn his bread. His 10 field goal attempts are not nearly sufficient, and his 3 three-point attempts are too numerous. In addition to his scoring output, McKie averaged seven rebounds, a block and a steal per game. 6'8 Sophomore Devin Thomas was a pleasant surprise last season, earning first-team freshman honors with his nine points and eight rebounds. Thomas is a bull in a china shop. Another sophomore, Arnaud-William Adala Moto is a fine looking prospect with versatile defensive skills at 6'6 225. 6'7 freshman Greg McClinton is a long, hyper-athletic wing player.
Talented point guard Codi-Miller McIntyre showed flashes of brilliance as a freshman (8 PPG, 3 REB, 3 AST). However, he needs to get more aggressive (1.5 FTA) and of course make better decisions with the ball. He's still a work in progress but his physical canvas is substantial to build from. Coron Williams, a transfer from Robert Morris, should pick up the shooting void left by the departure of Chase Fischer. 6'1 point guard Madison Jones had a quietly solid freshman season dishing out two assists in 19 minutes and shooting 50% from the field.

14. Virginia Tech Hokies
13-19 (4-14)
Key Departures: Erick Green, Robert Brown (transeffered to UAB) & Donte Clark (frosh denied admission)
Top Returning Players: Jarell Eddie, Marquis Rankin, C.J. Barksdale, Marshall Wood, Cadarian Raines & Will Johnston
Notable Newcomers: Trevor Thompson & Malik Mueller (academically ineglible)
If the Hokies finish anywhere but last in the juggernaut ACC, head coach James Johnson deserves a medal. 25-point scorer Erick Green and top athlete Robert Brown are gone. What remains? Not a whole lot.
6'7 forward Jarell Eddie is the team's most experienced and most productive player. Eddie put up 12 points per game last season, but his shooting percentages dropped dramatically; particularly his three-point accuracy from 44.3 to 32.1. Perhaps the presence of a pass first point guard in Marquis Rankin will elevate Eddie's game. Rankin, once a highly touted signee, basically contributed caretaker minutes last year. This year, he'll be the man controlling the rock. Sophomore Marshall Wood is a solid run/jump athlete at 6'8; his shot attempts should soar from last season's 3.6 attempts.
On the interior, C.J. Barksdale and Cadarian Raines return. Barksdale shot 52% a year ago in limited opportunities. Raines is a true banger who often finds himself plagued by foul trouble. Both upperclassmen will be asked to inhabit larger roles than they're capable of filling. 6'11 freshman Trevor Thompson is by far the best athlete of the group, but he's rail thin and rough around the edges.
14. Clemson Tigers
13-18 (5-13)
Key Departures: Devin Booker, Milton Jennings and Bernard Sullivan (transferred to Charlotte)
Top Returning Players: Rod Hall, Jordan Roper, Adonis Filer, KJ McDaniels, Damarcus Harrison and Devin Coleman
Notable Newcomers: Jaron Blossomgame (redshirted), Austin Ajukwa, Sidy Djitte, Ibrahim Djambo (JUCO), Patrick Rooks (out for season)
While there is no shortage of physical specimens on Brad Brownell's roster, there is a painfully noticeable scarcity in scoring and shooting. The Tigers finished dead last in the conference in scoring, 11th in FG%, 11% in 3PT% and 11th in FT%. Moving on from the inconsistent and unreliable Booker/Jennings tandem on the interior could be a godsend. And for all their offensive woes, the Clemson pressure and length is tough to score on.
K.J. McDaniels is team's top returning scorer at 11 per game. The hyper-athletic junior has improved his range, but is primarily a slasher and finisher. He will need to shoulder more offensive burden going forward. His defense is all-conference caliber, picking up a steal and two blocks per game at 6'6 (led the conference). Big things are still expected from redshirt freshman Jaron Blossomgame. Blossomgame, a top-100 recruit in 2012, missed all of last season with a fractured leg, and actually underwent a second procedure in June. If healthy – they need him to be – he's a matchup nightmare. A pair of sophomores, 5'11 southpaw Jordan Roper and 6'2 Adonis Filer, both need to improve on sub-40% shooting. Roper is solid, Filer is explosive. 6'4 BYU transfer Damarcus Harrison provides another lengthy body to defend on the perimeter. Devin Coleman returns from a torn Achilles.
Returning production on the baseline is nil. Josh Smith (sophomore), Landry Nnoko (sophomore), Sidy Djitte (freshman) and Ibrahim Djambo (JUCO) will all battle for minutes. It's safe to say the center spot will not be a factor on the offensive side of the floor. However, all have size and length to be disruptive guarding the bucket.
Top ACC Prospects:
1. Jabari Parker, Duke – Parker has the "it" factor in abundance. He possesses a highly advanced skill package to impact the game in a myriad of ways, from leading a fast break to punishing defenders in the post. His attitude and desire to improve are a coach's dream. He wants to be fully well-rounded. Parker is not a standout, explosive athlete per say, but he's more than smooth enough.
2. Jerami Grant, Syracuse – A breakout sophomore campaign from Grant will validate this ranking. More minutes = more confidence. Grant is a superb run/jump athlete with a high motor. The ability to face up and knock down a mid-range jumper is there, he just needs to show it with great frequency. His wingspan is massive and he's not finished growing.

3. James McAdoo, North Carolina – McAdoo is another run/jump athlete with an appreciable skill level. Unfortunately, there has not been ample evidence of improvement in two years at Chapel Hill. He loses explosiveness and aggressiveness when dealt with physically. Mean streak required to reach his potential.
4. Rasheed Sulaimon, Duke – Sulaimon is an undersized two-guard, but he makes up for his height shortcomings with a 6'8 wingspan. While his open-floor athleticism was a given, his consistent range shooting really boosted his stock. The next step is using his quickness to be more aggressive attacking the basket. He lacks creativity off the dribble in the half court at this stage.
5. TJ Warren, NC State – Simply put, Warren hunts points. His inside/outside versatility makes him an unusually troublesome matchup. He can score in all areas and do it efficiently. Warren is an agile body at 6'8, but not a great athlete. He has short arms as well.