1. Damian Lillard – 4 Games, 33 Minutes, 26.5PPG, 4RPG, 5.3APG, 44%FG, 38%3FG, 89%FT
Lillard was our MVP of the week, and he shared the official award with Josh Selby. He was sensational in Vegas and it became apparent early in the week that the Blazer fans were quite pleased with their selection. Lillard showed poise beyond his years, running the pick and roll nicely in his 4 games. While his shooting numbers were good, there is still room for improvement and he has the capacity to become one of the better scoring point guards in the league. His third quarter against New Orleans was hands down the most impressive performance of this summer league. Down 17 at halftime, Lillard spearheaded a Portland comeback to take a 1 point lead after three and continued making plays in the 4th quarter to close out the game. He also had the best dunk of the SL posterizing Keith Benson. If they aren't already, the teams drafting 2-5 may all come to regret passing on Lillard.
2. Jeremy Lamb – 5 Games, 29 Minutes, 20PPG, 4.4RPG, 0.8APG, 1SPG, 47%FG, 27%3FG, 92%FT
Jeremy Lamb was 4th overall in points in the summer league, putting up an even 100 points in his 5 games. He is a scorer in every sense, being a threat from outside, mid range and getting to the line in his effortless manner. He was more aggressive and physical than his frame suggests, not averse to contact when getting to the line of crashing the boards. Lamb was active off the ball and used his quick release. Lamb quieted many of his critics who said he "wasn't assertive enough" and "lacked intensity". He looked better than Beal in their match up and could ultimately make a lot of teams look bad for passing on him, including Cleveland at 4, and particularly New Orleans at 10.
3. Terrence Jones – 5 Games, 25 Minutes, 18.2PPG, 8.6RPG, 1.4APG, 50%FG, 33%3FG, 76%FT
Lamb's teammate Jones, impressed in his first summer league, proving that he can do a bit of everything. Offensively, he can play down low, hit the outside shot and run the floor. He was solid defensively and his versatility will allow him to defend multiple positions at the next level.
4. Donatas Motiejunas – 4 Games, 25 Minutes, 16.3PPG, 7.8RPG, 0.8APG, 0.8SPG 0.8BPG 62%FG, 29%3FG, 54%FT
Motiejunas made an impressive start before a poor showing in his second game where he failed to make a field goal. Motiejunas bounced back well in his final two games to make the summer league All-Star team and draw the appreciation of Chris Webber. He showed some nice moves around the basket with a soft touch inside. He displayed his outside touch, stepped out twice in his first game to knock down shots from long range. Motiejunas is long and athletic and finished summer league with one of the better offensive rebound averages (3.8). Over time, look for him to prove to be a huge steal for Houston at the 20th pick in 2011.
5. John Henson – 4 games 32.5minutes, 18PPG 6.8RPG 1.5APG, 1.5BLG, 1SPG, 53%FG, 67%3FG, 64%FT – Henson sat out the Bucks first game and didn't disappoint when he made his first start. Henson's length alone is enough to cause opponents difficulty, however he also showed off his variety of skills, hitting outside shots and scoring with his back to the basket. Henson has the competitiveness and skills to contribute for Milwaukee.
6. Harrison Barnes – 5 Games 33.6 Minutes, 16.8PPG 5.6RPG, 0.4APG, 1.8SPG,
40%FG, 57%3FG 73%FT
Barnes showed his silky smooth skills to help the Warriors go undefeated in their summer league schedule. He has a polished one dribble pull up and used his elevation to get some good looks. Barnes was also effective on the defensive end of the floor. One of the most impressive aspects of his game was his willingness to step up and take the big shot late in games. He should contribute immediately and over time will likely be one of the better players from this years draft class.
7. Bradley Beal – 5 Games, 31 Minutes, 17.6PPG, 4.6RPG, 1.8APG, 1SPG, 1BPG, 42%FG, 30%3FG, 72%FT
Beal was consistently solid throughout his 5 games in this year's summer league. He was patient and played under control, displaying his picture perfect jumper and ability to score a number of ways and get to the line. Beal moves well off the ball and showed his willingness to penetrate and fin the open man. He can run with the best of them and will provide a nice backcourt partner to John Wall next season. He's obviously not 6'5 (which someone in the media erroneously decided based on his 6'3.25 barefoot combine measurement) and has to work harder than a 6'5 – 6'6 guard to get shots off because of it, as his 30% from three can attest.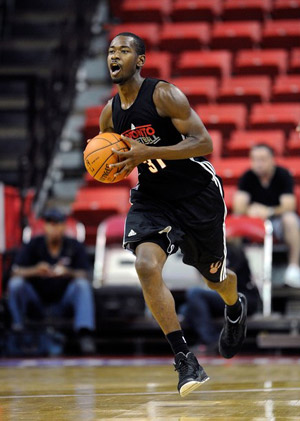 8. John Jenkins, 5 Games, 29 Minutes, 15.6PPG, 2RPG, 1.2APG, 0.8SPG, 51%FG, 45%3FG, 75%FT
Jenkins had a good showing in summer league this year, shooting the ball with a quick release. The sharpshooter moves well off the ball, keeping his defender busy. Some criticized the selection, but we felt Jenkins was worthy of a top 25 pick all along and may turn out to be a steal for Atlanta at 23. Jenkins matched up well against top 3 pick Brad Beal and the Hawks will be hoping Jenkins can fill some of the void left by Joe Johnson's departure.
9. Terrence Ross – 5 Games, 27 Minutes, 14.4PPG,3.6RPG, 1.4APG, 1SPG, 37%FG, 25%3FG, 74%FT
Despite having an inconsistent summer league showing, Ross dazzled the Vegas crowds with his NBA level athleticism all week. His shooting & overall shot selection should improve with time. With Ross and DeMarr DeRozan on the same team, the Raptors are certain to be featured regularly on nightly highlight reels.
10. Jae Crowder – 5 games, 32.2 Minutes, 16.6PPG, 5.4RPG, 1.6APG, 2SPG, 0.8BPG 42%FG, 37%3FG 59%FT.
In his 5 games, Crowder showed a more polished all-around game than many who were selected above him. He isn't as athletic as his peers but at 6"6 235lb he uses his body well to get the most out of his ability. Crowder made some big plays at both ends in his 5 games, however, will need to become a more consistent shooting threat to get minutes at the next level. His solid performances in Las Vegas earned him a Summer League All-star selection.
Honorable mention: Doron Lamb, Royce White, Tyler Zeller, Will Barton, Michael Kidd-Gilchrist, Thomas Robinson, Kendall Marshall, [player: Dion Waiters]
Check back for our top 10 non-rookies.