1. Josh Selby – 5 Games, 27 Minutes, 24.2PPG, 2.4RPG, 3.2APG, 2.4SPG, 56%FG, 64%3FG, 89%FT
Selby played excellent ball all week, sharing the Summer League MVP award with Damian Lillard. His touch from long range was exceptional, connecting on 27 from 42 three point attempts (64%). Selby showed good patience and shot selection offensively and was strong on the defensive end, picking up 2.4 steals per game. He led all scorers in overall points flashing the talent that had many projecting him as a first rounder heading into his disappointing freshman season at Kansas.
2. Tobias Harris – 5 Games, 33 Minutes, 20.8PPG, 7RPG, 1.6APG, 0.6SPG, 0.8BPG, 53%FG, 25%3FG, 69%FT
Harris showed off his versatile skill set during his 5 games in Las Vegas, leading the Bucks to a 4-1 record. He scored the ball in a multitude of ways, hit the boards and ran the floor well. His outside stroke has improved and is better than his 25% success rate suggests. Harris showed he has the skills, size and athleticism to be a double digit scorer in the NBA for many years to come. Granted it was SL, and it;s easy to get overly excited about individual performances, but based on what he showed, Tobias could ultimately end up a top 5 player from the 2011 draft.
3. Markieff Morris – 5 Games, 31 Minutes, 19.8PPG, 9.8RPG, 2APG, 0.8SPG, 2BPG, 42%FG, 29%3FG, 88%FT
Morris was unlucky not to earn a summer league All-star selection with his near 20 & 10 performances in his 5 games. He played consistently well for Phoenix, scoring inside and out. He was a presence on the defensive end blocking 2 shots per game. He has the skill and toughness to make a greater contribution to the Suns next season. Morris threatened to set a new summer league rebounding record in his second game, however will have to be content sharing the second highest total of 17.
4. Jordan Hamilton – 5 Games, 32 Minutes, 19.2PPG, 6.4RPG, 3.6APG, 1SPG, 48%FG, 38%3FG, 61%FT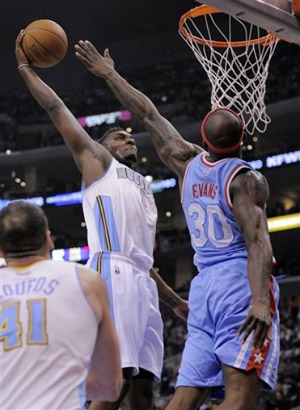 Hamilton showed a solid all round game this year, scoring the ball, setting up team mates and hitting the boards. He looked more confident with each game and looks ready to step up for Denver in the coming season. Like Morris, Hamilton was another unlucky omission from the summer league All-star team.
5. Dominique Jones – 5 Games, 29 minutes, 16.4PPG, 4.8RPG, 5APG, 0.6SPG, 46%FG, 27%3FG, 79%FT
Jones' numbers came down a bit after playing just 11 minutes in his final game, however through his first 4, he averaged an impressive 20/5/5, earning him selection to the summer league All-stars. Jones went off in his first game, going for 32 points and 8 rebounds. The third year man displayed his proficiency getting to the rim and absorbing contact and largely helped the Mavericks go 4-1 in this year's summer league.
6. Kemba Walker – 5 Games, 32 Minutes, 15.8PPG, 3.6RPG, 5.8APG, 1.8SPG, 1TO, 35%FG, 8%3FG, 78%FT
Although Walker shot poorly from the floor, he led the Bobcats well who were looking like going undefeated until their last game. Walker was also on track to lead the summer league in assists but didn't register a single one in his final game. He dished out a total of 29 assists and just the 5 turnovers.
7. Jimmy Butler – 4 Games, 36 Minutes, 20.8PPG, 6.5RPG, 2APG, 0.8SPG, 43%FG, 50%3FG, 90%FT
Butler was impressive in his 4 games, running the floor and scoring from outside. He has the length & athleticism to be an effective perimeters defender and like Team mate Malcolm Thomas, was deserving of his inclusion to the summer league All-star team.
8. Malcolm Thomas – 5 Games, 28 Minutes, 11.4PPG, 12.4RPG, 1.4APG, 1.4BPG, 54%FG, 79%FT
Thomas was a force all week, averaging an impressive double-double in 5 games. His strength and timing allow him to effective on both ends of the floor, hitting the boards and blocking shots.
9. Wes Johnson – 4 Games, 30 Minutes, 20.5PPG,1.8RPG, 1.3APG, 0.5SPG, 1.5BPG, 48%FG, 45%3FG, 94%FT
Johnson proved to be an effective wing scorer in his 4 games this year, showing great decision making and outside touch. His shot selection was great and got to the rim when the opportunity presented itself. He has since been traded to the Phoenix Suns.
10. Cory Joseph – 5 Games, 33 Minutes, 17PPG, 4.4RPG, 5.2APG, 1.8SPG, 3.4TO, 48%FG, 40%3FG,83%FT
Joseph was impressive for the Spurs doing a bit of everything this summer. He showed great speed pushing the ball and getting to the rim for easy baskets which partly explains his 48% field goal numbers. He also shot well from 3 and the line. Joseph looked after the ball well for most of the week however had 10 turnovers in his 4th game after committing just the 5 in his previous 3 performances.
Honorable mention – Klay Thompson, Kenneth Faried, Adam Morrison, Chris Copeland, Byron Mullens, Ed Davis, Kawhi Leonard,