This year's power forward crop has a good deal of talent and depth with several potential top 10 picks and a number of possible first rounders.
1. Donatas Motiejunas 6-11 235 PF Lithuania 1990
Motiejunas is a highly versatile post player with tremendous speed for a 7-footer showing the ability to run the floor and start and stop like a much smaller player. He struggled with injuries (foot) some last year, his first at the senior level playing for Benetton Treviso. He's a lefty with a very good jump shot and shows a lot of offensive potential. He must get stronger and tougher playing inside and improve defensively but his offensive potential gives him an excellent shot to be a top 10 pick.
2. Jared Sullinger 6-9 282 PF Ohio St. Fr.
Old school post man with a 7'1 wingspan. Sullinger will overpower many a defender in the Big Ten. Uses his body exceptionally well, pinning opponents to the deck. Goes at the basket hard, but finishes with a soft touch. Great hands and feet. His jump shot is on the incline, displaying range out to the college three in showcase events. High basketball IQ, recognizing defensive alignment and making the right decisions. Reputation as a winner. Lacks explosive athletic ability and lift off the floor. May find some difficulty getting quality looks against shot blocking bigs.
3. Jan Vesely 6-11 230 PF Czech Republic 1990
Vesely has already proven himself at the highest level in Europe playing extremely well for Partizan Belgrade in the 2010 European Final Four in Paris. His clutch performance has had a positive effect on his stock. He still needs to get stronger physically, add more consistency to his shot. He is a little between the 3 and 4 positions, but his length and athleticism makes him an intriguing player.
4. Trey Thompkins 6-10 247 PF Georgia Jr.
Highly skilled big with a versatile game. Thompkins can beat you inside and outside. Handles the ball comfortably on the perimeter, taking his man off the bounce or setting himself up for an uncontested jumper. Effortless range on his jumper outside the college three (38%). He's well schooled in the art of the post game, with nimble footwork and impressive use of angles. Position rebounder using a strong frame (8.3). Plays below the rim. Ordinary athlete by NBA standards.
5. Derrick Williams 6-9 221 PF Arizona So.
Williams burst onto the scene as a freshman earning first team All Pac-10 honors as well as freshman of the year. Combines a formidable package of quickness and power in the post. Explosive finisher, attacking the hoop decisively looking to inflict pain on his defender. A strong leaper, quick off the floor and possesses a 7'0 wingspan. Exceedingly efficient from the floor shooting 57%. Loves contact and lives at the free throw stripe (7.5 attempts). Would benefit from added variety in the form of face up skills and adding a consistent mid-range jumper.
6. CJ Leslie 6-9 210 PF NC State Fr.
Leslie is an otherworldly athlete possessing freakish ups and speed. Elevates with ridiculous ease, an absolute dunking dynamo. Terrific speed, getting up and down the court in the blink of an eye. A shot blocking terror and demon on the offensive glass. Multiple leaps without losing explosiveness. Displays quickness off the dribble and in the post, but rarely remains under control. Has many tools in his bag, but few are refined. Shot selection and overall decision making must improve. Thrives in a full court setting, but can be neutralized in the half court. Just tapping his enormous potential..
7. Willie Reed 6-10 220 St. Louis Jr.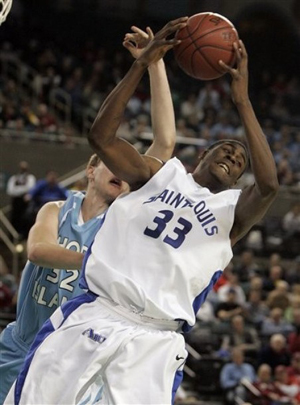 Reed is a gifted athlete with an incredible wingspan. He bounces off the floor like a pogo stick. Converts a high percentage of his buckets above the rim. He's a shot blocker supreme (2.1) allowing his length, leaping ability and timing to work in unison. Still nowhere near a finished product. His face up game shows promise at times, but ball handling and jump shot lack real consistency. His 47.5% from the free throw line is unacceptable with his stroke. Very wiry, but needs to add core strength to battle inside.
8. Marcus Morris 6-9 230 PF Kansas Jr.
Morris is a jack of all trades for Kansas. Very efficient scorer (57%) and not all high percentage looks either. Morris is proficient in the post with solid footwork and ability to finish over either shoulder. He can put the ball on the deck, dribble into a mid-range jumper or spot up behind the college trifecta (38%). Possesses excellent instincts on the glass (6rpg). Despite a non-existent 6'7 wingspan, times his jump very well and reads caroms. The ball gravitates towards him. Runs the floor well. He seems to have an inconsistent on court attitude, aggressive one game and passive the next.
9. Tristan Thompson 6-9 235 Texas Fr.
Thompson is a left-hander with explosive athleticism. His agility for his size is top notch and he has good feet and runs the court well. He's added strength to his imposing frame and finishes with power. Defensive rebounder extraordinaire, attacking boards above the rim and fighting for position below the rim. Legit shot blocking presence with his length and leaping ability. His ball handling is on the upturn, but his jump shot is not. Inconsistent mechanics, poor trajectory and no touch. Overall offensive repertoire is limited at this stage. Not 'free flowing'. He also must prove that he has the mental focus night in and night out.
10. Markieff Morris 6-9 235 PF Kansas Jr.
Less polished than his brother Marcus but as he proved in Chicago at the August adidas Nations camp, he's not far from the level of his brother in talent. Shows the same versatility with a little more of a focus on dominating around the basket. Has the some of the same face the basket ability and aggressiveness. Also lacks great length as both twins have short arms with a 6'7 wingspan. Would actually benefit with a year at Kansas without Marcus there, having the chance to be featured more.
Honorable Mention: Lavoy Allen 6-9 230 PF Temple Sr., Mario Delas 6-9 200 PF KK Split (Croatia) 1990, Kenneth Faried 6-8 230 PF Morehead St. Sr., Xavier Gibson 6-10 250 PF Florida St. Jr., Augustus Gilchrist 6-11 240 PF South Florida Jr., Rudy Gobert 7-0 230 PF/C France 1992, Drew Gordon 6-9 235 PF New Mexico So., Jerai Grant 6-9 230 PF Clemson Sr., JaMychal Green 6-8 225 PF Alabama Jr., Eli Holman 6-10 250 PF Detroit Jr., Steven Idlet 6-10 240 PF Tulsa Jr., Terrence Jennings 6-10 225 PF Louisville Jr., JaJuan Johnson 6-10 215 PF Purdue Sr., Wally Judge 6-9 245 PF Kansas St. So., Jon Leuer 6-10 215 PF Wisconsin Sr., Vernon Macklin 6-9 227 PF Florida Sr., Nikola Mirotic 6-10 220 SF/PF Montenegro 1991, Aaric Murray 6-10 225 PF LaSalle So., Arnett Moultrie 6-10 250 PF UTEP RSJr., Andrew Nicholson 6-9 220 PF St. Bonaventure Jr., Alex Oriakhi 6-9 245 PF UConn So., Adreian Payne 6-9 215 PF Michigan State Fr., Miles Plumlee 6-9 220 PF Duke Jr., Herb Pope 6-8 233 SF/PF Seton Hall Jr., Dwight Powell 6-9 215 PF Stanford Fr., Leon Radosevic 6-11 235 PF Cibona (Croatia) 1990, Ricardo Ratliffe 6-9 240 PF Missouri Jr., Thomas Robinson 6-8 245 PF Kansas So., Jeremy Tyler 6-9 235 PF Tokyo (USA) 1991, Eloy Vargas 6-9 230 SF/PF Kentucky Jr., Jordan Williams 6-10 260 PF Maryland So., Patric Young 6-9 235 PF Florida Fr.