By Ian Powers
Andre Drummond, 6'11" 260, St. Thomas More, Middletown, CT, C, 2012 – The man-child was engaged again in Vegas. When he commits himself and acts as if he cares, he is dominant. Athletically he is as gifted as any big man to come out in years. His skill level is extremely high for a guy his size. He has tissue soft hands and is a great passer. Consistent effort is the only thing missing from his repertoire. He reminds me of Dwight Howard in high school, but he's a little further along offensively than Howard was at the same stage. If he can stay focused and decide that he wants to be great, there is nothing that can keep him from getting there.
Chris Walker, 6'9" 190, Holmes County, Bonifay, FL, PF, 2013 – If you're looking for a run/jump athlete, then look no further. Walker can do that with the best of them. He is long and bouncy and is just beginning to scratch the surface of his abilities. He is active around the rim and runs the floor like a gazelle. He is still somewhat raw offensively, but he flashes some skills that would suggest that he might eventually be able to move out to the wing. He needs to add weight and he does not have a defined position yet, but time is on his side and all of the tools are there to be as good as he wants to be.
Ishmail Wainwright, 6'6" 215, Raytown South, Raytown, MO, SG/SF, 2013 – Wainwright picked up where he left off Sunday morning. In his head-to-head matchup with 2013 elite wing Jabari Parker, he did more than hold his own. In fact, it was the best defensive job I have seen anyone do on Parker to date. Parker still finished with around 16 or 17 points, but he had to earn every one of them. Wainwright crowded him and used his strength to get physical and take him out of rhythm. He did some nice things off the bounce and showed an improved jumper. He is a quality prospect and can be a glue guy with skill for any team.
Perry Ellis, 6'8" 220, Wichita Heights, Wichita, KS, PF, 2012 – Ellis did not seem to be engaged earlier in the tournament, but he picked up his effort on Monday. He is a skilled kid who is trying to make a move to the wing full time. He has good form on his jumpshot and is showing improved ball skills. He can put the ball on the floor some and is a good enough athlete to make athletic plays at the rim. Kansas is the rumored leader in his recruitment and he will be able to fit in their high post offense and pop out and show his skills. At this stage, he is still a combo forward but is refining his game to add versatility.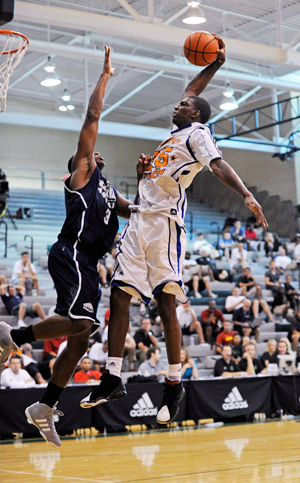 Winston Shepard, 6'8" 205, Findlay Prep, Fresno, TX, SF, 2012 – Shepard is one of the most improved players in the country. In the past, he was wild and seemed to lack focus. My how things have changed. He is a jack-of-all-trades and had his skill package on point in Vegas. The offense can be run through him because of his good handle and great passing ability. On the defensive end is where he may have made his biggest improvement. He locks down his man and creates havoc in the passing lanes. He is a consistent jumpshot away from being a pro. He reminds me of Kawhi Leonard, without the upper body strength in his ability to do everything on the floor and stuff the stat sheet. His upside is tremendous.
Zak Irvin, 6'6" 185, Hamilton Southeastern, Fishers, IN, SF, 2013 – An assistant coach that I sat with during this game told me to keep my eye on Irvin and I was not disappointed. Irvin is young, long and talented. He has a great game off the bounce and has a frame that will get bigger and stronger. He displayed a nice jumpshot out to three and mixed in a couple of beautiful step back jumpers at a pro level. He is still a puppy in his development and that is the scary thing. A large number of Big Ten schools attended f his game Tuesday afternoon and with good reason. This kid has a chance to be special and should be ranked in the top 30 at least in 2013.
Marcus Smart, 6'4" 200, Marcus, Flower Mound, TX, SG, 2012 – The reigning Gatorade Texas Player of the Year was great all week. He can play all three-perimeter spots with his ability to handle and make plays for teammates. He has a strong body and knows how to use it. His jumpshot is drastically improved over the past year or so. He only shot 10-30 from the floor, but finished with 29 pts, 18 rebs, and 5 asst to lead his Texas Assault team to the Adidas Super 64 Championship. He is a lock down defender and can get to the bucket and finish. He has solidified himself as a top 25 prospect and should be a McDonald's All American.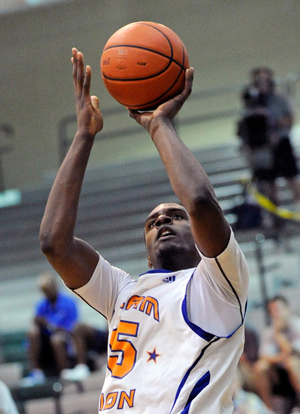 Shabazz Muhammad, 6'5" 210, Bishop Gorman, Las Vegas, NV, SG, 2012 – The # 1 senior in the country according to many was great this week in Vegas. He averaged nearly 29 points and showed great toughness in playing in the championship game after turning his ankle in the morning semifinal. He is a scoring machine and physically dominates his opponents on a nightly basis. He is great in transition and on the box and is an improving shooter. To take his game to the next level he must become a more consistent shooter and add some wiggle to his game. He is a straight-line driver right now and he needs to polish his handle in order to get by guys in college and beyond. He also needs to affect the game in other areas besides scoring and make his teammates better. The best 2 guard prospect to come out in a long time.
Justise Winslow, 6'6" 205, St. John's, Houston, TX, SG/SF, 2014 – Winslow is the son of former University of Houston standout and NBA player Rickie Winslow. The younger Winslow has a very bright future. H e has a great body for such a young kid and excels at getting to the basket. He is a slick lefty who is oozing with potential. He is aggressive attacking the basket and will try to finish on people in traffic. He does not shoot the ball as well as he needs to, but he can work on that. Time is on his side and he should be one of the more highly recruited wings in the 2014 class.
Melvin Swift, 6'7" 200, Yates, Houston, TX, PF, 2014 – Swift was one of the more impressive young kids in Vegas. He is a long and athletic kid who has a lot to work with. He rebounds well and especially hits the offensive glass for put backs and tip dunks. He runs the floor well and has great energy to his game that only enhances his considerable skill level. If he grows another two to three inches and keeps working on his game, he can be a force on the interior that all the majors will be chasing after.
Conner Frankamp, 6'0" 155, North, Wichita, KS, PG, 2013 – This recent Kansas commit is a sniper in every sense of the word. He knocked down shot after shot and surprised spectators when he missed. He is not big and will not pass the airport test, but he is a player. A scouting colleague of mine said he reminded him of Steve Kerr and that comparison is valid. He has a quick release and is fearless in letting it go. He plays off the ball for his AAU team, but there is no reason to think that he is anything other than a Point Guard. He has the quickness to break his man down and make plays for his teammates. Scrappy kid who gets the job done. He was the key in leading his team to the 16 and under title.
*Check back for a top prospects report.
2011 Las Vegas AAUs: Day 1
2011 Las Vegas AAUs: Day 2
2011 Las Vegas AAUs: Day 3