College
With no NBA scouts in attendance, the level of competition and prospects was down from past years. Only Marquis Teague was here among the elite level incoming freshmen. Regardless, there were some top level returning college prospects, with Jared Sullinger and Perry Jones leading the charge. Here's a look at the top prospects:
Player Pos. Height College School Year
Perry Jones F 6′ 11 Baylor Sophomore — Jones has as much raw talent as anyone but the question remains whether he has the desire and intensity to realize his potential. He loves to face up and use his quickness against defenders, but at his size it's going to be difficult for him to have the same success doing that at the highest level. His athleticism is elite and he will likely be a lottery pick because of it. He was the best shot blocker in the event (better than Young and Robinson). Jones comes across as a good kid who just needs to develop better work habits and focus on developing the right aspects of his game. Becoming more proficient in the paint would help his cause as he's already shown the ability to face the basket and handle the ball.
Will Barton G 6′ 6 Memphis Sophomore — Barton played pretty well showing his excellent ability to run the floor and knock down shots. His major problem is that he has such a skinny frame. He looks exactly the same as he did during last season and it appears that it will be a major challenge for him to put on the necessary weight to play at the NBA level.
Dion Dixon G 6′ 4 Cincinnati Senior — Dixon was one of the camp's surprises. He looks closer to 6'3 than his listed 6'5 height but shows a nice skill set with decision making, a good shooting form and the ability to create offense for himself and finish at the rim. His size will make getting drafted a challenge but he's certainly a guy that should receive a PIT invite and a senior worth tracking for the 2012 draft.
Yancy Gates F 6′ 9 Cincinnati Senior — Gates came in as a project mid-second rounder and while his body looks more trim and his legs leaner, he still moves incredibly slow. He finished off last season on the upswing and does have a nice offensive skill set. unfortunately he doesn't like to use his strength advantage and appears to shy away from contact. He likes to fade out to the perimeter and take fadaway jumpers, which is absolutely ridiculous for a player with his strength and size. Gates will have a shot to get drafted, but he honestly didn't look like a draftee at this camp.
Ryan Harrow PG 6′ 0 Kentucky Sophomore — Harrow was one of the most interesting college players. He lacks strength but his tremendous speed really plays into his hands for the NBA level. An excellent passer with solid vision, red-shirting a year at Kentucky should really help his cause. He had a solid showing in the event and after a red-shirt season should be ready for a breakout sophomore year in 2012-13.
Tu Holloway PG 6′ 0 Xavier Senior — Holloway had his moments but appears to be too much of a SG and despite a huge wingspan he's just 5'11. He loves to fire up shots from well beyond the three point line and actually hits on a fair amount of them. He shows a lot of toughness and competes hard but will need to show that he can create offense for others in his senior year.
Joe Jackson PG 6′ 0 Memphis Sophomore — Jackson has nice speed and athleticism but lacks consistency and strength. He appears to be a borderline pro at this point. He didn't do much to stand out and isn't as dynamic as someone like Ryan Harrow.
Jalen Kendrick F 6′ 6 Mississippi Sophomore –Kendrick has good athleticism and ideal length. He's got a fresh start after transferring to Mississippi. He didn't do much to stand out here with the most noteworthy thing being his injury which occured when he ran into the basket support.
Damian Lillard G 6′ 2 Weber State Junior — Lillard is coming off a season ending foot injury and seems to have fully recovered physically. He has excellent size and athleticism but has some major drawbacks to his game. First, he's not a true point guard, and despite his athleticism is too short to play shooting guard. Secondly, his pro asset is is shooting touch but he was inconsistent with his shot when he ran the point at this camp and was much more aggressive and consistent when he slid over and plaed the two . Damian Lillard is very similar to Curtis Jerrells (who hasn't made the league) with a chance to make the NBA, but will face a real challenge due to playing at Weber State.
LeBryan Nash F 6′ 7 Oklahoma State Freshman — The parallels to Ron Artest with Nash are real . While not nearly the physical specimen in terms of strength, Nash has a chance to develop into a lockdown defender type similar to Artest. Nash has a very unorthodox game with a jumpshot that lacks fluidity and form. He's like a big kid off the court, extremely playful making all the other kids laugh and a lot of fun to be around. He's had a rough life and the adidas folks really like him and want to see him succeed. If he can develop his offensive game and become a lockdown defender and be patient about turning pro, he can be a first round pick in 2-3 years.
Mason Plumlee F 6′ 10 Duke Junior — Plumlee has the type of athleticism that will make him a potential late first rounder just on upside. The real problem is that thus far he hasn't developed any real post skills. He's a face up 4 without a consistent face up game. One thing you can't accuse the Plumlee brothers of is lacking toughness as both show a willingness to battle. But he still appears to have a long ways to go offensively both with post skills and developing a consistent mid-range shot.
Miles Plumlee F 6′ 11 Duke Senior — Miles actually shows a little better feel for playing around the basket (than Mason). He's not as hyped an NBA prospect but he's a little bigger and just as athletic. He will have a chance to be drafted but he'll need to step up and start playing on the court for Duke the way he plays in scrimmages and informal settings.
Thomas Robinson F 6′ 8 Kansas Junior — Robinson seems to be under the impression that he's too small to make it in the league at the power forward position. He somehow measured 6'10 in shoes at the LeBron camp, which seems about 2 1/2 inches taller than his actual height. He's got the length and upperbody strength to be a Millsap, Blair type of small PF, but the fact that he isn't focusing on developing his post skills is a mistake in my opinion.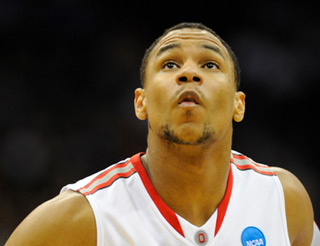 Jared Sullinger F 6′ 9 Ohio State Sophomore — Sullinger lacks lift and speed but has a feel for the game that comes from being a coaches son and having a true love and passion for the game. Weight could always be an issue for him but he has a chance to be every bit as good as Kevin Love. He should be one of the most dominant players in the country once again and with such a solid father figure in "Satch" Sullinger, it's hard to image him not being a very solid pro at the very least.
Marquis Teague PG 6′ 2 Kentucky Freshman — Teague played off the ball a lot of the camp which was a real disappointment since analyzing his point guard skills was one of the real focuses of this college group. His handle is disgusting and he shows incredible speed in the open floor. In general he seemed to force passes too much and played a little out of control. But it didn't change my opinion that he's a likely top 10 pick in 2011 and probably will be the first PG taken.
Adonis Thomas G-F 6′ 6 Memphis Freshman — Adonis looks very strong physically and plays hard. He's a freakish athlete but is still very raw. He had trouble standing out, failing to get much going offensively. He seems to leave his shots short a lot of the time and really could use a shot doctor to help correct some minor issues with his shot.
DeShaun Thomas F 6′ 7 Ohio State Sophomore — Thomas lacks the upside of the other Thomas "Adonis", but is a much more complete player at this stage. Deshawn appears ready for a big season, although he'll still likely be deferring to Sullinger and Buford a lot of the time. While Thomas has a bag of offensive tricks, his lack of foot speed diminishes his long term ability some. He's a little stuck between positions but has the talent to overcome nonetheless.
David Wear F 6′ 9 UCLA Sophomore
Travis Wear F 6′ 9 UCLA Sophomore
The Wear twins both impressed as we wrote in our first two day reports. David came on towards the end after Travis impressed early. Both showed good energy and competitiveness. There are some positional concerns as neither is increibly strong and both will be looking at playing in the post. They are finesse four men along the lines of a Vlad Radmonovic. They will need to continue to bulk up but are showing positive signs since they were last seen on a national level as freshmen for UNC. Travis appears to be a little bit more aggressive while David appears to have a little better shot.
Patric Young F 6′ 8 Florida Sophomore — Young is an impressive kid off the floor as he has a charismatic personality and a very likable kid. He plays extremely hard and has a chiseled physique. He's been hyped by a number of folks as a lottery pick and while we see that being optimistic, he'll certainly have a chance to play himself into the first round. He plays above the rim, and throws down some nasty dunks. But right now his offensive repertoire is remedial at best. He lacks touch even within a few feet of the basket and appears very stiff with his movements. Some are expecting a big breakout season from him, but he could be further away than people realize.
Trey Zeigler G 6′ 5 Central Michigan Sophomore — Zeigler is a kid that we have liked for a few years now but he was virtually non-existent here. He failed to make any noteworthy plays and lacked aggressiveness. Maybe he was playing with an injury, but he surely should have been able to do more considering the level of competition.
[player: Rob Jones] SF 6'6 Saint Mary's Senior — Rob was low on our radar coming into this camp, but like Dixon he made the most out of his opportunity. He finishes strong on the fast break, is a good offensiver rebounder, and can hit the spot up jumper. He does not possess the best body and needs to develop his ball handling abilty but seems at the very least destined in getting a PIT invitation.
[player: Lazeric Jones] PG 6'0 UCLA Senior — Lazeric was a late addition to this camp and probably got an opportunity based on the camps location. That being said, he has a strong body with his big broad shoulders, can hit the mid range jumper, and runs the pick and roll effectively. He's not a scorer and needs to protect the ball a little better when there is pressure, but he's not going to hurt you either and will be a solid 3rd guard as a porfessional.
[player: Pierre Jackson] PG 5'10 Baylor Sophomore — Pierre is transferring from junior college to Baylor. He has a mighty mouse body build like a running back with some jumping abilty. He should be a solid addition to the Baylor team, but needs to continue to develop his range and shooting abilty to get to the next level.
[player: Lorenzo Brown] SG 6'5 NC State Sophomore — One of the best shooters at this camp, but extremely skinny and not the greatest athlete in the world. He's in a difficult spot for the NBA as his body may not be able to add the weight without him losing his quickness and is not athletic enough to compensate for his strength deficiencies. He did show some abilty to handle the rock and has some more time to develop his skills as he is only a sophomore.
[player: Kyle Weems] SF 6'6 Missouri State Senior — Looked like a drop dead shooter in warm ups, but didn't display the same accuracy or consistency from beyond the arc during the games. Like Rob Jones he was a low radar player coming into the camp, unlike Rob he did not stand out. He will have other opportunities his senior season including an early non-conference matchup against Rob and Saint Mary's.
[player: Ralph Sampson] and [player: Ryan Allen] also participated in the camp.
# Player Pos. Height College School Year
4 Will Barton G 6′ 6 Memphis Sophomore
3 Lorenzo Brown G 6′ 5 NC State Sophomore
20 Dion Dixon G 6′ 5 Cincinnati Senior
43 Yancy Gates F 6′ 9 Cincinnati Senior
5 & 42Ryan Harrow PG 6′ 0 Kentucky Sophomore
2 Tu Holloway PG 6′ 0 Xavier Senior
1 Joe Jackson PG 6′ 0 Memphis Sophomore
0 Pierre Jackson PG 5′ 10 Baylor Junior
21 Perry Jones F 6′ 11 Baylor Sophomore
6 Rob Jones F 6′ 6 Saint Mary's College Senior
8 Jelan Kendrick F 6′ 6 Mississippi Sophomore
9 Damian Lillard G 6′ 2 Weber State Junior
22 LeBryan Nash F 6′ 7 Oklahoma State Freshman
25Mason Plumlee F 6′ 9 Duke Junior
24 Miles Plumlee F 6′ 10 Duke Senior
30 Thomas Robinson F 6′ 8 Kansas Junior
31 Ralph Sampson Jr F 6′ 10 Minnesota Senior
32 Jared Sullinger F 6′ 9 Ohio State Sophomore
12 Marquis Teague PG 6′ 2 Kentucky Freshman
13 Adonis Thomas G-F 6′ 6 Memphis Freshman
23 DeShaun Thomas F 6′ 7 Ohio State Sophomore
33David Wear F 6′ 9 UCLA Sophomore
34 & 43Travis Wear F 6′ 9 UCLA Sophomore
35 Kyle Weems F 6′ 6 Missouri State Senior
40 Patric Young F 6′ 8 Florida Sophomore
15 Trey Zeigler G 6′ 5 Central Michigan Sophomore
14 [player: Ryan Allen] SG 6'3 Senior Milwaukee- Wisconsin Senior
7 [player: Lazeric Jones] PG 6'0 UCLA Senior