Jeremy Tyler is only 19 years old, but on a comeback of sorts. The 2011 NBA Draft is just 10 days away and a few short years ago many thought he was the player predestined to be the number one overall pick when he became available.
You can blame the AAU system and the overexposure of the top young players but his demise was largely created by himself, and his flamboasting ways. He has struggled to live up to those expectations. However, many scouts and general managers seem to be viewing Jeremy with unfair skepticism.
Let's be honest, if you took the same person, the same athlete, with the same basketball skills…and found him tomorrow on the Island of Crete; he'd probably be one of the top picks in the draft. Case in point Bismack Biyombo. If Biyombo hadn't emerged out of thin air 6 months ago and instead had begun playing basketball at 20 years of age in an American city such as Memphis, would we be treating him much differently than Joey Dorsey?
If you look at the basic facts, what's not to like about Tyler? He's 6'10, weighs 250, has a 7'5 wingspan and is an oozing with potential. He runs like a thoroughbred, jumps like a kangaroo and already at 19 has the strength of an NBA veteren. He grew up around the game so he has a good feel and was also considered the number one player in his class in each of his first three years of high school. Is it possible that he just became lazy because he wasn;t being challenged and disciplined off the court? Is he really a lost cause?
He decided to skip his senior year of high school, travel half way around the world to take 140 thousand bucks to join an Israeli professional team, and that's when things began to unravel. Next thing you know, he had reality shows, cameras following him everywhere he went, and inevitably jealous teammates. His disciplinarian coach benched him, then he did the unthinkable, the cardinal sin of any player…he missed an interview because he didn't have a ride. I thought they might bring in the Navy Seals to bring him to justice for this crime. It turned into an international incident. No wonder he wanted to come home.
Tyler was always considered an immense talent while in high school but lacked direction. Growing up he lacked a strong male role model and it began to affect him as many recruiting analysts began to question his head. He lacked discipline and became a spoiled, lazy player. Is he a bad kid? No, he's just misguided and misunderstood. He's actually a well spoken, intelligent kid.
Jeremy's biggest problem is that as a prep player his ego went unchecked. It's not the end of the world, especially if he turns out to be a good basketball player. His international failures could actually result in the ideal reality check. And hitting adversity and realizing that he DOES have to work hard in order to make himself a successful pro could end up being the best thing in the long run. His greatest adversity was in the Israeli League where he was viewed as a quitter for leaving his team before the season finished. He seemed to fall more into line under the tutelage of former NBA coach Bob Hill this past season with the Tokyo Apaches and has worked out with him leading up to the draft in Texas.
When Jeremy gets to the pros, he could really use a mentor such as the great Kareem Abdul-Jabbar. Kareem did a fantastic job schooling Andrew Bynum, and would certainly command the respect of any young player that truly wants to be indoctrinated in the game of basketball.
When evaluating Tyler as a potential pro, NBA teams need to look at one thing. Whether Jeremy can fulfill his potential and become a good basketball player, and is he a better value pick than a number of the guys listed ahead of him?
Many have questioned why he performed so poorly in Israel or Japan. But to be fair this is a 17-18 year old center. How many bigmen are ready to do anything professionally at that age? The backlash because of his enormous expectations have overshadowed his talent and potential. In Israel, he was relegated to the bench, and it's difficult to expect any raw, unskilled American athlete to be able to transition to the European game quickly. The odds were stacked against him from the beginning being so far from home and playing a brand of basketball so foreign to him.
He came away with positive reviews after his performance at last year's adidas Eurocamp. While he didn't blow anyone away, he showed a positive attitude and worked hard each day showing a desire many questioned whether he had. [Our description of Tyler at last year's Eurocamp]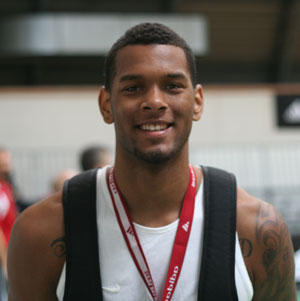 In Japan he played 15 minutes a game, and averaged 10 points and 6.5 rebounds. In his last five games he cranked it up to 16.2 points and 7.6 rebounds and finished strong with a 24 point, 11 rebound performance in his final game. When you look at the past few drafts and analyze how few athletic big men are available each year, it becomes apparent that a prospect like Jeremy deserves more attention.
The best aspect of Jeremy's game is that the physical side is already there; he's been a fully developed man a few years now. He has god given gifts that just can't be taught. As far as basketball skills, he can pass, shoot, dribble, defend and rebound. The basic foundation is already there. He just needs to develop consistency and discipline. Which is why his NBA team is so important to his future.
The fact that Jeremy is not a finished product could actually be viewed as a positive, as he has a very high ceiling. There's a lot of learning that goes on between 19 and 22 with potential NBA players, and that is especially true for bigmen.
Some tweaks to his game could make him more productive. In the Japanese league he shot only 45% from the line. But he has pretty good touch and could really improve upon that number with repetition and changing his routine. When he shoots the ball from the perimeter, he places his feet in the proper sequence and seems to have the ability to nail the open 15 footer. But for some reason he doesn't put his feet in a position that allows his body to square evenly to the basket on free throws.
He should also work on posting up with better fundamentals. He often lets the defender crowd him, and this prevents him from having the initial separation that he needs to get into his move. It also allows the defender to poke at the entry pass and be more disruptive. In the games I saw; the defense wasn't taking advantage of this, but they will be in the NBA where everyone is bigger, faster, stronger and more aggressive.
Jeremy also turns the ball over a lot, but most of his turnovers are on spin moves to the hoop. He has a habit of going very strong in one direction and then spinning the opposite way, which is an All Star move in the NBA. Unfortunately, many of the Japanese refs were calling him for traveling, but the same move in the NBA is a potential slam fest. When he didn't travel, he was dunking it in guy's faces. When you play hoops, you have to take into consideration the rules you are playing with and adjust; High School, NCAA, FIBA and NBA are all a little different. What I was impressed with, was the move itself. His ability to switch directions, plant and jump is awe-inspiring.
The bottom line is, Jeremy does an outstanding job of exploding into his moves, he'll get the ball; jab step to get momentum, and then bounce off of it powerfully. The ability to get up quick, fast and powerfully is a devastating skill, and something that often brings the house down after he dunks. He's definitely guilty of trying to dunk everything, but that's not such a bad thing when you can. Some guys guilty of this just can't shoot the rock, so it's out of need. But with Jeremy, I get the feeling he wants to be a power player, and based on supply and demand, he seems like a must draft player to me.
Big men take the longest to develop, but one thing you won't have to teach him is the physical requirements. There are a lot of 215 pound power forwards that get drafted and don't make it, mainly because they are not thick enough. As soon as Jeremy hits the weights and puts on man muscle, he's going to be a force to reckon with. Many are also suggesting because of his body fat, (which was recently measured at 13 %), that he's not in shape or hasn't worked as hard. Well there are only six players rated in the top 50 of the draft that are over 250 pounds, but almost every successful power player in the NBA weighs more than that, so if you have to choose between low body fat and bulk, I'd go with the bulk. Personally, I want my centers and power forwards to have some girth. 220 pound post players get eaten alive in the association.
Anyone that's drafting Jeremy has to envision what he will be, not what he is. I remember a few years back when High Schoolers could go directly to the pros and that didn't dissuade anyone from taking, what were at the time, just young guys oozing with potential. Some of which, turned out to be some the best draft picks in the history of the game.
Tyler has become the poster child for players staying in the US and playing NCAA instead of going overseas for the money. But thanks to leaving to play professionally at 17, Tyler has some hard knocks experience and perspective. Like Brandon Jennings, another Southern California product who struggled in Europe, he may end up getting the last laugh.
Teams seeking a player to develop would get tremendous value if he is given the right team structure, environment and the opportunity to work on his game. So although he doesn't translate into an "NBA ready" guy right now; he's one of a handful of prospects in this draft that could develop into an All Star caliber player in the future.