This year's edition of the AST, an event that takes place every two years, was rather disappointing. The two top teams of the Euro Championships U16 Lithuania and Czech were not even invited. Third place Turkey was without superstar Enes Kanter. The fourth place France was missing their star guard Westermann. Perennial powerhouse Serbia was snubbed due to political reasons by the German committee for a second straight time.
This watered down the competition to a disappointing level never before seen here. Germany was present with two teams: an under-18 squad and an under 17 squad and both got selected into groups that made a clear path for both to advance to the next stage. While in another group, powerhouses France, Croatia and USA played each other in a death match group forcing one favorite to be eliminated after early group play.
After a grueling three way tie, France was eliminated from the later rounds after losing to Croatia by 7 after having beaten the USA by 2. Croatia lost a thriller to the USA, which left France the odd man out despite having the most promising impact player in Evan Fournier.
Overseas talent was mediocre at best. Brazil, Argentina, New Zealand and China sent squads that were not nearly up to the level previously seen in this tournament. it's possible these countries just don't have high level talent in this age group, then again politics or other reasons could be to what is keeping their top prospects from participating.
After the early round stages, the German under 18 squad qualified for the semis, as well as the under 17 squad. With USA and Australia making the other two semis. Turkey, the only other promising team for the tournament was missing the most dominating player of the generation, Enes Kanter.
They fell out with a disappointing loss to Germany's under 17 squad. With two hometown teams making the semis, the Sports Arena was packed with local fans. Germany's under 17 made a run in the first half against a well organized Aussie team, but couldn't hold up facing the intensity level down the stretch. Being out hustled and finally blown out in all facets of the game in the second half.
In the much anticipated second semi, Team USA took on the under 18 team of Germany, and this one was a thriller down to the end. A classic battle worthy of a semi in this tournament. Germany spurted out to an early lead but Team USA climbed back in it taking a 3 point lead for the first time in this game late in the fourth.
Germany's finest, [Player:Philip Neumann], than came to the rescue draining a wild game tying three late in the fourth and after another German three that almost blew off the roof as team USA had no answer from there. Germany advanced to the finals for the first time in its 25th edition of the AST.
On the final day, Australia and Germany faced off as the only two team still unbeaten. With Germany supported by a rowdy home crowd appeared to be a slight favorite. But Australia was in sinc.
They dissected everything that Germany had to offer. Playing with unmatched intensity and speed, while using all of their 12 players to wear out the German favorites. It got kind of too ugly in the end, but Australia was pound for pound the best TEAM in this competition.
Top Prospects: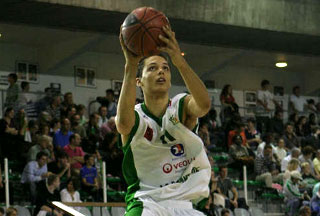 Best player pound for pound in our view was Evan Fournier of France. He did anything that was needed at any moment. Displaying a poise and self confidence that was unparalleled. Too bad his team fell off in the three way tie. He has good athleticism, a well rounded skill set and a great feel for the game. He reminded some here of a young Manu Ginobili in his ability to take over games at any given moment.
The most promising player goes to Croatia's Dario Saric a 1994 born SF/PF, who despite being 2 years younger than anybody else, showed a court sense and feel for the game beyond his years. He is along the lines of a young Tony Kukoc, emulating him in his slim body and superb skill set.
Germany under 18 featured the best Center prospect in this competition. Philip Neumann sports a 6'10 body and great touch around the basket. He has a well developed set of post moves with good to great footwork and can even take the ball to the hole showing some decent handles. On top of this he has some range on his awkward looking shot, but he makes a fair amount and has a high release point. His body needs a lot of work to handle the pounding on a consistent basis but he doesn't shy away from contact. He looked exhausted in the final games leaving question marks about his conditioning.
MVP of the tournament was Australia's Mitchel Creek, a SF who in our view is a mid-level NBA prospect at best. He is solid in almost every aspect of the game but does not stand out in a particular area. He was the most steady player on the best team, so he deserves MVP honors.
Worth noting was also Greece player Linos Chrysikopoulos a 6'8 do it all player, who played all positions on a weak Greece squad. For a player his size he displayed very good handles, solid mobility and some wit to his game. Often being used as a center on defense he blocked some shot or grabbed some rebound to bring the ball up the court himself only to finish with a nifty pass not often seen by a player his size. Also he is rail thin he is definitely worth keeping an eye on. His nickname is "Spiderman", which fits him nearly perfectly.
To keep an eye on for the NCAA: Germany's SF Martin Breuning could be the next coming of Elias Harris. Australia's PG Jackson Aldridge could be the next in the line of Aussie PGs at St. Mary's, after Patty Mills and Dellavedova…