Here is a recap of the top 10 prospects from the Portsmouth Invitational Tournament, broken into a First and Second Team.
First Team
Ryan Thompson (24.0 pts, 6.0 rebs, 3.3 ast, 9-14 3PT)
From the very beginning of camp, Thompson played very aggressively and was able to sustain his scoring throughout the week. He showed a good mix of skills on the perimeter, shooting the ball with great efficiency from beyond the arc as well as the ability to attack off the dribble and finish at the basket. He has a slightly awkward release with a bit of a hitch, but he is very comfortable from deep and he can string together a number of makes when he gets hot. He has good size to play on the wing, and he was able to use it to overpower his defenders when getting to the hoop. He is a relentless attacker and he seeks contact when slashing-he is able to absorb the hit and still have enough body control to attempt a high percentage shot. In terms of next level potential, Thompson lacks great quickness and athleticism and it makes it difficult for him to get by superior athletes off the dribble. He had 3 very good games at Portsmouth where he shot the ball extremely well, but as we have seen during his senior season, when the shots are not falling, he has a hard time playing at a high level. With that said, the camp certainly helped his stock and he may have a chance to slide into the 2nd round.
Mikhail Torrance (17.3 pts, 4.7 rebs, 6.0 ast)
Torrance played extremely well the entire week and he was able to draw some new admirers with his size, athleticism and ability to run the point. A very dangerous transition player, he loves to push the tempo and make plays at high speeds. He is very aggressive going to the basket, and his size and athleticism allow him to finish strong and through contact at the rim. He size is also a great plus from the playmaking aspect, because he has a clear display of the court and the passing lanes. His ability to get into the lane and force defences to shift makes him a very dangerous penetrate and dish weapon because he sees his options and distributes the ball well. Even though he shoots the ball with his right hand from the outside, Torrance is a lefty dominant player and he will almost exclusively attack to the left. He shoots a good looking jumper and is very good at creating space and pulling up from midrange, although he lacks consistency and does not always shoot with good balance. He is a bit wild and can make very poor decisions and throw bad passes, continuing to mature and with more time at the point guard position should make him a more refined and steady ballhandler. Overall, his physical package is very intriguing and he certainly has room to continue developing, as a result, he most likely secured himself a spot in the mid to late range of the 2nd round.
DeShawn Sims (18.0 pts, 7.7 rebs, 52% FG)
Displaying a terrific mid-range jumper, Sims continuously punished defenders who left him open in order to rotate and help on the weakside. Showing a great knack for spotting up to open space, his smooth jumpshot made him a very efficient scorer. On a number of occasions he stepped out beyond the arc and looked very comfortable shooting from the (partially) extended three point line. His stroke is very smooth and his high release allows him to get shots off even when closely guarded. He also took his game down in the low post, using a turnaround jumper and mini jump hooks to both shoulders to score inside. He doesn't have great size or strength to muscle his way in the paint, but his agility and quickness allow him to beat defenders to the spot and get into good scoring position. His biggest issue for the next level is the question of who he can defend – not nearly strong enough to push power forwards off the block or quick enough to contain wing players on the perimeter. He matched up mainly with inside players at Portsmouth, but aside from a couple guys, there was very little depth at the position in this setting, which did not put his ability to the test all that much. He has springy legs and a live body and he may have just enough athleticism to be able to adapt, but he will need to use the workouts to prove his case more.
Jerome Randle (13.7 pts, 3.3 rebs, 8.7 ast)
The MVP of the week was able to show some nice things that we did not see much of during his college career. He ran the point like a true playmaker and was able to pick apart defenses with his penetration and passing ability. On numerous occasions he found teammates with nifty and spectacular passes for easy baskets. He used his smooth handle and quickness to get by his defender off the dribble, then using a nice mix of shots, he finished consistently over top of help side defenders from the mid-range area. His outside shot was consistent as always and he made a variety of shots with his feet set and off the dribble. With all that said, in his last game, Randle finished with just 9 points on 4 for 12 shooting and 6 assists to go along with 6 turnovers. So do we take two very good games that were played in a wide open style of play (which obviously suits Randle) as the measuring stick or do we simply add them to the entire body of work? He is an extremely undersized pointguard who has shown throughout his career to be a scorer first and distributor second. The player in the first two games is certainly draft worthy, yet the one that played 4 years at Cal … probably not. The big question is, what player can we expect him to be in the long run?
Landry Fields (13.3 pts, 6.3 rebs, 3.0 ast)
He may have gone under the radar a bit this week because of his quiet game and less than spectacular stats, but Fields proved that he is a player and the he knows how to play the game. Unlike many other guys at the camp, he wasn't there to "prove himself" and by doing so force the issue, instead he picked his spots within the flow of the game and still made some very impressive plays. Playing as a SG/SG, he has good size and very good length on the wing. He sees the game and makes the extra pass to get his teammate a better shot if it's available. He doesn't have great athleticism and his quickness is subpar, but he has a very long first step and he is extremely effective at using shotfakes and jabs to create separation. He is a dangerous slasher and he can slither through the defense with his length and more importantly finish plays at the end of it all. He likes to operate on the baseline and is very crafty at using the glass to protect his shots. His touch around the basket is terrific, he plays the angles and is able to finish at a high percentage. His outside shot is a work in progress, and unless his feet are completely set, he has a very hard time converting from the outside. His release is very slow and it results in most of his shots being closely contested because it gives his defender more time to close the gap. Lacking great footspeed, Fields has a hard time containing penetration off the dribble and will have problems defending at the next level. Athletically his shortcomings are obvious, but he may just have enough size and game to overcome.
Second Team
Hamady Ndiaye (13.0 pts, 7.0 rebs, 57% FG, 2.7 blocks)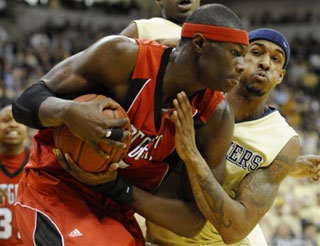 A proven inside presence on the defensive end during his collegiate career, Ndiaye displayed an intriguing offensive game at Portsmouth. He doesn't have great hands, but once he catches the ball inside he is able to comfortably turn to either shoulder and shoot a fairly soft and high percentage jump hook. His touch has improved to the point that he can effectively score when he gets looks inside and as a result he is now much more confident posting up and demanding the ball. Athletically and length wise he is a specimen and if he catches the ball in the vicinity of the basket he will try to dunk everything. He also impressed with his jump shot, he didn't flash it often, but the few times that he did he showed a solid stroke and good ball trajectory. There is no doubt that he is still a work in progress, but he has come a long way in such a short time and he may have a shot in the league at some point down the road.
AJ Slaughter (16.0 pts, 3.3 rebs, 3.0 ast, 5-12 3PT)
He is a scoring guard in a point guard's body, but his ability to fill it up will definitely earn him serious looks at the next level. A specialist as a jumpshooter, he can stretch the defense with his range from outside but he can also get into the middle of the defense and pullup for a rhythm jumper. He is a very smooth player, his movements are very quick and effortless and he is able to create separation from his defender consistently, both off the dribble and off screens. Showing great confidence, Slaughter was not shy about putting up shots and in the first game he found his stroke and made a number of shots in a very impressive shooting display. However, as easily as he heats up, he also cools off, showing in the second game that he contributes very little if his shot is not falling. His value is in his shooting prowess and it will earn him money at the next level, most likely overseas but the NBA isn't out of the question.
Reggie Holmes (20.3 pts, 6.3 rebs)
A scoring machine, Holmes came to prove that he can find the bottom of the net and he accomplished his task. Looking to attack at every opportunity, he used his quick first step and decent athleticism to get to the basket and finish. His outside shot was falling and he made a number of them with a hand in his face and on the move. He has a well rounded scoring repertoire and the uptempo style was very well suited for his game. In terms of passing the ball, he had a very unimpressive 2 assists, which speaks directly to his tunnel vision. He was not very keen on distributing the ball and it made him a very predictable offensive player. For the NBA, he is undersized on the wing and doesn't have a great body, but his scoring will earn him a paycheck overseas.
Aubrey Coleman (18.7 pts, 6.3 rebs, 2.7 ast)
The nation's scoring leader tried to do the same at camp, but his shot was not falling and it hurt his stock. He showed his quickness, strength, athleticism and shot making ability are a very formidable combination and that he can create his own shot on a consistent basis. Unfortunately he also showed that he is very unwilling to play a team game and that his constant scoring approach forces him into very difficult situations. He looks to get rid of the ball only as the last resort and will much rather force an off balance shot rather than get his teammates a look. He was a ball stopper on the perimeter, dribbling out the clock and looking to create strictly in one on one situations. His teammates were often left standing around and watching him operate, killing any movement that was created out of the initial and basic set. The stock of an under the radar senior is a fragile thing, we will find out how much harm has been done to it by this weeks showing.
Donald Sloan (17.3 pts, 5.7 rebs, 3.7 ast)
An aggressive combo guard, Sloan's attacking approach and preference to play in transition allowed him to influence the game as a scorer and passer. He has nice quickness, good strength and solid athleticism and can use them all when going to the hoop. He likes the physical aspect of the game and he can comfortably absorb contact and still keep his body control. Attacking off the dribble, he looked to turn the corner and use his body to create space against his defender. He did not show a great touch from the outside but he made enough to keep the defense honest. Overall, he is a solid player who had a good career and he capped it off on a high note. He probably doesn't have enough size and shooting ability to get drafted, but he will make a good player overseas.
Borko Popic is a lead scout/contributor to NBADraft.net. Please check out his premium website / scouting service hooprospects.com, an essential tool for Pro teams from around the world.