On Saturday, April 10th, Team USA Select (under 18) beat the World Team 101-97 in Portland, OR. Down by 7 points, Duke bound point guard Kyrie Irving made a key steal and basket to help ignite a comeback late in the game. He finished the game with 15 points (5-10 fg) 5 assists and 0 turnovers. On Thursday before the game, I was able to sit down with Kyrie to ask him about the Hoop Summit experience among other questions.
NBADraft.net: Describe how it felt watching Duke win the championship?
Kyrie Irving: Oh it was a great experience. I kind of felt like I won the championship, also. But I think it will be better playing in that tournament next year. I was ecstatic when they won.
NBADraft.net: Did your heart skip a beat when Gordon Hayward's final shot almost went in?
Kyrie Irving: I was scared. It would have been a dream come true for them, like a fairy tale. It just missed by like a couple inches and if it had went in, I would have been heartbroken.
NBADraft.net: Will Duke lose any underclassmen?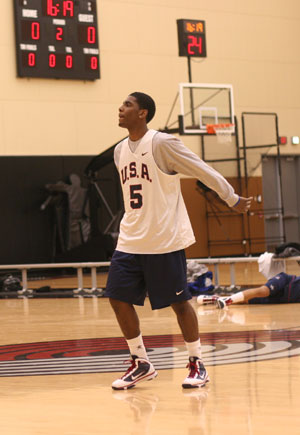 Kyrie Irving: I'm not sure. Hopefully not. You know hopefully Kyle (Singler) and Nolan (Smith) will stay (Smith has since announced he will return). That would be an added bonus to our backcourt. I'm hoping that they stay.
NBADraft.net: Was it sweet redemption at all for you with Duke winning with anyone questioning your decision to go to Duke? With Duke getting themselves back to prominence after being down for a while?
Kyrie Irving: Duke has been legit from the beginning. Once I committed there I knew it was a dream come true for me. I never imagined that I would be in the position that I am today. Playing in the Hoop Summit representing Team USA and going to Duke, it's definitely a dream come true.
NBADraft.net: Ideally, how many years will you play at Duke?
Kyrie Irving: (laughs) I have no idea. As long as they want me there. If I'm ready then I'll consider it with my family. As of right now I don't plan on doing one and done or anything like that.
NBADraft.net: Why do think people dislike Duke so much?
Kyrie Irving: I think… (laughs) Well aside from us winning. I think it's just our style of play. I think it's our winning and honestly I can't really tell you why. I can't give you a straightforward answer why people hate Duke. We're a hated program but we're also one of the most liked.
NBADraft.net: What kind of odds you give Duke going back to back?
Kyrie Irving: (laughing) I give us great odds as of right now. You know, hopefully Kyle (Singler) stays. Losing senior (Brian) Zoubek, Lance (Thomas) and Jon (Scheyer) will make it tougher.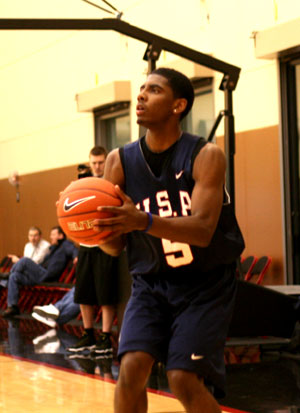 NBADraft.net: How did it feel to hear Jay Williams say you could be the greatest point guard ever out of New Jersey?
Kyrie Irving: You know that was a little bit of pressure. But it's more excitement than anxiety. To get onto the next level and just prove myself. A lot of people have expectations, I have a lot of expectations for myself and a lot of goals that I want to attain. It's added pressure, but it's fine though. It was an honor to hear one of the greatest point guards from New Jersey to say that about me. I'm not sure about that, I'll let everybody else decide about that.
NBADraft.net: Talk a little bit about this event. How does it compare to some of the other post season high school events like the McDonald's All American game?
Kyrie Irving: This is more important. The McDonald's game was more of an individual thing. You know now playing on the USA team it's more of a team thing. Every time you play for team USA, it's a team atmosphere, a team focus. It's really exciting for me. I used to watch youtube videos when I was a sophomore and I used to watch Derrick Rose. And Nike hoops Summit highlights, and it's just an honor playing in it.
NBADraft.net: How about an NBA comparison? Someone you feel your game resembles?
Kyrie Irving: Well my favorite player is Chris Paul. But I don't really have an NBA comparison.
NBADraft.net: Last year's USA team got beat, as you know. Is this year's team sort of a "Mini Redeem team"?

Kyrie Irving: Yeah this is a "Mini Redeem Team". We have to come out and prove ourselves all over again. It's a new USA team, A new World team so we just gotta come out and prove ourselves.