If you watched the recent NFL draft you probably heard the word "value" hundreds of times. In the NFL Draft, value is easy to spot. Analysts can like a guy, but knock him because they think he should go a round or two later. Good pick; bad value. Great football minds like Bill Belichick (and Bill Walsh before him) trade back almost every year to maximize their picks' value (so much that it was borderline shocking when Belichick traded up this year).
But for some reason, value isn't a term that's often thrown around when it comes to the NBA Draft. The most likely culprit for this is the two round format. That and the fact that talent just doesn't usually have much depth. Unlike the NFL draft's seven rounds or the MLB draft's 8,000 rounds (rough guestimate), the NBA Draft isn't deep enough to get into the perceived realm of where value exists. But the perception is dead wrong. Teams just like to stick to the script. Typically they take "their guy" in the first round and a player who either A) fills a specific niche need on the team B) is a high-upside gamble pick or C) a foreign guy they can stash overseas for a few years. That's the mold.
But value does exist in the NBA Draft. It's just harder to spot because the draft is condensed. There are tiers of value that exists between the first and second round and even between levels in the first round (early to mid to late).
Teams just focus so much on getting "their guy" that they ignore that a similar player might be available later and provide better value. Normally these similar players have a certain universally accepted knock against them; be it that they're too short, too unathletic, too many injury red flags, the dreaded "senior" tag, ect. But we've seen time and time again players overcome such labels.
Just look to the past 3 drafts for examples:
2011 – Kemba Walker (#9), Isaiah Thomas (#60)
What did Kemba Walker have that Isaiah Thomas didn't? A couple inches, an amazing NCAA tournament run, and exposure. Thomas put up similar numbers (and was actually a better shooter) and showed similar knack for late game heroics, but he did so in a down Pac 10. That combined with his height (which somehow didn't stop teams from reaching incredibly on Johnny Flynn) led him to become the NBA's Mr. Irrelevant. It didn't even matter that Thomas displayed better PG skills. After each player's rookie season, would the Kings trade Thomas for Walker straight up now? Not a chance.
Jan Vesley (#6), Chandler Parsons (#38)
Vesley had the upside, Parsons had the polish. Both guys who can have eclectic skillsets for their size, but the do-it-all college vet was overlooked (for more of Daryl Morey exploiting this market inefficiency see: Budinger, Chase).
2010 – Luke Babbit (#16), Landry Fields (#39)
Here's another example of upside versus polish. While it's clear what advantage Babbit had over Fields (taller, slightly more athletic, and a better shooter), they were both role player SFs and Fields was clearly more ready to compete in the league from day one.
2009 – Tyler Hansbrough (#13), DeJaun Blair (#37)
This is the clearest example of how the NBA just continually fails to understand value. I continue to believe that Blair slipping to the second round is the second dumbest thing to happen in a draft in the past five years (the first is of course -say it with me kids-"HASHEEM THABEET!"). If you wanted a spark off the bench to provide hustle, rebounding, and intangibles Hansbrough and Blair were virtually equals (I gave a slight edge to Blair at the time). But because Blair has no ACLs (disregarding the fact that Blair had been playing like that for years), he went 24 picks later. That's an insane gap for even skillsets. If the NBA worked like the NFL, the Pacers could've traded back to the end of the first round and picked up Blair and a second rounder or future pick.
***
With that in mind, who are the potential value picks in the 2012 NBA Draft? Who are the poor man's version of top prospects who might turn out to be a better use of resources? We all know the guys worth trading up for, but who is worth trading back for? Let's take a look…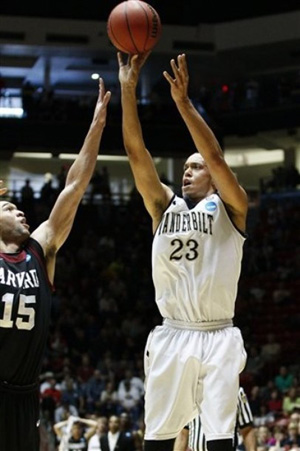 Bradley Beal (top 5) – John Jenkins (late first to early second)
Both are 6'4" SEC shooting guards who aren't tremendous athletes and whose best skill is shooting. But Beal is likely going to go in the top 5, while Jenkins might be a second rounder. Oh I forgot to mention, Jenkins is the better shooter of the two. Jenkins shot a full 10 percentage points better behind the arc last season (.439 compared to Beal's .339).

Thomas Robinson (top 5) – Andrew Nicholson (late first)
The difference between Robinson and Nicholson comes from the eye test. Robinson simply looks so much more imposing than Nicholson (also people have had more chances to see Robinson as Kansas plays a few more national TV games than St. Bonaventure). But for a team seeking a value version of the Player of the Year finalist, should give the less heralded Bonnie a look. He has the same offensive skillset and the only skill where he significantly trails Robinson is rebounding.

Harrison Barnes (top 10) – Jeffrey Taylor (late first) or Kris Joseph (likely second)
While Harrison Barnes has been criticized a bit too hard following UNC's tourney failure, even with his stock slipping there are very good players that could be better values. Both Taylor and Kris Joseph offer a similar balanced skillset at the SF position. The vast difference the draft projection between them and Barnes comes from Barnes being a much better shooter.

Austin Rivers (lottery) – Doron Lamb (late first)
This one is a bit team specific. There's an obvious perception that the Celtics would like to pick up Austin Rivers so he could be coached by his pops, Doc Rivers. If a lottery team seeking a SG (Phoenix at 13 for instance) could work a deal that would land them both of Boston's late first round picks (possibly the lotto pick + a second rounder), they should jump on that immediately. Picking up Doron Lamb would give that team a shooter/combo guard on par with Rivers and the chance to snag another talent in this deep draft class.
Fab Melo (late first) – Robert Sacre (late second to undrafted)
Any team that drafts Fab Melo is doing so to nab a defensive presence at center. That's exactly what Sacre offers, but with less athleticism. Here's the catch, Sacre has shown he can play man-to-man D while Melo hasn't (thanks to the Syracuse system). The Gonzaga big man gave Kevin Jones fits in their NCAA tournament matchup, and would even guard PGs at times last season for the Zags. Even getting beyond D, Sacre has a more developed offensive game and teams can leave him in late in games as he's an amazing FT shooter for a center.

Perry Jones (lottery) – Moe Harkless (mid-to-late first)

The biggest question marks with Jones concern his consistency, motor, and toughness. Those aren't issues with Harkless. While there's no denying the upside of Jones, the rawer Harkless could actually be a safer pick and a potential trade back candidate.

Quincy Miller (late first) – Darius Miller (early second)
Expect these two to be confused for one another a few times leading up to the draft. Both have a similar jump shot and while Quincy has more perceived upside, Darius has more experience (polish!) and strength. While they may not go terribly far apart, the contract structure difference between a first and second rounder could easily make getting Darius in the second round the superior pick.

Marquis Teague (late first) – Maalik Wayns (mid-to-late second)
Teague has more athletic tools, while Wayns is the better passer. Considering these are PGs we're talking about here, this could end up being a wash in terms of overall talent. Since (hopefully) neither guy will be asked to step in and start from day one, Wayns might be just as good a backup PG as Teague (at least for the duration of their rookie deals).