Many teams draft seniors because of an immediate need on the roster. They're looking for someone to come in and contribute right away. While none of these guys are finished products, many of them should get the chance for early minutes due to their maturity and role playing potential.
1. Tyler Zeller
Averaging 16 and 9 as a senior, Zeller became one of the most productive and reliable interior players in the country. Considering his size and overall skill-set, there's no question he should be able to contribute offensively at the pro level. With few teams owning two legitimate centers, Zeller could be the first true post-player off the board.
Nicholson propelled St. Bonaventure to an Atlantic 10 tournament championship, reminding scouts what he brings to the table in the process. He's added a face-up dimension to his game to help compliment his aggressive interior play, practically inventing an outside jumper his senior year. Nicholson hit almost 1 trey a game on 43% from downtown, and has established himself as one of the more versatile and talented offensive big men in the draft pool.
Taylor always had the physical tools, but never the game to go with it. That all changed his senior year, when he shot 42% from downtown compared to the 34% he shot as a junior and .091% as a sophomore. With the strength, size and athleticism to guard three positions, Taylor's improved perimeter game has given teams another reason to look his way.
4. Festus Ezeli
His presence alone makes a difference, whether his offensive game develops or not. At 6'11, Ezeli has a tremendous wingspan that makes it difficult for guards to penetrate or big men to get clean looks inside. He's powerful and explosive, and remains one of the most physically intimidating interior players in the draft pool.
5. Kevin Jones
Jones made his way back to the NBA radar after improving in almost every facet of the game. He raised his scoring average from 13 to 20 and his rebounding average from 7.5 to 11, incredible differences when you consider his minutes stayed around same. Jones has a relentless motor on the offensive glass, using his nose for the ball to anticipate misses. With a a soft touch and improving jumper, Jones has pick and pop potential to mesh with his excellent rebounding instincts.
Buford displayed his versatility as an off-ball scorer, but struggled with consistency and creating easy shots. His role at the next level will require shot-making duties as a spot-up threat, and to defend opposing 2-guards. He's got role player potential as a low-risk, low-reward prospect.
7. Kris Joseph
His status as a prospect has been virtually unchanged since late in his sophomore year. A fluid athlete with ideal length and mobility for a small forward, Joseph's strengths are best suited in an up-tempo environment where he can get out in transition. Continuing to develop that three-point shot will maximize his services as a stretch-small forward. With sound shooting mechanics, there's no reason that can't happen.
8. Drew Gordon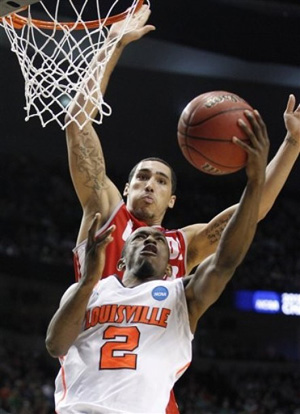 Gordon averaged a double-double for the second consecutive year as one of the most explosive power forwards in the country. While he lacks a post game and shot-creating abilities, he makes plays off the ball around the rim with the help of some bouncy spring in his legs. Gordon has the potential to fill a backup 4 role that can get up and down the floor and energize a unit.
Green's selling point is his maturity, leadership, toughness and ability to fit in. While there's not one thing he does from a talent-perspective that makes your jaw drop, his role-playing attributes will make him an attractive prospect for a playoff roster or as a young team's second draft pick.
10. Herb Pope
Pope really added to his offensive repertoire after developing a face-up game that previously didn't exist. While his strengths still come as an active body in the paint, he showed some Antoine Walker-like dexterity when attacking on the perimeter. Pope will need to improve his conditioning though to earn playing time right away.
11. Kevin Murphy
Murphy is dynamic perimeter scorer with long arms and a quick first step. He averaged over 20 a game, however struggled over the last two years against tougher non-conference competition (Threw up duds against Michigan State, West Virginia, NC State). Still, his ability to put the ball in the hole could be a valued quality once he adds some added bulk. Murphy had a strong showing in Portsmouth and should be a scorer to watch during predraft festivities.
12. JaMychal Green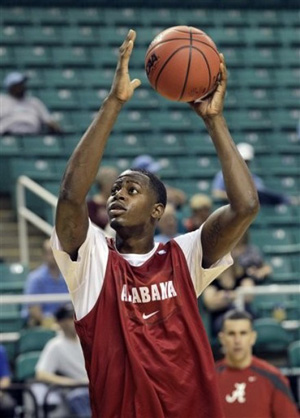 Green made more headlines off the court than on it his senior year, but that doesn't take away from his skill-set on the court. Green has a nice midrange game with a reliable elbow jumper, and can finish around the rim with strong scoring instincts. If he can convince scouts and coaches he's mentally committed, Green can add offense to a front-line down the road.
13. Darius Miller
Miller proved he's capable of spotting up or pulling up off a dribble. The fact that he'll be playing the same role in the NBA as he did in college should make for a smooth adjustment and transition.
14. Kim English
Reports were positive out of Portsmouth, after English finished an excellent senior year shooting a lights-out 45% from behind the arc. He's a good athlete who moves well without the ball and owns a high basketball IQ. With his efficiency and perimeter skills, English has a role carved out for him as a complimentary player. He's also one of the most insightful Tweeters in the game, and a clear student of basketball.
15. Alex Young
Young has averaged at least 18 points in three consecutive years, doing so with his NBA body and strong basketball instincts. While he's not the most consistent shooter off the dribble, Young can score at awkward angles from different spots on the floor. While his competition has been inferior to his fellow draft prospects, Young has a feel for the game that can make him an effective off the ball scorer at the next level.
16. Scott Machado
Machado has that matrix-like ability to slow down his surroundings in order to anticipate and make the right pass. He has extraordinary vision, remains consistently poised as a facilitator and has improved his 3-ball to 40%. He led the country in assists, but is missing the quickness and explosiveness of most successful undersized point guards. He'll be drafted based on intrigue and a shallow point guard class.
17. Mike Scott
Scott is guy with a clear identity in that scouts know what they'll be getting if they select him. A tough, physical inside presence, Scott's improving midrange game has increased his value as an NBA prospect.
18. Henry Sims
Sims emerged as one of the more unique big men in college ball, after averaging in double figures while leading his team in assists and blocked shots. Sims has great size and deceptive quickness, and possesses a feel for the rim that allows him to score in the paint. If Sims can continue developing the midrange game, he's be able to contribute in a variety of ways to an NBA front court.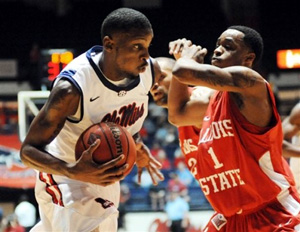 19. Terrance Henry
Henry is a kid that despite being a senior shows a lot of raw talent yet to be developed. He's got to put some weight on and get more comfortable playing on the perimeter, but his agility and length makes him a very intriguing forward prospect.
20. Cameron Moore
Moore was incredibly effective for UAB in his senior year, averaging 16, 10 and 2.4 blocks per game. He's an impressive athlete with hops, but lacks the polish of his competing big men prospects.