Andrew Wiggins is a 6'7 sophomore small forward who is making a case as the top player on the high school level regardless of class. We caught up with Wiggins earlier this month after a Hoop Summit practice. Wiggins went on to lead the World Select team to an upset victory over Team USA. He matched up with Shabazz Muhammad and held his own scoring 20 points and 7 boards despite being the youngest player in the game.
NBADraft.net: You've become one of the top players in your class and in the nation, what drives you to be great?
Andrew Wiggins: The love of the game of basketball and knowing I can support my family, my kid's kids and all of that. The NBA is a big dream of mine and being able to support my family.
NBADraft.net: What NBA players do you emulate or feel your game resembles?
Andrew Wiggins: I try to follow LeBron, Kevin Durant, those two guys. Lebron can get to the hoop and I like to think I have the finesse that Durant has.
NBADraft.net: Describe being a part of this event and how it compares to other events, I got a chance to see you last year at the Jordan International game.
Andrew Wiggins: Being a part of this event and the Jordan International game have been an honor to me. This game is special to me because I'm the youngest player here. So I have nothing to lose. I just need to come out and play hard. Play my game and play with honor. Also getting a chance to play for (fellow Canadian) Coach (Roy) Rana who I've played for before and know so well makes it that much more special.
NBADraft.net: What would it mean to you to beat the USA team?
Andrew Wiggins: It would mean a lot. Usually the World team loses to the USA team. I think the International team takes this game more seriously.
NBADraft.net: A number of players have been coming out of Canada recently. You've had Tristan Thompson, Cory Joseph, Myck Kabongo, Kris Joseph, and Andrew Nicholson. Why do you think so many Canadians have come onto the scene all of a sudden?
Andrew Wiggins: I think that there have always been Canadians that could play with Americans. We just never got the exposure before and now I think they're getting a chance to go to prep school and develop their skills and go to college in the States.
NBADraft.net: What kind of stuff do you like to do in your free time?
Andrew Wiggins: Chill with my family, hang out with friends, go to the mall. Be a normal teenager.
NBADraft.net: What are the important aspects as far as the college that you choose?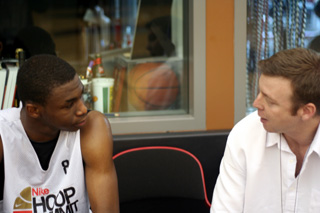 Andrew Wiggins: Good coach. Good support system with the right people. Atmosphere, fans that support you.
NBADraft.net: Describe your season at Huntington Prep. How did that go?
Andrew Wiggins: It went great. I think we went 29-2. I averaged 24 points per game and won Gatorade player of the year award. And our season went very well.
NBADraft.net: Who do you consider to be the premiere talent on the high school level?
Andrew Wiggins: I'd like to say myself. But…
NBADraft.net: You can say yourself. I like that. Would you ever consider reclassifying?
Andrew Wiggins: It's always an option. My options are open right now. I like high school and you only live once. And I might just stick it out for 2 more.
NBADraft.net: Last question, what list of schools are you looking at right now?
Andrew Wiggins: Florida State, Kentucky, North Carolina. Those are the schools that are more in contact with me right now.