Due to so many high level bigs in this year's freshmen class, this year's draft has been dubbed, the Year of the Big. Here is a look at the top 20 of an extremely deep and talented crop of freshmen.
1. Deandre Ayton – Arizona – Freshman – 7'1" – 255lbs
PPG: 20.5, RPG: 11.9, APG: 1.6, FG%: 60.9, 3P%: 28.6, FT%: 69.4, 1.3 BPG
An absolute physical specimen, sculpted by the basketball gods to be an NBA center. Ayton is able to stretch the floor offensively with an accurate jumpshot that should only improve. He has shown the range to hit three pointers with regularity in practice and should be able to do that in the NBA in time. He is dominant on the low block when he gets position due to his size and athleticism, but at times settles for showing off his jump shot instead of imposing his will. He is strong, with wide shoulders, and should be able to continue to get stronger and add positive weight. He can get caught out of position on defense and on the boards, and is able to get away with it now because he is always the most physically dominant player on the floor. Defensively, he has a lot of potential but should be a more dominant shot blocker. He can be an elite two way player if he puts a little more focus on utilizing his physical gifts as a rim protector. While Ayton still has a ways to go, his upside puts him at the very top of an extremely talented freshman class.
2. Marvin Bagley III – Duke – Freshman – 6'11" – 235lbs
PPG: 21.3, RPG: 11.3, APG: 1.5, FG%: 61.1, 3P%: 33.3, FT% 61.1
Bagley is a supreme competitor who has taken the college level by storm. He is an elite level athlete, who has outclassed his competition through sheer desire and talent. Offensively, he has shown good touch over his right shoulder with his left hand. He competes well on the offensive glass and almost always cleans up his short misses due to his elite second jump. His offensive skill-set is the key component to his game that has not come around yet. He shows flashes of being able to put it together, but lacks consistency. His jump shot has workable form, but he is not consistently taking or making them during games. He shows fluidity moving with the ball in open spaces, but his handle needs work to create more for himself in the half-court. Defensively, he moves his feet well for his size and has shown the ability to guard smaller perimeter players. His rebounding stands out at the college level because his leaping ability allows him to high point rebounds that most guys can't get to. With his slight frame, he has gotten buried on some post ups and doesn't have natural rim protection instincts, which is why he projects as a four defensively at the next level.
3. Michael Porter Jr. – Missouri – Freshman – 6'10" – 220lbs
(Only played 2 minutes this season due to a season ending back injury)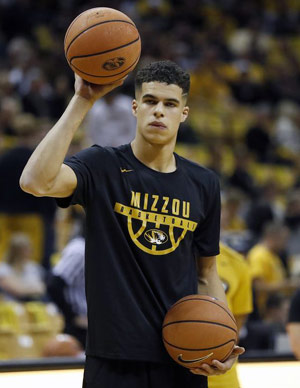 Porter suffered an unfortunate season ending back injury before his freshman campaign even got underway. He is an elite level shooter and athlete and appeared to be the odds on favorite to go first before his injury. He has a great offensive skill set that should allow him to translate smoothly as an NBA stretch four. He can score at all three levels of the court and is most effective in the mid-range. He is able to excel in transition with his threat of shooting and his ability to finish in space. He needs to work on his handle and shiftiness in the half court so he can create for himself off the dribble at a higher rate. He also should add strength to his frame in order to become a better post defender and a guy that can be used at either forward spot. Adding strength will also help him to finish in traffic on the offensive end. The back injury is a bit worrisome going forward, but assuming full health, it is hard to picture a scenario where he isn't selected in the top 4/5 picks of the draft. His skill set is rare and he can become a superstar if his health doesn't derail his development.
4. Jaren Jackson Jr. – Michigan State – Freshman – 6'11" – 240lbs
PPG: 10.7, APG: 1.1, RPG: 7.7, BPG: 3.1, FG%: 45.5, 3P%: 31.0, FT%: 83.0
One of the elite big men in the freshman class, Jackson Jr. has been tremendous this season for Michigan State. He is very athletic and can switch onto smaller defenders and move his feet with fluidity. He also protects the rim well due to his quick jump and timing while contesting shots. Offensively, he shows great touch around the rim with both hands. He also does not hesitate to step out and shoot. His jump shot has good touch and can shoot out to the three point line. His shooting mechanics need to improve a bit, as he has a low push shot, but he has shown the ability to make them. As his low post skills continue to progress, he should have a very translatable game to the next level. He needs to work on his feel for the game in the paint and recognizing double teams before they happen. Also, should work on finishing in traffic and through contact. He seems to have an all-around game that will translate nicely to the NBA, due to his great movement skills, ability to stretch the floor, and play inside as a rim protector. If you believe in the jump shot coming around, there are not too many holes in his game.
5. Mohamed Bamba – Texas – Freshman – 7'0" – 220 lbs
PPG: 11.0, APG: 0.6, RPG: 10.0, BPG: 4.1, FG%: 51.4, 3P%: 17.6, FT%: 57.1
The Harlem native has unbelievable length with his 7'9" wingspan and a 9'6" standing reach, which will be the longest in the NBA when he gets there. He also has surprising agility for someone with that kind of length. On offense, he is able to catch and score on the low block and has been stepping out to shoot jump shots. His shot is fairly smooth, although he is not making them at a high clip, he should be able to become a competent shooter. He needs to add weight to his incredibly long frame so that he can carve out space for himself in the post. Where he provides tremendous value to an NBA team is on defense. A la Rudy Gobert, he is capable of becoming one of the best rim protectors in the NBA due to his length and solid timing. He moves his feet very well for someone with such a long wingspan, however, he still gets lost on defense. He hasn't adjusted to rotations and pick and roll situations ideally at the college level. Bamba needs to focus on playing hard on every possession and showing NBA teams that he has a consistent motor. Over time he figures to become more impactful on the offensive end. A very bright kid, the sky is the limit.
6. Collin Sexton – Alabama – Freshman – 6'2" – 185lbs
PPG: 20.8, APG: 3.5, RPG: 4.0, FG%: 48.1, 3P%: 46.4, FT%: 71.6
Sexton competes at an incredibly high level and is one of the most entertaining players to watch on the college level. In a game that has become legendary, he scored 19 points in 10 minutes while playing 3 on 5 basketball against a very good Minnesota team. Collin is able to create space so easily with his dynamic change of pace ability, hesitation dribbles and craftiness. Due to this, he is able to get into the lane and draw contact at a high level. Collin has also shown the ability to create for teammates without turning the ball over, which is extremely valuable to his progression. He is a good athlete but lacks vertical explosiveness which makes his finishing ability at the next level a bit of a question mark. His jump shot definitely has workable mechanics but is not very consistent yet. In order for him to be a very good lead guard in the NBA, he will need to add consistency on his jumper. On defense, he is still finding his way through some of the college situations but he plays so hard that he is quickly becoming a good defender.
7. Trae Young – Oklahoma – Freshman – 6'2" – 180lbs
PPG: 28.8, APG: 8.9, RPG: 3.6, FG%: 47.0, 3P%: 37.5, FT%: 87.5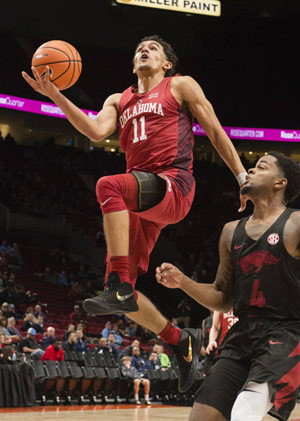 Young has been nothing short of sensational, leading the country in scoring, while playing incredibly efficient and making those around him better with his great passing ability. He is arguably the best player in the country and a strong candidate for player of the year. He is dynamic on offense and can shoot from pretty much everywhere on the court. He has drawn comparisons to and in fact shows some similarities to a smaller Steph Curry with his shooting range and ability to get shots off quickly. Aside from his shooting ability, he is a very good passer and is currently in the top 5 in the nation in assists per game. The main concern is how efficient he will be in getting open looks and defending. He lacks ideal size, length and athleticism to become a plus defender, but can be serviceable with instincts and effort.
8. Kevin Knox – Kentucky – Freshman – 6'9" – 215lbs
PPG: 15.8, APG: 2.1, RPG: 5.7, FG% 45.5, 3P%: 33.3, FT%: 71.1
As one of the younger Freshmen, Kevin has quickly established himself as Kentucky's top outside shooter. He has a smooth release and an effortless motion. He can score from anywhere on the court and has shown a nice floater in the lane because of his good touch. A high level athlete that moves very fluidly on both ends of the court, Knox is able to stay with smaller players defensively because of his footwork and agility. He has a wingspan slightly over 7'0" which allows him to defend multiple positions. However, he can be pushed around by guys that are stronger than him. Defensively, he needs to work on guarding off ball where he sometimes finds himself out of position, or a step slow on rotations. He also has room to grow in terms of rebounding, where sometimes more physical players can take advantage of him. Overall, with the spacing in the NBA he can become a real threat on the offensive end with his high level shooting ability and offensive skill-set. Knox is lacking physicality on both ends of the court and that shows up when he has to finish through contact. He shows the ability to create for himself, but that should improve as his ball handling shows potential. He needs to work on creating for his teammates in the half-court but if he can add strength and physicality to his game, he has a high ceiling.
9. Lonnie Walker – Miami – Freshman – 6'4" – 200lbs
PPG: 10.2, APG: 1.8, RPG: 3.1, FG%: 46.6, 3P%: 36.8, FT%: 62.5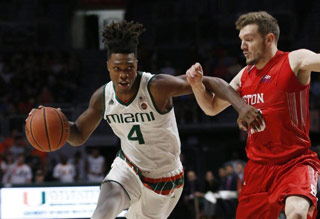 Walker has a great frame for a freshman and is a versatile athlete. He has a quick first step and good bounce. With a compact shooting stroke, he can score in a variety of ways. Coming off a knee injury that some feared could cost him the season, he's been solid. After a slow start, he has begun to display the talent that made him a top 10 recruit coming out of high school. He is able to attack closeouts and can shoot really well off the dribble. He needs to improve his movement off the ball and continue to work on his ability to catch and shoot. He also has room to improve his ball handling skills. Defensively, he has the tools to become a good perimeter defender but needs to work at it. Due to Miami's loaded backcourt, he has not seen a clear role that has allowed him to showcase all of his ability. Moving forward, he projects as a starting two guard at the next level based on his athletic ability and offensive skill.
10. Wendell Carter – Duke – Freshman – 6'10" – 260lbs
PPG: 12.6, APG: 1.8, RPG: 8.7, BPG: 1.9, FG%: 61.9, 3P%: 42.9, FT%: 63.6
Carter is playing in the shadow of Marvin Bagley, but is a steady performer and hard worker. Offensively, he has the ability to score with either hand in the low post. He really understands the game offensively and is good at creating offense out of the high post with his frontcourt partner Bagley. His low post moves are already pretty polished and he has shown the ability to pass out of double teams. His jump shot looks workable and has shot a good percentage on 3's on a very small sample size. Defensively, his length (7'3 wingspan) sort of sneaks up on some opponents as it leads to blocked shots. He struggles trying to keep up with quicker guys on the perimeter and has the tendency to over play and then foul them to avoid getting blown by. Foot speed is one of his major weaknesses. He also needs to work on closing out under control and not putting himself in a bad position. He is not a dynamic athlete but he really does understand how to play the game more than a lot of guys in this draft. His consistency knocking down mid range shots as the season progresses will be key.
11. Brandon McCoy – UNLV – Freshman – 7'0" – 255lbs
PPG: 20.3, RPG: 11.3, APG: 0.5, FG%: 62.0, 3PA/M: 1/1, FT%: 70.3
McCoy has helped a once vaunted UNLV basketball program return to national prominence this season. He is a big, strong post player that is able to score in the paint. He recently put up 33 points on his friend and projected #1 draft pick, DeAndre Ayton. He almost always relies on his size and strength to score in the post by backing down defenders or getting better position. He has shown a fluid free throw stroke and that he can step out to the mid-range, but he needs to add consistency to his shot. He rarely drifts out to the three point line and his shot there is definitely a work in progress. Defensively he has work to do with protecting the rim and struggles to move his feet laterally. He has shown the ability to block shots, but it is inconsistent due to his lack of timing and feel for the game. Overall, he needs to work to improve his offensive skill set. Specifically, he needs to find go-to post moves and extend the range of his jump shot.
12. Trevon Duval – Duke – Freshman – 6'2" – 190lbs
PPG: 12.3, APG: 6.7, RPG: 2.1, FG%: 45.7, 3P%: 15.2, FT%: 64.3
Very explosive point guard that is at his best in transition. He is a great leaper who finishes well around the rim. Duval is able to beat his man off the dribble and can score in pick and roll situations. He needs to work on his decision making and ability to create for teammates. He shows flashes of being a really good passer but his over-dribbling and poor decisions hinder him from being consistent. His feel for the game still appears to be a work in progress. His jump shot is the biggest issue with his offensive game, lacking any real confidence in it as he has not shown the ability to make the college three. Defensively he has a lot of potential in large part because of his 6'8 wingspan and athletic ability. He has good lateral mobility and can annoy defenders with his quick hands and length. If he can improve upon his jump shot and his decision making, he can become a quality point guard at the NBA level.
13. Gary Trent Jr. – Duke – Freshman – 6'5" – 215lbs
PPG: 13.0, APG: 1.9, RPG: 4.7, FG% 37.9, 3P%: 35.6, FT%: 93.8
Gary Trent Jr. is a key starter for the number one ranked Blue Devils. The most noticeable thing about his game is his alpha-dog mentality and all around toughness. For a young team in need of leadership, he shows the composure of an upperclassman. He has struggled to shoot this year, which is surprising considering his high school reputation as a shooter. He has been very streaky with his jump shot. Lacking great speed and explosiveness, he struggles to beat his man off the dribble and relies too much on his strength to create for himself. But he has been very good as a clutch performer at the end of close games. He guards with tenacity and competes at a high level, but is not quick laterally and can get beat off the bounce because of it. His shot figures to come around as he's got a pure shooting stroke, he just hasn't found a groove yet. He's not the most fluid of athletes, so proving himself as an elite shooter will be essential if he is to fulfill the lofty expectations.
14. Hamidou Diallo – Kentucky – Freshman – 6'5" – 200lbs
PPG: 15.2, APG: 2.3, RPG: 4.7, BPG: 0.2, FG%: 46.7, 3P%: 38.5, FT%: 66.7
Diallo is a freakish athlete as his 44.5 max vert at the 2017 NBA draft combine illustrated. After graduating early, sitting out last season as a red-shirt and then flirting with the NBA draft, Diallo made the smart choice to return to UK. He thrives out on the break where he can utilize his elite run jump athleticism and length. He's a work in progress offensively, but is showing some positive signs with his outside shooting consistency improving. He is becoming more comfortable handing the ball in traffic. He attacks the rim relentlessly and has a New York toughness to his game. With such explosive athleticism, the more improvement he makes with his scoring efficiency, the higher his stock will climb.
15. Bruno Fernando – Maryland – Freshman – 6'10" – 245lbs
PPG: 10.2, APG: 0.4, RPG: 5.6, BPG: 2.1, FG%: 61.4, 3P: 0/1, FT%: 72.2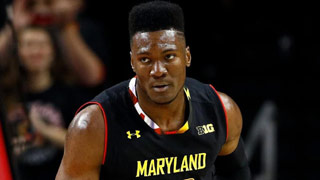 A prospect that is still flying under the radar for the most part, having come into college as a top 50 recruit. Fernando is still very raw but he has explosive athleticism and strength and is a strong finisher around the rim. He catches the ball in the post and is able to turn and finish. His footwork is very impressive and he shows a solid idea of how to create offensive looks. He can rise up to catch lobs on offense or block shots on defense. He has shown a couple of good post moves, but needs to develop them consistently. Most of his offense comes over his left shoulder with his right hand. He needs to work on passing out of the post and recognizing double teams. With his length, athleticism and shooting touch, he figures to be an intriguing center prospect for today's small ball NBA.
16. Kris Wilkes – UCLA – Freshman – 6'7" – 200lbs
PPG: 12.3, APG: 1.2, RPG: 6.2, FG%: 43.7, 3P%: 27.3, FT%: 53.3
Wilkes has good size and length for a wing in the NBA. He started off the year playing very well for UCLA but has cooled down as of late. I think he shows potential as a jump shooter even though the numbers don't necessarily agree. He plays like a face up four, but his size translates to a wing in the NBA. He is a good athlete but his offensive skill set is still progressing. His handle needs work and he needs to be able to get to the rim in other ways than a straight line drive. He also struggles to create for himself and others. Defensively, he is able to move his feet to guard fairly well. He needs to add some strength to his frame to really be a good defender in the NBA. He also needs to understand rotations and help assignments better, as do most freshman. A second season at UCLA should allow him to work on his deficiencies and become one of the nation's top wing prospects.
17. Shai Gilgeous-Alexander – Kentucky – Freshman – 6'6" – 185
PPG: 10.0, APG: 4.1, RPG: 3.4, FG%: 51.5, 3P%: 46.2, FT%: 85.7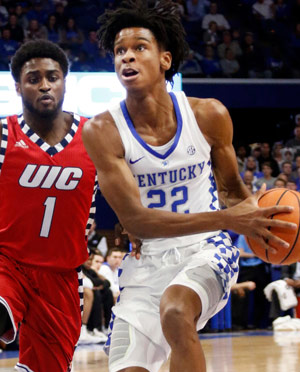 Shai is one of the longest guards in the country with over a 7'0" wingspan. He is quick and can change direction well. He moves his feet very well defensively and when you add that to his length it makes him a serious weapon on the defensive end that should be able to guard all perimeter positions at the next level. In order to guard stronger wings, he will need to add strength to his frame, which will also help with his finishing ability on offense. Offensively, he is raw and still developing the necessary skills to play in the NBA. He has shown good vision and solid passing ability so far, but the rest of his offensive skill-set is a work in progress. His jumper is inconsistent and he has not been consistently able to get to the rim and finish, especially through contact. Much better when he is in open space. Not super explosive, which hurts because of his lack of a refined skill-set at this point. Overall, he's a good but not great athlete that should be able to really guard the perimeter at the next level. However, his lack of offensive skill Is worrisome for a combo guard. It will be interesting to see how he progresses throughout the year because he has good size and physical skills. He can really help himself by adding a consistent jump shot, which appears to have gotten better since he arrived at Kentucky.
18. Daniel Gafford – Arkansas – Freshman – 6'11" – 235lbs
PPG: 12.4, APG: 0.8, RPG: 5.9, FG%: 69.2, 3P%: 00.0, FT%: 62.5
Gafford is a bit of a late bloomer. He didn't come in as a highly decorated recruit, but could pass up a number of the guys above him on this list, in time. He's very long and active and despite being thin, battles for position and rebounds. If he gets an angle to the basket, plays generally end up in dunks as he's got quick explosiveness to the rim and long arms. He still has a ways to go with his offense game and will need to polish his shooting and extend his range. The majority of his offense comes on dunks and put backs, however he does show potential as a scorer. Gafford is in the mold of a Taj Gibson with his wiry athleticism and speed. He's probably a year away from being a sure fire first rounder, and would benefit from a second year of grooming in the college game.
19. Nickeil Alexander-Walker – Virginia Tech – Freshman – 6'5" – 210lbs
PPG: 13.6, APG: 2.2, RPG: 4.2, FG%: 52.7, 3P%: 46.7, FT%: 75.6
Alexander-Walker is a smooth combo guard but needs to add strength to his frame to help him finish through contact. He isn't overly explosive or quick, but his ability to be smooth and efficient with the ball helps compensate for that. He relies on craft and change of pace to get inside the lane. He has good vision and can pass from different angles. One of the keys to his progression is his jump shot which has improved each year. He has a bit of a long release that will need some tightening up to translate, but overall I think he can knock down shots at the next level. On defense, his length really helps him out when defending on the perimeter. Physically, the tools are there for him to play in the NBA, but it would be nice for him to become a master at one particular skill.
20. Nick Richards – Kentucky – Freshman – 6'11" – 240lbs
PPG: 8.7, APG: 0.5, RPG: 6.6, FG%: 65.4, FT%: 73.1
Richards has good size and is already stronger than a lot of other freshmen. Vertically athletic and can get off the ground quickly to score around the rim. Most of his offensive game comes from him catching and finishing around the rim. Has shown glimpses of good touch on turnarounds and hook shots, and even jumpshots in practice but he needs to improve his fundamentals. Really needs to work to progress his offensive polish so that he can provide translatable skills to the next level. Defensively, he rebounds well and uses his strength to not allow deep post position. He is able to block shots with his long reach and explosiveness. In isolation, he struggles to move his feet to keep up with quicker players. He also finds himself out of position and idle at times due to a lack of awareness or feel for the game. His ability to protect the rim at a high level in the NBA remains a question marks, which means he needs to work hard to develop his other skills.