Notable Measurements
Andre Drummond: 6'9.75 socks, 6'11.75 shoes, 7'6.25 wingspan, 9'1.5 standing reach
Whether he's wearing moon boots or Nikes, 6'11.75 is a serious number. A 7'6.25 wingspan is also the largest of the pack, and his standing reach is also tremendous. With these numbers, he enters the league as a more agile/mobile DeAndre Jordan. Few in the NBA have the physical attributes to evenly match up with Drummond.
Jae Crowder: 6'4.75 socks, 6'6.5 shoes, 6'9.25 wingspan, 8'3 standing reach, 9.5 hand length, 10.5 hand width
Congratulations to Jaw Crowder, who grew almost 2 inches in 3 weeks since being measured at 6'3 (socks) in NJ. An 8'3 standing reach tells you he won't be protecting the rim as a 4. But his hands are literally like baseball mits- biggest of any small forward. Definitely helps Kawhi Leonard, who measured biggest hands at last year's combine.
Festus Ezeli 6'9.75 socks, 6'11.5 shoes, 7'5.75 wingspan, 8'10 standing reach, 264 lbs 5.5% body fat
I like to use the word rim protector a lot. And when you're almost 7 feet with a 7'5.75 wingspan, and the muscle to put up a fight with the Undertaker, protecting the rim is an ideal job to maintain. If he never improves a lick offensively, he'll still be able to contribute on the other side of the ball.
Draymond Green 6'5.75 socks, 6'7.5 shoes, 7'1.25 wingspan, 8'10 standing reach, 11.3% body fat.
Excellent wingspan and tall standing reach should allow him to guard 3s, and even some stretch 4s. Again, let's hope he wears the same shoes in the games as he did during these measurements. Green's high body fat % (11.3) was a disapointment, but not a surprise.
John Henson 6'9 socks, 6'10.5 shoes, 7'5 wingspan, 9'3.5 standing reach
Wow. A 9'3.5 reach means he's just a half a foot from touching the rim standing flat on his heels. Obviously his wingspan is ridiculous. He's going to force a ton of floaters, alter shots and finish alley oops. A strong point guard would really help Henson offensively.
Bernard James 6'8.75 socks, 6'10 shoes, 7'3 wingspan, 9'0.5 standing reach
All positive numbers for someone looking to establish himself as a defensive presence. He has the size to give a team 10-12 physical minutes.
John Jenkins 6'3.25" socks, 6'4.25" shoes, 6'8.5" wingspan, 8'3.5" standing reach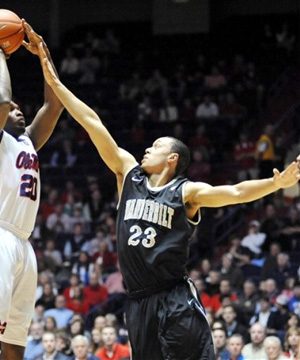 Jenkins' 6'8.5" wingspan might be the number that stands out the most of any player. Just because it seems so unexpected. He is viewed as an unathletic and undersized guard, but when you combine his elite level shooting with excellent length, Jenkins should once again start getting love in the first round.
Terrence Jones 6'8.25 socks, 6'9.5 shoes, 7'2.25 wingspan, 252lbs
These are legitimate power forward measurements. There shouldn't be any concerns over his size in regards to comfortably playing the 4. He becomes a steal if he slips out of the lottery.
Jeremy Lamb 6'4 socks, 6'5.25 shoes, 6'11 wingspan, 179lbs, 4.5% body fat
6'5 with a 6'11 wingspan are awesome numbers for a shooting guard, but 179 pounds is just crazy. Someone feed this kid a sandwich.
Meyers Leonard 6'11.75 socks, 7'1.25 shoes, 249lbs, 7'3 wingspan, 9'0.5, 5.7% body fat
Leonard takes the eye test, crumbles it up and puts it in his pipe. He looks like a Roman gladiator or Spartan Warrior. Legit 7'1 in sneakers with cut arms and a developed upper body. Not to mention he's a true athlete who can really move. If he figures out how to get his shot off he could be one of the better offensive centers in 4-5 years.
Darius Miller 6'6 socks, 6'7.5 shoes, 233lbs
The notable number here is 6'7.5 in shoes, which means he should be able to comfortably shoot over 3s in the midrange.
Andrew Nicholson: 6'8.5 socks, 6'9.5, 7'4 wingspan, 10 inch hand length, 10.75 inch hand width
He's built like a man. Ideal power forward size, ridiculous wingspan and the largest hands in his class. Physically, he's going to fit in. If that jumper continues to become a legitimate threat, he's going to be a regular contributor in a team's rotation. I can already hear Mike Breen praising him as he comes off the bench in next year's NBA playoffs.
Myles Plumlee: 6'10.5 socks, 6'11.75 shoes,
Plumlee is a really agile athlete who makes plays off the ball. The fact that he can move the way he does at almost 7 feet has to be intriguing. Definitely a nice two days in Chicago for Myles.
Austin Rivers: 6'3.5 socks, 6'5 shoes, 202lbs, 6'7.25 wingspan
Psychologically I think 6'4 to 6'5 can make a difference. His size was a concern. Now it's less of a concern. Any positives you can get out of this nitpicking process are… positive.
Henry Sims: 6'10 socks, 6'11.75 shoes, 7'4 wingspan, 8'11 reach
Don't think anyone will question whether he's big enough to play center at the next level. Now the only question is whether or not his unique skill-set can translate.
Thomas Robinson: 6'7.75 socks, 6'8.75 shoes, 7'3.25 wingspan, 8'10 reach
Strong numbers across the board, especially when you consider they belong to an athlete like Robinson. Legit power forward size with a surprisingly monstrous wingspan.
Jared Sullinger: 6'7.5 socks, 6'9 shoes, 268lbs, 7'1.25 wingspan, 10.7% body fat
Sullinger must have been relieved to learn his height in shoes, as he's been labeled undersized for the past two years. At 268 with almost 11% body fat, he could still stand to drop 15-20 pounds or so, which should help with his explosiveness. Now we just hold our breathe for his athletic test results.
Biggest Losers
Kevin Jones 6'6.25 socks, 6.7'5 shoes, 7'1.5 wingspan, 8'9.5, 11% body fat
Jones would definitely have liked to see a 6'8+ number next to size in shoes. 6'6 in socks just sounds challenging for a guy who can only really play the 4. His body fat was a bit too high as well.
J'Covan Brown 12.5% body fat
Brown looked winded in the combine and it's no wonder he had a higher body fat % than anyone overall at 12.5%. Someone needs to check their workout schedule.
Scott Machado 6'1 socks, 6'2 shoes, 6'4 wingspan
Short wingspan to go along with average height, average athleticism and minimal explosiveness. Lillard has an inch on Machado and has a wingspan almost 4 inches longer. It could add to his awaited challenge of finishing at the rim.
Follow Jon on Twitter @NBADraftnetWass