#1 Kansas vs. #5 Clemson
I said in my Midwest Regional Preview that the Jayhawks would need monster performances from Devonte Graham for this team to reach the Final Four and while they got such a performance from him during the team's Round of 64 win against Penn, it was Malik Newman who was the shining star in the Round of 32 win against Seton Hall. Bill Self's squad relied heavily on its perimeter scoring during the season and did much of the same through the Tournament's first two games and I would expect that trend to continue. Udoka Azubuike did return to play limited minutes and really wasn't much of a factor with the exception of a few minutes here and there against Seton Hall.
Clemson's road to the Sweet 16 consisted of two relatively easy wins that has them coasting into Omaha feeling like a true Final Four contender. The Tigers, much like the Jayhawks, rely quite a bit on perimeter scoring. Marcquise Reed, Shelton Mitchell and Gabe DeVoe provide a similar three headed scoring monster on the outside that Kansas does, albeit with more dribble penetration and less three point shooting.
If you like guard play and for teams to get up and down then this will be the game for you. Kansas is one of the better offensive teams in the country and while Clemson is more of an upper middle of the pack team on offense, they have the horses to turn this into a high scoring run and gun type of game that plays more into Kansas' strengths than their own. As much as I didn't like Kansas' matchups in the first two rounds, I really like their matchup against Clemson and they pull this one out in a game that is close at half but Kansas pulls away down the stretch as Graham and Newman start pouring it on.
Key to the Game
Elijah Thomas vs. Udoka Azubuike
Yes, in a game that will be all about guard play, my key is going to be a matchup between the team's two post players. I know it sounds crazy but given that both teams have great perimeter players that will all but cancel each other out over the course of the game, I think it will be whichever big man that can impose his presence on the game that will ultimately make the difference. Azubuike should play his normal allotment of minutes after another week off following his injury that kept him out of the Big 12 Tournament so expect to see he and Thomas battling for position on the block all night long. Both players are physically imposing big men with Thomas giving up a couple of inches and about 30 pounds to Azubuike. But Thomas is the more explosive and quicker of the two so he will have opportunities to showcase himself against one of the best big men in the country in Azubuike. Whoever sets the tone up front early in this one will have a huge advantage if/when the shots from the perimeter aren't falling and their team needs a bucket.

#2 Duke vs. #11 Syracuse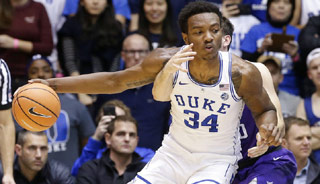 They say that the zone travels and Syracuse's victories over both TCU and Michigan State are evidence of that. No one thought that the Orange would be here considering they were the last team in the Field of 68 just a few short weeks ago but here they are in what will be Jim Boeheim's 19th Sweet 16 appearance of his career. Watching Syracuse play can be painful for those who don't absolutely love college basketball since their defense can be stifling and their offense seems to have no true flow to it. But it is effective and it wins games even if not in the most aesthetically pleasing way. Boeheim's squad only goes about seven deep and their starters player a ton of minutes. No one on their roster shoots the three ball with great efficiency and they don't really have much in the way of a true "post player" that they can drop the ball off to for a bucket when they need one. They rely heavily on their defense and dribble penetration/broken plays on offense to get things done.
Duke on the other hand is an offensive juggernaut. They rank first overall in the ACC in points per game and are tied with Oklahoma for fifth in the entire country. They have players that can score from all three levels and they have a roster loaded with offensive potential. Much like Clemson, Duke's path to Coach K's 24th Sweet 16 has been a cake walk as they've steamrolled the likes of Iona and a very good Rhode Island team. With the talent on the roster this season has been Championship or bust and they are playing like it during the Tournament's first weekend. Marvin Bagley has put up his usual numbers but it has been the play of Trevon Duval that has really turned some heads recently. His 19 point and 8 assist effort against Iona was one of his best games of the season and certainly his best since conference play began.
The Blue Devils and the Orange played a game at Cameron in late February that saw Duke win an ugly game 60-44 in what was both team's worst offensive performances of the season. While I don't expect either team to score in the 40's this time around, I wouldn't expect an offensive explosion either. Duke will be the aggressor in trying to break down that 2-3 zone and they'll have success because they have guys like Bagley and Wendell Carter that can make the right read once they find the soft spot. Duke rolls Syracuse in this one 72-55.
Key to the Game
Game of Zones
Late in the season, Coach K has taken a page out of Boeheim's playbook and gone to more of a zone look on defense. The legend that is Syracuse's 2-3 zone is well known across college basketball so this game will come down to which team can break down the other team's zone with more regularity. Michigan State couldn't buy a three point bucket on Sunday, something that Duke won't have trouble doing. Plus, Duke has seen this zone around two times per year since the Orange joined the ACC so you better believe that Coach K will be ready for it.
Final Four Prediction
Duke over Kansas 85-79
Follow me on Twitter @CCroweNBADraft