The NCAA tourney offers scouts an opportunity to see how top prospects react to playing on a big stage. And while it's important not to overreact to a prospects performance. How they perform does have an impact as teams have a tendency to target players they view as having the "clutch gene". With three quarters of this year's overall NCAA tournament games in the books, here is a look at some of the prospects that have enhanced their stock with others moving in the opposite direction.
Rising
Shai Gilgeous-Alexander, Kentucky
Shai has really embraced the role of team leader, as any good point guard should. His 27 point, 6 rebound, 6 assist second round performance against Buffalo was made even more impressive by the fact that he shot 10-12 from the floor, including 2-2 from three. The Canadian late bloomer posted 19 pts, 8 boards, 7 assists, and 5 steals in their opening round game against Davidson. Gilgeous-Alexander has reinforced a tremendous freshman season (14 ppg, 5.1 apg, 2:1 a/to ratio, 49%fg, 42% 3p, 81% ft) with his post season play. On top of all that, Coach Calipari gives the most praise to Shai for his work ethic and leadership. He has made a strong case to be a lottery pick, and depending on how far UK goes and how well he finishes, could even challenge the likes of Trae Young and Collin Sexton to be the first point guard selected.
Marvin Bagley, Duke
A force of nature, Hurricane Marvin blew through Pittsburgh, site of half of the Midwest region opening rounds, and left a path of destruction in it's wake. Duke's first two match ups with Iona and Rhode Island provided little resistance as the talent in their frontcourts just couldn't compete with the physical talent and energy that Bagley, and teammate Wendell Carter, possess. A model of consistency, Bagley had eerily similar numbers in the two games, going for 22 points and knocking down a 3 pointer in each. He makes it look easy on both ends of the floor, which is incredible considering he's one of the youngest players every time out. He knocked down a 3 ball in each contest and has amazingly raised his 3-point percentage to just under 40% on the year (38.6%).
Caleb Martin, & Cody Martin Nevada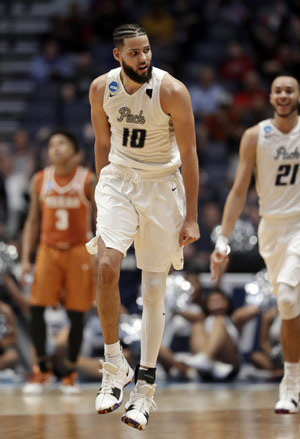 Caleb, along with twin Brother Cody are making scouts take notice as they've shredded two opponents, including orchestrating a miraculous 22 point 2nd half come back against the 2nd rated defense (Cincinnati) in the nation. Caleb has become one of the most skilled scorers in the nation with a multifaceted offensive game. He can drive as well as hit mid range and outside shots, and seems to have no conscience, making him a dangerous scorer. Behind the Martin Twins, Nevada was able to close big deficits in both of their tournament match ups. They erased a 14 point lead against Texas and were able to put the Longhorns away after shot blocker/rim protector extraordinaire Mo Bamba fouled out. While his 3 point shot hasn't been connecting at his usual 40% rate, Caleb took the team on his back scoring a number of big baskets to put the Longhorns away. Cody, who is known for his point guard skills, passing, ball handling and defending was the hero against Cincinnati scoring 25 points, on a down game for Caleb. Cody shot 10-20 and had 7 assists to 0 turnovers.
Hamidou Diallo, Kentucky
Following an extremely rough patch of games in March in which he had a 1 point game and a 0 point game and failed to crack double digits in points scored over four games, Diallo exploded for 22 points against Buffalo on 9-12 shooting and even knocked down his only 3 point shot. His other tourney game was a more modest 8 points on 3-4 shooting. Diallo flashed his elite athleticism, finishing off a steal and run out with a lefty windmill dunk in which his head was on the rim. Diallo is a standout athlete for the next level but his consistency and feel for the game have come under fire. There are some scouts that view him as a second round pick. And he received a significant drop off in minutes, roughly 10 per game in early February. A strong finish in the tourney will be big step towards obtaining a spot in the first round.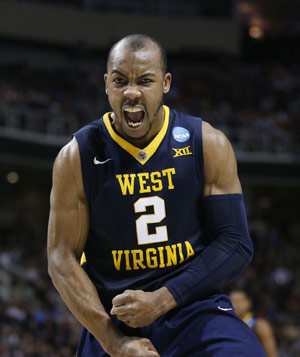 Jevon Carter. West Virginia
One of the most dominant point guards on the NCAA level coming into the tournament, Jevon Carter has been an animal, making life hell for opposing point guards, registering 5 and 6 steals respectively against Murray State and Marshall. He has also been incredibly efficient as a floor general, leading the team to two blow out victories and dishing out a combined 13 assists to 3 turnovers. His 21 points on 9-17 shooting helped the Mountaineers cruise to a 17 point first round victory. His stand out defensive ability is his calling card. At one point Marshall leading scorer Jon Elmore attempted to cut backdoor to the basket, but Carter's defensive back instincts put him in perfect position to deflect the ball out of bounds and thwart the attempt. Marshall looked deflated after the play as they just couldn't seem to make anything work to get their top scorer involved. Carter's three point shot was also connecting against the Thundering Herd as he knocked down 5-7, to finish with a game high 28 points, while holding Elmore to 15 points on 3-9 from 3 and turning him over 8 times.
Keenan Evans, Texas Tech
Evans shot extremely well from all three levels in both tourney games showing excellent efficiency. He was extremely clutch knocking down all 10 of his free throws, and scoring 19 of his 23 points in the second half in a close win over Stephen F. Austin. Against Florida he was even more impressive, putting the Red Raiders on his back in the closing minutes with go-to clutch baskets as he went mano-a-mano with UF's Jalen Hudson. His ability to isolate and score when the team needed a basket was on display and it certainly helped his cause. Evans is still seen as a bit of a tweener, but his excellent fluidity and athleticism, to go along with clutch scoring ability give him intrigue in the late first to early second round.

Neutral
Deandre Ayton, Arizona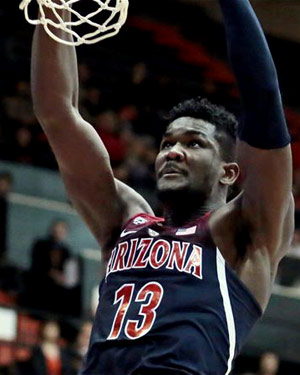 Ayton's college career came to an unceremonious end with a 21 point loss to Buffalo. But it's hard to blame the young center for the team's woes as everything around him began to crumble months earlier. With so many distractions around the program, it's no wonder this team was unable to perform on the biggest stage. Ayton was a revelation to college basketball, and it's most dominant player throughout the season. And while some may have expected more from him, ie leading his team on a deeper run in the tourney, the team's deficiencies were too great of a hurdle even for Ayton to overcome. Coming in off of back to back 32 point, 14+ rebound efforts in the Pac 12 tournament, Ayton put up 14 points and 13 boards in his lone appearance in the Big Dance. Buffalo was able to collapse on Ayton, and limit his touches, forcing other Arizona players to beat them. And in the end, they weren't up to the task. Ayton remains the clear cut number one prospect in this year's draft. And while the team that ends up with the top pick is sure to kick the tires on prospects such as Marvin Bagley, Michael Porter Jr, Mo Bamba, and Jaron Jackson Jr, it will be a huge surprise to hear anyone other than Ayton's name called with the first overall pick on draft night.
Trae Young, Oklahoma
Young's tourney performance had both positives and negatives. The positives being that he lead his team to a near victory and was productive in both scoring and assists. He set his teammates up extremely well, finishing with 7 assists. He also scored the ball well knocking down 9-18 from the floor, 3-9 from three for 28 points. He had a few shots rim out late in the game, and kept the Sooners close until the very end. He also proved what everyone already knew, that he's one of the most competitive kids in the country. The negatives being that the Sooners came up short of victory and that he struggled some to get clean looks. His defense remains his main deficiency and will likely be exploited due to his lack of size and strength at the next level. In the end it was a lack of quality teammates that kept Oklahoma from advancing. Young, who announced on Tuesday that he has decided to enter the draft, has an extremely bright future. The Steph Curry comparisons are likely a bit optimistic from an NBA projection standpoint. But just the fact that Trae has become a player worthy of the comparison speaks volumes. It's unlikely Trae actually becomes a Curry level NBA guy, due to the fact that Curry has size over Young, not to mention Curry is the best shooter ever. But comparing freshman Trae Young to freshman Stephen Curry, Trae has accomplished considerably more and is the more polished player. No one has lead the nation in both points and assists, since the assist statistic has been kept, and Young did it in one of the best conferences in the country, as a freshman. For a team targeting a point guard in the top 10, it will difficult to take anyone over Young.
Mohamed Bamba, Texas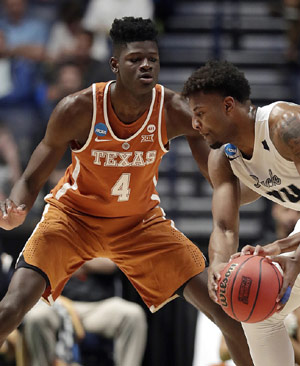 Bamba fought through a late season big toe injury to play in the team's only tourney game. He was able to put up 13 points, 14 boards and 3 blocks, impacting the game not only with his numbers but altering Nevada's looks with his great length. The Longhorns built a 14 point lead in the second half, but Bamba was unable to avoid foul trouble and eventually fouled out late in the game. With Bamba out, Nevada's scoring opportunities opened up as they were able to get to the rim unimpeded and pulled out the win in overtime. Bamba is seen as a likely top 7 pick with a chance to go as high as top 5 with strong workouts.
Michael Porter, Missouri
Porter was unable to lift Missouri past Florida State in the first round of the NCAA tourney. It's obvious that he still has a lot of rust coming off the back surgery that limited his freshman season to just 3 games. He is lacking any real lift as his leaping ability has been severely affected by not playing over the past few months. But those that are familiar with him from his prep days know that he's an elite level athlete capable of finishing well above the rim when he's healthy. For those that had never seen Porter, it was a positive that he was able to get back on the floor and display his excellent feel and well rounded skill set with the ability to pass, defend and even operate in the post when necessary. Despite the rust, Porter posted 16 points and 10 rebounds in 28 minutes of action. His jump shot is truly special, and that is uncommon to find in a player with his physical attributes. His draft position likely will fall somewhere in the 3-6 range, depending on how his back checks out in team physicals. With such a premium on scorers in today's NBA and in a wing dominated league, Porter could end up being an absolute steal if he slides outside of the top 3-4 picks on draft night.

Falling
Jaren Jackson Jr., Michigan St.
For a player that figured to be ideal as a Syracuse zone buster with his ability to knock down shots from the high post, JJJ was thoroughly stymied to the tune of 2 points on 0-4 from the floor. His 6 points and 4 boards in their first round match up with Bucknell wasn't a whole lot better. Jackson's maturity and lack of consistency at this point were illustrated in the tournament as the gravity and intensity of the moment seemed to affect him. Jackson remains one of this draft's elite prospects and has one of the highest ceilings of anyone available. But it's become clear that with all of the positives, there are some concerns that must be vetted with him. Jackson isn't yet the plug and play prospect of Ayton and Bagley, and his landing spot is likely to affect him more than those players as he has more developing both on and off the floor in order to become an impact player at the NBA level. His ability to both rim protect and knock down outside shots potentially makes him an ideal big in today's NBA. His season at Michigan St. was huge for his self awareness and perspective, but he's known as a guy who still has a lot of maturing left in front of him. Game preparation and consistency are areas that must be addressed making him a prospect that may need more time than others to adjust to the next level. Regardless, he ended up exceeding all expectations this season and has an incredibly bright future and will likely be taken in the top 5 or very soon after in this year's NBA draft.
Miles Bridges, Michigan St.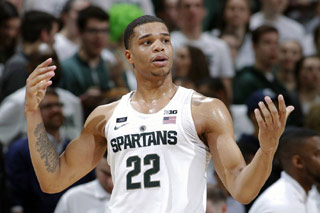 After a strong first round performance versus Bucknell in which he scored 29 points and grabbed 9 boards and hit 3-of-7 three point shots, Bridges came crashing down to Earth in his second round match up with Syracuse. The Syracuse zone wreaked havoc on both Spartan standout forwards. Bridges shot a nightmarish 4-18 from the floor and 3-12 from three. It wouldn't be a surprise if he has been waking up in the middle of the night in a cold sweat shouting, "Orange" in the days since. In the duo's defense, they're not the first outstanding players to be brought to their knees by the zone defense incorporated by Coach Boeheim. Bridges had a very solid season and career thus far. Questions linger about his positional fit and how his game will translate to the next level. But the fact that he's such a hard worker and has become an 85% free throw shooter (93-109 for the year), is a great sign for his future. He's one of the most explosive players available this year, and remains a potential lottery pick for the upcoming draft.
Daniel Gafford, Arkansas
Gafford struggled on the big stage and questions linger about his shooting and scoring ability. He's a long, athletic prospect, however he is seen as a bit of a project for the next level. The Butler Bulldogs were able to play him physical, limiting his effectiveness and in turn, minutes. He ended up playing just 21 minutes and was mostly ineffective scoring just 7 points on 2-9 shooting, along with 5 boards. On the positive side he was able to block 3 shots. His ability to develop into a rim protector and eventually become a defensive standout is one of the things that scouts like about him. But he's likely 2-3 years away from seeing meaningful minutes and may want to test the process and make sure that he's truly a lock for the first round before signing with an agent. Another year at Arkansas could really enhance his skill level and allow him to hit the ground running at the next level.
Landry Shamet, Wichita St.
The Shockers were the "Shockees" in their opening round game, losing to the 13 seed Marshall Thundering Herd and the prolific outside shooting of junior point guard Jon Elmore (27 pts, 4-8 on 3s). Shamet really struggled in the loss scoring just 11 points and hitting a miserable 3-13 from the floor and 0-7 from 3, a far cry from the 44% from three that he hit over his sophomore season. On the positive side, Shamet kept the Shockers in the game with his 8 assists. but in the end it wasn't enough. Shamet is well liked for his size at the point guard position, as well as his proficiency hitting the 3 ball. Whether or not he has done enough to be a first round pick is still undetermined, but he's put himself in position and could test the draft process to get a better idea before making his decision.