BYU versus Florida
The storyline for Florida-BYU is a rematch of the game that launched Jimmer Fredette as a national sensation. The Jimmer Show comes full circle. It was in the first round last year that he dropped 37 in a double overtime win over the Gators, and he has basically been putting in 30-plus in every game since. Though it is a nice narrative, it is a bit difficult to compare this upcoming game to last year because Brigham Young is not the same team they were last season. Everyone knows about Jimmer Fredette and how great he has played this year, but the task of the team is going to be much more difficult this year. While the profile of the Cougars is far greater this season, they had more balance last year. Michael Loyd Jr. transferred to Midwestern State and is now playing in the Division II Elite Eight. His contributions last year, especially in overtime when the Gators took early control, were integral to the victory. Tyler Haws was third team All-Mountain West player as a freshman, but took a leave from the school to participate in an LDS mission. The team lost a pair of seniors in Jonathan Tavernari and Chris Miles, the former is now playing professionally in Italy and the latter who gave them another big body in the middle. Obviously, everyone now knows Brandon Davies is no longer a part of the team. BYU was expected to get added support from Chris Collinsworth's return from a mission this year, but he had surgery to repair cartilage damage in his right knee in January. The reality is that a good number of the short-sighted questions thrown out about Fredette's possible limitations as an NBA prospect stem from the fact that the depth of talent around him has been lessened. He is less of a true point guard this season because BYU needs him to be more of a scorer. They play a great deal of zone defense now because their rotation really only goes seven, maybe at best eight, deep. It is not a slight on the abilities of Jackson Emery, Charles Abouo, or Noah Hartsock, but there were five more quality contributors around them last year when these two teams met. It is more concerning this year when Charles Abouo and Noah Hartsock pick up two early fouls, which was the case for Abouo in the first two rounds as well as for Hartsock against Gonzaga. The presence of those five players made the Cougars a more difficult team to defend because BYU did not have limited offensive players around Fredette. Now to be fair, Stephen Rogers and Kyle Collinsworth stepped up and played well against Gonzaga, but that not always been the case. The concern has to be that the Gators with great length and athleticism throughout their rotation can get the ball out of Jimmer's hands and challenge the likes of Rogers and Collinsworth to have the game Loyd had last year. It was a tad surprising that Wofford and Gonzaga did not abort their rather traditional handling of Fredette. Steven Gray is a good defensive player, but forcing Fredette to shoot from 25-feet is not the same defensive accomplishment as when just about anyone else is limited to taking 25-footers after being chased around screens or defended off the dribble. He has hit those shots consistently for two years. The only way to stop him is to get the ball away from him. With the memory of 37 points in his mind, Billy Donovan has to know that simply putting a good athlete on Fredette is not enough.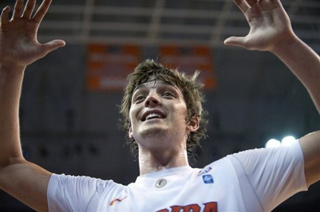 Florida, on the other hand, basically is the same team. Six of their top eight players are back, and they are an older, more mature team this year. They looked like the better team and have won last year. They outscored BYU 44-26 in the paint. Vernon Macklin had 16 points on 7-9 shooting. It is undeniable that they were bigger and more athletic, but they did not play intelligently. They turned it over 21 times to BYU's 12. Erving Walker had 7, Chandler Parsons had 5, and Kenny Boynton had 4. It led to a 25-7 differential on points off turnovers. It was uncharacteristic for them as they only averaged 12.2 turnovers per game, and it proved costly. Boynton and Walker have decreased their turnover count this year, and Parsons improved his assist-to-turnover. It would be surprising if the returnees made the same mistakes this time around. The two newcomers to their mix are Patric Young and Scottie Wilbekin, both freshmen who come off the bench. Young is heavily praised, but at this point in his college career is very limited in his contributions. He is a great athlete, but his skills are raw and he is foul prone. In this game, that could be an especially big deal. BYU shoots free throws at a 76 percent clip. Fredette, Emery, and Hartsock are all over 80 percent, so the last thing Florida wants to do is pick up cheap fouls and place the Cougars in the bonus earlier than necessary. Wilbekin is a defense-first guard. He graduated a year early from high school and still has not turned 18 years old, but he could be valuable in this game. It is likely that Florida is going to need for him to give some minutes and energy as the primary defender on Fredette. With Kenny Boynton coming off a sprained ankle, he might be a name to remember.
Top Matchup
Noah Hartsock versus Vernon Macklin
The team effort to slow Jimmer is going to be the headliner, but the Cougars are going to need to keep the big men, particularly Macklin, from having their way inside. The 5th year senior had 16 points last year and should also be a big advantage inside this time around because BYU does not have a great deal of depth on their front line. Robert Sacre and Elias Harris were able to combine for 35 against BYU in the second round. Hartsock has to avoid foul trouble and play strong in the middle to keep the Gators from having their front line take control the game.
Pick: Florida
Butler versus Wisconsin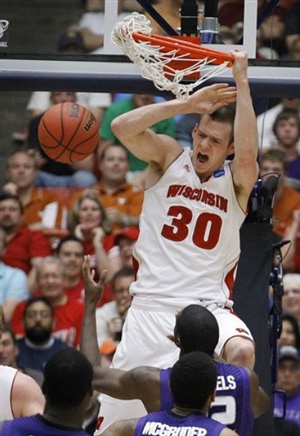 College basketball survived Wisconsin-Penn State, Duke-Butler, and even the awful USC-VCU play-in game, and will probably survive this slow, epically low scoring showdown. At least it has the saving grace of Butler's penchant for odd and remarkable endings. Both of Butler's first two games went down to the final second. The close to the Old Dominion game was a classic NCAA tournament finish with Matt Howard getting a put back as time expired, but the Pitt finish was disappointing. It was a horribly officiated final few seconds, and the game should have been settled in overtime. Butler outplayed Pitt and deserved to opportunity to win that game in the extra session, but that was not how it should have ended.
Wisconsin is remarkable for how efficient they are in part because they do not always look it. There is no denying that it can be hard to watch, but despite not always being able to make field goals, they never seem to shoot themselves in the foot. The Badgers are on pace to set an NCAA record for committing only 7.6 turnovers per game, so a shot almost always goes up. They are the best free throw shooting team in the country at 82.3 percent. While they do not always shoot a great field goal percentage, their heavy reliance upon three-point shooting gives them a great equalizer. A team that limits possessions and plays great defense like Wisconsin can generally dictate the pace so that they rarely fall too far behind an opponent. Other than the Ohio State thrashing in Columbus when they lost by 28, Wisconsin's other seven losses were by a combined 36 points. When they make their threes at a great clip, they have a great chance of running away with the game, but it does not really go the other way.
Butler is a hard team to get overly excited about because they are not spectacular at any one thing. It is not a roster loaded with surefire NBA talents. They have simply found a way to win. It would have been unimaginable that Pitt could have lost a game where it shot 56.5 percent from the field, but the Bulldogs matched them with great three-point shooting. Old Dominion was stronger inside, but Butler battled them evenly on the boards until they got the final rebound that allowed them to win it. Even going back to the Horizon League tournament, Milwaukee was a team that swept them in the regular season by holding them to 39 percent shooting while the Panthers hit on better than 54 percent in each game. In the Horizon League finals, the Bulldogs only shot 42 percent, but Milwaukee was only 12-40 from the field. It is a tribute to the resolve of this veteran bunch that they keep winning tournament games, and at this point, in this region, it cannot be a surprise if they win two more.
Top Matchup
Jordan Taylor versus Shelvin Mack
The point guard matchup is going to be a treat. Taylor has had a huge season for Wisconsin, but is coming off his worst shooting game of the season (2-16) and is struggling through a 16-59 shooting slump (27 percent) over his past four games. He has been especially poor from inside the arc where he is shooting 18 percent, but the shooting slide has not kept him from being the leader of the Badgers. He is still averaging 15.5 points per game in the tournament and has still been effective at getting in the paint and finding the open man as shown by his 6 assists in each game. He hit a pair of big free throws at the end of the Kansas State game and then blocked Jacob Pullen's three-point attempt to tie the game. Mack's late gaffe in the Pitt game almost erased one of the great performances in the tournament. He put in 30 points and was 7-12 from behind the arc. It was just the latest game for one of the better tournament players in recent history. Mack is now 7-2 in tournament games over his three years and has averaged 17.2 points, 3.1 assists, 4.6 rebounds, and 1.6 steals per game.
Pick: Wisconsin
Final Four Prediction
It is a wide open region. Florida has the deepest team with veterans, length, and great athletes. BYU has the best singular player. Wisconsin is the most efficient team. Butler has the most tournament success. Florida is going to be the pick because their size upfront with 6'9" Parsons, 6' 8" Tyus, 6' 10" Macklin, 6' 10" Murphy, and 6' 9" Young is going to be too much to handle. None of the other three have the depth or quality of big men of the Gators. They should be able to win these next two games with their front court controlling the game.