Sviatoslav Mykhailiuk is a 16 year old 6-foot-6 wing from Ukraine who has been described by scouts as having the potential to become the best shooting guard to ever come out of Europe. On Wednesday he committed to play for the Kansas Jayhawks for the upcoming season. "Sveta" is an absolute natural, he has polished passing and pure shooting skills that you rarely find in a 16 year old. He will compete for time along with Kansas returnees Wayne Selden and Brannen Greene, as well as incoming high school standout Kelly Oubre.
He reminded our Rick Pietro of Manu Ginobili in his scouting report after watching him play in the U16 Championships in Kiev last summer.
Though he'll only turn 18 in 2015, Sveta will join KU for the upcoming season and be eligible for the 2016 draft. He projects to be a top 10 pick after 2 seasons in Lawrence, KS.
We caught up with the Kansas commit during this year's Nike Hoop Summit in April, and came away impressed by his maturity and English skills. While Mychaliuk struggled in the game, he made a big impression on the NBA executives in attendance during the week in practices. One GM pondered, "Can we lower the age limit?" during a practice after one of Sveta's impressive plays.
NBADraft.net: You first put your name on the map at the U16 Championships in Kiev. How important is it to be representing your country at this event?
Sveta: Very important because I am the first ever from my country. I feel the need to show that our country can produce high level players.
NBADraft.net: How important would it be to beat the USA team?
Sveta: Very important because everyone looks at USA as the best. And I think we have a good chance this year.
NBADraft.net: How has this event been so far? Has the group developed a closeness?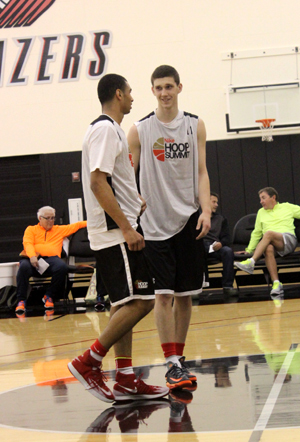 Sveta: I got in a day late but have gotten to know everyone quickly with guys like Jamal Murray, have gotten to know some of the players and really having a good time.
NBADraft.net: For someone who has never seen you play, how do you describe your game?
Sveta: I take pride in my versatility. I can play from the shooting guard to the point guard and can play the small forward position as well. I don't see myself having one thing that stands out, I focus on everything.
NBADraft.net: You are by far the youngest player here in Portland. How have you been able to polish your skills so well at such a young age?
Sveta: I have heard I am the youngest player to ever compete in this event. I work hard at my skills, and I think knowing what to focus on is important.
NBADraft.net: Is this your first time in the US?
Sveta: Yes.
NBADraft.net: What is your impression? How is it different from your expectations?
Sveta: It is like I am in a movie. Something like a dream but it's been great.
NBADraft.net: Has playing in the NBA been a goal of yours for a long time? When did you realize that it was a possibility?
Sveta: Yes. I've had that dream for a long time. And I think I first realized it was possible about 3-4 years ago.
NBADraft.net: This might be a sensitive topic but, there is conflict back in your Country, has that affected your team this season in Ukraine?
Sveta: No.