In every draft class, we see a handful of young prospects seeking a spot in The League long before they have reached their full potential. They are trying to capitalize on their promise and tantalizing upside. Once in the league, these types of players may have a few years of adjustment to the NBA as they are slowly developed into quality contributors.
In addition to these high-risk, high-reward kind of guys, we see a few players in every draft class who have the skill set to succeed right away in the NBA, but are simply stuck in a situation where they may not be able to blossom. They may be stuck behind established starters, or in an unfamiliar system that does not play to their strengths, or under the leadership of a coach with whom they just don't gel. But once put in a new environment, they excel like they had been expected to excel all along.
A prime example of this would be Chauncey Billups. Billups was drafted third overall in 1997 by the Celtics, only to be dealt midway through his rookie season to Toronto. That following summer, he was traded to his hometown Denver Nuggets, where he was forced to play off the ball and was seen as injury prone. Next, he spent two seasons on a promising young Timberwolves team, being mainly relegated to the backup point guard duty behind Terrell Brandon. Finally, in Billups' sixth season in the league, he found his Promised Land in Detroit. Once given control of the Pistons' offense, he led the team to six consecutive Eastern Conference Finals from 2003 to 2008. This completed a full turn around from a presumed underachiever to earning the persona of "Mr. Big Shot" as the floor general of an NBA championship team as he won the 2004 Finals MVP.
Other examples in the past decade include Hedo Turkoglu, who was stuck behind star forwards Peja Stojakovic and Chris Webber on the Kings, but flourished as he teamed up with Dwight Howard to take the Magic to the NBA Finals; Gerald Wallace, who was also a backup for Sacramento before leading the Charlotte Bobcats in their first few years of existence; Marcin Gortat, who backed up Dwight Howard for three-and-a-half years before taking off in Phoenix; and Tobias Harris, who was buried on the Milwaukee bench before a trade to Orlando gave him an opportunity to become a 17 PPG scorer.
Here we take a look at 5 players in this year's draft who could struggle in their first few seasons, but potentially succeed a few years down the road once they are in a new environment for a new team:
Zach LaVine – UCLA – PG/SG
LaVine is barely 19 years old and did not put up huge numbers at the college level. But he did show, time and time again, that he's one of the most athletic and most explosive players in this entire draft class. He's 6'6" with the ability to play either guard position, although he's most often used as a really large point guard. And he knows how to put up points in a hurry. LaVine is as much of a "potential" guy as anyone in this draft. If the draft was based solely off college production, LaVine would likely go undrafted after putting up a pedestrian 9 PPG. But the high-flying combo guard will spend the next few years doing the development he missed out on in leaving school early.
Because of this, LaVine finds himself on this list. Because he's not quite NBA-ready in several areas of his game just yet, a less patient front office could give up on LaVine if he doesn't start playing at an NBA level as a 21- or 22-year-old down the road. In that scenario, he could find a new environment that's more open to working with LaVine as a long-term project. Another obstacle for LaVine is the abundance of quality point guards in the NBA. He's being projected to go in the mid- to late-lottery where teams boasting point guards such as Kemba Walker, Kyrie Irving, Michael Carter-Williams, Ty Lawson, Ricky Rubio, and Goran Dragic currently reside.
It would appear that LaVine is primed to spend a lot of time coming off the bench in the early stages of his career. However, once he blossoms into the hyper-athletic, playmaking point guard with superb length that he is expected to be one day, his career could take off with a team other than the one that drafted him initially.
Tyler Ennis – Syracuse – PG
In a freshman class that included the likes of Wiggins, Parker, Embiid, Randle, Vonleh, and Gordon, Tyler Ennis flew under the radar a bit. But he ended up having one of the biggest impacts of any freshman in the nation as he led Syracuse to a 25-0 start. Now, he's looking at potentially being selected in the late lottery due to his floor vision and playmaking ability.
Like LaVine, Ennis finds himself as a point guard prospect entering a point guard-heavy league. Unlike LaVine, however, Ennis has more polished point guard skills that are generally at an NBA level. But his lack of athleticism and quickness and his subpar perimeter defense (it didn't help that he spent a year playing in the Syracuse 2-3 zone) could lengthen Ennis' adjustment period. At Syracuse, he was surrounded by an elite cast of teammates and he picked apart defenses that were far inferior to an NBA defense. His shortcomings won't be masked in the same way at the pro level. He's still learning how to run an offense and dictate tempo, and a few more years of maturity may be needed for Ennis to make much of a difference at the next level. He also needs to improve on his perimeter shooting in order to make defenders respect it and not sag off of him. Similar to Kendall Marshall, it may take him multiple stops for him to find his niche and break out.
Glenn Robinson III – Michigan – SF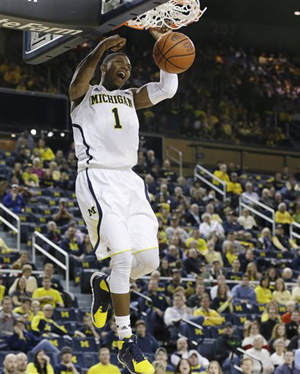 Robinson is one of the more intriguing prospects who should be available at the bottom half of the first round. He has a fairly well-rounded skillset, with good athleticism, a knack for scoring, and two years (and 10 NCAA Tournament games) of college experience. However, he hasn't quite shown the ability to put it all together on a consistent basis and spent two years at Michigan as more of a supporting cast member to Trey Burke, Mitch McGary, and Nik Stauskas, not something one typically sees out of a draft prospect.
From what we've seen of GRIII, he could conceivably take a few years to gain that confidence and assertiveness necessary to make full use of his talents. He's a great slasher and all-around scorer…when he's aggressive. But he hasn't had a true scorer's mentality on a regular basis, even though scoring is his main area of contribution to his team. In addition, Robinson's outside shot still needs work.
Robinson appears to be the type of wing player who, despite his talent, could end up buried behind a cadre of other wings because of his inconsistency and tendency to disappear on offense. But he's a hard worker, a coachable player, and a great natural talent and will no doubt improve dramatically within the next few years. He, too, could find his career taking off once he's shuffled through a team or two.
Isaiah Austin – Baylor – PF
It was a rocky two years at Baylor for Isaiah Austin. He came out of high school ranked third in the nation in his recruiting class, full of promise and gifted with great length, a solid outside shooting stroke, and decent ball handling skills for a player his size. But after two years of inconsistent shooting, decreasing rebounding numbers, and occasional struggles for the Bears, Austin's draft stock is seriously in question. He's currently expected to land somewhere in the second round, though he could slide into the first because of his great potential.
It's this potential that puts him on this list. Austin has a combination of length and shooting ability that could make him a highly effective NBA player somewhere down the road. But his numbers dropped in some areas from his freshman season to his sophomore season and, more importantly, he's a stick, weighing in at 219 lbs. at the combine. He doesn't have anywhere near the strength needed to play in the post and utilize his length as a shot blocker. However, he did show potential as a shot blocker, averaging over 3 blocks per game last season.
Austin needs to bulk up and become more efficient on offense. For a variety of reasons, his shooting percentages (particularly from behind the arc) and his rebounding numbers dropped significantly after his freshman season. Depending on how much patience the team that Austin ends up on has with him, he could succeed relatively soon, or struggle, setting him up to find success in another environment, for a team that seeks him out for his unique skillset once his rookie contract expires. As we have seen with players like Channing Frye and Pero Antic, a tall guy with subpar post skills on both ends of the floor can still succeed by thriving on the perimeter and creating mismatched as a stretch 4 or even a stretch 5.
Semaj Christon – Xavier – PG
Semaj is a very talented point guard who is perhaps being very overlooked. There were several moments throughout the 2013-2014 season where he looked like an NBA point guard, both physically and with his play on the court. He was an efficient scorer and a solid distributor, and he cut his turnovers down from 3.6 to 2.6 per game. But he hasn't quite put it all together and displayed the maturity of an NBA point guard just yet, and that's why he probably won't find himself in the lottery in June and why questions still remain about his skill set.
Personally, I think Semaj Christon has a bright future in this league. He has the body and the athleticism and the slashing ability that remind me of John Wall. But his shooting needs a lot of work. His patience as a ball handler also needs work. And he's a point guard, which means that, in this point guard-heavy league, he, like LaVine and Ennis will have to scratch and claw for minutes from the get-go. And perhaps, he won't get those minutes in his first location as he works on the rough edges of his game. But the measurables are there for Christon, and he certainly seems to have that killer instinct that will be needed to break down an NBA defense. Different coaches may have longer leashes than others, and for an energetic young point guard like Christon, it may take a second stop in the league to shine.