Rising
Buddy Hield 6-4 215 SG Oklahoma Sr. — With 37 points in the Elite Eight to take down #1 seed Oregon, the legend of Buddy Hield continues to grow. The NPOY is putting himself firmly among the lore of the alltime NCAA tourney greats. Russell, Alcindor, Walton, Danny Manning, Laettner, Melo, Stephen Curry. Hield has been nothing short of legendary in leading Oklahoma to the Final Four. Buddy seemingly couldn't miss, hitting a Curry-esque 8-of-13 from 3 and 13-of-20 overall. He's averaging 29.25 ppg through four games. If Oklahoma goes on to win it all, Buddy may very well get looks along with Simmons and Ingram from the teams with the first two picks in this year's draft. This is incredible when you consider that during the summer adidas Nations event, NBA scouts had Buddy pegged as a mid-late first rounder, not a high lottery pick. The secret to Buddy's success is his tireless work ethic, attention to detail, and incredible character. The 6-foot-4 shooting guard with a 6-foot-8 wingspan also has great quickness and a lightning quick release to get shots off, plus sneaky, underrated athleticism. He's one of those rare players that loves the limelight, steps up when the lights are brightest and seems to rise to every challenge. North Carolina has become the favorite to cut down the nets in Houston. But beware of Oklahoma, a team with the clear cut best player and an underrated group of teammates that has steamrolled their way to the Final Four.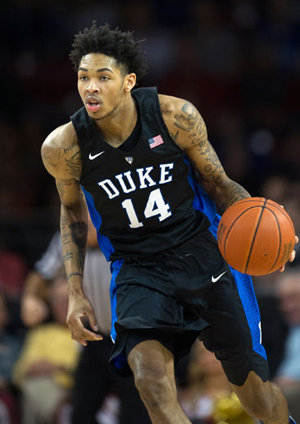 Brandon Ingram 6-9 190 SF Duke Fr. — Ingram had an excellent tournament, scoring at least 20 points in every game, including 20, 25 and 24 against UNCW, Yale and Oregon on 23-51 FG and 6-16 3p. the Oregon game being the most important, considering the level of competition/athletes he matched up with. While some would have liked to see him take over a little more in the Yale contest, he was clearly Duke's most consistent tourney performer. He may not come in and thrive right away in the league, but his combination of length, ball skills and shooting makes him an elite prospect. He's not as physically dominant or as ready to go as projected top pick Ben Simmons, but with the premium on shooting, he has clearly closed the gap on Simmons. Duke lost to a better team in Oregon but Ingram showed an expanding offensive repertoire with some very nice moves going to the basket, utilizing his length. Ingram struggles some to defend and gets pushed around in the paint and on rebounds, but over time he should be able to get stronger. He's certainly a better shooter than Tayshaun Prince, a similarly sized small forward, was entering the league, but not the same level defender. While there are obviously concerns about his lack of strength and how added weight may affect him, the fact that he handles contact well is a positive sign. Ingram certainly benefited from the excellent coaching at Duke, and appears to be a sponge, as his improvement over the past season has been tremendous.
Domantas Sabonis 6-11 240 PF/C Gonzaga So. — Despite the heart breaking loss to Syracuse, Sabonis had another tremendous performance, registering his third straight double double of the tournament. Sabonis went for 19 points and 17 boards on 8-12 shooting. The standout sophomore was not only Gonzaga's best player, but showed tremendous leadership. He carried this team from an emotional standpoint and really shows a lot of exuberance and passion for the game. Despite not being the most explosive or athletic bigman, his skill level in the post is extremely impressive. He's got great fundamentals to position himself for rebounds and will be a force on the boards at the next level. His ability to impact the game at both ends also gives him a lot of intrigue. It's not a done deal that he enters this year's draft. But if he does, he figures to be a top 10 pick, and we currently have him rated 5th overall.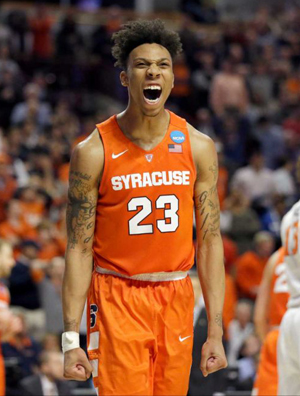 Malachi Richardson 6-6 190 SG Syracuse Fr. — A Syracuse freshman wing carrying his team to the Final Four. Why does that sound familiar? Richardson's 21 point second half onslaught against Virginia will go down as one of the best individual performances of the tournament. The Cuse went on a 25-4 run to make up a 15 point second half lead. Coach Boeheim pulled all the right strings, making the full court press adjustment at just the right time. Richardson sparked the comeback, showing his athleticism attacking the basket, as well his smooth shooting stroke from outside. He hit 3-of-7 from 3, finishing with 23 points and 7 boards. Richardson will likely have a decision to make after the Final Four, as this isn't a strong draft and he could move way up depending on how teams value tourney performance. Scouts think late lottery is not out of the question and for now 15-25 range is feasible. His 7-foot wingspan is sure to catch team's attention when the NBA combine measurements are released, whenever that may be for him. He's also a terrific kid. Word from insiders is that those around the program were worried early on that he was too nice and they weren't sure whether he had enough pitbull in him. Ask Virginia if this dog bites?
Demetrius Jackson 6-1 200 PG Notre Dame Jr. — Jackson bounced back from a rough 6-of-18 shooting game against Wisconsin with a standout 26 point, 10-of-16, 3-7 3p shooting performance against UNC. It's also important to note that in the win over Wisconsin, Jackson was the hero in the closing minutes with a number of key steals and baskets, including the steal that iced the game. Jackson still has some work to do in the area of being a floor general, both being a vocal leader and creating easy baskets for his teammates. But he has shown that he can be an explosive scorer with his tournament performance averaging just under 18 ppg in four games, and has put himself in position to get looks in the first round. He'll likely be battling point guards such as Tyler Ulis, Wade Baldwin, and Anthony Barber to grab a place in the first round.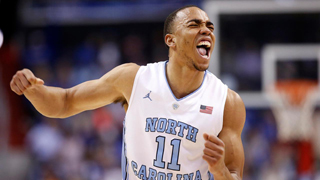 Brice Johnson 6-9 225 PF North Carolina Jr. — if Sabonis has been the best bigman in the tourney, Brice gets the nod as the best big remaining and a close second overall. Johnson continues to show that he's a cut above athletically and has been playing with a chip on his shoulder all season. He is a pogo stick with great leaping ability, especially second jump, which translates well as a rebounder. Bulls power forward Taj Gibson fell to the end of the first round (26th in 2009) and has turned out to be a steal. A lot of teams had the same concerns about him as they have with Brice, that his slight frame will make it difficult for him to handle the physicality of NBA bigmen. But today's game has gone to more and more quickness and skill. Johnson's ability to knock down the 15-18 foot jumper has become virtually automatic. His 23 double doubles on the season are a new Tar Heel record. For a player that we tabbed as a lottery pick early on, when many felt that was going out on a limb, Brice has certainly made us look good.
VJ Beachem 6-8 200 SF Notre Dame Jr. — Beachem was one of Notre Dame's driving forces in making it to the Elite Eight. He had 15 or more points in all four games, with 18, 15, 19 and 18. He hit a highly efficient 26-40 from the floor and 12-22 from 3 in those four games. He also had one of the dunks of the tournament in the first half against North Carolina in their Elite Eight match up, driving baseline and extending well above the rim for an emphatic flush. He's a terrific outside shooter with good length and an improving game. It's uncertain how much draft interest he would garner this year, considering some of his deficiencies and lack of strength. Coming back and improving his body, ball skills and taking on a larger role within the offense should allow him to move up draft boards next season.
Tyler Roberson 6-8 220 PF Syracuse Jr. — Roberson's standout athleticism has been on display in the tourney and scouts have taken notice. His 18 rebounds against Dayton in the opening round showed that he's capable of being a dominant rebounder. He's also averaged over 10 points and 10 boards in the four games for Syracuse. While he still hasn't become a reliable offensive player yet, his ability to be a factor on the glass and on the defensive end with his huge wingspan and great run/jump athleticism gives him real intrigue. Despite shining in the tourney for Syracuse, he's probably a guy that could use a senior year to really round out his game and cement a position in the draft.
Falling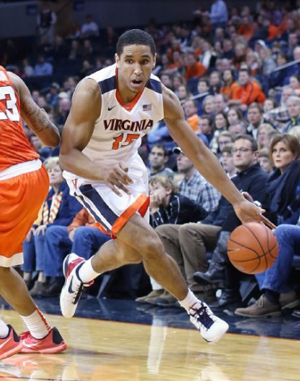 Malcolm Brogdon 6-6 200 SG Virginia Sr. — Brogdon had a nice 22 point, 5 assist, 5 rebound game against Butler. However he struggled mightily to create looks and hit shots, overall. He shot just 3-of-16 in Virginia's four tournament games. His 2-of-14 FG, 1-of-6 3p stat line versus Syracuse was a tough way to end his collegiate career. This on the heels of a rough 4-of-13 FG game against Iowa State. On the bright side he finished with 12 points and 7 assists against Syracuse and was very effective facilitating the offense from the high post. But his lack of creativity offensively was exposed. He's a player with excellent fundamentals, including terrific defense and strength, but he doesn't stand out athletically and can be too predictable with his offensive game. Brogdon has a solid body of work with his senior year and figures to find a spot somewhere in the 2nd round and make a team on his strong work ethic and consistency.