The McDonald's All American game is arguably the most prestigious high school basketball event of the year. The East squad made a comeback late in the game but it wasn't enough falling to the West 114-107. There was a lot of talent on display as this is an unusually talented crop of kids. Here is a breakdown of each of the East prospects.
Jayson Tatum 6'8 – Duke
Tatum didn't have his best game shooting 5-15 but still managed to lead the East in scoring with 18 points. He got a number of his shots blocked that he's used to getting off and his go to moves were defended pretty well. He had a slow start but picked it up in the second half. He did score in a one on one situation against Josh Jackson but most of his shots came on easy baskets. Eight of his points came from the free throw line where he made all of his attempts. Tatum also had five rebounds and three assists to go along with his 18 points.
Edrice Adebayo 6'9 – Kentucky
Bam had a very efficient game, posting a double-double with 16 points and 12 rebounds. He was the only player with double digit rebounds and eight came on the offensive end. There were many talented bigs in this game, but Bam's never ending motor separates him from his peers. After not shooting too well from midrange in practice, Adebayo shot 6-9 from the field and 4-5 from the free throw line.
Kobi Simmons 6'5 – Arizona
Simmons got a bit trigger happy shooting 5-12 from the floor and 1-5 from three. He was able to provide 12 points off the bench but was quick to pull up without picking his spots. He had a nice no look over the head pass to Miles Bridges under the basket but Bridges' shot rimmed out. Simmons pulled off an oop to himself off the backboard and played with flair.
Tony Bradley 6'10 – North Carolina
Bradley kept it simple, scoring around the basket and showing nice touch on his midrange jumper. He only grabbed three rebounds but defended the post pretty well, contesting Marques Bolden's shots and blocking TJ Leaf's jump hook. Bradley shot 5-6 on free throws and finished with 11 points in the game. Bradley has a chance to step in and contribute immediately with Brice Johnson and Joel James graduating.
Terrance Ferguson 6'7 – Undecided
High school basketball's best one foot leaper had two easy dunks in the game. Ferguson finished with ten points in 16 minutes while shooting 4-8. He had a few good looks but only shot 1-5 from three. He did have a nice and-one midrange fade away and played well defensively.
Markelle Fultz 6'5 – Washington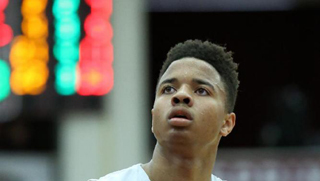 Fultz had a great showing despite only shooting 4-12 in the game. He got hot in the second half scoring on three quick possessions, knocking down two threes and a deep two with his foot on the line. He scored on pull up jump shots and slashed to the basket. In addition to his ten points, he managed to grab four rebounds, dish out six assists, and led the game with three steals in 15 minutes. The combo guard had a great lead bounce pass around the defender's back to setup Sacha Killeya-Jones for a dunk.
Udoka Azubuike 6'10 – Kansas
Azubuike made the most of his 15 minutes of play scoring nine points and grabbed eight rebounds (four offensively). He shot an efficient 4-6 and made his only free throw attempt. He got loose with the ball on a couple of possessions trying to push the ball up the floor, finishing with two turnovers, but overall he played his game. Azubuike was the biggest player to play in the game and took up a lot of space. He served as an anchor defensively with two of his team's five blocks. Look for Azubuike to have a 3 to 4 year career at Kansas.
Miles Bridges 6'7 – Michigan State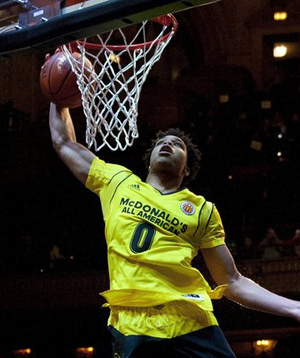 Bridges put on a show during warmups and it continued into the game. He had one of the top plays windmilling an oop off the backboard from Markelle Fultz. Most of his points came from simply catching and finishing without having to create. He missed both of his three point attempts after hesitating. Bridges finished with eight points (shooting 4-7) and three assists in 16 minutes.
Sacha Killeya-Jones 6'10 – Kentucky
SKJ had a quiet performance with six points, two rebounds, and two steals. He shot 3-7 from the field and let the game come to him. He didn't do much to separate himself in the game but showed his worth in the practices throughout the week.
VJ King 6'6 – Louisville
The future Louisville Cardinal finished with five points in 12 minutes. He was the only guard without a three point attempt but definitely has the ability to shoot the ball. King finished with only one rebound and didn't record any assists.
De'Aaron Fox 6'3 – Kentucky
Fox's only two points of the game came on a nice drive kissing it off the glass. He shot 1-8 from the field and missed both three point attempts. He looked to push the ball at every opportunity and although he turned the ball over five times, he did manage to dish seven assists. He showed nice touch on lob passes but puts a lot of heat on passes that could have been simpler. Fox also had four rebounds and two steals in his 22 minutes.
Andrew Jones 6'4 – Texas
Jones went scoreless in only seven minutes of play. The guard missed on all three shot attempts but didn't get much of a chance to get into a rhythm. Jones also had one assist and one turnover in the game.