The 2016 McDonald's All American week is underway, showcasing the creme de la creme of prospects from the ultra-talented 2016 high school class. The game will take place at the United Center in Chicago on Wednesday night and be aired on ESPN at 9 PM ET. Here are my notes after the first two days of practices.
Josh Jackson – Undecided
Jackson had a strong pair of practices. Although his shot didn't show great consistency, he excelled scoring for himself and setting up his teammates. He looked to attack every play when big men Zach Collins and Dewan Huell guarded him, he took smaller Kyle Guy to the post; if he didn't get to the basket, he would kick to the open man when a defender came off to help. He has a great understanding of who's guarding him and played to his strengths. He played with the ball in his hands quite a bit, even when Lonzo Ball was on his team. He was versatile defensively too, guarding every position on the court. Jackson was the most vocal player and played with a lot of emotion, in a good way. He was very noticeable each time he played.
Malik Monk – Kentucky
Monk has good awareness of when to turn it on as a scorer and when to distribute. He scored naturally and is just phenomenal athletically but also set up teammates to score too. He was best in full court drills where he could display his transition game as a leader and finisher. He's an easy guy to team up with because of his ability to alter his style. He shot pretty well too and scored from different spots on the floor.
Jayson Tatum – Duke
Tatum played well in practice. His half-court game was smooth in drills, showing off his footwork/pivots and ability to transition into a drive out of his shooting position. Some of the guards struggled to contest his shots once he gets too close to the basket.
Lonzo Ball – UCLA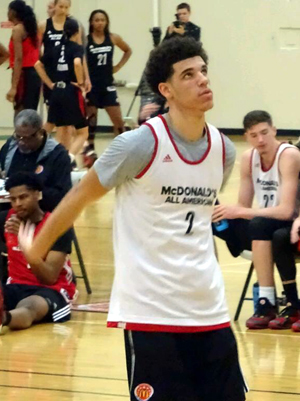 Ball let the game come to him. He looked to pass at every opportunity, rarely holding the ball for more than a few seconds. He looked to throw full court outlet passes after rebounds and always hit his target. He finished above the rim on a few alley oops and scored when appropriate. During two on two drills he was teamed up with Josh Jackson and the two played great together, always finding each other when they were in positions to score.
Miles Bridges – Michigan State
Bridges has a lot of versatility as a defender. He defended the wing the majority of the time but blocked or contested everything around the rim. Although he's smaller than the big men, his quick elevation, strength, and aggression allow him to compete in the paint. Jayson Tatum was able to get his shot off with Bridges guarding him but overall he defended well. He didn't shoot much from outside but would post and drive to the basket when guards defended him.
Udoka Azubuike – Kansas
Azubuike looked like he enjoyed practice, having fun while dunking everything. He couldn't be kept out of the paint, scoring on consecutive possessions, not even Bam Adebayo could keep him away from the basket. Kobi Simmons and Markelle Fultz continued to find him where he wanted it. On the negative side, towards the end of the practice Azubuike looked fatigued, often times being the last player up the court.
Edrice Adebayo – Kentucky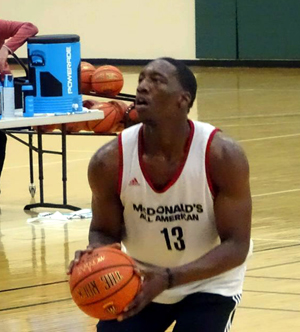 Bam aggressivewas shooting from mid-range, firing without any hesitation; but failed to connect on the majority. He was strong around the basket and finished with authority. He played well defensively contesting shots around the rim, but couldn't keep Udoka Azubuike out of position to score. Adebayo was very active throughout the practices.
Sacha Killeya-Jones – Kentucky
SKJ showed his smooth game with his footwork and fade away. He didn't play too much in the paint but scored well from midrange. His face up and finesse style is the opposite of future Kentucky teammate Bam Adebayo, but he displayed his impressive scoring arsenal.