This year's tournament has been one of the most exciting in memory with a number of game winning shots and ultra competitive games. The Final Four kicks off on Saturday in Phoenix, AZ and while two number one seeds remain, most of this year's elite NBA draft talent has seen their NCAA careers come to an end. The lone potential lottery pick left comes off the bench for Gonzaga, center (Zach Collins). Some interesting story lines have emerged with a few players that could play themselves into the first round if their incredible play continues. Sindarius Thornwell, Jordan Bell, and Justin Jackson are all mentioned as guys with shots at the late first round. A few others will be interesting to track including the match up of point guards Nigel Williams-Goss and PJ Dozier. Here is a look at some players who may have helped and hurt themselves in the second weekend of the big dance.
Stock Up
De'Aaron Fox 6-4 185 PG Kentucky Fr.
Fox 2, Ball 0. DeAaron may not leapfrog Lonzo on draft night, but he's beaten him twice in their individual match ups, showing superior defense and quickness. He's at least made it a worthwhile conversation regarding which of the two will end up the better pro, and who deserves to be the higher pick. While Fox lacks Ball's feel for the game, ability to run the point guard position and ability to make those around him better, he's clearly superior from an athletic stand point and actually has the better form on his jumpshot, despite the results. Fox went off for 39 points, and limited Ball to just 10. He took the ball off the dribble and got by Ball at will whether it was in Isolation or off screens. He also showed a developing ability to hit the floater, which will be an extremely valuable asset, a la Tony Parker. If his mid-range shot never becomes automatic, having a reliable floater will be imperative. He'll be one of the quickest point guards at the next level, and if his jumpshot can get to the point where defenders are forced to respect it, he will be virtually impossible to contain.
Malik Monk 6-3 190 SG Kentucky Fr.
Monk played Robin to Fox's Batman on the second weekend, although for much of the season, it was the other way around. Monk struggled some in their loss to North Carolina, as he had three mental lapses in the closing minutes, with an ill advised pass, a shot that was off by a foot and allowing Justin Jackson to get an easy basket on a run out which Maye hit him with a perfect full court pass. But it was Monk's late game heroics hitting a clutch three that would have been remembered more prominently had Maye not hit the game winner with .3 seconds on the clock, punching the UK youngster's NBA ticket and the Tar Heel's ticket to Arizona. Monk's ability to create and make shots, particularly in clutch situations should translate well to the next level. While Monk's overall tournament numbers were a bit down from the regular season, averaging just under 15 in four games, he made some clutch plays and impressed in spurts. After a 0-6 start from three against Northern Kentucky, Monk found his groove going for 2-5, 4-9 and 3-6 from three over his next three games. His 21 points on 4-9 from three were key in getting Kentucky past UCLA and into the Sweet Sixteen.
Jordan Bell 6-8 225 PF/C Oregon Sr.
Bell was Oregon's most valuable player in their surprise win over Kansas, blocking eight shots including two huge ones on Josh Jackson drives, to compound his frustration after picking up two early fouls that limited his playing time. While Jackson might be the most intense competitor on the college level, Jordan Bell appears a close second. His motor and level of competitiveness are sure to be a big asset at the next level as he tries to overcome a lack of size with his standout athleticism. He's obviously limited as an offensive player, lacking great touch or post moves. But he finds ways to score utilizing his explosiveness and hustle with garbage baskets. His ability to make hustle plays and be a factor on the boards will make him a valuable pro, and with his impact in the tournament, along with high scorer Dorsey, Bell should get looks in the late first round.
Sindarius Thornwell 6-5 215 SG South Carolina Sr.
Depending on how much stock you put into Tournament performance, Thornwell should be beginning to receive first round consideration for his incredible play. No player has had a bigger individual impact upon their team than Thornwell and he's showing that his SEC heroics and 2nd round knockout of Duke was no fluke. Thornwell is a senior, and will turn 23 in November, but he's always been an above average athlete. His improvement in his efficiency has made him an intriguing draft prospect, as he has risen his level of play and willed South Carolina to the Final Four, allowing Coach Frank Martin's energy and persona to come through in his attitude and play. Through four games he's averaging 25.75 points having scored at least 24 in all four games and he's done it through toughness getting to the line almost 10 times per game and also leading the team with 7.5 rebounds per game.
Stock Down
Lauri Markkanen 7-0 230 PF Arizona Fr.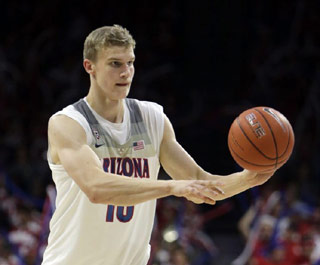 While Markkanen played well on the first weekend's two games going for 20 and 6 and 16 and 11 against mid majors North Dakota and St. Mary's, in their loss to Xavier he had a bit of a disappearing act. Markkanen apologists can point to the fact that his teammates such as Allonzo Trier, did not look to get him involved enough. He shot just 3-for-9, and 1-for-6 from three in his final college game going for 9 points and 8 boards. While he shot extremely well all year, he proved to struggle once again against an athletic, and quicker defender that crowds him on the perimeter. When the game was on the line in the closing 10 minutes, it was teammate Dusan Ristic showing the competitiveness and fight to give his teammates an emotional lift. Markkanen developed confidence and assertiveness as the season progressed, but he seemed to struggle this year when matched up with athletic defenders. Xavier ran a play to back up bigman Sean O'Mara, who easily muscled Markkanen, bumping him out of his area, and sending him sprawling to the free throw line, creating an easy basket that ended up being the game winner. Markkanen received a lot of hype this year, some going as far as labeling him another Porzingis, but he may struggle some at the next level with the speed and physicality of the NBA game. His ability to stretch the floor as a face up 4 gives him intrigue, however his inability to play physical and defend may limit his minutes and effectiveness.
Devonte Graham 6-2 185 SG/PG Kansas Jr.
It's never easy to play two adrenaline charged games in 3 days with your team's basketball hopes on the line, but that's life in the NCAA tournament. Graham actually had an excellent Sweet Sixteen game against Purdue, hitting 5-of-9 from three and finishing tied with teammate Frank Mason with 26 points. Unfortunately he really struggled in their loss to Oregon, going 0-for the floor, missing all seven of his field goes, six of which came from 3, and finishing with just 3 points. He'll have his senior year to get back on track and showcase his abilities with Frank Mason moving on to the professional ranks. And while he's a bit of an undersized 2, lacking great explosiveness, he's a crafty playmaker.
Josh Jackson 6-8 205 SF Kansas Fr.
Three games into the tourney Jackson was going strong and Kansas had become the clear favorite. JJ looked primed for big things on the biggest stage in Arizona. But then their Elite Eight game happened and Oregon's resolve slayed the dragon. Jackson committed two careless fouls early and sat the rest of the half, which effectively opened the door for Oregon to build an insurmountable lead. Kansas was never able to recover. Jackson struggled to get going offensively as the foul issues appeared to affect his confidence. Kansas made a few runs in the final ten minutes, and Jackson made some nice plays utilizing his athleticism, however his lack of go-to scoring ability was apparent. Jackson really improved this season and raised his 3 point percentage considerably. He appears to have a jumpshot that can be adjusted and improved upon to become a weapon. He also has above average ability as a passer and facilitator, prompting some (Charles Barkley in particular) to compare him to Scottie Pippen. And while that comparison if lofty, Jackson's ability to pass and defend make him at least a similar type of player. The foundation is there for him to become a franchise talent, but it will depend upon his ability to reinvent his jumpshot, a la Kawhi Leonard. He's a potential two way player with great intangibles, specifically his competitiveness. With today's NBA being dominated by scoring guards, Markelle Fultz has a slight edge in terms of scout's general perception of projecting a future franchise player. But Kahwi, and LeBron for that matter, have shown that in today's NBA a two way, facilitating wing can be gold in terms of building a team around.
Bam Adebayo 6-10 240 C Kentucky Fr.
Bam had a decent overall tournament. However in the big match up with UCLA in the Sweet Sixteen, he struggled mightily. 2 points and 4 rebounds in 37 minutes just should not happen for a player with Bam's physical profile. He's an old school center and while his run/jump athleticism is very good, he's an undersized and "underskilled" center. 101 of his 169 made field goals this season were on dunks, illustrating how much of his offense is predicated upon ally oops and put backs. His inability to create offense for himself is a bit of a concern as it's questionable how much he can improve in these areas. It's hard to be too critical of his play as he put up 18 rebounds in their opening round and had double figure points in his other three games. But for a player who has lottery aspirations, some of his limitations were clearly on display in the tourney.